Reading Time:
7
minutes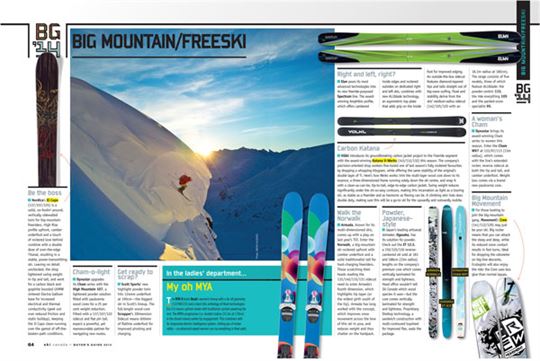 Be the boss
Nordica's El Capo (137/107/125) is a solid, no-foolin'-around, vertically sidewalled twin for big-mountain freeriders. High Rise profile upfront, camber underfoot and a touch of rockered love behind combine with a double dose of over-the-edge Titanal, resulting in a stable, power-transmitting ski. Leaving no detail unchecked, the shop lightened swing weight in tip and tail, and went for a carbon black and graphite boosted UHMW sintered Electra Gallium base for increased electrical and thermal conductivity (geek out over reduced friction and static buildup), keeping the El Capo clean-running over the gamut of off-the-beaten-path conditions.
Walk the Norwalk
Armada, known for its multi-dimensioned skis, comes up with a play on last year's TST. Enter the Norwalk, a big-mountain ski rockered upfront with camber underfoot and a solid traditionalist tail for hard-charging freeriders. Those scratching their heads reading the 135/140/115/131 sidecut need to enter Armada's fourth dimension, which highlights tip taper (or the widest girth south of the tip). Armada has long worked with the concept, which improves snow movement across the bow of this ski in pow, and reduces weight and thus chatter on the hardpack.
Powder, Japanese-style
Japan's leading artisanal skimaker, Ogasaka, has its solution for powder. Check out the ET 12.5, a 150/125/130 reverse-cambered ski sold at 183 and 188cm (33m radius) lengths on the company's premium core which comes vertically laminated for strength and lightness. Head office wouldn't tell Ski Canada which wood species it uses—but the core comes vertically laminated for strength and lightness. Proprietary Sheltop technology, a sandwich construction with multi-contoured topsheet for improved flex, seals the package.
A woman's Cham
Dynastar brings its award-winning Cham series to women this season. Enter the Cham W97 at 133/97/113 (13m radius), which comes with the line's extended rocker, reverse sidecut at both the tip and tail, and camber underfoot. Weight loss comes via a brand-new paulownia core.
 Big Mountain Movement
For those looking to join the big-mountain gang, Movement's Crew (141/112/129) may just be your ski. Big rocker means that you can attack the steep and deep, while its reduced snow contact results in fast turns, ideal for dropping the odometer on big-line descents. Ecologists will also enjoy the ride: the Crew uses less glue than normal layups.
Cham-o-light
 Dynastar upgrades its Cham series with the High Mountain 107, a lightened powder solution fitted with paulownia wood cores for a 25 per cent weight reduction. Fitted with a 137/107/122 sidecut and flat pin tail, expect a powerful, yet manoeuvrable partner for navigating new routes.
Get ready to scrap?
 Scott Sports' new highlight powder twin hits 124mm underfoot at 190cm—the biggest ski in Scott's lineup. The full-length wood-core Scrapper's 3Dimension Sidecut means 600mm of flatline underfoot for improved pivoting and charging.
 In the ladies' department…
 My oh MYA
T
he
MYA 9
leads
Head
's women's lineup with a do-all geometry (137/98/123) and a best-hits anthology of Head technologies. Era 3.0 means upfront rocker with traditional camber powering the rest. The MYA's progressive (i.e. shorter) radius (15.3m at 170cm) in the shovel means earlier tip engagement. This combines with its responsive electric intelligence system, ridding you of rocker rattle—so advanced expert women can rip everything in their path.
Right and left, right?
Elan pours its most advanced technologies into its new freeride-purposed Spectrum line. The award-winning Amphibio profile, which offers cambered inside edges and rockered outsides on dedicated right and left skis, combines with new ALUblade technology, an asymmetric top plate that adds grip on the inside foot for improved edging. An outside-the-box sidecut features diamond-tapered tips and tails straight out of big-wave surfing. Float and stability derive from the skis' medium-radius sidecut (142/105/120 with an 18.1m radius at 180cm). The range consists of five models, three of which feature ALUblade: the powder-centric 115, the ride everything 105 and the packed-snow specialist 95.
Carbon Katana
Völkl introduces its groundbreaking carbon jacket project to the Freeride segment with the award-winning Katana V-Werks (143/112/132) this season. The company's precision-oriented shop workers fine-tuned one of last season's fully rockered favourites by dropping a whopping kilogram, while offering the same stability of the original's double layer of Ti. Here's how Werks works: trim the multi-layer wood core down to its essence, a three-dimensioned frame running solely down the ski centre, and wrap it with a clean-as-can-be, tip-to-tail, edge-to-edge carbon jacket. Swing weight reduces significantly under the oh-so-sexy contours, making this incarnation as light as a touring ski, as stable as a freerider and as harmonic as flexing can be. A climbing skin hole does double duty, making sure this will be a go-to ski for the upwardly and outwardly mobile.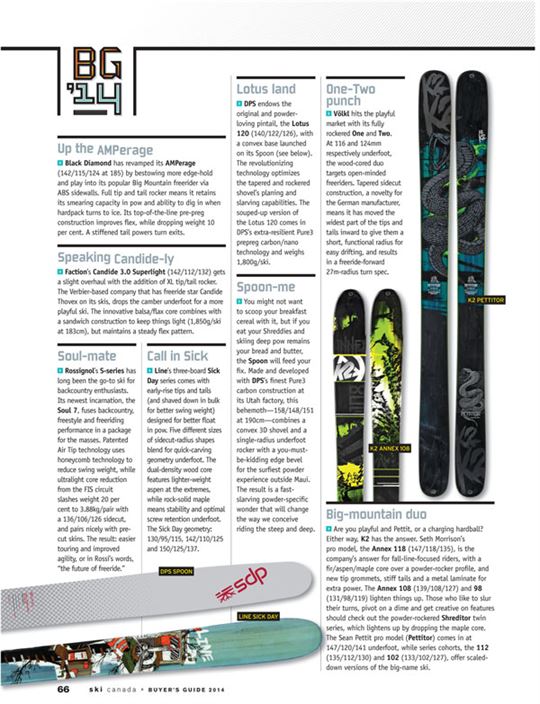 One-Two punch
 Völkl hits the playful market with its fully rockered One and Two. At 116 and 124mm respectively underfoot, the wood-cored duo targets open-minded freeriders. Tapered sidecut construction, a novelty for the German manufacturer, means it has moved the widest part of the tips and tails inward to give them a short, functional radius for easy drifting, and results in a freeride-forward 27m-radius turn spec.
Lotus land
 DPS endows the original and powder-loving pintail, the Lotus 120 (140/122/126), with a convex base launched on its Spoon (see below). The revolutionizing technology optimizes the tapered and rockered shovel's planing and slarving capabilities. The souped-up version of the Lotus 120 comes in DPS's extra-resilient Pure3 prepreg carbon/nano technology and weighs 1,800g/ski.
Spoon-me
You might not want to scoop your breakfast cereal with it, but if you eat your Shreddies and skiing deep pow remains your bread and butter, the Spoon will feed your fix. Made and developed with DPS's finest Pure3 carbon construction at its Utah factory, this behemoth—158/148/151 at 190cm—combines a convex 3D shovel and a single-radius underfoot rocker with a you-must-be-kidding edge bevel for the surfiest powder experience outside Maui. The result is a fast-slarving powder-specific wonder that will change the way we conceive riding the steep and deep.
Up the AMPerage
Black Diamond has revamped its AMPerage (142/115/124 at 185) by bestowing more edge-hold and play into its popular Big Mountain freerider via ABS sidewalls. Full tip and tail rocker means it retains its smearing capacity in pow and ability to dig in when hardpack turns to ice. Its top-of-the-line pre-preg construction improves flex, while dropping weight 10 per cent. A stiffened tail powers turn exits.
Speaking Candide-ly
Faction's Candide 3.0 Superlight (142/112/132) gets a slight overhaul with the addition of XL tip/tail rocker. The Verbier-based company that has freeride star Candide Thovex on its skis, drops the camber underfoot for a more playful ski. The innovative balsa/flax core combines with a sandwich construction to keep things light (1,850g/ski at 183cm), but maintains a steady flex pattern.
Soul-mate
Rossignol's S-series has long been the go-to ski for backcountry enthusiasts. Its newest incarnation, the Soul 7, fuses backcountry, freestyle and freeriding performance in a package for the masses. Patented Air Tip technology uses honeycomb technology to reduce swing weight, while ultralight core reduction from the FIS circuit slashes weight 20 per cent to 3.88kg/pair with a 136/106/126 sidecut, and pairs nicely with pre-cut skins. The result: easier touring and improved agility, or in Rossi's words, "the future of freeride."
Call in Sick
Line's three-board Sick Day series comes with early-rise tips and tails (and shaved down in bulk for better swing weight) designed for better float in pow. Five different sizes of sidecut-radius shapes blend for quick-carving geometry underfoot. The dual-density wood core features lighter-weight aspen at the extremes, while rock-solid maple means stability and optimal screw retention underfoot. The Sick Day geometry: 130/95/115, 142/110/125 and 150/125/137.
Big-mountain duo
Are you playful and Pettit, or a charging hardball? Either way, K2 has the answer. Seth Morrison's pro model, the Annex 118 (147/118/135), is the company's answer for fall-line-focused riders, with a fir/aspen/maple core over a powder-rocker profile, and new tip grommets, stiff tails and a metal laminate for extra power. The Annex 108 (139/108/127) and 98 (131/98/119) lighten things up. Those who like to slur their turns, pivot on a dime and get creative on features should check out the powder-rockered Shreditor twin series, which lightens up by dropping the maple core. The Sean Pettit pro model (Pettitor) comes in at 147/120/141 underfoot, while series cohorts, the 112 (135/112/130) and 102 (133/102/127), offer scaled-down versions of the big-name ski.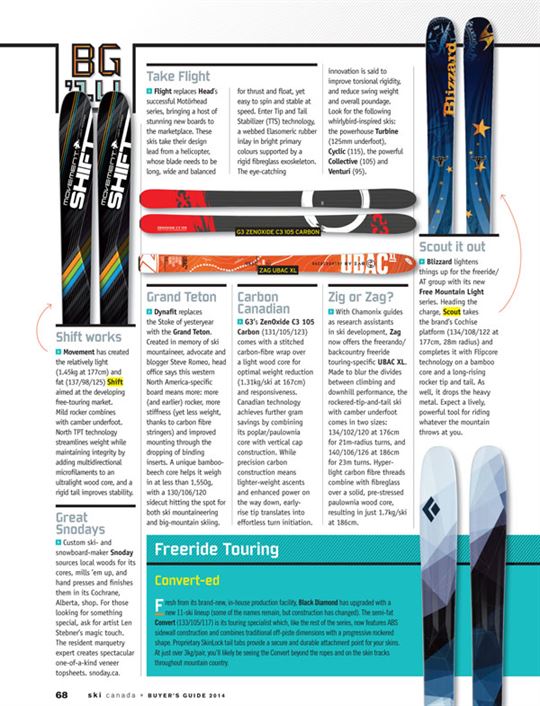 Take Flight
Flight replaces Head's successful Motörhead series, bringing a host of stunning new boards to the marketplace. These skis take their design lead from a helicopter, whose blade needs to be long, wide and balanced for thrust and float, yet easy to spin and stable at speed. Enter Tip and Tail Stabilizer (TTS) technology, a webbed Elasomeric rubber inlay in bright primary colours supported by a rigid fibreglass exoskeleton. The eye-catching innovation is said to improve torsional rigidity, and reduce swing weight and overall poundage. Look for the following whirlybird-inspired skis: the powerhouse Turbine (125mm underfoot), Cyclic (115), the powerful Collective (105) and Venturi (95).
Scout it out
Blizzard lightens things up for the freeride/AT group with its new Free Mountain Light series. Heading the charge, Scout takes the brand's Cochise platform (134/108/122 at 177cm, 28m radius) and completes it with Flipcore technology on a bamboo core and a long-rising rocker tip and tail. As well, it drops the heavy metal. Expect a lively, powerful tool for riding whatever the mountain throws at you.
Grand Teton
Dynafit replaces the Stoke of yesteryear with the Grand Teton. Created in memory of ski mountaineer, advocate and blogger Steve Romeo, head office says this western North America-specific board means more: more (and earlier) rocker, more stiffness (yet less weight, thanks to carbon fibre stringers) and improved mounting through the dropping of binding inserts. A unique bamboo-beech core helps it weigh in at less than 1,550g, with a 130/106/120 sidecut hitting the spot for both ski mountaineering and big-mountain skiing.
Carbon Canadian
G3's ZenOxide C3 105 Carbon (131/105/123) comes with a stitched carbon-fibre wrap over a light wood core for optimal weight reduction (1.31kg/ski at 167cm) and responsiveness. Canadian technology achieves further gram savings by combining its poplar/paulownia core with vertical cap construction. While precision carbon construction means lighter-weight ascents and enhanced power on the way down, early-rise tip translates into effortless turn initiation.
Zig or Zag?
With Chamonix guides as research assistants in ski development, Zag now offers the freerando/backcountry freeride touring-specific UBAC XL. Made to blur the divides between climbing and downhill performance, the rockered-tip-and-tail ski with camber underfoot comes in two sizes: 134/102/120 at 176cm for 21m-radius turns, and 140/106/126 at 186cm for 23m turns. Hyper-light carbon fibre threads combine with fibreglass over a solid, pre-stressed paulownia wood core, resulting in just 1.7kg/ski at 186cm.
Shift works
Movement has created the relatively light (1.45kg at 177cm) and fat (137/98/125) Shift aimed at the developing free-touring market. Mild rocker combines with camber underfoot. North TPT technology streamlines weight while maintaining integrity by adding multidirectional microfilaments to an ultralight wood core, and a rigid tail improves stability.
Great Snodays
Custom ski- and snowboard-maker Snoday sources local woods for its cores, mills 'em up, and hand presses and finishes them in its Cochrane, Alberta, shop. For those looking for something special, ask for artist Len Stebner's magic touch. The resident marquetry expert creates spectacular one-of-a-kind veneer topsheets. snoday.ca.