---
More than great window dressing, wide-girthed boards mean business. The Big Mountain category, along with its Alpine Touring (AT) subset, has grown steadily since the advent of rocker technology. With weight-saving improvements, refined sidecuts and task-specific profiling, the powder hungry get more of their fix riding these technical boards. Look for lightened cores this season, as well as materials tasked for hard-charging, slarving, hitting features or a mix of all these. As a special twist, the Europeans' penchant for alpine skiing sans lifts is bearing fruit in Canadian soil; the world's top manufacturers are now marketing their specialized runners and super-lightweight tourers here.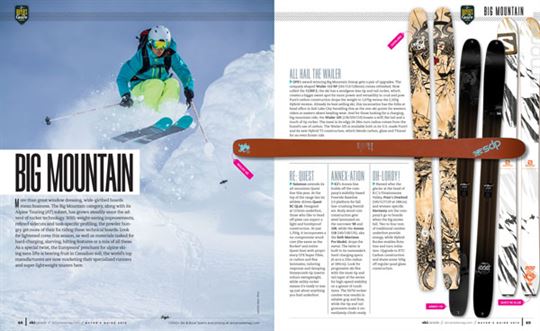 All hail the Wailer
 DPS's award-winning Big Mountain lineup gets a pair of upgrades. The uniquely shaped Wailer 112 RP (141/112/128mm) comes refreshed. Now called the 112RP.2, the ski has a smidgeon less tip and tail rocker, which creates a bigger sweet spot for more power and versatility in crud and pow. Pure3 carbon construction drops the weight to 1,670g versus the 2,100g Hybrid version. Already its best-selling ski, this incarnation has the folks at head office in Salt Lake City heralding this as the one-ski quiver for western riders or eastern skiers heading west. And for those looking for a charging, big-mountain ride, the Wailer 105 (136/105/119) boasts a stiff, flat tail and a touch of tip rocker. The meat in its edgy 24-28m turn radius comes from the brand's use of carbon. The Wailer 105 is available both in its U.S.-made Pure3 and its new Hybrid T2 construction, which blends carbon, glass and Titanal for an even firmer ride.
Re: Quest
 Salomon extends its all-mountain Quest line this year. At the top of the range lies its athlete-driven Quest BC QLab. Designed at 115mm underfoot, those who like to head off-piste can expect a light and bombproof construction. At just 1,700g, it incorporates a no-compromise wood core (the same as the Rocker² and entire Quest line) with proprietary CFX Super Fiber, or carbon and flax laminates, tailoring response and damping. Honeycomb tip inserts reduce swingweight, while utility rocker means it's ready to tear up just about anything you find underfoot.
Annex-ation
 K2's Annex line builds off the company's stability-based Freeride Baseline 2.0 platform for fall line-crushing freeriders. Burly wood core construction gets steel laminated on the narrower 98 and 108, while the Annex 118 (145/118/135), aka the Seth Morrison Pro Model, drops the metal. The latter is built to its namesake's hard-charging specs (it arcs a 23m radius at 184cm). Look for progressive ski flex with the most tip and tail taper of the series for high-speed stability on a gamut of conditions. The 50/50 rocker-camber mix results in reliable grip and float, while the tip and tail grommets make it immediately climb-ready.
 Oh-Lordy!
 Named after the glacier at the head of B.C.'s Fitzsimmons Valley, Prior's Overlord (145/117/129 at 188cm) and women-specific Harmony are the company's go-to boards when the big snows fall. Two to four mm of traditional camber underfoot provide energy, while Hybrid Rocker enables flotation and turn initiation. Upgrade to XTC Carbon construction and shave some 500g off regular quad glass construction.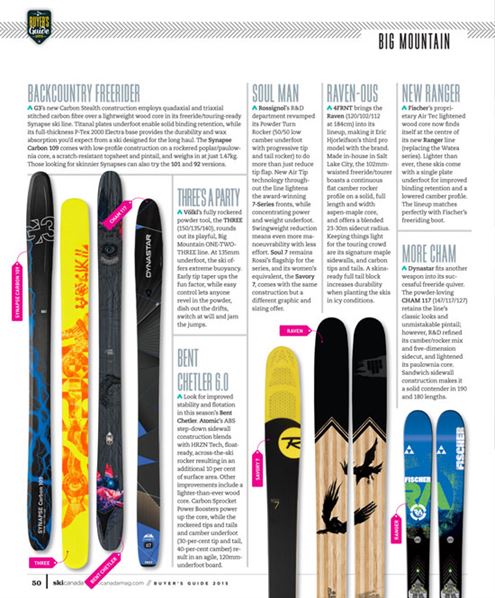 THREE's a party
 Völkl's fully rockered powder tool, the THREE (150/135/140), rounds out its playful, Big Mountain ONE-TWO-THREE line. At 135mm underfoot, the ski offers extreme buoyancy. Early tip taper ups the fun factor, while easy control lets anyone revel in the powder, dish out the drifts, switch at will and jam the jumps.
 Bent Chetler 6.0
 Look for improved stability and flotation in this season's Bent Chetler. Atomic's ABS step-down sidewall construction blends with HRZN Tech, float-ready, across-the-ski rocker resulting in an additional 10 per cent of surface area. Other improvements include a lighter-than-ever wood core. Carbon Sprocket Power Boosters power up the core, while the rockered tips and tails and camber underfoot (30-per-cent tip and tail, 40-per-cent camber) result in an agile, 120mm-underfoot board.
Soul man
 Rossignol's R&D department revamped its Powder Turn Rocker (50/50 low camber underfoot with progressive tip and tail rocker) to do more than just reduce tip flap. New Air Tip technology throughout the line lightens the award-winning 7-Series fronts, while concentrating power and weight underfoot. Swingweight reduction means even more manoeuvrability with less effort. Soul 7 remains Rossi's flagship for the series, and its women's equivalent, the Savory 7, comes with the same construction but a different graphic and sizing offer.
Raven-ous
 4FRNT brings the Raven (120/102/112 at 184cm) into its lineup, making it Eric Hjorleifson's third pro model with the brand. Made in-house in Salt Lake City, the 102mm-waisted freeride/tourer boasts a continuous flat camber rocker profile on a solid, full length and width aspen-maple core, and offers a blended 23-30m sidecut radius. Keeping things light for the touring crowd are its signature maple sidewalls, and carbon tips and tails. A skins-ready full tail block increases durability when planting the skis in icy conditions.
 New Ranger
 Fischer's proprietary Air Tec lightened wood core now finds itself at the centre of its new Ranger line (replacing the Watea series). Lighter than ever, these skis come with a single plate underfoot for improved binding retention and a lowered camber profile. The lineup matches perfectly with Fischer's freeriding boot.
 More CHAM
 Dynastar fits another weapon into its successful freeride quiver. The powder-loving CHAM 117 (147/117/127) retains the line's classic looks and unmistakable pintail; however, R&D refined its camber/rocker mix and five-dimension sidecut, and lightened its paulownia core. Sandwich sidewall construction makes it a solid contender in 190 and 180 lengths.
 Backcountry freerider
 G3's new Carbon Stealth construction employs quadaxial and triaxial stitched carbon fibre over a lightweight wood core in its freeride/touring-ready Synapse ski line. Titanal plates underfoot enable solid binding retention, while its full-thickness P-Tex 2000 Electra base provides the durability and wax absorption you'd expect from a ski designed for the long haul. The Synapse Carbon 109 comes with low-profile construction on a rockered poplar/paulownia core, a scratch-resistant topsheet and pintail, and weighs in at just 1.47kg. Those looking for skinnier Synapses can also try the 101 and 92 versions.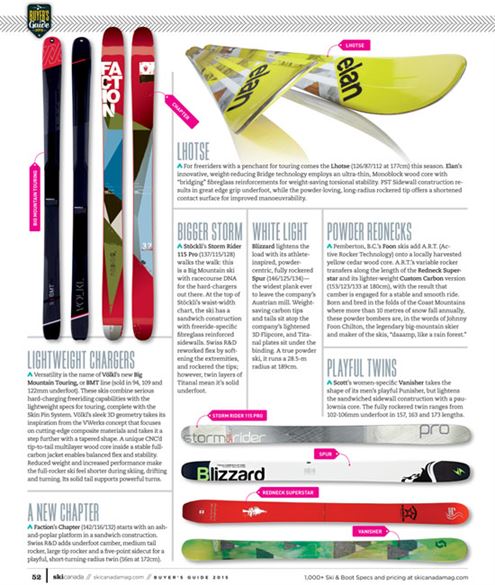 Lhotse
 For freeriders with a penchant for touring comes the Lhotse (126/87/112 at 177cm) this season. Elan's innovative, weight-reducing Bridge technology employs an ultra-thin, Monoblock wood core with "bridging" fibreglass reinforcements for weight-saving torsional stability. PST Sidewall construction results in great edge grip underfoot, while the powder-loving, long-radius rockered tip offers a shortened contact surface for improved manoeuvrability.
Lightweight chargers
 Versatility is the name of Völkl's new Big Mountain Touring, or BMT line (sold in 94, 109 and 122mm underfoot). These skis combine serious hard-charging freeriding capabilities with the lightweight specs for touring, complete with the Skin Pin System. Völkl's sleek 3D geometry takes its inspiration from the VWerks concept that focuses on cutting-edge composite materials and takes it a step further with a tapered shape. A unique CNC'd tip-to-tail multilayer wood core inside a stable full-carbon jacket enables balanced flex and stability. Reduced weight and increased performance make the full-rocker ski feel shorter during skiing, drifting and turning. Its solid tail supports powerful turns.
 A new Chapter
 Faction's Chapter (142/116/132) starts with an ash-and-poplar platform in a sandwich construction. Swiss R&D adds underfoot camber, medium tail rocker, large tip rocker and a five-point sidecut for a playful, short-turning-radius twin (16m at 172cm).
 Bigger Storm
 Stöckli's Storm Rider 115 Pro (137/115/128) walks the walk: this is a Big Mountain ski with racecourse DNA for the hard-chargers out there. At the top of Stöckli's waist-width chart, the ski has a sandwich construction with freeride-specific fibreglass reinforced sidewalls. Swiss R&D reworked flex by softening the extremities, and rockered the tips; however, twin layers of Titanal mean it's solid underfoot.
White light
Blizzard lightens the load with its athlete-inspired, powder-centric, fully rockered Spur (146/125/134)—the widest plank ever to leave the company's Austrian mill. Weight-saving carbon tips and tails sit atop the company's lightened 3D Flipcore, and Titanal plates sit under the binding. A true powder ski, it runs a 28.5-m radius at 189cm.
 Powder Rednecks
 Pemberton, B.C.'s Foon skis add A.R.T. (Active Rocker Technology) onto a locally harvested yellow cedar wood core. A.R.T.'s variable rocker transfers along the length of the Redneck Superstar and its lighter-weight Custom Carbon version (153/123/133 at 180cm), with the result that camber is engaged for a stable and smooth ride. Born and bred in the folds of the Coast Mountains where more than 10 metres of snow fall annually, these powder bombers are, in the words of Johnny Foon Chilton, the legendary big-mountain skier and maker of the skis, "daaamp, like a rain forest."
 Playful twins
 Scott's women-specific Vanisher takes the shape of its men's playful Punisher, but lightens the sandwiched sidewall construction with a paulownia core. The fully rockered twin ranges from 102-106mm underfoot in 157, 163 and 173 lengths.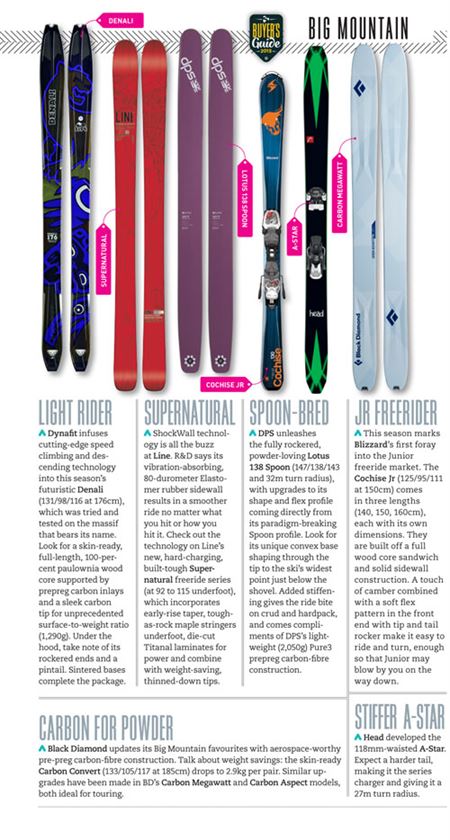 Light rider
 Dynafit infuses cutting-edge speed climbing and descending technology into this season's futuristic Denali (131/98/116 at 176cm), which was tried and tested on the massif that bears its name. Look for a skin-ready, full-length, 100-per-cent paulownia wood core supported by prepreg carbon inlays and a sleek carbon tip for unprecedented surface-to-weight ratio (1,290g). Under the hood, take note of its rockered ends and a pintail. Sintered bases complete the package.
Supernatural
 ShockWall technology is all the buzz at Line. R&D says its vibration-absorbing, 80-durometer Elastomer rubber sidewall results in a smoother ride no matter what you hit or how you hit it. Check out the technology on Line's new, hard-charging, built-tough Supernatural freeride series (at 92 to 115 underfoot), which incorporates early-rise taper, tough-as-rock maple stringers underfoot, die-cut Titanal laminates for power and combine with weight-saving, thinned-down tips.
Spoon-bred
 DPS unleashes the fully rockered, powder-loving Lotus 138 Spoon (147/138/143 and 32m turn radius), with upgrades to its shape and flex profile coming directly from its paradigm-breaking Spoon profile. Look for its unique convex base shaping through the tip to the ski's widest point just below the shovel. Added stiffening gives the ride bite on crud and hardpack, and comes compliments of DPS's lightweight (2,050g) Pure3 prepreg carbon-fibre construction.
Jr freerider
 This season marks Blizzard's first foray into the Junior freeride market. The Cochise Jr (125/95/111 at 150cm) comes in three lengths (140, 150, 160cm), each with its own dimensions. They are built off a full wood core sandwich and solid sidewall construction. A touch of camber combined with a soft flex pattern in the front end with tip and tail rocker make it easy to ride and turn, enough so that Junior may blow by you on the way down.
 Stiffer  A-Star
 Head developed the 118mm-waisted A-Star. Expect a harder tail, making it the series charger and giving it a 27m turn radius.
Carbon for powder
 Black Diamond updates its Big Mountain favourites with aerospace-worthy pre-preg carbon-fibre construction. Talk about weight savings: the skin-ready Carbon Convert (133/105/117 at 185cm) drops to 2.9kg per pair. Similar upgrades have been made in BD's Carbon Megawatt and Carbon Aspect models, both ideal for touring.
1,000+ Ski & Boot Specs and pricing at skicanadamag.com
---
Tags: 4FRNT Raven, Atomic Bent Chetler, big mountain skis, Black Diamond Carbon, Blizzard Spur, buyers guide, DPS Lotus 138 Spoon, DPS Wailer, Dynafit Denali, Dynastar Cham, Elan Lhotse, Faction Chapter, Fischer Ranger, Foon Redneck Superstar, G3 Synapse Carbon, Head A-Star, K2 Annex, Line Supernatural, Prior Overlord, rocker, Rossignol Soul 7, Salomon Quest, Scott Vanisher, sidecut, ski gear, ski reviews, Stockli Stormrider, Volkl BMT, Volkl Three