Reading Time:
12
minutes
LIKE THE NAME SAYS—AND BEYOND
If you talk about the progression of skiing in the past 15 years, it's impossible not to include Vancouver-born Shane McConkey's name in the conversation. The appropriately titled documentary of his life, McConkey, should be required viewing for all skiers. His is the story of a true pioneer, someone who, in a sport that often takes itself a bit too seriously, reminded us that it's only skiing, after all. He was the clown prince of the tribe, the guy at the party who everyone was talking about the next day. He seemed to look at his career in skiing with a light-hearted irreverence. It would be easy to focus on his fun-loving side and forget about his contributions to the sport—contributions that included opening people's eyes to where you could go on a mountain and what you could use to get there.
When he sketched the idea, on a beer napkin no less, for a ski with reverse camber, reverse sidecut and contrary to the idea that more carve was better, he probably couldn't have foreseen where that sketch would lead.
It's led to today, where almost all skis are wider, unconventional designs are embraced, and performance is at a level that's appreciated by everyone—even if you live east of the Rockies. Skis in the Big Mountain category have allowed average skiers to have above-average days. They've become a must-have in every quiver and, in some cases, the go-to for all conditions.
WRITTEN BY RON BETTS
Atomic | Blizzard | Elan | Head | K2 | Kastle | Line | Nordica |Ogasaka | Salomon |Stockli | Templar | Volkl
FIND SKIS using Ski Canada's interactive ski test tool – SkiFinder. Also available as a free app from the iStore & Google Play.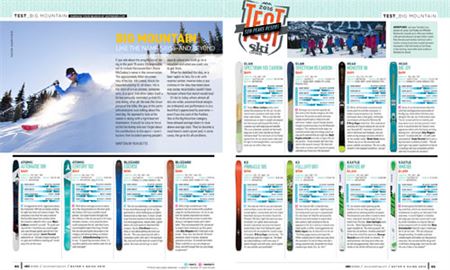 ATOMIC AUTOMATIC 109
$649
LENGTHS: 175, 182*, 189 * SIDECUT: 134/109/124 * RADIUS: 18.5 @ 182
BEST IN: INITIATION    OVERALL SCORE: 7.5
Men: An aggressive ski for aggressive skiers, the Automatic 109 had our testers looking for tight tree lines and narrow chutes. The consensus was that this was a solid ski that handled speed but excelled when the situation called for short turns. Marc Ledoux summed it up well: "It's quick turning and fun! I loved how you could wiggle your way through glades and still let it run in wide-open spaces." Justin Terwiel added that an "off-piste charger looking for an agile yet confidence-inspiring ski" would enjoy this ski the most.
ATOMIC CENTURY 102
$549
LENGTHS: 156, 164*, 172 * SIDECUT: 129/102/120 * RADIUS: 16 @ 164
BEST IN: INITIATION, AGILITY (TIE)    OVERALL SCORE: 7.6
Women: With above-average scores in nearly all of the characteristics on the test cards, the Century 102 was a surefire crowd pleaser. Our expert testers thought that the softness in the tip was spot on for easy initiation, heavier, more powerful skiers could overpower the ski, and short turns scored slightly higher than long. Overall, this ski was among the favourites in the category and did everything our testers asked of it. Gillian Browning had this to say: "A superb big-mountain choice. It's excellent stability and mobility make this ski solid and agile."
BLIZZARD COCHISE
$900
LENGTHS: 171, 178, 185*, 192 * SIDECUT: 136/108/122 * RADIUS: 27 @ 185
BEST IN: STABILITY, LONG RADIUS (TIE)     OVERALL SCORE: 8.2
Men: This ski was definitely a crowd pleaser. It was more than enough ski for our biggest testers, while challenging our lighter testers to be at their best. It wasn't afraid to go fast and seemed to be better suited to a more aggressive, heavier skier. Lighter skiers will need speed to help bend this weapon. Big-boy Erin Keam knows a thing or two about getting the most out of a ski: "This was a pure race ski with a linebacker's girth. Don't get in the backseat. Big, bold and not the least bit scared of high speed. Tip it over and let's git 'er done."
BLIZZARD SAMBA
$800
LENGTHS: 152, 159*, 166, 173 * SIDECUT: 131/98/116  * RADIUS: 19 @ 166
BEST IN: EDGE GRIP, STABILITY (TIE)     OVERALL SCORE: 8.3
Women: With a high overall score in the women's test and scores in the excellent range for its characteristics, it's fair to say that the Samba impressed our testers. The ski allowed the women to push their skiing to the highest levels and it didn't falter. They recommended it for advanced-to-expert skiers looking to up their game. Little Ally Wagorn didn't hold back in her praise: "Love, love, love this ski! All-round awesome. Great in bumps, hardpack, groomers and pow. So smooth and stable. Wider underfoot so you can charge anything, and stiff enough that you can charge on groomers."
Elan SPECTRUM 105 CARBON
$699
LENGTHS: 173, 180*, 187 * SIDECUT: 142/105/120 * RADIUS: 18.1 @ 180
BEST IN: INITIATION     OVERALL SCORE: 7.5
Men: Tester Marc Ledoux pretty much wrote the consensus for this ski; his comments were consistent with most of the other male testers. "This is a ski that first impresses you as light in weight and playful, but then as you start to push the limits, it surprises you with edge grip and stability. This is an extremely versatile ski that really begs you to tip it over and dial up the performance level." Our test team at Sun Peaks agreed that this ski would work really well for light to mid-weight skiers, and wouldn't wear you out after a few runs.
ELAN SPECTRUM 95 CARBON
$649
LENGTHS: 173*, 180, 187 * SIDECUT: 136/95/111 * RADIUS: 15.8 @ 173
BEST IN: EDGE GRIP, STABILITY, LONG RADIUS (TIE)         OVERALL SCORE: 6.4
Women: Although not a women-specific ski like most in this female category, the Elan Spectrum 95 proved versatile and easy to play on particularly in long turns and soft snow. Indeed, several female testers thought it could have been in an All-Mountain category. The cambered inside edge and rockered outside edge technology wasn't jarring and fit well with the ski's light feel. Barb Kupferschmidt was able to figure this ski out quickly: "A nice smooth, fast ride if you stick to the owner's manual. The front end likes to be in control, and if you're not paying attention you'll end up in the backseat."
HEAD MONSTER 98
$699
LENGTHS: 163, 170, 177, 184*  *  SIDECUT: 135/98/120  *  RADIUS: 21.3 @ 177
BEST IN: EDGE GRIP, LONG RADIUS (TIE)        OVERALL SCORE: 8.8
Men: When all the tester comments and scores point to a similar conclusion, it makes it easy to assess a ski. And the conclusion here is that good, technically sound skiers will love the Monster 98. D'Arcy Sego noted that "this could be an everyday ski if you're looking for one ski for your favourite B.C. mountain. It performs well in soft snow and hardpack, and can crank out big swoopy turns but will dial in for the smaller radius." Mark Stein added, "Attack any run on the mountain with power, stability and balance. This ski is silky smooth in the roughest conditions. Just go!"
HEAD BIG JOY
$699
LENGTHS: 158, 168, 178*  *  SIDECUT: 149/111/133   *  RADIUS: 17.4 @ 178
BEST IN: STABILTY, LONG RADIUS (TIE)      OVERALL SCORE: 6.9
Women: Some of our female testers liked the solid feel and aggressive personality of the Big Joy, while others felt they were along for the ride, not in the driver's seat. The ski scored well for its stability and long-radius turns, but lost ground in short turns. It would be best for heavier, more aggressive skiers who like laying out long, flowing arcs. Lightweight Ally Wagorn found it "a whole lotta ski—it's stiff, solid and powerful." Anne Terwiel felt it was a big-mountain confidence builder: "This ski hasn't got a top speed. I pushed it as fast as it would go and was completely comfortable that it wouldn't let me down."
K2 PINNACLE 105
$750
LENGTHS: 170, 177, 184*, 191  *  SIDECUT: 137/105/121   *  RADIUS: 19 @ 184
BEST IN: INITIATION      OVERALL SCORE: 7.9
Men: This new ski from K2 put out solid test card numbers across the board. In versatility and agility it scored well, and that might have been because the testers found the Pinnacle 105 had a light feel and was easy to initiate. Our lighter skiers were particularly impressed, but even the heavier testers had a hard time finding the upper limit since the ski worked for a wide range of weights. D'Arcy Sego commented: "It's surprisingly agile for a bigger ski. The floaty tip makes bobbing in soft snow easy. It plows through crud with ease, and at speed it's very reliable and predictable."
K2 FULLUVIT 98Ti
$700
LENGTHS: 163, 170*, 177  *  SIDECUT: 131/98/119   *  RADIUS: 17.5 @ 170
BEST IN: INITIATION      OVERALL SCORE: 7.3
Women: The FulLUVit 98Ti is like the Amy Schumer of the ski world—light-hearted, fun-loving and it puts you in a good mood. Our test team felt that this ski would be liked by any intermediate to expert skier who wants a light and playful feel as opposed to the tip-it-and-rip-it crowd, who might prefer a stiffer, more aggressive ski. Katie Joyce was all about fun on this ski: "It's lively, poppy, bouncy and super fun. What a playful way to make your way down the mountain! It's not for those who like a strong, powerful ride, but perfect for those creative-type skiers. Fun, fun, fun!"
KÄSTLE BMX105 HP
$1,249
LENGTHS: 173, 181, 189*  *  SIDECUT: 134/105/123  *  RADIUS: 23 @ 189
BEST IN: INITIATION      OVERALL SCORE: 7.6
Men: Our testers loved opening up the throttle on this ski; they agreed it was stable and an amazing platform at speed. The dissension was when it came to short turns, making for a broad range of comments from the men. Dave Gollogly loved the ride: "Wow! Speechless! Amazing, super-versatile ski. The more you push, the better this ski performs. Limitless potential!" At the other end of the spectrum, George Terwiel was a bit harder to impress: "A solid performer with long turns when you ski fast and aggressively. Short turns were harder as the ski felt stiff and not as agile."
KÄSTLE BMX105
$1,099
LENGTHS: 173, 181*, 189  *  SIDECUT: 134/105/123  *  RADIUS: 21 @ 181
BEST IN: INITIATION       OVERALL SCORE: 7.7
Women: At first glance the BMX105 looked big underfoot, which can sometimes be troublesome for agility, but that wasn't the case here. It scored highest in initiation and edge grip, but also scored well in agility, which translates to a big ski that surprised everyone with its nimble feel. Nina Gretzmacher liked the way it challenged her to ski her best: "This ski will power through anything. It's stable underfoot, initiates easily and makes you feel good on every turn. You can also let this ski go and it will hold a strong edge. Don't be shy with this one; it likes to be worked!"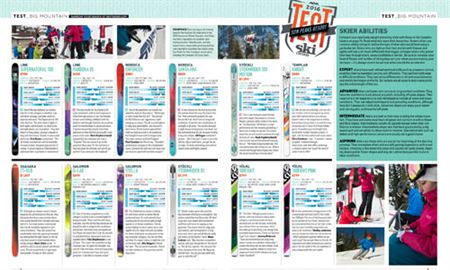 LINE SUPERNATURAL 100
$700
LENGTHS: 172, 179*, 186  *  SIDECUT: 132/100/121   *  RADIUS: 21.3 @ 179
BEST IN: INITIATION       OVERALL SCORE: 7.3
Men: One of the key features our testers look for in this category is whether a ski will allow average, everyday skiers to improve and excel. The Supernatural 100 ticks that box. The men rated it highly in both agility and initiation, so short turns and tight places are no problem. They also liked it in long radius, scoring it equally in long and short turns. Overall, it was a solid performer. Erin Keam commented, "This ski totally surprised me with its versatility. It's easy to steer, has great grip and lots of energy. It would inspire an intermediate or advanced skier to go faster in mixed snow."
LINE PANDORA 95
$650
LENGTHS: 152, 162*, 172  *  SIDECUT: 130/95/115  *  RADIUS: 13.8 @ 162
BEST IN: AGILITY       OVERALL SCORE: 7.3
Women: The test results for the Pandora 95 were consistent, with no real surprises in either the high scores or low. Our female testers were feeling confident with the platform and thought that this ski would be great for intermediate to advanced skiers. It leaned toward the playful end of the spectrum so they felt the ski wouldn't overpower most users. Barb Kupferschmidt enjoyed this ski wherever she took it: "Surprise! This one carves it up on the groomers like a razor. It's fun and turny in the crud, great for off-piste, but will let you perform if you end up on the hardpack."
NORDICA ENFORCER
$880
LENGTHS: 169, 177, 185*, 193  *  SIDECUT: 133/100/121   *  RADIUS: 18.5 @ 185
BEST IN: EDGE GRIP         OVERALL SCORE: 8.0
Men: One of the questions our testers are asked for each ski they test is: "What type of skier would like this ski?" The answer for the Enforcer was: aggressive, hard-charging, ex-racers. The ski scored highest in edge grip and stability, and lowest for short turns. All the testers agreed that it felt as solid as a rock in all conditions, but thought it was built for longer turns. Test team veteran and Banff legend Paul Cunnius had this to say: "Excellent performance and grip on firm, hardpacked snow. Combine this with any soft snow and you have an expert all-mountain weapon."
NORDICA SANTA ANA
$800
LENGTHS: 153, 161, 169*, 177  *  SIDECUT: 133/100/121  *  RADIUS: 15.5 @ 169
BEST IN: EDGE GRIP, LONG RADIUS (TIE)        OVERALL SCORE: 8.3
Women: It was obvious by the test scores that the women loved the way the Santa Ana felt. Their comments praised the way the ski did it all, short turns or long in all conditions. It had the rare combination of strength in all areas. The results showed a slight favour to long turns over short, but the comments had the ski on equal footing in any turn shape. Jill Sagan summed it up best: "Ski of the day! It loves to be in the fall line. Big or small turns, just get the ski on edge. It's lively and exiting, and solid on harder snow and higher speeds."
OGASAKA ET-10.8
$1,067
LENGTHS: 178, 183*, 188  *  SIDECUT: 140/108/126   *  RADIUS: 18.7 @ 183
BEST IN: INITIATION      OVERALL SCORE: 6.1
Men: Although our testers weren't blown away by the performance of this ski, they did agree that there were certain skiers who would benefit from the light and easy feel of it. Our male testers commented that the ski would be happiest in soft-snow conditions. They also weren't as comfortable when the speed got ramped up, feeling that the light nature of the ski was best suited to intermediate skiers. As big-charger Mark Stein wrote: "It performs well at slower speeds and shorter turns. This ski would be fun in tight trees and powder. It's easy to 'flick' around."
SALOMON Q-LAB
$899
LENGTHS: 176, 183*, 190  *  SIDECUT: 138/104/127  *  RADIUS: 20.5 @ 183
BEST IN: INITIATION, AGILITY, LONG RADIUS (TIE)        OVERALL SCORE: 7.8
Men: One of the best compliments in this category is when a ski is scored highly for being versatile. There can't be soft snow everyday, and the perfect big-mountain ski should be able to adapt to the conditions and terrain. And that's how our testers at Sun Peaks felt about the Q-Lab. Its versatility and playfulness impressed some very capable skiers; Fritz Stephenson is one of them: "As a racer, this would be my big-mountain tool. It's agile and versatile. You can ski it fast and slow, short and long turns, great fun in bumps and if you end up on groomers, it skis like an on-piste cruiser."
SALOMON STELLA
$749
LENGTHS: 158, 165*, 172, 179  *  SIDECUT: 127/102/119   *  RADIUS: 23.3 @ 165
BEST IN: SHORT RADIUS      OVERALL SCORE: 5.9
Women: The Stella had our testers looking for soft snow, which is where the ski performed best. It's well suited to lazy cruising and not as comfortable at high speeds or on firmer conditions. The ski scored highest in short-radius turns, and slightly less for edge hold and versatility. For skiers looking for an easy entry to the big-mountain category, this ski will offer just that. For expert skiers, it might be a bit on the timid side. Ally Wagorn offered her take: "This ski excels in powder. I found it a little chattery on the groomers and for long turns."
STÖCKLI STORMRIDER 95
$1,199
LENGTHS: 174, 183*, 192  *  SIDECUT: 131/95/120  *  RADIUS: 19.2 @ 183
BEST IN: EDGE GRIP, STABILITY (TIE)      OVERALL SCORE: 7.8
Men: Stöckli makes great skis and this big-mountain offering is no exception. Our testers noted that the Stormrider 95 liked to go fast, was stable and transitioned well from soft snow to ripping up the groomed. Top scores were for edge grip and stability, performing better in long turns over short, but overall this ski really put smiles on the testers' faces. Marc Ledoux said, "Big-mountain competition worthy, with just enough flex for the rest of us. The ski has 'cajones.' You can push the limits, because it has none. No floppy tip and tail here. You can grit your teeth and give 'er with this ski!"
STÖCKLI STORMRIDER 100 MOTION
$1,299
LENGTHS: 158, 166, 174*  *  SIDECUT: 136/100/123   *  RADIUS: 17.8 @ 174
BEST IN: EDGE GRIP      OVERALL SCORE: 7.5
Women: This is a ski that gives expert female skiers the respect they deserve; it's not a flowery, detuned, softer model of the men's ski. The Stormrider 100 Motion is a high-performance ski that rewards good skiing. It likes to be on edge and go fast. Our testers loved this ski and found it powered through all kinds of turns. Barb Kupferschmidt tried it on for size and found herself enjoying the run: "The Ferrari of big-mountain skis. This one almost does the turning for you. What a smooth ride through hard, choppy crud. I loved this ski and would buy it one size down."
TEMPLAR KNIGHT
$880
LENGTHS: 175, 185*  *  SIDECUT: 135/100/125  *  RADIUS: 21 @ 185
BEST IN: INITIATION      OVERALL SCORE: 4.5
Men: We all love an underdog. Let's be honest, it takes a bit of courage to lay down your hard-earned dollars on a ski you haven't seen in the magazines or videos. But without giving them a try and forming an opinion you'll never find those hidden gems. If possible give the Knight from KickStarter-funded Templar a demo. A light, soft ski that prefers soft snow, here's Chris Candow's take: "It worked—stable at speed, it steered through loose snow with little effort, preferring a medium-radius turn to get the most of what it had to offer."
VÖLKL 100EIGHT
$799
LENGTHS: 173, 181*, 189  *  SIDECUT: 141/108/124   *  RADIUS: 19.7 @ 173
BEST IN: INITIATION, EDGE GRIP, LONG RADIUS (TIE)      OVERALL SCORE: 8.8
Men: The Völkl 100Eight proved to be a winner, with top scores in nearly every category, unanimous praise for how versatile and fun the ski was, and hardly any criticism from our test team. All of this adds up to one thing: a ski design that exceeded expectations. Check out the love it got from Jasper's Jeremy Badcock: "Trust and commitment are a big thing when it comes to a ski/skier relationship. I trusted this thing like my own mother. It did everything superbly, helped on every turn shape and most of all it allowed me to go faster. Excellent!"
VÖLKL 100EIGHT PINK
$799
LENGTHS: 157, 165*, 173  *  SIDECUT: 141/108/124   *  RADIUS: 16.7 @ 165
BEST IN: AGILITY      OVERALL SCORE: 7.8 
Women: A nice combination of aggression with a surprisingly light and playful feel made the 100Eight Pink one of the favoured picks by our women at Sun Peaks. Several testers commented that the ski felt light underfoot but was incredibly responsive and lively in all conditions. Shelley Johnston was an instant fan after her ride on this ski: "What a pleasant surprise! Where do you want to go? You can get there on this ski. It's responsive and takes whatever you want to give it. For the width of this ski underfoot, it was unexpectedly fast and stable."