Reading Time:
14
minutes
"Do I really need a pair of Big Mountain skis in my quiver?" My answer to that question is unequivocally "Yes, yes you do!"
Whether you ski in the east or west, skis with a waist of 90mm or more will give you a more solid platform and allow you to ski in more challenging conditions with confidence, style and enough speed to not only survive, but to actually enjoy it.
Think about it this way. Not too long ago, people were heli-skiing on the same skis they used in the resort. If the conditions got dicey, skiing became difficult because the gear wasn't up to the task. Nowadays, skiers continue to improve because their skis give them the ability to ski without having to switch to survival mode. If you have a tool that allows you to do that at your home resort when the conditions call for it, why not take advantage?
Big Mountain skis aren't just for ripping down the steepest faces, in the deepest snow or for the latest freeski phenoms. They'll come in handy in any amount of soft snow, and you'll be out charging laps long after your friends have burnt out their legs from working too hard. So, add to your quiver and ski better, and longer, this season.  – Ron Betts
Skis tested: ATOMIC | BLACK CROWS | BLIZZARD | DPS |
DYNASTAR | ELAN | FISCHER | HEAD | K2 |KASTLE |
NORDICA | ROSSIGNOL | SALOMON | VOLKL

Use SkiFinder to input your personal skiing characteristics to find the skis that best match your profile.
Recommendations Legend
A Skier ABILITY (Intermediate (1) to Expert (10))
C Snow CONDITIONS (Soft (1) to Firm (10))
S Skier STYLE (Finesse (1) to Power (10))
W Skier WEIGHT (Lighter (1) to Heavier (10))
† Price includes binding * Length tested at Fernie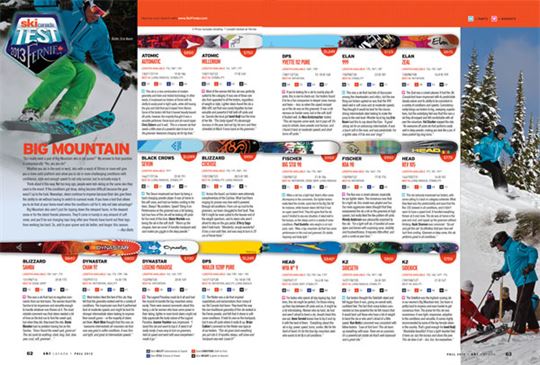 ATOMIC AUTOMATIC
LENGTHS AVAILABLE: 176, 186*, 193
sidecut: 130/117/119       turn radius: 19 @ 186      MSRP: $850
BEST IN: LONG RADIUS, STABILITY  * AVERAGE SCORE: 6.7
ability: 7.4     conditions: 2.1   style: 6.1   weight: 6.4
MEN: This ski is a nice combination of modern geometry and tried-and-tested technology. In other words, it impressed our testers at Fernie with its ability to easily pivot in tight spots, while still having the grip and hold that you'd expect from Atomic. Some of the testers felt that it leaned heavily toward off-piste, however, the majority thought it was a versatile performer. Fernie local and all-round ripper Chris Ebbern said it well, "This is a heavier ski that needs a little more of a powerful skier to turn it on the groomed. Awesome charging ski for big lines."
ATOMIC  MILLENIUM
LENGTHS AVAILABLE: 161, 169*, 177
sidecut: 130/110/122       turn radius: 17 @ 169      MSRP: $750
BEST IN: STABILITY  * AVERAGE SCORE: 7.4
ability: 6.8   conditions: 3.1   style: 5.9    weight: 6.1
WOMEN: Most of the women felt this ski was perfectly suited to the category. It was one of those rare skis that appealed to all the testers, regardless of weight or style. Lighter skiers found the ski a little stiff, but that was easily forgotten by how versatile and powerful it felt both off-piste and on. Sounds like local girl Janet Kuijt had the time of her life: "This baby ripped! It's deceivingly luscious in the pow, laid out big fat arcs and then shredded at Mach 9 once back on the groomers."
BLACK CROWS SEVUN
LENGTHS AVAILABLE: 191*
sidecut: 146/117/136       turn radius: 25 @ 191   MSRP: $1099
BEST IN: LONG RADIUS, STABILITY  * AVERAGE SCORE: 6.2
ability: 7.1  conditions:  2.1   style: 5.8   weight:  6.4
MEN: The Sevun impressed our team by being a hard-charging powder player. It was at home in the soft snow, and had our testers smiling in the trees. Steeps? No problem. Speed? Bring it on. Performance on the groomed was a bit lacking, but true fans of this ski will be looking off-piste for fun most of the time. Glenn Wurtele was loving the ski in the soft stuff: "Warm up the chopper, here we come! It handles hardpack well, and makes you giggle in the deep powder."
BLIZZARD COCHISE
LENGTHS AVAILABLE: 170, 177, 185*, 193
sidecut: 135/108/123      turn radius:  28.5 @ 185  MSRP: $950
BEST IN: STABILITY, LONG RADIUS   * AVERAGE SCORE: 7.4
ability: 8.1  conditions:  3.8  style:  6.7   weight: 7.5
MEN: Across the board, our testers were extremely complimentary of the Cochise. What had them singing its praises was how well it powered through all conditions. From cut-up crud to the groomers, our team struggled to find fault. They felt it might be more suited to the heavier end of the weight spectrum, and to skiers who aren't afraid to step on the gas pedal. D'Arcy Sego didn't hold back: "Wonderful, simply wonderful! It has a nice solid feel, and was easy to turn in 20 cm of Fernie fresh."
BLIZZARD SAMBA
LENGTHS AVAILABLE: 159, 166*, 173
sidecut: 131/98/116        turn radius: 20 @ 173     MSRP: $840
BEST IN: EDGE GRIP   * AVERAGE SCORE: 7.8
ability: 7.2    conditions: 4.1   style: 5.6   weight: 6.3
WOMEN: This was a ski that had no negative comments from our test team. The women found the Samba to be responsive and versatile enough to handle whatever was thrown at it. The most notable comment was that skiers needed a bit of time on the test run to find the sweet spot, but when they did, they loved the ride. Donie Blunden had no problem having fun on the Samba: "Once I found the sweet spot, game on! This ski could do anything: short, long, fast, slow, pow, crud, soft, groomed…"
DYNASTAR CHAM 97
LENGTHS AVAILABLE: 166, 172, 178*, 184
sidecut: 133/97/113       turn radius: 16 @ 178    MSRP: $800
BEST IN: INITIATION, AGILITY   * AVERAGE SCORE: 6.8
ability: 6.1   conditions: 3.8   style: 3.9   weight: 4.7
MEN: Most testers liked the feel of this ski; they felt that the geometry worked well for a variety of conditions. The impression was that it performed best at moderate speeds and might be best for stronger intermediate skiers looking to improve their overall game—or the majority of skiers out there. Mark Kline thought that this was an "awesome intermediate all-mountain ski that was very good in softer conditions. It was firm and light, and great at intermediate speeds."
DYNASTAR LEGEND PARADISE
LENGTHS AVAILABLE: 161, 169, 175*
sidecut: 132/98/120        turn radius: 20 @ 169      MSRP: $700
BEST IN: INITIATION  * AVERAGE SCORE: 7.0
sidecut: 6.6   conditions: 3.8   style: 5.2   weight: 5.7
WOMEN: The Legend Paradise could do it all and had the muscle to handle the big-mountain arena easily. There were several comments about this being a ski for women who have some power in their skiing; lighter or more timid skiers might not fully appreciate the burly nature of the Legend Paradise. Joanne Younker was impressed: "I loved this ski and want to buy it. It skied it all really nicely: it was easy to turn on groomers, held at speed and went with ease everywhere I made it go."
DPS WAILER 112RP Pure
LENGTHS AVAILABLE: 168, 178*, 184*, 190
sidecut: 141/112/128       turn radius: 15-18 @ 178   MSRP: $1249
BEST IN: INITIATION, AGILITY, LONG RADIUS  * AVERAGE SCORE: 6.9
ability:  6.8   conditions; 2.3   style: 5.0   weight: 5.7
MEN: The Wailer was a ski that inspired superlatives and exclamations from many of our Ski Canada test team. They loved the way the non-traditional geometry of this ski worked in the Fernie powder, and felt that it shone in soft-snow conditions. It held its own on the hardpack, but it was off-piste where it really lit up. Brian Callow's comment on the Wailer was typical of our testers: "This ski gives back everything you put into it. It handles steeps, soft snow and hardpack very well. Loved it!"
DPS YVETTE 112 Pure
LENGTHS AVAILABLE: 168*, 178*
sidecut: 138/112/126       turn radius: 15-18 @ 168   MSRP: $1249
BEST IN: INITIATION   * AVERAGE SCORE: 6.1
ability: 5.8  conditions:  2.5   style: 5.4  weight:  5.7
If you're looking for a ski to mainly play off-piste, this is one to check out. Our testers found it to be a fun companion in deeper snow, bumps and trees—less so when the speed ramped up or the ski was on the groomed. It was a bit nervous on harder snow, but in the soft stuff it floated well. As Nina Gretzmacher stated, "This ski requires some work, but it pays off. It's easy to initiate, loves powder and bumps, and I found it best at moderate speeds and short turns off-piste."
ELAN 999
LENGTHS AVAILABLE: 175, 181*, 187
sidecut: 130/98/120       turn radius:  23 @ 181     MSRP: $725
BEST IN: STABILITY   * AVERAGE SCORE: 6.1
ability: 7.1   conditions: 4.2   style: 6.4   weight: 7.1
MEN: This was a ski that had lots of discussion among the cheerleaders and critics, but the one thing our testers agreed on was that the 999 skied well in soft snow and at moderate speeds. They thought it would be best for the classic strong intermediate skier looking to make the jump to the next level. Whistler local big boy Erin Keam had this to say about the Elan: "A good strong ski for an advancing intermediate. It was a touch soft in the nose, and very predictable. For a lighter skier, it'll be nice and 'zingy'."
ELAN ZEAL
LENGTHS AVAILABLE: 152, 159, 168*
sidecut: 128/88/108        turn radius: 16.8 @ 159    MSRP: $675
BEST IN: INITIATION   * AVERAGE SCORE: 7.9
ability:6.7   conditions: 3.8   style: 5.3   weight: 5.4
WOMEN: The Zeal was a crowd-pleaser. It had the Ski Canada test team impressed with its predictable steady nature and its ability to be consistent in a variety of conditions and speeds. Consistency rarely brings our testers to big, sweeping superlatives, but the underlying feel was that this was a ski they all enjoyed and felt comfortable with all over the mountain. Val Cloutier enjoyed the ride: "An awesome off-piste ski that performs really well in deep powder, making you look like a pro. It loves patient big long turns."
FISCHER BIG STIX 98
LENGTHS AVAILABLE: 166, 176, 186*
sidecut: 130/98/122       turn radius: 21 @ 186   MSRP: $950
BEST IN: INITIATION, EDGE GRIP, LONG RADIUS   * AVERAGE SCORE: 7.0
ability: 7.1   conditions: 4.5   style: 5.5   weight: 5.7
MEN: When a ski has a light feel, there's often some discrepancy in the comments. Our lighter testers really liked the nimble, quick feel of the Big Stix 98 for instance, while heavier skiers felt that it had an upper speed limit. They did agree that the ski wasn't limited to any one situation: it skied well in the bumps, on the steeps and in a variety of snow conditions. Paul Ouelette, who weighs in at mid-pack, said, "Wow, a big-mountain ski that has some performance in the crud and groomed. It's stable, forgiving and fairly light."
FISCHER KOA 98
LENGTHS AVAILABLE: 156, 166*, 176
sidecut: 130/98/122      turn radius:  17 @ 176   MSRP: $950
BEST IN: INITIATION    * AVERAGE SCORE: 7.6
ability: 6.0   conditions: 3.5   style: 4.7   weight: 4.6
WOMEN: The Koa was a crowd-pleaser, especially for our lighter skiers. The consensus was that for a light ski, this model was playful and fun. Our more aggressive skiers thought that they overpowered the ski a bit on the groomed at high speeds, but really liked the flex pattern off-piste. Wendy Anderson was pleasantly surprised by this ski: "For a light soft ski, it handled all snow types and terrain with surprising ease, stability and trustworthiness. It requires little effort, and puts a smile on your face." 
HEAD REV 105
LENGTHS AVAILABLE: 171, 181, 191*
sidecut: 144/105/131       turn radius: 16 @ 181   MSRP: $775
BEST IN: LONG RADIUS, STABILITY   * AVERAGE SCORE: 7.5
ability: 8.1  conditions: 3.7   style: 6.8   weight: 7.3
MEN: This ski seriously impressed our testers, with some calling it a best-in-category contender. What they liked was the predictability and ease that the Rev 105 showed in all conditions, and it didn't seem to have a speed limit. It handled everything thrown at it and more. The ski was at home in the pow and crud, and ripped up the groomers without blinking. Hank Shannon was convinced: "Go out and get this ski! So effortless that your face will hurt from smiling. Groomers or deep snow, this ski performs great in all conditions."
HEAD MYA N° 9
LENGTHS AVAILABLE: 152, 159, 166, 173*
sidecut; 130/93/117        turn radius: 16.4 @ 166   MSRP: $840
BEST IN: EDGE GRIP, STABILITY  * AVERAGE SCORE: 5.3
ability: 8.3   conditions: 2.3   style: 8.8   weight: 8.8
WOMEN: For ladies who spend all day ripping big, fast lines, this ski might be perfect. For those mixing up their day between off-piste and on, it might be a bit intimidating. Women who rip hard, ski fast and aren't afraid to bend a ski, should check this one out. Anne Terwiel knows how to tip it and rip it with the best of them: "Everything about this ski is big: power, speed, turns, smiles. Not for the faint of heart; it's for the true big-mountain skier who wants to let fly in all conditions."
K2 SIDESETH
LENGTHS AVAILABLE: 174, 181*, 188
sidecut: 147/118/135       turn radius: 26 @ 181   MSRP: $800
BEST IN: LONG RADIUS, STABILITY   * AVERAGE SCORE: 6.9
ability:  7.3   conditions: 3.1  style: 6.6  weight: 6.8
MEN: Our testers thought the SideSeth skied and felt bigger than it was, giving an overall solid, confident feel. The fact that many testers commented on how powerful the ski felt means that it would best suit those who have a bit of weight to bend the ski or who aren't afraid of a little speed. Ron Betts's comment was consistent with fellow testers: "Love at first turn! This ski tears up everything with ease. There are no surprises; it's a powerful yet stable ski that's well-balanced and a great ride."
K2 SIDEKICK
LENGTHS AVAILABLE: 153, 160, 167*, 174
sidecut: 139/108/127       turn radius: 21 @ 167   MSRP: $750
BEST IN: AGILITY   * AVERAGE SCORE: 8.7
ability: 6.1     conditions: 3.4   style: 4.6   weight: 4.9
WOMEN: The SideKick was the highest-scoring ski in our women's Big Mountain test. Our team is pretty hard to impress and even harder to get consensus from. The praise for this ski was unanimous: it was light, responsive, adaptive to the conditions and versatile. It comes highly recommended by some of the top female skiers in the country. That's good enough for Janet Kuijt: "Absolutely beautiful! It has a light-hearted feel; it loves air, rips the bumps and slices the pow. This ski does it all—fun, fun, fun everywhere."
KÄSTLE BMX108
LENGTHS AVAILABLE: 168, 178*, 188*, 195
sidecut: 132/108/122       turn radius: 32 @ 188   MSRP: $1099
BEST IN: LONG RADIUS, STABILITY   * AVERAGE SCORE: 6.1
ability: 7.9   conditions: 4.4   style: 7.3   weight: 7.5
MEN: Heavier more power-oriented testers liked the solid feel of this ski and that it needed some speed to really come alive. Our lighter testers had a harder time figuring the ski out, and felt it needed a lot of input from the operator to make it work. If you like fast and straight, this one is for you. Erin Keam knows how to put energy into a ski: "Is there such a thing as a powder race ski? This ski is rock-solid on powder and groomed at any speed. Although big and strong, it's still versatile."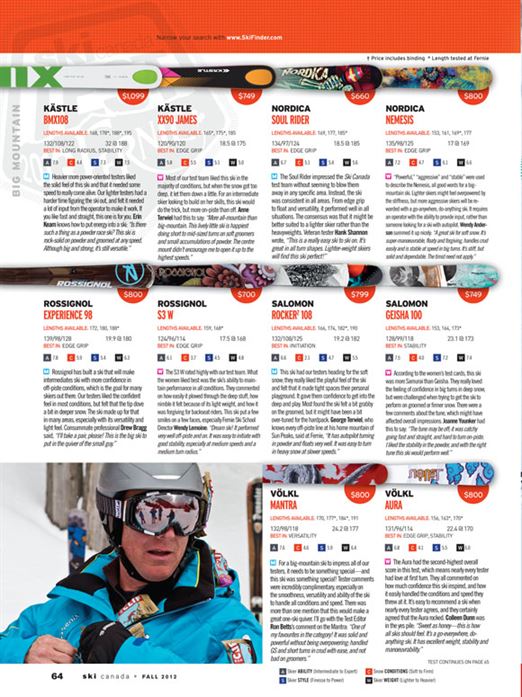 KÄSTLE XX90 JAMES
LENGTHS AVAILABLE: 165*, 175*, 185
sidecut: 120/90/120        turn radius: 18.5 @ 175   MSRP: $749
BEST IN: EDGE GRIP    * AVERAGE SCORE: 6.7
ability: 5.8  conditions: 5.5   style: 5.1  weight: 5.0
WOMEN: Most of our test team liked this ski in the majority of conditions, but when the snow got too deep, it let them down a little. For an intermediate skier looking to build on her skills, this ski would do the trick, but more on-piste than off. Anne Terwiel had this to say: "More all-mountain than big-mountain. This lively little ski is happiest doing short to mid-sized turns on soft groomers and small accumulations of powder. The centre mount didn't encourage me to open it up to the highest speeds."
NORDICA SOUL RIDER
LENGTHS AVAILABLE: 169, 177, 185*
sidecut: 134/97/124        turn radius: 18.5 @ 185   MSRP: $660
BEST IN: EDGE GRIP   * AVERAGE SCORE: 7.5
ability: 6.7   conditions: 5.1   style: 5.4   weight: 5.6
MEN: The Soul Rider impressed the Ski Canada test team without seeming to blow them away in any specific area. Instead, the ski was consistent in all areas. From edge grip to float and versatility, it performed well in all situations. The consensus was that it might be better suited to a lighter skier rather than the heavyweights. Veteran tester Hank Shannon wrote, "This is a really easy ski to ski on. It's great in all turn shapes. Lighter-weight skiers will find this ski perfect!"
NORDICA NEMESIS
LENGTHS AVAILABLE: 153, 161, 169*, 177
sidecut: 135/98/125      turn radius: 17 @ 169   MSRP: $800
BEST IN: EDGE GRIP   * AVERAGE SCORE: 7.4
ability: 7.2   conditions: 4.7   style: 6.1   weight: 6.6
WOMEN: "Powerful," "aggressive" and "stable" were used to describe the Nemesis, all good words for a big-mountain ski. Lighter skiers might feel overpowered by the stiffness, but more aggressive skiers will be rewarded with a go-anywhere, do-anything ski. It requires an operator with the ability to provide input, rather than someone looking for a ski with autopilot. Wendy Anderson summed it up nicely: "A great ski for soft snow. It's super-manoeuvrable, floaty and forgiving, handles crud easily and is stable at speed in big turns. It's stiff, but solid and dependable. The timid need not apply."
ROSSIGNOL EXPERIENCE 98
LENGTHS AVAILABLE: 172, 180, 188*
sidecut: 139/98/128        turn radius: 19.9 @ 180    MSRP: $800
BEST IN: EDGE GRIP   * AVERAGE SCORE: 7.9
ability: 7.8   conditions: 5.9   style: 5.4   weight: 6.3
MEN: Rossignol has built a ski that will make intermediates ski with more confidence in off-piste conditions, which is the goal for many skiers out there. Our testers liked the confident feel in most conditions, but felt that the tip dove a bit in deeper snow. The ski made up for that in many areas, especially with its versatility and light feel. Consummate professional Drew Bragg said, "I'll take a pair, please! This is the big ski to put in the quiver of the small guy."
ROSSIGNOL S3 W
LENGTHS AVAILABLE: 159, 168*
sidecut: 124/96/114        turn radius: 17.5 @ 168   MSRP: $700
BEST IN: EDGE GRIP   * AVERAGE SCORE: 8.0
ability: 6.1  conditions:  3.7   style: 4.5  weight: 4.8
WOMEN: The S3 W rated highly with our test team. What the women liked best was the ski's ability to maintain performance in all conditions. They commented on how easily it plowed through the deep stuff, how nimble it felt because of its light weight, and how it was forgiving for backseat riders. This ski put a few smiles on a few faces, especially Fernie Ski School Director Wendy Lemoine: "Dream ski! It performed very well off-piste and on. It was easy to initiate with good stability, especially at medium speeds and a medium turn radius."
SALOMON ROCKER2 108
LENGTHS AVAILABLE: 166, 174, 182*, 190
sidecut: 132/108/125      turn radius:  19.2 @ 182   MSRP: $799
BEST IN: INITIATION   * AVERAGE SCORE: 5.9
ability: 6.6   conditions: 2.1   style: 4.7   weight: 5.5
MEN: This ski had our testers heading for the soft snow; they really liked the playful feel of the ski and felt that it made tight spaces their personal playground. It gave them confidence to get into the deep and play. Most found the ski felt a bit grabby on the groomed, but it might have been a bit over-tuned for the hardpack. George Terwiel, who knows every off-piste line at his home mountain of Sun Peaks, said at Fernie, "It has autopilot turning in powder and floats very well. It was easy to turn in heavy snow at slower speeds."
SALOMON GEISHA 100
LENGTHS AVAILABLE: 153, 164, 173*
sidecut: 128/99/118        turn radius: 23.1 @ 173   MSRP: $749
BEST IN: STABILITY   * AVERAGE SCORE: 6.0
ability: 7.5  conditions: 4.0   style: 7.2   weight: 7.4
WOMEN: According to the women's test cards, this ski was more Samurai than Geisha. They really loved the feeling of confidence in big turns in deep snow, but were challenged when trying to get the ski to perform on groomed or firmer snow. There were a few comments about the tune, which might have affected overall impressions. Joanne Younker had this to say: "The tune may be off; it was catchy going fast and straight, and hard to turn on-piste. I liked the stability in the powder, and with the right tune this ski would perform well."
VÖLKL MANTRA
LENGTHS AVAILABLE: 170, 177*, 184*, 191
sidecut: 132/98/118        turn radius: 24.2 @ 177   MSRP: $800
BEST IN: VERSATILITY    * AVERAGE SCORE: 8.0
ability: 7.6  conditions:  4.6   style: 5.9   weight: 6.4
MEN: For a big-mountain ski to impress all of our testers, it needs to be something special—and this ski was something special! Tester comments were incredibly complimentary, especially on the smoothness, versatility and ability of the ski to handle all conditions and speed. There was more than one mention that this would make a great one-ski quiver. I'll go with the Test Editor Ron Betts's comment on the Mantra: "One of my favourites in the category! It was solid and powerful without being overpowering; handled GS and short turns in crud with ease, and not bad on groomers."
VÖLKL AURA
LENGTHS AVAILABLE: 156, 163*, 170*
sidecut: 131/96/114      turn radius:  22.4 @ 170   MSRP: $800
BEST IN: EDGE GRIP, STABILITY   * AVERAGE SCORE: 8.3
ability: 6.8   conditions: 4.1   style: 5.5 weight: 6.0
WOMEN: The Aura had the second-highest overall score in this test, which means nearly every tester had love at first turn. They all commented on how much confidence this ski inspired, and how it easily handled the conditions and speed they threw at it. It's easy to recommend a ski when nearly every tester agrees, and they certainly agreed that the Aura rocked. Colleen Dunn was in the yes pile: "Sweet as honey—this is how all skis should feel. It's a go-everywhere, do-anything ski. It has excellent weight, stability and manoeuvrability."