Reading Time:
6
minutes
While the Big Mountain category has expanded, with virtually every manufacturer developing a series, this year's SIA saw a general drop in girth: waist widths generally max out under 120mm, with the majority under 110mm. As for graphics, the days of cartoons on LSD also seem to be behind us. Expect the real flair to go under the skin in revamped cores, fine-tuned geometry, a focus on better weighting and, more often than not, a touring component—all elements highlighting an intelligent evolution into the back/slack/sidecountry.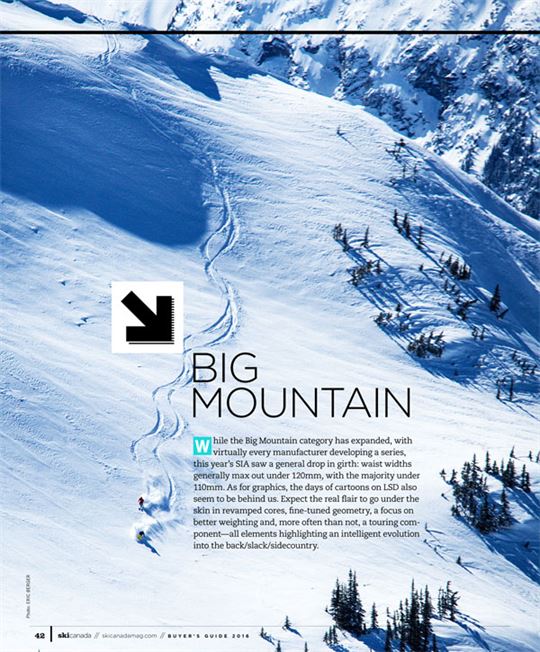 AT THE PINNACLE
 K2's three-ski Pinnacle lineup (95, 105 and the Seth Morrison 118mm pro model) of hard-charging freeriders takes advantage of a new Nanolite Konic Core, a lightweight, low-density, aerospace-grade composite that runs through the centre of the ski for added ease and reduced swingweight. Denser wood and metal line the perimeter for stability. K2 adds All-Terrain Rocker profile for versatility, so much so that it's calling the Pinnacle 95 (132/95/115) the jack-of-all-trades: a fast-turning ski that's as much fun in pow as it is stable through crud.
SURF'S UP
 Elan offers a smorgasbord of technologies to support freeriding and touring adventures. The Spectrum 105 and 95 start with a unique Diamond tip and tail shape borrowed from the surf world and add on the company's lauded Amphibio Profile with its dedicated right and left skis for added grip and control. ALUblade technology in the form of an ingenious asymmetric aluminum structure helps weight the skis' inside edges. Weight reduction comes via a super-light Laminated Woodcore and Tubelite Technology, where two lightweight carbon tubes are inserted into a wood core arcing parallel to the sidecut. The result: increased torsional stability and power transmission. Look for some of the same technology in Elan's women's
Twilight 90 Carbon.
BACKCOUNTRY TOURISTS
 Line unveils a first-ever for the brand: a backcountry-specific ski. The Sick Day Tourist (135/102/120mm) builds off its lightweight Cloud Core (a blend of balsa wood and flax that weigh 3,340g/pair at 186cm), and offers plenty of float. As a good tourer should, the skis' notched tips and tails make for easy skin attachment, particularly Line's new Snakeskins.
FULL ON LUV
 At the top of K2's Luv freeride series for women, FulLuvit 98Ti (131/98/119) blends a metal laminate with the company's triaxial fibreglass braided core for increased stability and longitudinal flex. Like its All-Mountain sisters, the ski employs Channel Light Core technology, blending aspen, paulownia and bamboo for perfor-mance and weight savings. All Terrain Rocker helps shorten the radius to just 17.5m at 170cm.
INSERT HERE
 Stöckli updates its Stormrider series with Triple Range Inserts in the form of carbon fibre or polyamide to reduce weight and control/modify longitudinal and torsional stiffness. The combination works with its Superlight Core, making for significant weight savings. For 2015-16, Swiss-made Stöckli introduces a new Stormrider 95, 107 and 100 Motion for women to its lineup.
BODACIOUS REBUILT
 Blizzard redesigns the Bodacious (138/118/127) from the bottom up. R&D started with a hybrid poplar, bamboo, ISO wood FlipCore, dropped last season's metal and added its Integrated Carbon Control technology, which is vibration-reducing carbon fibre on the tip and tail for reduced swingweight and improved perfor-mance. Progressive sidecut with tapered tips and tails makes it more playful than ever.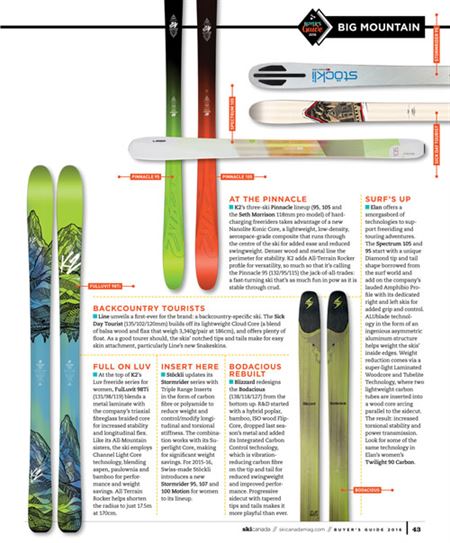 CHAM 2.0
 Dynastar's Cham 2.0 series gets improved versatility and ease-of use through a renovated blend of rocker, sidecut and construction. Moderated rocker means better tracking and increased control, while the more forgiving pintail design results in better manoeuvrability and float. A refined five-point sidecut combines with a more symmetrical core profile, providing added playfulness. The paulownia wood core lightens the load by as much as 25 per cent over last year's model for better touring. You'll find these adjustments throughout the three-ski lineup—at 97, 107 and 117mm underfoot.
 NEXT GENERATION RANGER
 Fischer's seven-ski freeride series (that comes in 108, 98, 90 and 84mm in men's, women's and junior sizes) gets a complete overhaul. At the top of the heap, the Ranger 98 Ti (132/98/122) comes with all the trimmings: expect a sandwich sidewall construction that employs an advanced AirTec beech/poplar milled core reinforced with carbon and Titanal. Swingweight improves via the company's Carbon Nose and Aeroshape technologies. A new rocker profile results in added float in the pow. "The only thing that isn't new is the name," says Fischer.
RETURN OF THE EMPIRE
 G3 developed its fully reverse-cambered Empire Carbon 115 (145/115/126) for playful, versatile, sturdy big-line riding. This year's full ABS sidewall incarnations (the line includes a 127mm underfoot and women's 115 version) use triaxial stitched carbon fibre atop a poplar/paulownia hybrid wood core to drop 20 per cent of last year's weight. Dual layers of 7000-series Titanal, a co-extruded, scratch-resistant nylon topsheet and a P-tex 2000 Electra base complete the package.
RE: ENFORCER
 Nordica upgrades its lineup with the complete redesign of the Enforcer and lady-specific Santa Ana (133/100/121). The two benefit from a ski-specific rocker profile that pulls the contact point of the tip back by a quarter and the tail by five per cent for increased flotation, velocity and turn initiation, resulting in 16.5m radius turns at 177cm. The Enforcer is built with Nordica's Energy 2 Titanium World Cup-styled construction—a full wood core with two sheets of metal over the edges—while the women's version drops weight via a balsa wood core reinforced with a carbon layer.
NEW FOON
 Pemberton's Foon offers the Neo (130/101/121) to satisfy newer big-mountain skiers. Like Foon's classic Tyfoon, it's an all-round performer for crud, pow and hardpack, but with an 11mm-thinner underfoot and softer flex, it promises to be more forgiving.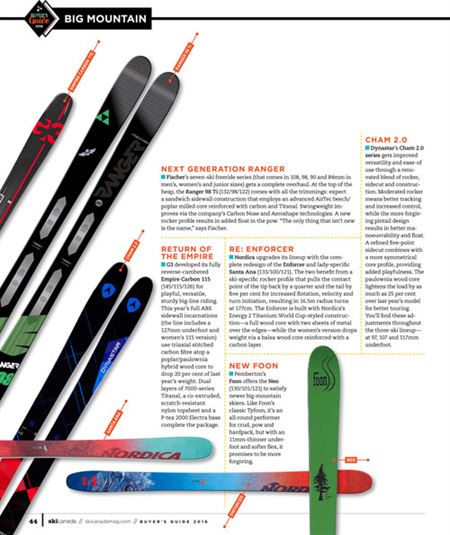 GO TO THE MTN
 As part of its massive thrust into the backcountry segment, Salomon launches its three-ski freeride collection. The MTN Explore 88 and 95 feature a lightweight, 3D-milled karuba wood core reinforced with proprietary lightweight CFX Super fibre (a weave of carbon and flax) for added dampening. The lineup boasts semi-sidewall construction, and Salomon partners with Pomoca to offer quality lightweight precut skins. The more freeride-focused can opt for the beefier MTN Lab 95 with a full-length ABS sandwich sidewall construction and added CFX.
 ZERO G
 Blizzard re-enters the tour segment with its Zero G series of big-line-ripping, carbon-fibre skis. The quiver of four (three unisex at 108, 95 and 85mm underfoot, and a women's-specific at 85mm) integrates a three-dimensional, uni-directional carbon fibre into an ultralight wood core sidewall construction, resulting in a torsionally rigid and stable ski without the weight. The 95mm underfoot at 178cm weighs 1,250g. Supersize with Pomoca's custom-fit, 230g extra-light skins for the full performance package.
LIGHT AS A CLOUD
 Line continues its freeride focus by launching a duo of playful boards with Eric Pollard's fingerprints all over them. The Mordecai (141/114/138) benefits from the company's Cloud Core, an ultralight balsa and flax construction used in the Magnum Opus. Likewise, the Sir Francis Bacon (135/104/131) restructures with the same revamped core and comes with a new tapered tip and tail, resulting in a drop of 19 per cent on the scales from last season's version.
NEW BMX
 Kästle revamps its BMX series with a three-ski offering in a pair of waist underfoots. The BMX105, BMX105 HP (both at 134/105/123) and BMX115 (141/115/130) feature low camber constructions in the modern dual rise, elliptical radius turning and proprietary Progressive Rise shovels. All feature next generation Hollowtech that helps reduce swingweight and dampen vibration. The HP version adds on twin layers of performance- enhancing Titanal.
TOUR-READY
 DPS launches its Tour1 line. The Salt Lake City-based manufacturer (all Pure3 and Tour1 skis are now made in-house) lays out this backcountry-specific, gram-conscious, performance-forward construction on tried and tested moulds. Look for proprietary aerospace-grade prepreg carbon over a balsa core covered by a cap on the Wailer 112RP2, Wailer 99 and Cassiar 95, with as much as 40 per cent weight savings over traditionally constructed alpine boards. The award-winning Wailer 112RP2 hits the scales at just 1,425g/ski. It's hard to argue with a company when it says, "Lightweight, efficient gear means that the backcountry gets better and better."