---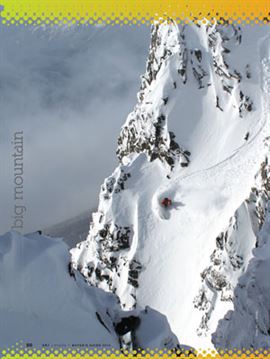 Size matters in the domain of the Big Mountain—and it doesn't get any bigger 

than here. Big Mountain means big snow, air, tricks and glory. It starts around a 

century underfoot and translates into something beautiful. These are the best-looking 

boards in the industry, with international artists penning their signatures left, 

right and centre. But there's more to fine art than the topsheets. Engineering and 

design play a huge roll. This is the domain of surf-inspired engineering, add-ons 

and packaging. Big Mountain skiing implies non-lift service, so expect tantalizing 

pairings with ski-specific skins, packs, bindings and boots.

S3 4U
Highlighting a number of Rossignol's
freeski technologies, the S3 offers
vertical sidewalls with a weight-reducing
wood core and fibreglass sock construction
as well as proprietary AmpTek profiling,
which mixes rocker at the tip and tail and
camber underfoot. It contrasts a reverse
sidecut with tapered tip and tail, with
regular sidecut. The result? The 128/98/118
directional sidecut slashes and butters. In
the park the 110/98/110 sidecut handles like
a true twin.

Sweet as honeycomb
Salomon is touting its Rocker² as its "most
playful powder ski yet." The full wood core,
monocoque ski comes with reinforced extra-wide
edges under an innovative honeycomb
construction at the extremities for reduced
swing weight and easier flotation. The beefy
ski combines twin rocker with regular camber
underfoot for a powder-loving ski that carves
20+m radius turns.

The Legend returns
Dynastar's newest freeride partially hollowed
out interior, reinforced exterior board comes
in the form of the titanal layered Legend
Pro Rider 105, a float-happy vessel with a
progressive 450mm rockered tip and redesigned
tail for big landings. Beyond the pow,
experts can expect a solid ride as the
sandwich-constructed wood-core
ski comes reinforced
with full-length
sidewalls and a
137/115/127
sidecut.

Freeride four
Four models with genre-specific rocker and
spring-loaded I-beam construction boost
Fischer's freeriding lineup this season. Women
ride the Koa 88 and 98, men the Watea 98
and 120. All are Big Mountain twins, except for
the classically styled Koa 88, made for breaking
barriers and making sweet landings. The Watea
120 employs Powder Hull technology—a boat-like
profile—in the tips. Anchors aweigh!

To Hell & Back
The folks at Nordica think that on the way to your odyssey on the rockered Hell & Back series. I-Core technology sandwiches synthetic between natural strips of wood for no-sacrifice lightness. The biggest of the bunch, Unleashed Hell, comes with high-rise rocker over camber at 143/113/132. The entire series packages perfectly
with Nordica's homonymous boot series, and precut mohair/nylon skins.
Black what?
Associated helmet and protective gear
company POC may be well known by most
skiers around the world, but the quiver of
sandwich-engineered wood-core skis under
the Black Crows name is still under the radar
at most ski areas in Canada. No surprises
the lineup of offerings was born from the
freeskiing genre, but Black Crows has branched
out to meet the skiing public's needs with
high-performance and detuned GS models
up to ski-mountaineering. Black Crows' lines
include: Nocta, Orb, Sevun, Corvus, Navis,
Viator and Arto. Despite the cool names, no
IKEA designers were involved that we know of.
No doubt Black Crows has a model to suit your
style, conditions and terrain with something
in the lineup to keep most skiers happy—and
the curious in the lift line asking….
A new Legend
The Pro Rider 105's Freeride Rocker
incorporates 70 per cent high camber
underfoot, while the remaining 30 per
cent of the tip has high rocker. Sidecut:
132/105/122. Elevated tips and traditional
tail mean good float for charging soft snow,
while the camber underfoot results in power,
energy and edge grip for groomers and
variable conditions. It's built with a classic
wood/titanium alloy sandwich construction,
and comes with strong bloodlines—a part of
Dynastar's highly decorated Legend series.

In-Spire
The purist's choice, Elan's Spire offers lots
of muscle, with a laminated wood core, two-level
titanium reinforcements and aluminum
topsheet to deliver a progressive flex pattern.
Add carbon and SST sidewalls, reinforced for
extra strength but without the weight. Resort
Rocker means a raised tail for superior powder
flotation for this 130/98/120-sidecut board.

Light rocker
Better than Air Supply, these "fat" Big
Mountain twins from Stöckli sing the glories
of soft rocker, thanks to their extra-light
titanal construction. However, light doesn't
mean flimsy. The Swiss-made Stormrider
110 TT promises a super-freeride feeling. It's
manoeuvrable because of its low weight, and
resistant with its robust 3AX fibreglass plastic
sidewalls. The ski comes with a 136/110/124
sidecut. Those looking for a more All-Mountain
version can dig into the Stormrider 95
(128/95/117), which is similarly built minus
the twins and plus a sublimated polyamide
surface resistant to wear and tear.

So big it's Mutant
If bigger means better, Liberty's Mutant is
best. This fully rockered powder monster is
only available at a 192 cm length and clocks
in with a 160/149/145 sidecut.
Big Mountain bros
The big mountain just got bigger since there
are more and more niche markets from which
to choose. Nordica aims to please by creating
a duet of rockers. Dedicated to all-terrain
freestylers who are pushing park skiing into
the backcountry, generously shaped Patron
(143/113/132) offers versatility for use on any
type of terrain and in any snow conditions.
Expect a high-rise rockered profile and Mexican
artist Posada-inspired graphics. Enforcer Ti
aims at the freerider, with a slow-rise rocker
and a more conservative 135/98/125 sidecut.
The latter also comes with a matching boot,
the high-wrap, high-performance and extra-insulated
(for those wanting to spend the night
camping out in their boots) Enforcer Pro 110.

Piste-off, piste-on
With its wide underfoot, the fully rockered Shiro
shines as the perfect off-piste ski. But the folks
at Völkl insist you're not to be fooled by its
looks: at a 151/119/135 sidecut, they say it's
versatile and handles the groomers just fine.
Six-pack
Kästle introduces its all-new BMX (for Big
Mountain Cross) lineup with six hard-hitting
boards. Designed with Hugo Harrison in the pilot
seat, expect early-rise rocker and dual-radius Big
Mountain shape with a touch of camber. True
to the Austrian manufacturer's style, these skis
feature a wood core, straight tails and Kästle's
patented Hollowtech technology which reduces
the mass of a ski's tip, dampening vibration,
and allows for faster edge transition and better
tracking. The skis come in a half-dozen versions:
from 78 to 128mm underfoot.
Flipping fantastic
Blizzard has been turning heads since last
year's award-winning Power Full Suspension
Technology and innovative IQ Interchangeable
binding system. This season it's redefined rocker
throughout its Free Mountain line. Enter Flip Core
technology, where Blizzard laminates the lively
bamboo core upside down, so that the convex
side of the core creates a natural upward bend, no
additional re-pressing needed. The result: a new
level of stability and even pressure distribution
unheard of until now in freeride ski construction.
Blizzard went big with a series of five powder-loving,
tangibly easier-to-turn skis for the Big
Mountain scene. And Tecnica has leapt onto the
bandwagon with four homonymous freeriding
boots. Each ski comes
named after a legendary rodeo bull. Bodacious is
the wildest of the bunch, weighing in at 118mm
underfoot in 196 and 186 cm lengths, and comes
complete with a sandwich compound sidewall and
double titanal layer. The Austrian company claims
the Cochise, at 108mm underfoot is just the
ski for Big Mountain junkies on the lookout for
that ultimate combination of powder-readiness,
stability and snappiness in every terrain.
Bonafide comes in at 98mm underfoot, and
Bushwacker at 88mm. Cowgirls daring enough
will want to take the Black Pearl for a ride, also
88mm.
Amped up
Black Diamond has produced a pair of Big
Mountain-inspired hybrids designed to take
you from arcing on groomers to drifting
smear-turns through wind buff. Agile but
meaty, the unisex AMPerage and women's
Element weigh in at 4.3 and 3.8 kg per pair,
respectively.

Snow god
Nelson, B.C.'s Boomtown Sports Emporium says its Ullr will make getting closer to ski heaven that much easier. Hand-built, tested by the guides at Mike Wiegele Helicopter Skiing and produced using renewable bamboo, the 112mm-underfoot board comes in 160, 170, 180 and 190 cm lengths, features early-rise tip and tail rocker, ABS sidewalls, extruded bases, and sells exclusively at Boomtown's shops and webpage.
Carbonated freeskiing
Big ain't better if it means heavier say
carbon-fibre specialist Goode. Its rockered
Rahu, Kachina and women-specific Affinity
(based on its Fire mould) combine rocker,
multiple layers of carbon and a wood core
together with graphite sintered bases and
carbon steel edges for a delightfully light yet
solid performance.
High and mighty
At 116mm underfoot, the Highball is G3's
fattest cat this season. The bombproof
freeride ski features the Vancouver company's
progressive Sweet Rise Camber, with rocker for
soft-snow conditions. Built over a titanal deck
sandwich construction, expect nothing but
intoxicating turns.

A Crown-ing achievement
Another B.C. boutique manufacturer, Crown,
calls its Kensho the ultimate weapon for
cutting through the big-time alpine in anything
from blower pow to nasty chopped-up crud. The
ski features an early-rise tip, deep flare and a
dual radius. In 17 words: stability at speed—
optimal flotation capable of managing a ton of
energy from a rock-solid platform. It comes in
190 (106mm underfoot) and 175 cm (97mm)
lengths, and is as Canuck in construction as can
be: a rock-hard vertically laminated maple core
pimped with symmetrical composite layers and
carbon stringers.

Rea-Line
No wonder Line calls it the Sir Francis
Bacon. Redesigned by pro Eric Pollard for this
season, the ski is the result of 13 years and
70 prototypes of Baconian-syled inductive
reasoning and experimentation. The fun begins
with a (relatively) narrower 108mm underfoot
for increased edge-to-edge, early-rise and taper
tips and tails, along with symmetric flex and
sintered bases and edges. Line considers it
a pow-loving, all-mountain board. The rock-solid,
maple-cored ski comes in 172, 178 and
184 cm lengths, with a 140/108/136 sidecut.
Following the same experimental method is the
appropriately named Mr. Pollard's Opus at 178
and 185 cm lengths and a 144/118/141 sidecut.

A lively homage
In memory of the late Travis Steeger, Armada
has come up with a ski worthy of the Nelson,
B.C., rider—the TST. This Big Mountain tool
boasts progressive tip rocker for floating
through Whitewater pow, and positive camber
for on-slope edge control. Beefy in size
(118/131/101/122 at 174 cm), its carbon and
Kevlar stringers power up the Hybrid UltraLight
Core, while the AR50 sidewall construction
lightens swing weight with capped tips and
tails and ABS underfoot.
Freeskiing pedigree
Big Mountain board-makers at DPS have
a quiver of eight for this season, ranging
from the Cassiar 80 to the Lotus 138
(the numbers represent underfoot widths),
including a duo of women-specifi c models.
If you gotta choose just one, think Wailer
112RP. Built with a 141/112/128 sidecut,
it offers 16m-radius turns, aggressive rocker
with slight camber underfoot, and good
torsional stiffness for both powder mornings
and laying afternoon tracks. Under the hood,
look for a healthy mix of bamboo, fibreglass
and carbon.

Motöring
Head storms the Big Mountain division
with a quartet of powder-pounding boards
featuring rocker construction with reverse
camber launched in conjunction with the
members of Motörhead, who, incidentally,
are rockin' skiers. The biggest of the bunch,
Boneshaker, weighs in at 125mm underfoot
and comes with flow rocker; the Kiss Of
Death 110 and Inferno 104 twins come
fitted with Alaska-proven Flow Ride Shape,
ready for all-abusive backcountry surprises.
Freeriders who have to conquer hardpack
between powder blasts should look at the
Rock'n Roll 94, a carving Big Mountain ski
with Flow Rise and featuring extra-durable
sidewalls for longer life.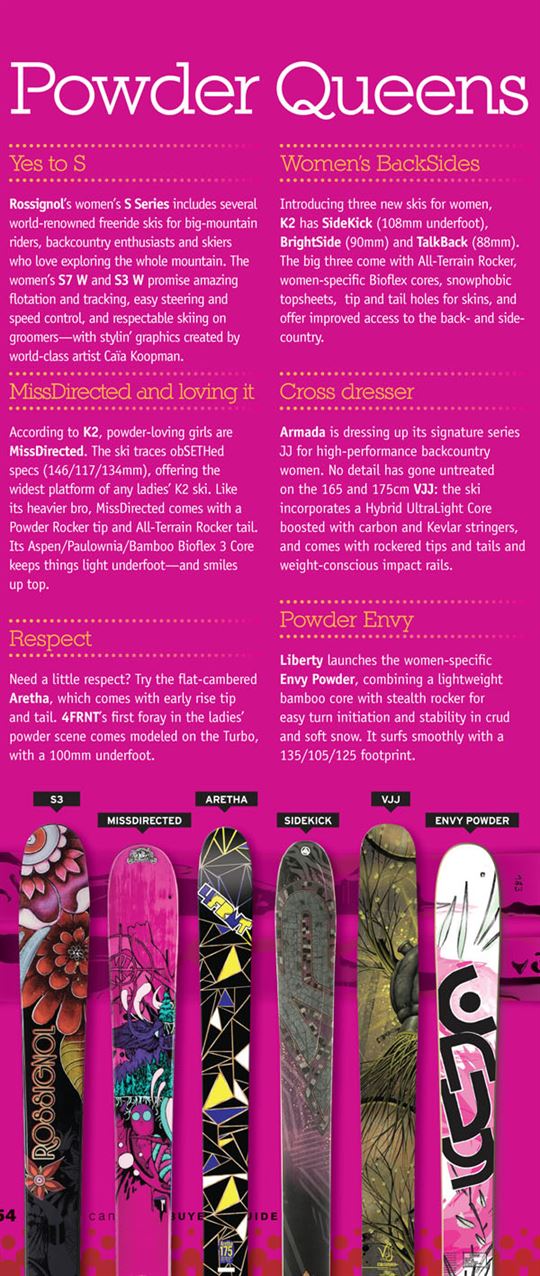 Tags: 4FRNT Aretha, AmpTek, Armada, Armada JJ, Black Crows, Black Pearl, Blizzard, Blizzard Bodacious, BMX, Bodacious, Bonafide, Boneshaker, BSI, Bushwacker, Cochina, Corvus, Crown, DPS, Dynastar, Elan, Enforcer Ti, Eric Pollard, Featured, Fischer, Flip Core, Flow Ride Shape, Free Mountain, Freeride Rocker, G3, Goode, Head, Head Boneshaker, Hollowtech, Hugo Harrison, Inferno, K2 MissDirected, K2 SideKick, Kästle, Kensho, Kiss of Death, KOA 88, Legend Pro Rider, Liberty, Liberty Envy Powder, Line, Motorhead, Mutant, Nocta, Nordica, Orb, Patron, POC, Powder Hull, Powder Queens, Rahu, Resort Rocker, Rock'n Roll, Rocker2, Rossignol, Rossignol S7, S3, Salomon, Sevun, Shiro, Sir Francis Bacon, Spire, Stockli, Stormrider 110 TT, To Hell & Back, Ullr, Unleashed Hell, Volkl, Watea 98