Reading Time:
7
minutes
Big-Mountain translates to huge underfoots, lots of rocker and graphic excess. It's a
much smaller segment than the ubiquitous All-Mountain category but this is where
the ski strikes back, now influencing the snowboard industry with profiles that slash
and smear rather than carve and grip. Big-Mountain boards are typically sold flat since riders
can choose among tele, randonee and freeride bindings. Whatever your poison, when it comes
to mounting, think low and keep your centre of gravity down to elevate power transmission.
Big-Mountain also means business – it's one of the most contested zones in the industry, so
you'll find much of the ski industry's R&D underfoot.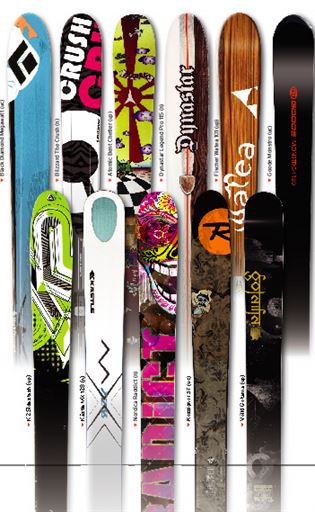 top row, left to right: Black Diamond Megawatt, Blizzard The Crush, Atomic Bent Chetler, Dynastar Legend Pro, Fischer Watea 101, Goode Monstro
bottom row, left to right: K2 Sidestash, Kastle MX128, Nordica Raddict, Rossignol S7, Volkl Gotama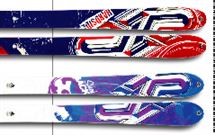 Get Stoked!
A tribute to living legend Greg Hill (see
Ski Canada, Winter 2006) and his hometown
Revelstoke, Dynafit's Stoke is all- Canadian.
Beneath the blazing maple-leafed topsheet – you
could've worn these proudly at the Olympics – expect an extraordinarily smooth-turning ski with
early rise tip. Lightweight Paulownia, bamboo
and beech combine in a core reinforced with
carbon and backed with ABS sidewalls. Designed
for untracked descents (and ascents), the Stoke
boasts a patented, skin-friendly tip and tail,
and is 104-106 mm underfoot and only 1470
grams on the scales. It's pre-jigged for Dynafit's
technical line of ultra-light bindings.
Legend(ary) Revelstoke
Dynastar developed its five-ski, straight-tailed
Legend series in Revelstoke, B.C.,
and claims this all-mountain/freeride quiver
delivers the best the company has to offer:
wood core construction, vertical sidewalls
for improved edge grip, a torsion box,
stabilizing titanal layers and rockered tips,
along with traditional camber underfoot
meant for the harshest of Canadian
conditions. The series comes in 80-120 mm
underfoot. New this year is the all-round
performer, Sultan 94.
Alpine touring
When Big-Mountain means more than a
slackcountry jaunt, think Black Diamond.
This year it presents a quiver of six Efficient skis (two women-specific) made to maximize
performance and weight – the expedition-geared
Guru weighs in at a sprightly 2.32
kg per pair. A classic torsion box envelops a
Paulownia wood core with carbon fibre and
fibreglass reinforcements. Lightweight racing
edges seal the deal. Looking for versatility? The
Aspect comes at a nimble 90 mm underfoot,
weighs 2.59 kg and carves 16-metre radii.

Get Back!
Longtime backcountry expert K2 makes a nice
package for those setting off to the great beyond.
DarkSide (156/128/144) rocks earlier than any
other in K2's lineup and, among other pleasures,
promises easy pivoting. Its regular-cambered tail
produces power and acceleration to keep you on
your toes in the narrowest of couloirs. HardSide (131/98/119), the most versatile in the quiver,
and BackLash (129/92/115) both come updated
with the company's All-Terrain rocker – early
rising tips and tails combined with 70 per cent
regular camber.
On the ladies' side, She'sBack (121/80/107)
is the lightest and curviest of the bunch. Other
improvements include new widths and snow-phobic
topsheets across the entire BackSide line
to eliminate snow buildup. Powder-specific tips
minimize snagging and improve stability. And
all are K2-skins ready – with pull-out tip and tail
plugs. Another nice design feature: solid, straight
tails designed to plunge into the snow. Supersize
with K2's Lock Jaw Carbon poles.
Rock it!
Rossignol has updated its S-6 Jib ski with U-Rocker camber design underfoot for switch-pow
and/or park-and-pipe usage. You'll rock the deeps since the tip and tail are bowed upward for
maximum float. The ski comes with a shock-absorbing tip and sidewall, along with Rossi's Weight
Reduction System (WRS) for better swing weight and durability.
More than making turns supple, hybrid semi-capped skis – like Atomic's Bent Chetler, K2′s entire
BackSide series and skis using Blizzard's Partial Sidewall technology – lighten things up at the
extremes while protecting against hacked topsheets when skis cross. Sidewall construction underfoot
guarantees accuracy and transmission necessary for powering these bigger boards.
A family of rockers
The Faction Collective now offers four
different base profiles going from a five-mm
early rise on a traditionally cambered Alias,
to a twin rocker on its revamped 3.zero
(both the Alias and 3.zero are also sold
traditionally cambered for the purists out
there), to the B.C. freestyle – a symmetric
15-mm rise on both tip and tail on its
flat-cambered, 122-mm-waisted Royale.
The Faction Collective claims Thirteen
(135/112/132) is the stiffest, straightest,
high-performance Big-Mountain ski on the
market. It comes with a 10-mm rise on a
flat-cambered board for maximum float.
Access-ibility
Atomic is democratizing powder with its
100 mm underfoot rockered Access. We're
excited, says Atomic's Kyle McCarthy. We're
giving people a wider rocker ski at a better
price point. This means more people can
experience Big-Mountain twintip skiing.
Straight up
The Stormrider Pro is now wider underfoot
than last year and comes with Stockli's version
of rocker – an uncambered straight edge at
the front end. The Stormrider LXL is its first
women's-specific powder ski.
Rise up
Nordica offers a range of rocker that it calls
slow-, early- and high-rise to its freeriding
boards. The broader Jah Love and Girish models feature early-rise, while the Enforcer
and the new women's Nemesis offer more
traditional camber underfoot.
Welcome addition
Fischer's newest member of the Watea family comes twintipped with the company's
powder hull and an early rise at both
extremes. At 98 mm underfoot with sandwich
sidewall construction reinforced with carbon
I-beams, it promises to be reliable in all
conditions and a blast in the pow.
Bridging the gap
Volkl's aptly named Bridge now comes
rockered for backcountry jibbing to fill
that growing space between Park and Pipe
and Big-Mountain sectors. Völkl has also
redesigned its men's Gotama and women's
Kiku. Expect both new geometry – goingfrom 105 to 106 underfoot – and construction with added rocker to combine in a playful but high-performance ski. The 128-mmChopsticks with its outrageous graphics is even more rockered for more outrageous backside lines. Bring your bento box.
A rockin' band
Carlos (146/125/135), Jimi (130/110/120), Jerry (130/104/120) and
Johnny (132/94/119) headline Head's big-mountain
twintip show this winter. These
sandwich construction powder boards come
fortified with extra durable ABS sidewalls,
and all have extra-long front rocker for
flotation and shorter tail rocker for stability in
landings. Woodstock on the iPod, psychedelic
graphics below and powder piling up in the mountains – nirvana here we come.
Big bottoms, Moment's got 'em
At a voluptuous 140/123/135 underfoot,
Moment's Reagan claims to be the fattest, most
progressive women's-specifi c ski on the market.
Additional sidecut and early taper combine with
twin rocker construction, resulting in a nimble,
forgiving ski to dominate Western slopes. Carbon
fibre stringers lighten things up while retaining
power. And for the boys out there, it's to Bibby or
not to Bibby. The updated model has a 143/118/134 sidecut with carbon fibre stringers, and comes moustachioed – rockered tips and tails with regular camber underfoot. The light and aggressive pro is available in 174, 184 and 190 cm lengths.
Goode monsters
The Monstro, at a hefty 135/120/125, has
all the size of the big boys in the backcountry.
But as with the rest of Goode's lineup, expect
carbon composite construction. The result:
super-lightweight with a high flex/torsion ratio,
delivering double the specs of conventional skis
with half off the scales. Weighing in at only 1420
grams at 186 cm, the powder board comes with
a swallow tail and a reverse cambered tip. It's
definitely a monster, but a Goode one. And if
you're after more girth, consider the Utah-based company's reverse-camber-and-sidecut Scoop. Engineered for big powder days, it comes 142 mm underfoot.
ANT-up
Looking for a powerful, solid ski for the
deep? Consider Armada's ANT. The positive cambered ski's 133/107/123 sidecut comes in 191 and now 181 cm lengths, with a reinforced waist and tail for powering through snow.
Shorter Overlord
Prior is for everyone – the Whistler-based
manufacturer now builds its popular Husume and Overlord models in shorter 169 cm lengths. The Husume, a top-ranked AT/backcountry ski, is now available at 193 cm for bigger customers. And the Overlord now comes in a 188 cm length, bridging the gap between previous 183 and 193 lengths. An updated graphics package incorporates artwork from B.C.-based artists.
Freedom and liberty
A Big-Mountain utility ski, the Helix – with a 135/105/122 sidecut in 167, 176
and 187 cm lengths—eats up chutes and
glades and open bowls. Liberty's custom
weave Quadraxial fibreglass layers and rigid
laminate bamboo core stabilize things on
hardpack and crud for the less memorable
trip back to the lift.
Walk quietly with a big stick
The Sentinel, Salomon's first traditional laminate ski (until now it specialized in monocoques),
comes with a rockered tip, sandwich sidewalls, full wood core (with bamboo), reinforced edges,
titanium stabilizer and a versatile 95 mm underfoot. Made for exploring on- and off-piste, it's a
powerful, beefy ski for a strong skier, says Salomon's Scott Lumsden. Clean, understated graphics
match up with Quest, Salomon's newest series of trail-blazing boots.
Holy freeriders
Kastle redesigned this season's freeride
models with early rise tips and low camber geometry. The MX98, MX102 and MX128 (each denoting underfoot width) feature racing-heritage wood core sandwich sidewall constructions and the company's visible Hollowtech technology, an oval milled out of the tip and tail of the ski covered with a layer of
opaque fibreglass, reducing mass and minimizing
vibration. The Freeski Mountaineering line has
also been bolstered by the FX94. Designed in
conjunction with Kästle Pro Team freeskier Chris
Davenport, it combines superlight sandwich
construction with a pair of titanal sheets and a
modern sidecut (128/94/117) for a performance
backcountry ski.
The Renegade who got it made ..
4FRNT's limited edition of a bottomless
Big-Mountain pow board comes handmade by pro-rider Eric Hjoleifson (he actually signs the core of each ski before it goes
into the press). The Renegade picks up
where the EHP (Eric's other signature
board) leaves off, with a 186-cm length,
a 135/122/129 profi le, reverse camber,
dampening system, maple core and lots
of rocker. 4FRNT's crystal-clear Glosstop topsheet with 45-degree bevel means Eric's
graphics (that he drew himself) are safer from chipping.