---

BIENVENUE À LA MAISON!
Bonjour lovers of snow. Welcome home! Québec's four key ski regions have so much to offer: warm welcomes, snowy landscapes, panoramic views, and adventures you'll never forget. For all levels of skiers and snowboarders, a visit to Québec is about more than snow, it's about coming home.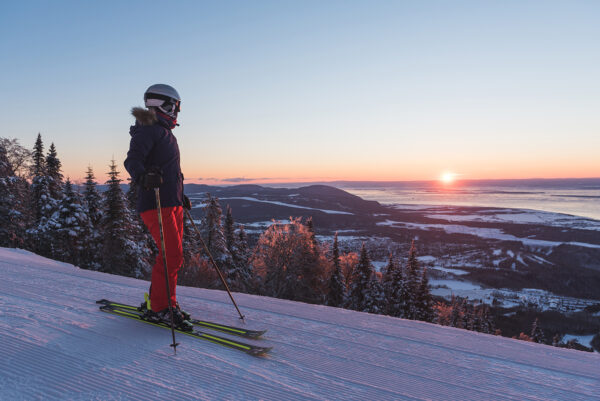 Almost all ski resorts in North America make similar claims: "quality snow and great grooming" "slopes for all abilities" "perfect for families with plenty of non-skiing activities" "excellent ski school, scenery, après-ski and gastronomy…." But, one that provides all of the above and more in a truly enchanting ski getaway, only one that comes complete with an authentic joie de vivre: Bonjour Québec!
The impressive physical differences that elevate a Québec ski trip are as important as the atmosphere. The oldest mountains in North America (even older than the American share of the Appalachians), blanketed in deep woods and even deeper snow with their breathtaking vistas of frozen lakes or the mighty St. Lawrence River below, provide landscapes so memorable they've been the inspiration for significant international gallery artwork for hundreds of years.
Those settings support 75 ski resorts with abundant natural and artificial snow, just waiting for you to discover them, or to return to them. Either way, you'll feel welcomed. Skiers have only to choose regions to visit, then let their adventure unfold. Where will you head to this winter?
Eastern Townships
Saguenay-Lac-Saint-Jean
Québec City & Charlevoix
Laurentians
EASTERN TOWNSHIPS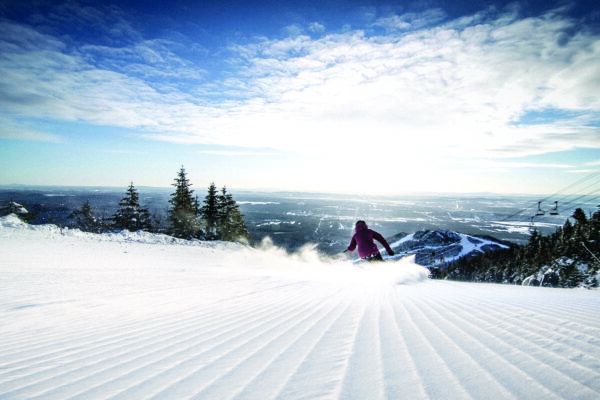 This historic region of small villages southeast of Montréal has attracted skiers of all levels for decades. Skiers and snowboarders of all abilities can take in the outstanding views of Lake Memphremagog and Abbaye de Saint-Benoît-du-Lac from Owl's Head or succumb to the allure of Mont-Orford's three peaks and 61 slopes of muscular terrain. A short distance to the west, enjoy a magical night-time escape on more than 100 illuminated night skiing runs at Bromont, montagne d'expériences, or step back and enjoy winter the way it was meant to be in Mont SUTTON's renowned glades and idyllic setting. The choice is yours, and it's been made easier by the L'EST Go card, which has brought together the four iconic ski resorts under one discount lift pass. Anyone planning to ski and snowboard two to eight days will love the flexible affordability as they explore the Eastern Townships and their four hills of countless thrills.
SAGUENAY-LAC-SAINT-JEAN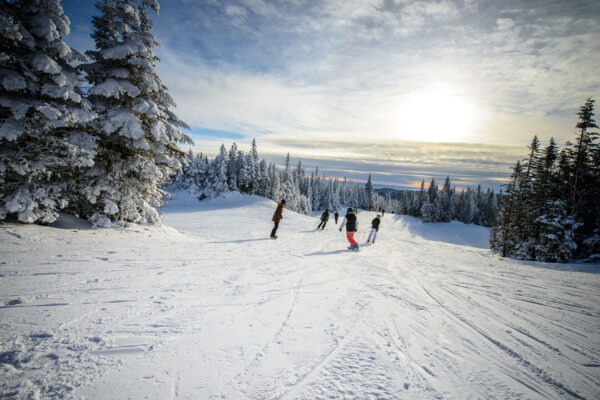 Whether it's your first trip discovering the wonders of a Québec winter or you're coming home, Saguenay-Lac-Saint-Jean's Mont-Edouard and Le Valinouët ski areas entice all by measuring their winter white blanket in metres, not centimetres or inches. Natural, genuine, sincere…like the region's enviable amount of snowfall, superlatives abound. And from beginner families to expert freeriders, those in the know want to go to experience the snowy peaks and untamed nature. First time truly off-piste? Their guided backcountry tours and activities are for all levels and leave you with a day in a week to remember.
QUÉBEC CITY & CHARLEVOIX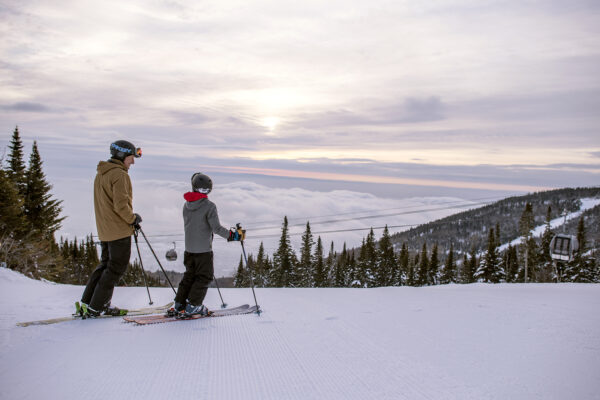 Whether the draw is views you can't beat of the mighty St. Lawrence River or close proximity to four centuries of French history in North America's only walled city, this region's five ski resorts each have their own unique offerings for skiers of all abilities. Plan for more than a week and prepare to be awestruck at the sight of the St. Lawrence while you explore the tallest Canadian ski runs east of the Rockies at Le Massif de Charlevoix. For more thrills, drop into Stoneham's Olympic halfpipe, ski the night away at Mont-Sainte-Anne (on the tallest illuminated vertical in the country), choose from a plethora of exciting winter activities at Mont Grand-Fonds and dine in lux after a day at Le Relais, only a 15-minute drive from Québec's city centre.
LAURENTIANS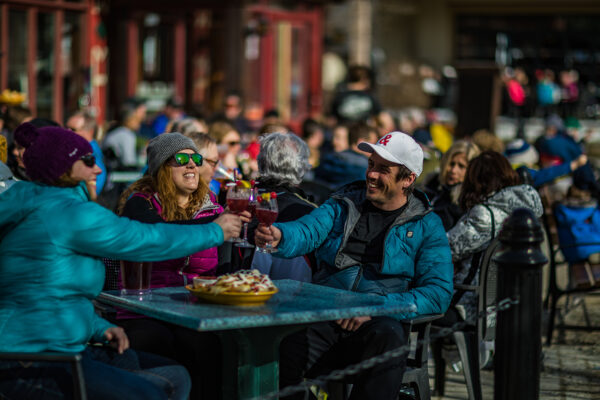 Sometimes it makes sense to choose closer hills, for way more thrills. The drive north of Montréal up highway 15 is dotted with a huge choice of ski areas, three of which impressively stand out for their diverse terrain: Sommet Saint-Sauveur, Mont Blanc and Tremblant. Meticulous grooming allows skiers of all levels to push their limits, improve their abilities and quickly understand why the technically best skiers in the country come from Québec. Put the sun on your face and the breeze at your back on multiple mountain faces to choose from at each resort. But the day isn't done when the lifts stop, time to head for the hot tub or the après-ski dance floor, you can sleep when you get home.

"Visit Bonjour Québec to plan your trip, and get more than snow this winter."

Tags: Le Massif de Charlevoix Ski Area, Le Valinouët, Mont Blanc, Mont Edouard, Mont Grand-Fonds, Mont Orford, Mont Sutton, Mont-Sainte-Anne, Mont-Tremblant, Owl's Head, Québec, Relais & Chateaux, Ski Bromont, skiing Quebec, Sommet Saint-Sauveur, Stoneham, Tremblant