Reading Time:
9
minutes
If Whistler Blackcomb's trail map isn't big enough for you, there's plenty more playground accessible by heli, cat and your own two feet.
by tobias c. van Veen
from 40th Anniversary issue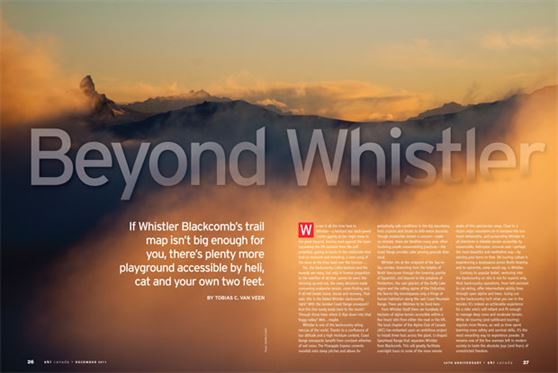 We see it all the time here in Whistler—a hesitant but slack-jawed tourist gaping at the virgin snow in the great beyond, leaning hard against the ropes separating the lift-assisted from the self-propelled, gazing at tracks in the coldsmoke that look so innocent and tempting, a siren song of the snow as the lines lead over the horizon….
Yes, the backcountry Lolita beckons and the rewards are many, but only in inverse proportion to the exertion of all that cannot be seen: the skinning up and out, the many decisions made concerning avalanche terrain, route-finding and, if all hell breaks loose, rescue and recovery. That said, this is the fabled Whistler slackcountry, right? With the bomber Coast Range snowpack? And this line surely leads back to the resort? Through those trees where it dips down into that foggy valley? Well…maybe.
Whistler is one of the backcountry skiing meccas of the world. Thanks to a confluence of low altitude and a high moisture content, Coast Range snowpacks benefit from constant refreshes  of wet snow. The Pineapple Express cements snowfall onto steep pitches and allows for periodically safe conditions in the big mountains, from couloirs and chutes to 600-metre descents. Though avalanches remain a concern—make no mistake, there are fatalities every year, often involving unsafe snowmobiling practices—the Coast Range provides safer proving grounds than most.
Whistler sits at the midpoint of the Sea-to-Sky corridor. Stretching from the heights of North Vancouver through the towering granite of Squamish, and beyond to the potatoes of  Pemberton, the vast glaciers of the Duffy Lake region and the rolling alpine of the Chilcotins, the Sea-to-Sky encompasses only a fringe of human habitation along the vast Coast Mountain Range. There are lifetimes to be lived here.
From Whistler itself there are hundreds of hectares of alpine terrain accessible within a few hours' skin from either the road or the lift. The local chapter of the Alpine Club of Canada (ACC) has embarked upon an ambitious project to install three huts across the giant, U-shaped Spearhead Range that separates Whistler from Blackcomb. This will greatly facilitate overnight tours to some of the more remote peaks of this spectacular range. Close to a dozen major mountains lie in between the two resort behemoths, and surrounding Whistler in all directions is rideable terrain accessible by snowmobile, helicopter, snowcat and—perhaps the most beautiful and meditative way—by earning your turns on foot. Ski touring culture is experiencing a renaissance across North America, and its epicentre, some would say, is Whistler.
Contrary to popular belief, venturing into the backcountry on skis is not for experts only. Most backcountry operations, from heli-assisted to cat-skiing, offer intermediate ability lines through open alpine and trees. Going out to the backcountry isn't what you see in the movies; it's indeed an achievable experience for a rider who's self-reliant and fit enough to manage deep snow and moderate terrain. While ski touring (and splitboard touring) requires more fitness, as well as time spent learning snow safety and survival skills, it's the most rewarding way to experience powder. It remains one of the few avenues left in modern society to taste the absolute joys (and fears) of unrestricted freedom.
HELI-ASSISTED HEAVEN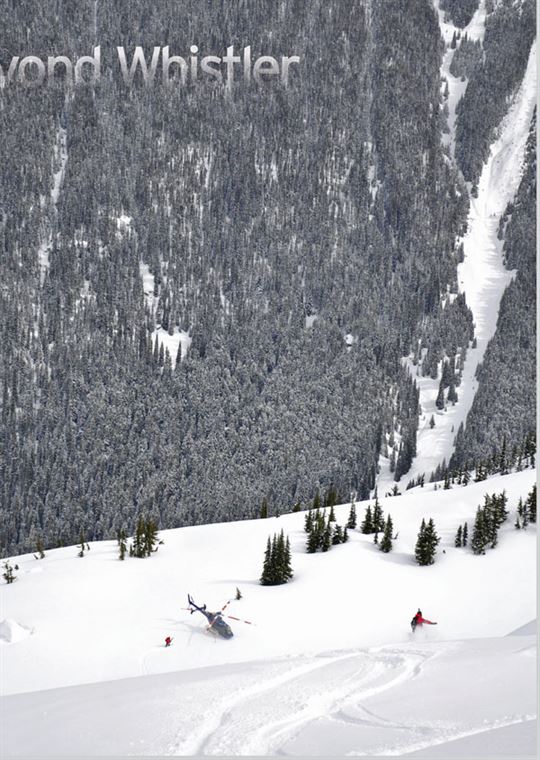 As I waited in the lounge with my group of five and a larger group of 10 for the choppers of  Whistler Heli-Skiing to whisk us away—a leather-lined Bell 407 for us, and the Bell 205 caboose for the bigger group—I was indeed enamoured with the fantasy of spending the rest of my life as a tail guide.
After years of ski porn-induced fantasies, I knew what awaited us. Within minutes we were on a roller-coaster ride across the valley, soaring low beneath minor cloud cover to Phalanx Mountain, which lies just beyond the boundaries of Blackcomb. This was our first touchdown, and as we got out of the chopper without incident and watched it depart, I marvelled at the expanse of knee-deep, cold blower awaiting us. Amazingly, this was the middle of April.
"Some of the best riding is often late in the season," says Robert Rainier, a grizzled and perpetually goggle-tanned guide for Whistler Heli. "But really, every day out heli-skiing is epic." It's certainly not a bad time to drop in. As we blew our powder eights and (for me) blurred elevens down Phalanx, then Tremor and Trorey, we schralped terrain that would take a full day of uphill panting to access on foot. Whistler Heli often rides the terrain close to Blackcomb, especially in inclement weather, which gives it an edge over heli operations deep in the B.C. Interior. That said, when a high-pressure system arrives and the sun shines with some guarantee, more exotic locations open up, from Rainbow Mountain on the west side of the valley to terrain extending north past Pemberton in the Hurley region. But, for the most part, Whistler Heli keeps it close, lapping the good stuff in Garibaldi Provincial Park.
Also in Whistler, Coast Range Heli-skiing uses a dedicated fleet of smaller Bell A-Stars and prides itself on seeking out wilderness territory for its riders (again, intermediates welcome) that's far beyond the sight of Whistler's lifts. With five staging areas and terrain from Pemberton to Lillooet Lake and the South Chilcotins, Coast Range can explore options for organized groups, including more challenging lines and tree-skiing terrain.
Also unique to Coast Range is its heli-assisted touring program, which drops a crew of five, including a guide, into an area difficult to access on foot. After touring fresh lines for the day, the chopper flies in to pick you up. At half the cost of a usual day of heli-skiing, it's a tempting option for those willing to put in some effort.
WHISTLER'S SIGNAGE
In December 2010, Whistler closed backcountry access to Garibaldi Park for the first time. Rather than seeking the backcountry, riders were using the Harmony access road to poach inbounds terrain when patrol was conducting avalanche control. In this case, existing CLOSED signage was either willfully ignored or ignorantly misunderstood. As the number of  backcountry users increases the patrol is finding it more difficult to enforce closure policies. The end result has been more closures and stricter penalties for all.
Like most resorts, there are signs to be read and respected; Whistler has more than most. DO NOT HIKE UPHILL? Don't! SKI AREA BOUNDARY? Yes, you can cross this sign, but only if you're prepared and know where you're going, what you're getting into and how you're going to get out.
Which brings us to the CLOSED signs. CLOSED is not optional, whether a temporary or a permanent closure. Obey the law. Even if the line is otherwise inbounds or is leading to a legit backcountry zone, the terrain is closed. It means the terrain is deadly, either because of hazards that will kill you—and which often lurk above in uncontrolled cornices and hanging snowfields—and/or because the patrol is throwing around bricks of explosives. Pay particular attention to temporary closures of terrain. Patience will reward with powder once avalanche control has finished.
BEYOND THE BLADES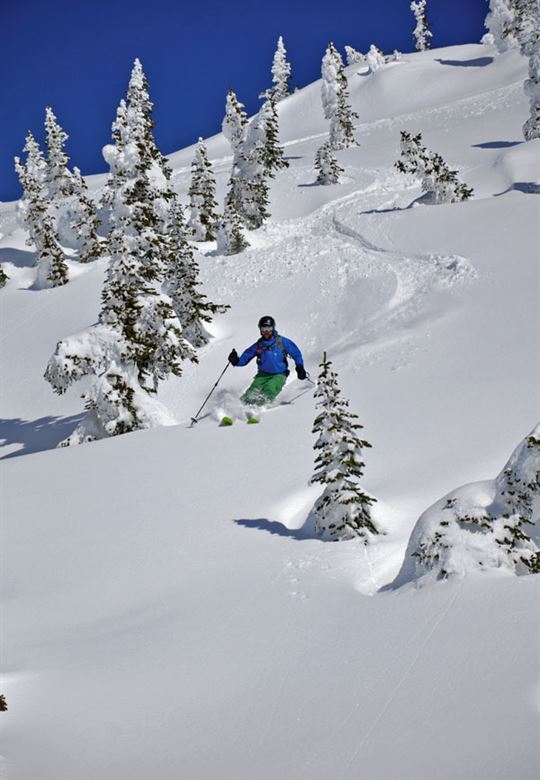 I knew this was no pampered ride as soon as the smell of the sled exhaust hit me. As I fought my mechanized beasty like a bucking bronco up the dirt road of Hurley Pass, trying to avoid cornering myself off into the abyss, I was already deep into the adventure, eating up snow dust and over-steering my corners. Complete immersion. I hadn't felt this in a while, and I hadn't expected simply getting to Backcountry Snowcats to be something of an adrenaline surge. And certainly for ACMG certified guide Chris Atkinson and tail guide Laura Sager, sledding in at speed is a humdrum ride. But for me, I'm already eyes wide to the possibilities, scoping lines and passes, more mountains than I could shake all my quiver at.
Backcountry Snowcats is a local's operation for those in-the-know, hidden away up Hurley Pass, with tenure over an impressive array of alpine bowls, deep tree skiing and a burnt-out forest offering a playground of pillows and drops, with higher aspects showcasing enough steeps and couloirs to get your jizz on (especially with names like G-Spot). Owned by locals Reg and Kathy Milne, and scouted out long ago back in 1982, the operation finally launched in 2005 after years of permit-wrangling. What's here is the start of a dream, with the rustic but endearing and comfortable accommodations somewhat reminiscent of McMurdo Station in John Carpenter's 1982 sci-fi flick, The Thing (which, incidentally, was shot up north near Stewart, B.C.).
I immediately fell in love with the place. This is an outfit where evidently skiing is the priority. Which isn't to say that the delicacies weren't awesome. Bulging lunches, loggers' breakfasts and crack coffee were always on tap. Deep leather couches provide the seating for the media room's plasma screen, almost as comfortable as the hot tub, submerged in an ocean expanse of snow with a panoramic view of the pass's splendour.
I was lucky on this trip and had stumbled upon the season-ending bender of a few touring locals from the wilds of Vancouver Island. They had been returning for years. As well as offering cat-skiing, Backcountry Snowcats accommodates sled-assisted tours, self-contained touring parties, nordic skiers— easy enough to groom some fresh trails in the valley with one of two cats!—and slednecks. This particular crew had just wrapped up five days of self-contained touring with some sled assists, and was now eager for two days of lazybones cat-skiing.
As we crested above camp into an alpine zone several times the size of Whistler's Harmony Bowl, with spines, cliffs, cornices and mellower powder terrain to play on, I knew I had reached a special level of nirvana. Whooping all the way down, dipping into different aspects, trees and pillows, we hunted late-season snow—which was abundant and deep. Back in the cat and balancing my day's-end beer, we tallied up the damage: over 20,000 vertical feet skied in a single day—a possible record for the season.
As I glanced up that night, enjoying B.C.'s finest export and sucking in the crisp, cool air under a million stars, I realized just how awe-inspiring, if not life-changing, such a trip can be.
ON FOOT: FREEDOM WITHOUT FETTERS
So far, all the ecosystem-destroying, oil-dependent and polluting methods of access have been lauded. And why not—as humans we've got to play. But there are more rewarding ways to get out beyond the ropes, and that's on foot, skinning your way up and out into the Spearhead Range, or driving up the Duffy Lake Road to even more highway-side terrain. A few hours in and up, and the place is yours.
As experienced ski tourers already know to pick up John Baldwin's third edition of Exploring the Coast Mountains on Skis, I will suggest it to the rest of you. Ski touring is at the core and soul of the endeavour, turning a mere sport into a search through snow for the metaphysical and putting us all back in touch with what it means to get out into the wild. When you put four hours in to get 10 minutes down, it makes the line chosen a true work of art.
The first step for the curious is to learn the basics by taking the weekend-long Avalanche Skills Training (AST) Level 1 course offered by the Whistler Alpine Guides Bureau. It teaches terrain management, snowpack evaluation, and transceiver search and rescue. Knowing these skills is necessary before stepping out on your own. For those seeking proper knowledge in making more complex route-fi nding decisions, take the three-day Level 2 course. But like learning how to drive, this is not rocket science. Avalanche professionals release daily updates of snowpack conditions on avalanche.ca using an easy-to-grasp, four-step, colour-coded system of danger ratings from Low to Extreme, provided online and organized by region. The trick is learning how to apply this information to the conditions encountered in the backcountry.
What makes Whistler especially attractive for touring—besides its coastal snowpack—is easy access from the resort itself. With the resort surrounded by provincial park, there are no penalties to ducking the resort's boundary. The park belongs to you whether you're hiking it in summer or skiing it in winter. And with high-alpine access out past Flute on Whistler and East Col on Blackcomb, numerous options abound: the steep couloirs of Fissile, the mellow but deep trees of Oboe and Cowboy Ridge with a ski-out down Singing Pass, the massive faces and flanks of Decker and Pattison, with most objectives connected by glaciers with—knock on the wood of global warming—well-bridged crevasses.
For Euros coming from the snow-starved and crevassed Alps or those arriving from terrain with less stable snow (such as the Rockies or Utah), Whistler provides generally safe touring prospects when conditions are right. Which is also why ignorant and risky practices abound— Whistler Heli often rescues hopelessly lost snowboarders and skiers without beacons or skins, hoping to walk out through impassable drainages. Likewise, back inbounds, poaching of Permanently Closed (PC) areas have reached new levels of dumb, with often serious consequences. BEFORE HEADING OUT: Learn to know where you can go.
WHISTLER GNAR: INSIDE THE ROPES,  BUT STILL QUIVERING IN FEAR
If you're off the groomers and seeking bowls, steeps and chutes, WB offers some of the more challenging and exposed inbounds terrain in North America. That said, almost all of this terrain has secondary exits, making it a great training ground to advance your skills.
As these locations are not all marked, your best bet here is Brian Finestone and Kevin Hodder's Ski and Snowboard Guide to Whistler Blackcomb: Advanced/Expert Edition. Written by two respected patrollers, this handy, pocket-sized book with photos, line descriptions and ratings is based upon the kind of guides that rock climbers use. It provides location and access information and clearly lays out what is legit. Surprising for riders from other resorts are the triple diamond lines. A triple means the line has mandatory air and/or fatal exposure; given that many first-timers say that Whistler's blues are everyone else's blacks, a triple is considered worthy gnar. Not surprisingly, many lines are accessible by bootpack only. The chutes off Flute, the classic lines off Little Whistler and Peak, and the big lines off Blackcomb Peak and Chainsaw Ridge are vertical games of mental precision. Lines such as Excitation, Elevator, Ladies First, Krackhouse, Teetering, Bushrat Shoulder and 5-0 will have most riders pondering their health insurance.
So what do you need for inbounds adventures? Besides the guts and skill, you will notice most local rippers wearing helmets and carrying backpacks stocked with water, food, first-aid kits and avalanche gear. While inbounds avalanches are unlikely—occasionally post-control releases do happen—a small fracture release or slough is probable during deep days. In short, terms often used for heli-skiing in Alaska come into play in Whistler, namely slough management. Get taken out by your slough and it might take you for a ride into something nasty. Even Avalungs are becoming common for yet another favourite pastime: tree skiing.
When it's storming, the alpine is often closed—which can be often during years of epic snowfall. Where to go? Why to the trees, of course. And the Whistler trees are epic, indeed, offering everything from intermediate and advanced glades spread across both mountains to the tight, steep confines and ice-adorned cliffs of CBC trees and the pillowed lines off Garbanzo chair. For the ever-enticing maze that is CBC, check out Outer Limits and the trees that border it before dipping in. For the slackcountry inclined, check out the many lines leading down Khyber Pass from Bagel Bowl past Stu's Smokeshack; just make sure to keep bearing right (every year, riders are plucked out of Khyber cliffs or find themselves wallowing back to civilization along the Cheakamus River).
Unlike Eastern glades, Whistler's terrain is often darker and the trees bigger and meaner, which means that tree wells become a hazard. Attach a whistle to the top of your jacket, keep away from the trunks and always ride with a partner. The yippee-kayee whooping of tree skiing is for more than just fun; like a climber's belay commands, it keeps you in touch when you're too busy seeing the trees for the forest.
Whatever your skill, Whistler's backcountry and large swaths of inbounds off-piste terrain provide enough routes and lines to keep you burning for years—which is why we live here, addicts all, unroped but chained to the powder. ❄