Reading Time:
2
minutes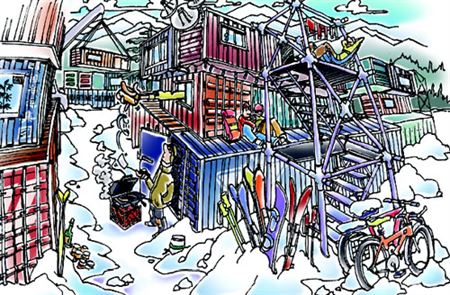 On a trip to Mont Tremblant last April, while attempting to put his exuberant charm to good use, Kris "Slicer" Cormier was confronted by a seemingly nice French girl who went a bit postal when she discovered where her would-be suitor lived. "You're from Whistler?" she screeched. "We don't need your kind of trash here!"
At the time I attributed the verbal lashing to fear of Slicer's greasy handlebar mustache and matted locks. When I returned to Whistler, however, I discovered some hidden relevance in the verbal barrage issued by Slicer's failed conquest. As of November, Whistler will be home to its own breed of trailer trash—or perhaps container trash would be a more accurate description.
Conceived and organized by the Whistler Chamber of Commerce, the Phoenix temporary housing project soon will see converted shipping containers, or "recycled, re-engineered steel shipping containers" as they are known in the livable container industry, stacked and modified for use as staff accommodation to help local businesses weather the anticipated housing crunch leading up to the 2010 Olympics. Although the numbers keep rising, as of press time the plan was to provide 294 beds in five to seven three storey container "buildings" situated on a site adjacent to the Whistler Racquet Club near the Marketplace.
Organized into three- and four-bedroom units with shared kitchen, living area and bathroom, the containers are being supplied and converted by a St. Louis based company, SG Blocks, that specializes in steel container homes. Apparently the U.S. trade deficit, coupled with the high cost to ship empty containers back to their country of origin, has produced an abundant supply of surplus containers in ports throughout the U.S. As a result, SG Blocks and others have been buying up the surplus hurricane-proof and fire-resistant steel containers and converting them into "homes" for use in various parts of the world.