---
From the Travel Guide 2010 issue
So I am touring the fantastic Olympic Museum in Lausanne, Switzerland, overlooking Lake Geneva and surrounded by swank villas with swimming pools—perks for the lifers at the International Olympic Committee—when I meet this cute blonde. Although she was born in B.C., albeit educated in Alberta, this doll who has come to Switzerland for the skiing looks at me in utter befuddlement when I, name-dropping shamelessly, recount to her how I skied with Nancy Greene in Whistler and Sun Peaks some years ago.
O Canada. Okay, the Grenoble Olympics occurred more than 20 years before my interlocutor was born. But even here in the Alps, everybody who skis knows of Nancy Greene. In hopes of imparting a bit of Olympic lore, and maybe helping you win some bets in the bar, I have prepared this little quiz.
1. A Canadian is among only four people in the world to win medals at both the Summer and Winter Games. What are the two events won by this Canadian?
a) Snowboarding and beach volleyball
b) Speed skating and cycling
c) Ski jumping and yachting
d) Bobsleigh and boxing
ANSWER: b) Clara Hughes of Winnipeg won bronze medals in the cycling individual road race and individual time trial at Atlanta in 1996; and in speed skating she won bronze at the 2002 Salt Lake City Winter Games, and gold and silver at Torino in 2006.
2. Who is the oldest person to win a medal at the Winter Games?
a) Oscar Swahn, Sweden, age 72
b) Duff Gibson, Canada, age 39
c) Anders Haugen, U.S., age 83
d) Russ Howard, Canada, age 50
ANSWER: b, c, d) Gibson of Calgary became the oldest person ever to win an individual Winter Games gold medal, in skeleton at Torino 2006. Haugen waited 50 years for his bronze; a scoring error from the 1924 ski jumping event was discovered only in 1974. Howard is the oldest Canadian to win gold in a Winter team event, curling. Swahn won gold at 64 and silver at 72, but in the Summer Games.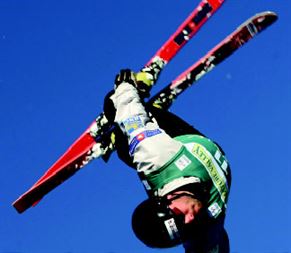 3. Who gets higher, including both Summer and Winter Games?
a) Platform divers
b) Ski jumpers
c) Freestyle skiers
d) Snowboarders

ANSWER: c) Yes, it's official, skiers get higher than snowboarders, "higher" being an official Olympic aspiration embodied in the motto Citius, Altius, Fortius (swifter, higher, stronger). Jumpers are seldom more than six metres high and divers little more than 12 metres, but freestyle aerialists soar to 18 metres.

4. Why did it take so long for the Winter Games to become established?
a) Norway and Sweden opposed a Winter Olympics
b) The founder of the modern Olympics thought hockey was "sissy"
c) There was no money in it
d) Too few nations were interested

ANSWER: All of the above. Only 16 nations showed up in Chamonix in 1924. The Scandinavian nations, which had their own winter games, were rightly concerned that a Winter Olympics would overshadow them. Baron de Coubertin railed against the idea of swishing about in the snow. His idea of a man's Olympic sport was saber duelling on horseback.

5. What nation has won the most Winter Games medals?
a) Russia
b) U.S.A.
c) Lichtenstein
d) Norway

ANSWER: d and c) Norway is way ahead overall, with 280 medals to the U.S.'s 216. (The U.S. has 66 times the population of Norway.) Canada comes in 9th. But tiny Lichtenstein, with nine medals in alpine skiing and only 35,000 citizens, is top of the table in medals per capita.

6. Which venues, chosen by the IOC, declined to host the Winter Games?
a) St. Moritz, Switzerland
b) Denver, Colorado
c) Garmisch, Germany
d) Sapporo, Japan

Answer: All of the above. Colorado voters rejected the 1976 Games in a referendum, when asked to cough up $5 million. Sapporo pulled out of the 1940 Games in 1937, when Japan went to war with China. St. Moritz accepted the 1940 Games, but later said no when the IOC insisted that ski teachers couldn't participate. Germany stepped to the plate as third choice for the 1940 Games, but when Germany invaded Poland in 1939, the IOC cancelled the 1940 Games altogether.

7. In what year were the first Olympic medals awarded for winter events?
a) 1924, Chamonix, France
b) 1928, St. Moritz, Switzerland
c) 1908, London, England
d) 1920, Antwerp, Belgium

Answer: All of the above. At the Summer Games in 1908 figure skating was first introduced as an Olympic event. In 1920 ice hockey was added and Canada won the gold. In 1924 the Summer Olympics were held in Paris. As a complement, an International Winter Sports Week was held in February for 11 days in Chamonix. A year later the IOC decided retrospectively to endow the Chamonix games with the Olympic title. But the first Winter Olympics to be so called from the beginning was four years later in St. Moritz.

8. Which nation has hosted the most Winter Games?
a) Canada
b) France
c) United States
d) Norway

Answer: c) Six nations have twice hosted the Winter Olympics. France has three Olympic sites: Chamonix, Grenoble and Albertville. But with two Games at Lake Placid, plus Salt Lake City and Squaw Valley, the U.S. is most hospitable.

9. Which of the following teams will not be competing in Vancouver?
a) San Marino
b) Jamaica
c) Madagascar
d) Mexico

Answer: b and d) Despite much publicity, the Jamaican bobsleigh team is not coming and neither is Mexico, despite competing in Salt Lake City. The African island nation of Madagascar, which sent a Canadian-born skier to Torino, is back. And the world's oldest republic, San Marino (pop. 30,000) on Italy's Adriatic coast, which has not missed a Winter Games since 1976, will be looking for its first-ever medal.

10. Will Canada win more medals than ever at Vancouver?
a) Yes

Answer: There is only one answer. For seven straight Winter Olympics, since 1980, Canada has increased its medal count at each Games. As a side note, Canada has never missed a Winter Olympics and never walked away without a medal.

Tags: Chamonix, Clara Hughes, Europe, Grenoble, Lausanne, Nancy Greene, Norway, Olympic Museum, Olympics, Olympics trivia, Salt Lake City, ski quiz, ski trivia, skiing, snowboard, Switzerland, Torino, Winter Games