Reading Time:
9
minutes
Ski Canada asked the guides at Mike Wiegele Heliskiing to take these fatties to work.
It's fairly difficult to pinpoint the exact moment in the history of skiing when the quest for powder became the holy grail of our sport. In the 1920s Ernest Hemingway, who was arguably the first powderhound, wrote inspired, poetic passages like this one in 
A Moveable Feast
, "Finally there was the great glacier run, smooth and straight, forever straight if your legs could hold it, your ankles locked, you running so low, leaning into the speed, dropping forever and forever in the silent hiss of the crisp powder. It was better than any flying or anything else." It's no wonder we continue to chase moments of solitude and the thrill of untracked snow.
Jump forward 40 or 50 years from Hemingway's ski-bumming winters in Austria. Heli-skiing pioneers Hans Gmoser and Mike Wiegele discover that a helicopter is a fairly attractive mode of transportation for powder-hungry skiers, and still it takes another 20 years for us to figure out that fat is where it's at when it comes to powder skis. First Atomic came up with the "Fat Boy." Then Shane McConkey convinced Volant to really get radical and produce the first reverse-cambered, reverse-sidecut ski, the Spatula; and K2 pushed the envelope with the Pontoon. Since then it's been a veritable golden age of discovery, where no idea is too far-fetched and the status quo is being torn apart like a Justin Bieber fan at a Foo Fighters concert.
The guides at Mike Wiegele Heliskiing have once again volunteered to test the latest and greatest creations to come out of the laboratory. Apparently this is one area where testing on animals is allowed, especially if those animals are Pulver Schwein or Powder Hounds.
by Ron Betts, technical editor test; photos John Schwirtlich in December 2014 issue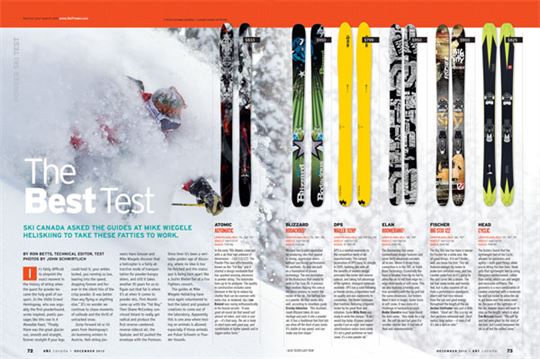 ATOMIC AUTOMATIC
LENGTHS AVAILABLE: 176, 186*, 193  *  SIDECUT: 130/117/119  *  RADIUS: 19 @ 186
In the early '90s Atomic came out with a ski that had unheard of dimensions—133/115/122. The Powder Plus was affectionately known as the "Fat Boy" and it started a design revolution that has sparked amazing advances in powder skiing. The Automatic lives up to its pedigree. The quality in construction includes some titanium in the tip to reduce tip chatter that can be common with early-rise, or rockered, tips. Lee Boland was raving enthusiastically in his Aussie accent: "A very good all-round ski that would suit almost all riders. Just click in and go—it's that easy. The ski is lively in short turns with good pop, and comfortable at higher speeds and in bigger-radius turns."
BLIZZARD 

BODACIOUS‡

LENGTHS AVAILABLE: 176, 186*, 196  *  SIDECUT: 142/118/132  *  RADIUS: 32 @ 186

Blizzard has a solid reputation for producing skis that appeal to strong, aggressive skiers without sacrificing performance for aesthetic. Its skis are built on a foundation of proven technology. The one innovation in the Bodacious that seems to work is Flip Core 3D. A process that involves flipping the core in the press process to match the rocker of the ski. The bottom line is a powder ski that works very well, according to mountain guide Crosby Johnston: "This Austrian-made Blizzard takes its race heritage and puts it into a powder ski. It has a traditional feel that lets you drive off the front of your boots. It's stable at any speed, and can make any turn shape."
DPS 

Wailer 112RP

LENGTHS AVAILABLE: 168, 178*, 184, 190  *  SIDECUT: 141/112/128  *  RADIUS: 15-18@178

DPS is a relative newcomer to the competitive world of ski manufacturers. The current incarnation of DPS hung its shingle in 2005, building skis with all the benefits of modern design principles like rocker and reverse sidecut, and taking full advantage of the lightest, strongest materials available. DPS has a solid following in freeski circles, a reputation built on quality and non-conformity to convention. The Wailer continues that tradition, featuring a tapered rocker tip for great float and initiation. Guide Willy Rens was ready to write the cheque: "A ski I would buy today. It comes around quickly if put on edge, and makes short/medium-radius turns easily. It's not a great performer on hard snow; it's a true powder ski."
ELAN BOOMERANG‡
LENGTHS AVAILABLE: 180, 190*  *  SIDECUT: 140/120/140  *  RADIUS: 23 @ 190
The Boomerang has some conventional design features and some fairly advanced concepts all in one. Where it strays from convention is in the TBT, or Triple Base Technology. Essentially the base is beveled from tip-to-tail to allow the ski to roll from edge-to-edge more easily in soft snow. This ski also features a twintip and true symmetry with the tip and tail the same dimension. Our testers liked it best in longer, faster turns in soft snow; it was more of a challenge in hardpack or crust. Bodie Shandro must have found the best snow: "Very lively for a big ski. The soft tip and tail gave it a smaller, shorter feel. It had lots of float and manoeuvrability."
FISCHER  BIG STIX 122
LENGTHS AVAILABLE: 185, 192*  *  SIDECUT: 145/122/136  *  RADIUS: 20 @ 185
The Big Stix line has been a winner for Fischer for a while and, like all good things, if it ain't broke…well, you know the rest. This ski features enough tip rocker to make turn initiation easy, and has camber underfoot so it's going to flex and carve like a dream. The tail has some rocker and twintip feel, but is also squared off so from a performance standpoint, skiers will feel nice release from the tail and good energy throughout the length of the ski. Jordan Steifvater was just a little stoked: "Great ski! This is a big ski that performs extremely well. Short radius, long radius—it does it all. It's like a 4×4 on nitro."
 HEAD CYCLIC
LENGTHS AVAILABLE: 171, 181*, 191  *  SIDECUT: 148/113/131  *  RADIUS: 19 @ 181
The testers found that the lightweight feel of the Cyclic allowed for quickness and agility—both good things when you're skiing fun tree lines. Head gets that lightweight feel by using fibreglass reinforcement, rather than metal, which can add weight and excessive stiffness. The geometry is a nice combination of camber underfoot with a moderate tip and tail rocker to allow the ski to get loose and free when need be. Because of the lightness of the ski, heavier skiers will want to step up the length, which is what Tim McLean found: "The soft tip and tail were great for the start of the turn, but I could overpower the ski in all but the softest snow."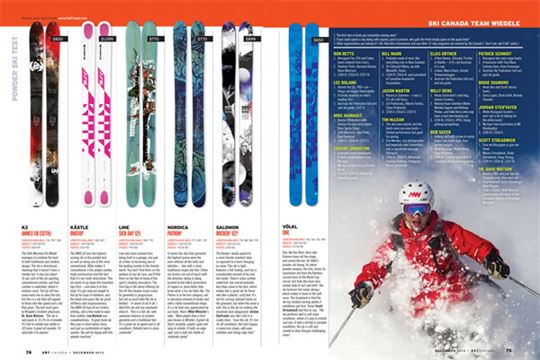 K2 ANNEX 118 (SETH)
LENGTHS AVAILABLE: 174, 181*, 188  *  SIDECUT: 147/118/135  *  RADIUS: 26 @ 181
The Seth Morrison Pro Model manages to combine the best of both traditional and modern design. The ski is directional, meaning that it doesn't have a twintip tail. It also has about 55 per cent of the ski sporting conventional camber, and that camber is underfoot, where it matters most. The tip still has some early rise as does the tail, but this is a ski that will appeal to those who like speed and a ski that grips. The last word goes to Wiegele's resident physician, Dr. Dave Watson: "The ski is very quick in 15-25 cm of powder. It's fast to initiate and stable in GS turns. A great all-rounder. I'd prescribe it to anyone."
 KÄSTLE BMX118‡
LENGTHS AVAILABLE: 168, 183*  *  SIDECUT: 139/118/128  *  RADIUS: 33 @ 183
The BMX118 was the highest-scoring ski in the powder test, as well as being one of the most conventional. What makes it conventional is the ample camber, lively construction and the fact that it's not multi-directional. This ski wants to go down the mountain tips-first—and does it in fine style. It's got reduced weight in the tip for ease of initiation, and the wood core gives the ski great stiffness and responsiveness. The BMX118 had all our testers smiling, and a few ready to open their wallets. Lee Boland was complimentary: "A great lively ski. Nice pop in short-radius turns, and just as comfortable at higher speeds. You will be happy with this powder machine."
LINE SICK DAY 125
LENGTHS AVAILABLE: 186*, 192  *  SIDECUT: 150/125/137  *  RADIUS: 19 @ 186
Line skis have evolved from being built in a garage, one pair at a time, to becoming one of the leading brands in the freeski world. You won't find them on the podium at any ski race; you'll find them on the feet of many of the sport's leading innovators. The Sick Day is the latest offering for the off-the-beaten-track crowd. Its geometry is progressive, but not so much that the ski is limited—it seems to do it all. I liked this ski and my comments show it: "This is a fun ski, with awesome balance on modern geometry and a traditional feel. It's a great ski at speed and in all conditions. Definite best-in-class contender."
 NORDICA PATRON‡
LENGTHS AVAILABLE: 177, 185*, 193  *  SIDECUT: 143/113/132  *  RADIUS: 18.5 @ 185
It seems the skis that garnered the highest praise were the ones without all the bells and whistles—skis with a more traditional shape and feel. Either our testers are out of touch with the direction skiing is being pushed by the latest generation of rippers or, more likely, they know what a fun ski feels like. The Patron is in the fun category; not a ridiculous amount of rocker and with a fairly conventional shape, it's a ski that was appreciated by our team. Here's Mike Wheater's take: "More playful than a first-year Aussie in Whistler. A great ski that's versatile, playful, agile and easy to initiate. It holds an edge well, and is light but stable at moderate speed."
SALOMON ROCKER2 122‡
LENGTHS AVAILABLE: 170, 180, 184*, 192  *  SIDECUT: 144/122/132  *  RADIUS: 26 @ 184
The Rocker2 would appeal to a more freeski-oriented skier, as opposed to a hard-charging ex-racer. This ski is light, features a full twintip, and has a considerable amount of tip and tail rocker. There's some camber underfoot, but overall probably less than some in the test, which makes this a great ski for those who like a playful, surfy feel. It's not for carving railroad tracks on the groomed, but when the snow is soft, this is the ski for making the mountain your playground. Jordan Steifvater was like a kid in a candy store: "Love this ski. It's fun for all conditions, fast and snappy in every turn shape, with easy initiation and strong edge hold."
VÖLKL ONE
LENGTHS AVAILABLE: 156, 166, 176, 186*  *  SIDECUT: 138/116/130  *  RADIUS: 27.5 @ 186
Skis like the Shiro, Kuro and Gotama have set the stage, and raised the bar, for Völkl's powder-ski lineup. Its latest powder weapon, the One, draws its inspiration not from the flawless carved turns of the World Cup circuit, but from the more new-school style of surf and drift. The ski features full rocker design, which makes it loose in the soft snow. The drawback is that the ski has limited carving ability if conditions get firm. Tester Scott Streadwick had this to say: "The ski performs well in soft-snow conditions, where it's easy to initiate and turn. It falls a bit flat in variable conditions; the tip is soft and unable to drive through challenging snow."
‡ Also tested last year
Narrow your search with www.SkiFinder.com
SKI CANADA TEAM WIEGELE
1. The first skis or boots you remember owning were?
2. If you could spend a day skiing with anyone, past or present, who gets the three empty spots on the quad chair?
3. Other organizations you belong to? (AA, Narcotics Anonymous and any other 12-step programs are covered by Ski Canada's "don't ask, don't tell" policy.)
RON BETTS
1.             Rossignol Pac 250 and Caber boots ordered from Sears.
2.             Vladimir Putin, Barrack Obama, Kevin Morrison.
3.             CSIA IV, CSGA III, CSCF III.
 LEE BOLAND
1.             Atomic Arc GS, 200+ cm—things are bigger Down Under.
2.             It totally depends on who's reading this!
3.             Austrian Ski Federation full cert. and ski guide, CSCF II.
 MIKE HAINAULT
1.             Kneissl Whitestars with Techno Pro rear-entry boots from Santa Claus.
2.             Seth Morrison, Glen Plake, Dan Raymond.
3.             CSIA IV, CSGA III, CSCF II.
 CROSBY JOHNSTON
1.             A second-hand snowboard— it took a while before I saw the light.
2.             My dad, brother and girlfriend Rosie.
3.             CSIA III, CSGA III, IFMGA full mountain guide.
 BILL MARK
1.             Probably made of wool, like everything else in New Zealand.
2.             Sir Edmund Hillary, my wife Meredith, Stosh.
3.             CSIA III, CSGA III, past president of Canadian Avalanche Association.
 JASON MARTIN
1.             Rossis or Salomon—I was 3, it's all a bit fuzzy.
2.             Edi Podivinsky, Alberto Tomba, Steve Podborski.
3.             CSIA II, CSGA II, CSCF II.
 TIM McLEAN
1.             The skis were plastic and the boots were my snow boots—limited performance but good for posing.
2.             Eva Mendes, any photographer but hopefully John Schwirtlich and a registered massage therapist.
3.             CSIA III, CSGA III, Advanced Tourism Diploma, Thompson Rivers University.
 ELIAS ORTNER
1.             Either Atomic, Blizzard, Fischer or Kästle—if it's not Austrian, it's crap.
2.             Leilani, Maria Davis, Arnold Schwarzenegger.
3.             Austrian Ski Federation full cert. and ski guide.
 WILLY RENS
1.             Heavy Dachstein's and long, skinny Fischers.
2.             National team members Marie-Michèle Gagnon and Brittany Phelan, and Halle Berry (who may have a hard time keeping up).
3.             CSIA III, CSGA II, HPAC (hang gliding/paragliding).
 BOB SAYER
1.             Arlberg skis with screw-in metal edges and ankle-high, four-buckle Lange's.
2.             Stein Erickson, Wayne Wong, Franz Klammer.
3.             CSIA III, CSGA III, president of Canadian Ski Guide Association.
 PATRICK SCHMIDT
1.             Rossignol skis and Lange boots.
2.             A foursome with Tina Maze, Lindsey Vonn, Anna Fenninger.
3.             Austrian Ski Federation full cert. and ski guide.
 BODIE SHANDRO
1.             Head skis and Scott classic boots.
2.             Gerry Lopez, Dave Grohl, Brenda Shandro.
 JORDAN STEIFVATER
1.             White Rossignol Scratch— and I got a lot of ribbing for the white boots!
2.             My boys from back home at Mt. Washington.
3.             CSIA III, CSGA II.
 SCOTT STREADWICK
1.             Give me Rossignol or give me Head.
2.             Mason Streadwick, Slade Streadwick, Doug Strong.
3.             CSIA IV, CSGA III, CSCF III.
 DR. DAVE WATSON
1.             Nordica 980, and just like my favourite wine, they were red.
2.             Paul Robillard, Erich Schadinger, Mike Wiegele.
3.             CSIA I, CSGA I, IKAR Medical Commission, president of the Canadian Society of Mountain Medicine.