Best of Skiing in Canada – 2016 edition
---
It's not about the competition, it's about all the fun in researching and collecting anecdotes from Ski Canada contributors, readers, staff—and the people at resorts who are not afraid to poke fun at themselves. There's no awards gala, not even a cheesy certificate, just the honour of being mentioned on the hallowed pages of our magazine. All joking aside, skiing in our country remains some of the best in the world, and we're proud to show off what makes us so special.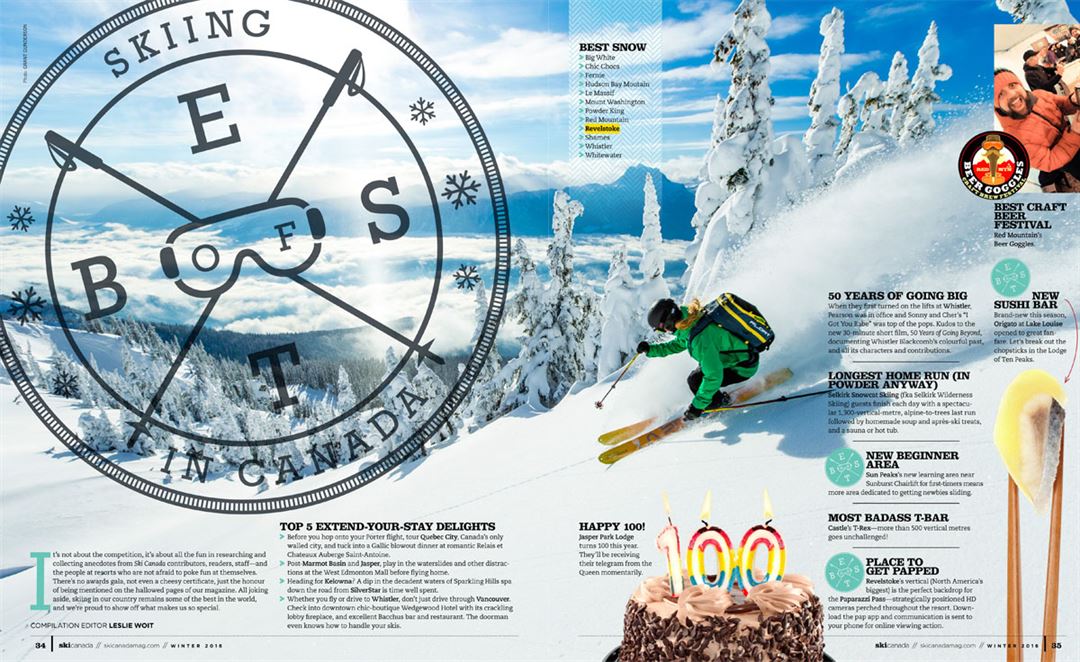 BEST SNOW
Big White  *    Chic Chocs  *    Fernie  *    Hudson Bay Mountain  *    Le Massif  *    Mount Washington  *    Powder King  *   Red Mountain  *  Revelstoke  *  Shames  *    Whistler  *    Whitewater
BEST CRAFT BEER FESTIVAL
Red Mountain's Beer Goggles.
50 YEARS OF GOING BIG
When they first turned on the lifts at Whistler, Pearson was in office and Sonny and Cher's "I Got You Babe" was top of the pops. Kudos to the new 30-minute short film, 50 Years of Going Beyond, documenting Whistler Blackcomb's colourful past, and all its characters and contributions.
LONGEST HOME RUN (IN POWDER ANYWAY)
Selkirk Snowcat Skiing (aka Selkirk Wilderness Skiing) guests finish each day with a spectacular 1,300-vertical-metre, alpine-to-trees last run followed by homemade soup and après-ski treats, and a sauna or hot tub.
NEW BEGINNER AREA
Sun Peaks's new learning area near Sunburst Chairlift for first-timers means more area dedicated to getting newbies sliding.
MOST BADASS T-BAR
Castle's T-Rex—more than 500 vertical metres goes unchallenged!
PLACE TO GET PAPPED
Revelstoke's vertical (North America's biggest) is the perfect backdrop for the Paparazzi Pass—strategically positioned HD cameras perched throughout the resort. Download the pap app and communication is sent to your phone for online viewing action.
NEW SUSHI BAR
Brand-new this season, Origato at Lake Louise opened to great fanfare. Let's break out the chopsticks in the Lodge of Ten Peaks.
HAPPY 100!
Jasper Park Lodge turns 100 this year. They'll be receiving their telegram from the Queen momentarily.
PLACE TO MEET FRIENDS IN THE LIFT LINE
Nakiska slashed season pass prices once again, offering adult passes for $199—along with corpulent queues on some days.
 CHEAPEST CAT-SKIING
Red's in-bounds cat-skiing on Grey Mountain at $10 per ride is the best bargain we could find.
 NEW CRAFT BREW
Norquay 90 celebrates 90 years of skiing at Mt. Norquay with a brew by the good folks at Banff Ave Brewing Co.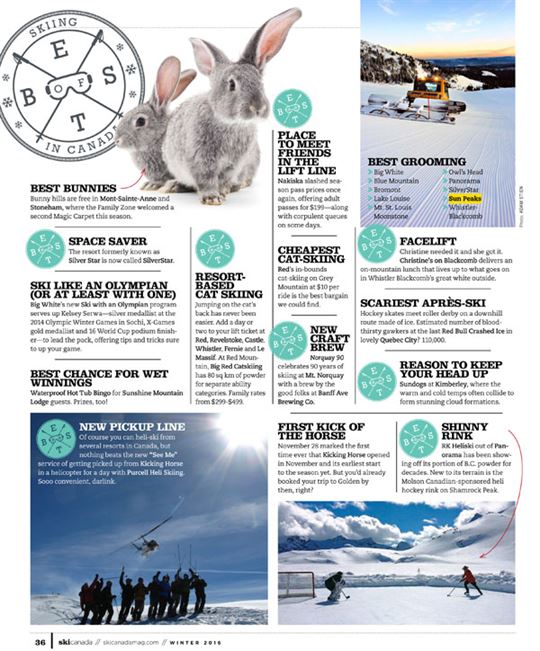 BEST GROOMING
Big White  *  Blue Mountain  *  Bromont  *  Lake Louise  *  Mt. St. Louis Moonstone  *  Owl's Head  *  Panorama  *  SilverStar  *  Sun Peaks  *  Whistler-Blackcomb
BEST BUNNIES
Bunny hills are free in Mont-Sainte-Anne and Stoneham, where the Family Zone welcomed a second Magic Carpet this season.
SPACE SAVER
The resort formerly known as Silver Star is now called SilverStar.
SKI LIKE AN OLYMPIAN (OR AT LEAST WITH ONE)
Big White's new Ski with an Olympian program serves up Kelsey Serwa—silver medallist at the 2014 Olympic Winter Games in Sochi, X-Games gold medallist and 16 World Cup podium finisher—to lead the pack, offering tips and tricks sure to up your game.
BEST CHANCE FOR WET WINNINGS
Waterproof Hot Tub Bingo for Sunshine Mountain Lodge guests. Prizes, too!
FACELIFT
Christine needed it and she got it. Christine's on Blackcomb delivers an on-mountain lunch that lives up to what goes on in Whistler Blackcomb's great white outside.
SCARIEST APRÈS-SKI    
Hockey skates meet roller derby on a downhill route made of ice. Estimated number of blood-thirsty gawkers at the last Red Bull Crashed Ice in lovely Quebec City? 110,000.
REASON TO KEEP YOUR HEAD UP
Sundogs at Kimberley, where the warm and cold temps often collide to form stunning cloud formations.
RESORT-BASED CAT SKIING
Jumping on the cat's back has never been easier. Add a day or two to your lift ticket at Red, Revelstoke, Castle, Whistler, Fernie and Le Massif. At Red Mountain, Big Red Catskiing has 80 sq km of powder for separate ability categories. Family rates from $299-$499.
NEW PICKUP LINE
Of course you can heli-ski from several resorts in Canada, but nothing beats the new "See Me" service of getting picked up from Kicking Horse in a helicopter for a day with Purcell Heli Skiing. Sooo convenient, darlink.
FIRST KICK OF THE HORSE
November 28 marked the first time ever that Kicking Horse opened in November and its earliest start to the season yet. But you'd already booked your trip to Golden by then, right?
SHINNY RINK
RK Heliski out of Panorama has been showing off its portion of B.C. powder for decades. New to its terrain is the Molson Canadian-sponsored heli hockey rink on Shamrock Peak.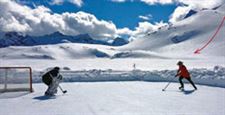 BEST LIFT-ACCESSED BACKCOUNTRY TICKET
Whitewater's One Ride and Double Ride lift tickets are ideal for exploring beyond the ski area boundary.
TOP 5 EXTEND-YOUR-STAY DELIGHTS
Before you hop onto your Porter flight, tour Quebec City, Canada's only walled city, and tuck into a Gallic blowout dinner at romantic Relais et Chateaux Auberge Saint-Antoine.
Post-Marmot Basin and Jasper, play in the waterslides and other distractions at the West Edmonton Mall before flying home.
Heading for Kelowna? A dip in the decadent waters of Sparkling Hills spa down the road from SilverStar is time well spent.
Whether you fly or drive to Whistler, don't just drive through Vancouver. Check into downtown chic-boutique Wedgewood Hotel with its crackling lobby fireplace, and excellent Bacchus bar and restaurant. The doorman even knows how to handle your skis.
BEST-LOOKING 90-YEAR-OLD
Skiing in the Canadian Rockies has been a family affair since 1926. Mt. Norquay's first ski cabin was built in 1927, and the first rope tow was installed in 1941. The North American "Big Chair" has been elevating riders to iconic Bow Valley heights since 1948, making it one of the oldest chairs in North America. Today, it also offers the best ancillary benefit to low oil prices: once-a-month lift-tickets-for-a-toonie days have been replaced by 90 Cent Days to celebrate Norquay's 90th. But the love doesn't extend far—non-Albertans need not apply.
PLACE TO TAKE UP COLDSMOKING
Whitewater marks its 40th anniversary this year and the Kootenay Coldsmoke Powder Fest marks its 10th on February 19-21. The ultimate celebration of Kootenay culture showcases more than 30 clinics from industry pros, including Alison Gannett and Eric Pehota, alongside competitions and socials.
BEST HOOKUP
Canada's two largest ski areas without the winter driving: the Whistler Connection shuttle operates three times a week between Whistler Blackcomb and Sun Peaks.
BEST SPOT FOR A BED
Castle Mountain Hostel, $28 and a two-minute scamper to, or stumble home from, the lift or bar.
TOWN OR COUNTRY SLEEPS
The choice is yours: Revelstoke's luxe Sutton Place Hotel condos are swank inside and out, and as close to the lift as they are to four restaurants or their outdoor pool. Or stay in town at the Hillcrest Hotel, now all shiny and new-looking after a complete reno from hot tubs to hallways.
WARMEST BUNS IN CANADA
So what took so long? Finally, Canada's first heated chair! Hallelujahs all around—and Sunshine Village gets the prize. The new high-speed chair offers access to blue runs with views of Mt. Assiniboine, while also opening up challenging black and double-black terrain as well as the popular Tee Pee Chutes. Derrieres down and cozy factor on high, Batman, we're off to Teepee Town!
STEEPEST REP
You tell us: Red, Revy or Castle?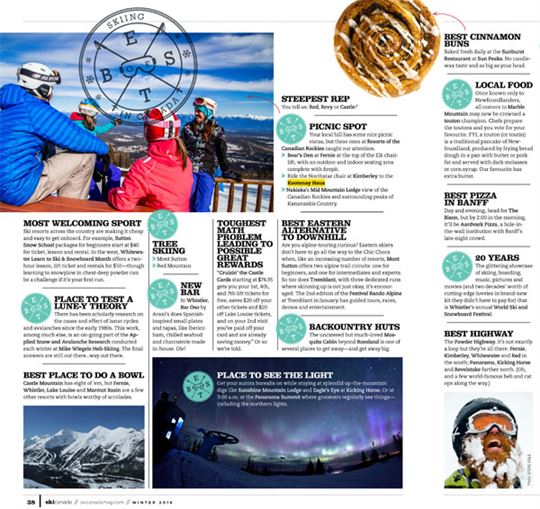 PICNIC SPOT
Your local hill has some nice picnic vistas, but these ones at Resorts of the Canadian Rockies caught our attention. Bear's Den at Fernie at the top of the Elk chairlift, with an outdoor and indoor seating area complete with firepit. Ride the Northstar chair at Kimberley to the Kootenay Haus. Nakiska's Mid Mountain Lodge view of the Canadian Rockies and surrounding peaks of Kananaskis Country.
BEST EASTERN ALTERNATIVE TO DOWNHILL
Are you alpine-touring curious? Eastern skiers don't have to go all the way to the Chic Chocs when, like an increasing number of resorts, Mont Sutton offers two alpine trail circuits: one for beginners, and one for intermediates and experts. So too does Tremblant, with three dedicated runs where skinning up is not just okay, it's encouraged. The 2nd edition of the Festival Rando Alpine at Tremblant in January has guided tours, races, demos and entertainment.
BACKCOUNTRY HUTS
The uncatered but much-loved Mosquito Cabin beyond Rossland is one of several places to get away—and get away big.
MOST WELCOMING SPORT
Ski resorts across the country are making it cheap and easy to get onboard. For example, Sutton Snow School packages for beginners start at $40 for ticket, lesson and rental. In the west, Whitewater Learn to Ski & Snowboard Month offers a two-hour lesson, lift ticket and rentals for $50—though learning to snowplow in chest-deep powder can be a challenge if it's your first run.
PLACE TO TEST A LUNE-Y THEORY
There has been scholarly research on the cause and effect of lunar cycles and avalanches since the early 1980s. This work, among much else, is an on-going part of the Applied Snow and Avalanche Research conducted each winter at Mike Wiegele Heli-Skiing. The final answers are still out there…way out there.
BEST PLACE TO DO A BOWL
Castle Mountain has eight of 'em, but Fernie, Whistler, Lake Louise and Marmot Basin are a few other resorts with bowls worthy of accolades.
TOUGHEST MATH PROBLEM LEADING TO POSSIBLE GREAT REWARDS
"Cruisin' the Castle Cards starting at $74.95 gets you your 1st, 4th, and 7th lift tickets for free, saves $20 off your other tickets and $20 off Lake Louise tickets, and on your 2nd visit you've paid off your card and are already saving money." Or so we're told.
TREE SKIING
Mont Sutton  *  Red Mountain
NEW BAR
In Whistler, Bar Oso by Araxi's does Spanish-inspired small plates and tapas, like Iberico ham, chilled seafood and charcuterie made in-house. Ole!
PLACE TO SEE THE LIGHT
Get your aurora borealis on while staying at splendid up-the-mountain digs like Sunshine Mountain Lodge and Eagle's Eye at Kicking Horse. Or at 3:00 a.m. at the Panorama Summit where groomers regularly see things—including the northern lights.
BEST CINNAMON BUNS
Baked fresh daily at the Sunburst Restaurant at Sun Peaks. No candle-wax taste and as big as your head.
LOCAL FOOD
Once known only to Newfoundlanders, all comers to Marble Mountain may now be crowned a touton champion. Chefs prepare the toutons and you vote for your favourite. FYI, a touton (or toutin) is a traditional pancake of Newfoundland, produced by frying bread dough in a pan with butter or pork fat and served with dark molasses or corn syrup. Our favourite has extra butter.
BEST PIZZA IN BANFF
Day and evening, head for The Bison, but by 2:00 in the morning, it'll be Aardvark Pizza, a hole-in-the-wall institution with Banff's late-night crowd.
20 YEARS
The glittering showcase of skiing, boarding, music, pictures and movies (and two decades' worth of cutting-edge luvvies in brand-new kit they didn't have to pay for) that is Whistler's annual World Ski and Snowboard Festival.
BEST HIGHWAY
The Powder Highway. It's not exactly a loop but they're all there: Fernie, Kimberley, Whitewater and Red in the south; Panorama, Kicking Horse and Revelstoke farther north. (Oh, and a few world-famous heli and cat ops along the way.)
BANG FOR YOUR BUCK
A season of nightskiing at Stoneham and Mont-Sainte-Anne with La Passe de soir will put you back only $139. (A single day ticket at Vail or Aspen is more than C$225.)
FAMILY RESORTS
Big White  *  Blue Mountain  *  Kimberley  *  Marble Mountain  *  Panorama  *  SilverStar  *  Sun Peaks  *  Tremblant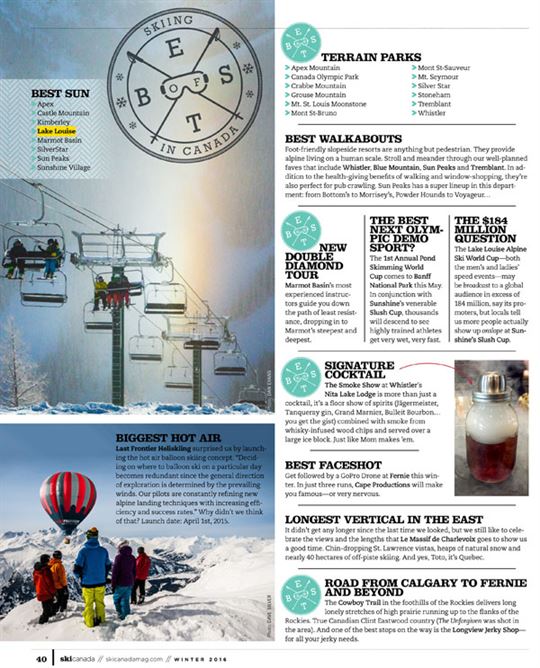 TERRAIN PARKS
Apex Mountain  *  Canada Olympic Park  *  Crabbe Mountain  *  Grouse Mountain  *  Mt. St. Louis Moonstone  *  Mont St-Bruno  *  Mont St-Sauveur  *  Mt. Seymour  *  Silver Star  *  Stoneham  *  Tremblant  *  Whistler
BEST SUN
Apex  *  Castle Mountain  *  Kimberley  *  Lake Louise  *  Marmot Basin  *  SilverStar  *  Sun Peaks  *  Sunshine Village
BEST WALKABOUTS
Foot-friendly slopeside resorts are anything but pedestrian. They provide alpine living on a human scale. Stroll and meander through our well-planned faves that include Whistler, Blue Mountain, Sun Peaks and Tremblant. In addition to the health-giving benefits of walking and window-shopping, they're also perfect for pub crawling. Sun Peaks has a super lineup in this department: from Bottom's to Morrisey's, Powder Hounds to Voyageur…
THE BEST NEXT OLYMPIC DEMO SPORT?
The 1st Annual Pond Skimming World Cup comes to Banff National Park this May. In conjunction with Sunshine's venerable Slush Cup, thousands will descend to see highly trained athletes get very wet, very fast.
THE $184 MILLION QUESTION         
The Lake Louise Alpine Ski World Cup—both the men's and ladies' speed events—may be broadcast to a global audience in excess of 184 million, say its promoters, but locals tell us more people actually show up onslope at Sunshine's Slush Cup.
NEW DOUBLE DIAMOND TOUR
Marmot Basin's most experienced instructors guide you down the path of least resistance, dropping in to Marmot's steepest and deepest.
SIGNATURE COCKTAIL
The Smoke Show at Whistler's Nita Lake Lodge is more than just a cocktail, it's a floor show of spirits (Jägermeister, Tanqueray gin, Grand Marnier, Bulleit Bourbon…you get the gist) combined with smoke from whisky-infused wood chips and served over a large ice block. Just like Mom makes 'em.
BEST FACESHOT
Get followed by a GoPro Drone at Fernie this winter. In just three runs, Cape Productions will make you famous—or very nervous.
BIGGEST HOT AIR
Last Frontier Heliskiing surprised us by launching the hot air balloon skiing concept. "Deciding on where to balloon ski on a particular day becomes redundant since the general direction of exploration is determined by the prevailing winds. Our pilots are constantly refining new alpine landing techniques with increasing efficiency and success rates." Why didn't we think of that? Launch date: April 1st, 2015.
LONGEST VERTICAL IN THE EAST
It didn't get any longer since the last time we looked, but we still like to celebrate the views and the lengths that Le Massif de Charlevoix goes to show us a good time. Chin-dropping St. Lawrence vistas, heaps of natural snow and nearly 40 hectares of off-piste skiing. And yes, Toto, it's Quebec.
ROAD FROM CALGARY TO FERNIE AND BEYOND
The Cowboy Trail in the foothills of the Rockies delivers long lonely stretches of high prairie running up to the flanks of the Rockies. True Canadian Clint Eastwood country (The Unforgiven was shot in the area). And one of the best stops on the way is the Longview Jerky Shop—for all your jerky needs.
MOST SURPRISING SPA
The new Aura Spa that sprang up inside Nelson's old-school Hume Hotel: an eco-luxurious haven on the 2nd floor.
BEST FREEBIE
If you happen by the Banff train station the October morning after the big annual Banff Alpine Racers ski swap, you just might get lucky. Free for the taking is a healthy assortment of all sorts of leftover unsold skis, boots, skates and general clobber that sellers were too lazy to pick up. Ka-ching!
BEST FULL MOON DINNER
Historic Cliffhouse Bistro, high on the upper cliffbands of Mt. Norquay, opens solely on full moon nights—and on Valentine's Day—for magical moments overlooking the town of Banff. Ascend the North American Chair to dine fireside among the stars at 2,100 metres.
NEWS FOR TREE SKIERS
SilverStar cut the red ribbon with a chainsaw, opening 50 hectares of new tree skiing for intermediates to experts.
BEST ICY FLAT LONG SLOPE
Didn't think that was either possible or desirable? The Lake Windermere Whiteway was recently named the longest skating trail in the world by the Guinness Book of World Records. Take the free shuttle from Panorama to Invermere and get your skates on.
OPPORTUNITY FOR PINT-SIZED PILE UPS
The new high-capacity Magic Carpet Tube Lift at Big White is capable of moving 1,000 tiny people per hour up 170 metres with a vertical of 23 metres. Faster than many Euro cable cars!
BRIGHTEST STAR IN THE EAST
Stoneham Mountain Resort boasts Canada's largest nightskiing area and terrain parks a-go-go.
AIRLINE
Quebec City, Tremblant, Vermont… Toronto Island Airport users who ski love to get away on Porter Airlines. Too bad the new government won't allow it jets to offer Air Canada and WestJet some real competition into Western Canada or Colorado.
BEST PLACE TO SKI WITH GHOSTS
Big White, Mount Washington and Sun Peaks.
WAY TO CONNECT
Panorama's new machine-built traverse from Panorama Summit to Never Never Land. Goodbye walking along treacherous terrain, hello nice wide groomed trail and easy access to powdery Taynton Bowl.
CLASSIEST APRÈS
Veuve Clicquot and Oyster Bar at Sunshine Village in the spring.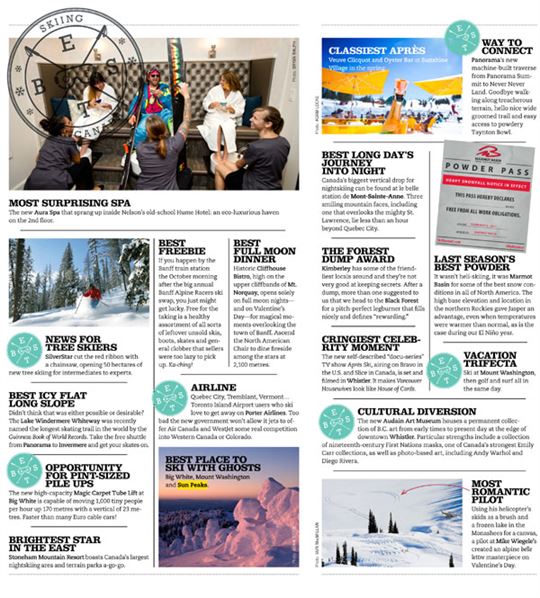 Tags: best of skiing, Best of Skiing in Canada, best snow, best T-bar