Best of Skiing in Canada 2015
---

Deep powder or smooth corduroy, hot chocolate or cold sake, cute liftees or a magnificent instructor who goes the extra mile… What bit of Canadian mountain culture gets your tips up? We've made tracks up, down and across our home and native winter wonderland to bring you the notable, the quirky and the down-right best. Herewith, we proudly bring you Ski Canada's unique annual awards issue, the Best of Skiing in Canada.
BEST NEWS FOR FATTIES
Whitewater's, Silver Star's and Mont-Saint-Anne's new fat tire snow biking. A portion of nordic trails is set aside for hell on wheels multi-use—including dogs.
BEST FREE THING
Weekly Fire & Ice show at the base of Whistler Mountain. Fireworks, fire spinners, and Whistler's best skiers and riders.
BEST SCENERY
Canada's beauty is tough to beat, but here are a few that we like best: Ben Eoin, Blue Mountain, Castle Mountain, Fernie, Grouse Mountain, Lake Louise, Le Massif, Marmot Basin, Sunshine Village and Whistler Blackcomb.
BEST MANITOBA MOUNTAIN-TRIVIA
John Norquay, premier of Manitoba from 1878-87, climbed the mountain that bears his name in 1888. Tough-kid Norquay, at the town of Banff, opened in 1926 as the first ski resort in the Canadian Rockies.
BEST OF BOTH WORLDS
* For many of us, a whole week of heli is a lot for the legs (and pocketbook) to handle. CMH's Ski Fusion offers four days of heli-skiing (frantic fun) and three days of ski touring (peaceful fun).
* Cat-assisted ski touring at Island Lake provides a cat ride in the morning to the nice terrain, which leaves more energy for the good stuff.
BEST KIDS' GEAR DEAL
Lease gear for growing kids by the season with Resorts of the Canadian Rockies' Wings program, $149 per season. www.skircr.com/kidsgrow
STILL THE LONGEST
Revelstoke's admirable deepness and longness attracts all sexes to its steeps and deeps. The most vertical in North America at 1,713m and between nine and 12m of snow annually. Separate Reality to SWF to Critical Path Glades to Critical Path at Revelstoke.
BEST-KEPT SECRET
Sure, Calgarians know about the incredible skiing at Castle Mountain near Pincher Creek, Alberta, but the rest of Canada still has a lot to discover.
BEST CHRISTMAS CAROL
Sun Peaks is uncrowded, family-friendly and comes with lots of special touches, like carolling with Nancy Greene and decorated trees on the slopes.
BEST TRUE NORTH EXPERIENCE
Skiing in to overnight at the remote Skoki Lodge above Lake Louise should be a requirement for anyone possessing an A Mari Usque Ad Mare passport.
BEST FAKE PASSPORT
Just $25 will get you a passe-partout to the Eastern Townships, or at least a 25 per cent discount on lift tickets at Mont Sutton, Owl's Head, Bromont and Mont Orford as well as neighbouring hotels and spas.
BEST BANG FOR YOUR BUCK
Try Uncle Buck at Silver Star. It's hard to find good bump runs in these days of good grooming.
BEST PLACE TO HAVE IT ALL
Revelstoke's lift, cat, heli and backcountry all from one base.
BEST DRAG LIFT
Lake Louise's Summit Platter is no drag at all—look at the bowls it delivers!
 BEST PARENTAL BREAK
Sleep in while the kids head off to lessons. Big White Kids' Centre Shuttle sends a ski pro to pick up your children and ski them over to their lessons, then return them at the end of the day while Mum and Dad roll a fattie.
MOST ROMANTIC ROAD LESS TRAVELED
For that special occasion, order a private horse-drawn sleigh ride through the snowy forest trails of Big White.
BEST USE OF A LOONIE
Starting from $1 over the price of a lift ticket, you can stay at Panorama's Pine Inn, which is fall-outta-bed-and-onto-the-chair close to the mountain. Ski and stay from $83 per person, per night; lift ticket is $82/day.
 BEST CITY HILLS
The 42-trail, tricked-out Stoneham is only a 20-minute drive from downtown Quebec City. Some of us will travel hours to ski areas like these, but for those living in ski cities…well, lucky you.
Calgary: Nakiska  *  Montreal: Bromont  *  Quebec City: Stoneham  *  Vancouver: Cypress, Grouse, Seymour
BEST MILLION-DOLLAR MAKEOVERS
* Sessions Taphouse & Grill, a long-standing "dive bar" at Big White, got a major reno and now boasts the largest fully licensed deck on the mountain, complete with an outdoor firepit.
* Whitehorn Lodge, Lake Louise's panoramific waiter-served restaurant opened last winter delivering Rocky Mountain vistas and tasty treats to excite the palate and fill the tummy.
BEST WAY TO BEAT YOUR KIDS
New every Saturday, Fun Family Dual Race at Sun Peaks, where the platter lift keeps running long after the others.
BEST PLACE TO SURF, GOLF AND SKI IN SAME DAY
Mt. Washington has no shortage of golf courses close by and is only 2.5 hours from the surf capital of Canada, Tofino.
BEST WINNER AT MUSICAL CHAIRS
Castle Mountain, Alberta. Green Chair came from Sunshine, Tamarack Chair (Red) from Sunshine, Sundance Chair (Blue) from Mt. Hood, Huckleberry Chair from Beaver Creek, and Wonder Carpet (Buckaroo) from Panorama. Recycle, reuse, ride to top—and ski pow.
MOST GLITTERING SKI SCHOOL PROGRAM
Ski with an Olympian at Whistler, including the likes of downhiller Rob Boyd, freestyler Kristi Richards, or ski-crossers Julia Murray and Davey Barr. Hire these Olympic athletes to be your own personal guide for a full day of skiing. Five people per group max, lift line priority, star appeal…
BEST NEW COURSE
The All-Mountain Skills Camp at Sun Peaks explores off-piste terrain with a certified Canadian Ski Guide. The focus is on safety and awareness of mountain hazards with an intro to fundamentals of terrain assessment, hazard analysis, overnight survival and companion rescue with transceiver, probe and shovel techniques. The two-day camps take place on Thursdays and Fridays throughout the season.
BIGGEST FLEECE
They'll do you right at the Willow Stream in the Banff Springs Hotel. Entrance to its world of mineral pools and saunas is free with a treatment—though we wish the policy to charge hotel guests $69 would go away.
BEST HIGH
At more than 2,200m Sunshine Village is Canada's highest resort village, and at 1,383m Banff is the country's highest town. Tell that to anyone lying on a couch in Nelson with his hand in a bag of Doritos.
BEST NEW PROMO FILMS
Hi-def and hi-octane, the great big four films celebrating all things Banff-Lake Louisey are the business. Made by the pros at Sherpas Cinema, the colour, light, and texture of the mountains that are Sunshine Village, Lake Louise and Norquay—and especially the folks who ski them—are inspiring us like nothing else. If you missed them at the Banff Film Festival, you can still see them online at skibig3.com/sherpas
BEST RED-TAPE-CUTTING MOMENT
Approval was finally gained from Parks Canada for the new day lodge at Sunshine Village, target date 2015-16 season.
BEST HELI-SKI ACCOMMODATION
The swank, five-star Sparkling Hill Resort overlooks the Monashee Mountains and Lake Okanagan. Now guests of Kingfisher Heliskiing can hit the hay—and the most incredible spa setup ever seen at a heli-ski operation—at the end of a day.
BEST WAY TO AVOID MONTREAL MORASS
A reminder for visitors coming from Ontario: hop on the recently opened extension to Autoroute 30. The new bypass south of the city cuts driving time to the Eastern Townships by avoiding traffic congestion on the island of Montreal. (And check for low-flying Porter flights overhead….)
WORLD CHANGER AWARD
* Hans Gmoser (1932-2006). In 1964 Gmoser, an Austrian mountain guide living in Banff, began using helicopters to transport skiers into the Bugaboo Mountains. Four years later the construction of Bugaboo Lodge was complete and Canadian Mountain Holidays (CMH), the first commercial heli-ski operation in Canada, was born.
* Jim Davies, the first heli-ski pilot. No one thought it was possible to use the workhorses of the air for recreational uses. Davies, a Banff resident, also revolutionized alpine rescue; he was the first to long-line rescue an injured climber in Canada.
* Allan and Brenda Drury, in celebration of 40 years of cat-skiing in Canada. Selkirk Wilderness Skiing introduced the snowcat to access beautiful B.C. No surprises that 2015 reservations sold out in October, proving that the legacy of Allan, cat-skiing's founder, lives on.
BEST WAY TO SAVE 30% ON A HELI-SKI WEEK
Go heli-camping at Skeena Heliskiing's new Base Camp. Dome tent lodging includes a large communal tent, a shower tent and five guest tents accommodating two guests each. Ski the same great terrain. Base Camp is also closer to the goods—just one minute to the first deep, powdery run.
BEST-LOOKING 50-YEAR-OLD
Mount St. Louis Moonstone, the largest family-owned ski resort in Ontario and possibly in Canada, celebrates the Big 5-0. Founded by Austrian skiers Josl and Elfriede Huter, the resort, just north of Barrie, has 36 slopes, nine chairlifts, three carpets and, new this year, nightskiing.
BEST SEASON TO BEAT THE BLUES
The winter of 2014 shattered cold temp and snowfall records in Ontario. At Blue Mountain, they were skiing on April 21, setting another record for 140 days on-snow. Blue's last record-setting season dates back to 2008 with 139 days on-snow.
BEST-LOOKING 20-YEAR-OLD
The World Ski & Snowboard Festival in Whistler celebrates 20 years of grooviness. Now the largest annual winter sports and music festival in North America, it's also the largest annual free outdoor concert series in Canada; April 10-19.
BEST RUN REMODELLING
Revelstoke's The Ninja Traverse has been sumo-sized (widened and groomed) to provide an easy and smooth return to the base of Stoke Chair, and 007 now has a cut-run to improve access to Mid-Mountain Lodge.
BEST (AND MOST NEEDED) NEW BEGINNER RUN
Kimberley now has an easier way down to the lower mountain from the top of Northstar Chair, letting beginners avoid the lower mountain headwall, the steepest pitch on the Main Run. Now where's the fun in that?
BEST NEW BEGINNER EXPERIENCE
Panorama's Discovery Zone above the base area gets a major overhaul—new quad chairlift, new carpet lift, new snowmaking.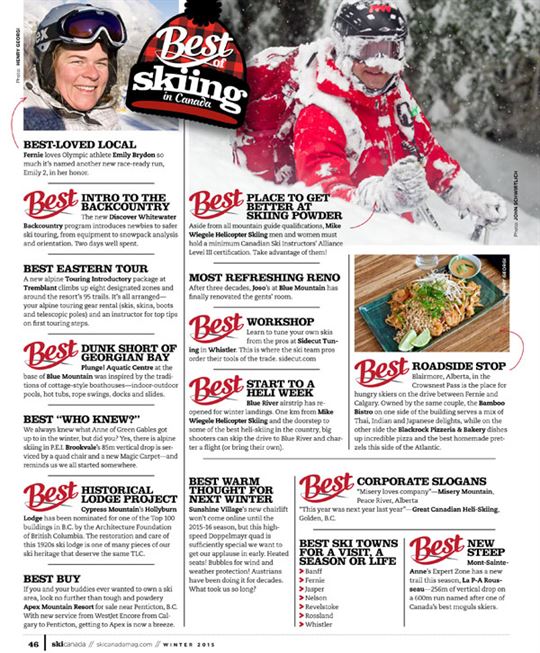 BEST-LOVED LOCAL
Fernie loves Olympic athlete Emily Brydon so much it's named another new race-ready run, Emily 2, in her honor.
BEST INTRO TO THE BACKCOUNTRY
The new Discover Whitewater Backcountry program introduces newbies to safer ski touring, from equipment to snowpack analysis and orientation. Two days well spent.
BEST EASTERN TOUR
A new alpine Touring Introductory package at Tremblant climbs up eight designated zones and around the resort's 95 trails. It's all arranged—your alpine touring gear rental (skis, skins, boots and telescopic poles) and an instructor for top tips on first touring steps.
BEST DUNK SHORT OF GEORGIAN BAY
Plunge! Aquatic Centre at the base of Blue Mountain was inspired by the traditions of cottage-style boathouses—indoor-outdoor pools, hot tubs, rope swings, docks and slides.
BEST "WHO KNEW?"
We always knew what Anne of Green Gables got up to in the winter, but did you? Yes, there is alpine skiing in P.E.I. Brookvale's 85m vertical drop is serviced by a quad chair and a new Magic Carpet—and reminds us we all started somewhere.
BEST HISTORICAL LODGE PROJECT
Cypress Mountain's Hollyburn Lodge has been nominated for one of the Top 100 buildings in B.C. by the Architecture Foundation of British Columbia. The restoration and care of this 1920s ski lodge is one of many pieces of our ski heritage that deserve the same TLC.
BEST BUY
If you and your buddies ever wanted to own a ski area, look no further than tough and powdery Apex Mountain Resort for sale near Penticton, B.C. With new service from WestJet Encore from Calgary to Penticton, getting to Apex is now a breeze.
BEST WARM THOUGHT FOR NEXT WINTER
Sunshine Village's new chairlift won't come online until the 2015-16 season, but this high-speed Doppelmayr quad is sufficiently special we want to get our applause in early. Heated seats! Bubbles for wind and weather protection! Austrians have been doing it for decades. What took us so long?
BEST CORPORATE SLOGANS
* "Misery loves company"—Misery Mountain, Peace River, Alberta
* "This year was next year last year"—Great Canadian Heli-Skiing, Golden, B.C.
BEST SKI TOWNS FOR A VISIT, A SEASON OR LIFE
Banff  *  Fernie  *  Jasper  *  Nelson  *  Revelstoke  *  Rossland  *  Whistler
BEST NEW STEEP
Mont-Sainte-Anne's Expert Zone has a new trail this season, La P-A Rousseau—256m of vertical drop on a 600m run named after one of Canada's best moguls skiers.
BEST HORIZONTAL TABLE DANCE
The crowd-pleasing table slide at Fernie's Griz Bar.
BEST LOOK FOR RIDING SINGLE
Mount Norquay's Lifts of Love night, Valentine's Day, 2015: high-speed dating on a high-speed quad
BEST WATER 'N' ICE VIEWS
* Georgia Strait from  Mt. Washington.
* St. Lawrence River from Le Massif.
BEST REASON TO SKIP THE SNOOZE BUTTON
First Tracks programs across the country are the best way to greet a powder or fresh corduroy morning. Get in a full hour before everyone else and, even more high-functioning, take one of the Fresh Tracks lessons that are popping up.
BEST ALL IN ONE
Silver Star's My1Pass means an all-inclusive day ticket with skiing, cross-county skiing, skating, snow tubing, snowshoeing, and new this year, fat biking.
CLASSIEST APRÈS
Settle in for a glass of something cool and bubbly in the Lakeview Lounge of Chateau Lake Louise. A multi-storeyed vista overlooking the glittering ice and panoramic peaks is alpine hi-def TV
BEST TRIBUTE
Panorama's Taynton Bowl trail, B-2nd, has been renamed Donny B's in honour of ski legend Don Bilodeau, Canadian ski pioneer. Ski Canada's long-time instruction editor founded the Bilodeau School of Skiing and Snowboarding with wife, Heather, at Panorama. Each time we visit Elkhorn Cabin, we'll reminisce about Don hauling it up the hill by bulldozer and force of will.
BEST USE OF A PhD
The owners of Mt. Begbie Brewing Co. in Revelstoke include a nuclear physicist and a biologist, who just happen to have the science of crafting their eight different hearty brews down to a fine art.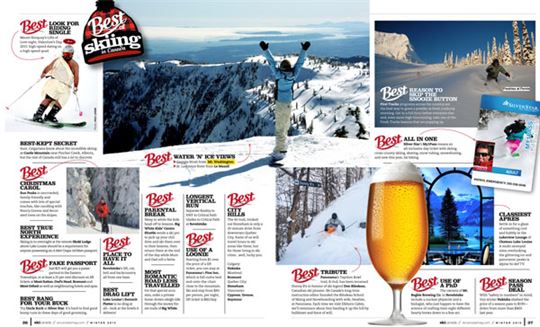 BEST SEASON PASS DEAL
With "safety in numbers" in mind, this winter Nakiska slashed the price of a season pass to $199—down from more than $800 last year.
BEST CHUTES
Kicking Horse claims more than 80 chutes. We asked Whistler—but they're still counting.
BIGGEST VERTICAL
Revelstoke, 1,713m  *  Blackcomb, 1,609m  *  Whistler, 1,530m  *  Kicking Horse, 1,260m  *  Panorama, 1,215m  *  Sunshine, 1,070m  *  Lake Louise, 991m  *  Marmot Basin, 914m  *  Sun Peaks, 882m  *  Red Mountain, 880m  *  Castle Mountain, 863m  *  Fernie, 858m  *  Big White, 777m  *  Le Massif, 770m
LONGEST RUN
Revelstoke, 15.3k  *  Whistler, 11k  *  Kicking Horse, 10k  *  Lake Louise, 8.1k  *  Tie: Silver Star/Sun Peaks/Sunshine, 8k
BEST CHOICE FOR PROCRASTINATORS
The new St. Lawrence Summits multi-peak lift pass. Switch from one resort to another with a single ticket, purchased through a participating hotel in the Quebec City, Stoneham or Charlevoix region. Skiers are free to wait until the morning itself to decide whether they'll spend the day at Le Massif, Mont-Sainte-Anne or Stoneham.
BEST WAY TO KEEP ON SWINGIN'
Panorama's Greywolf Golf Course's new $5 million clubhouse is open to all for winter weekend dinners and Sunday brunch.
BEST PLACE TO TEST YOUR AVALANCHE RESCUE SKILLS
The new BCA Avalanche Ranch, a transceiver testing area at the top of the Revelstoke gondola helps you hone your search skills and avalanche awareness.
BEST WAY TO BEAT AN OLYMPIAN
Hit "Nancy," the 20-metre jump at Sun Peaks Rockstar Energy top-to-bottom, four-hectare terrain park.
BEST BONUS FOR SKIING FAMILIES
Canada's Children's Fitness Tax Credit: programs of physical activity must be continuous, last at least eight weeks with at least one session a week or, in the case of camps, run for five consecutive days, be supervised, suitable for children, and include a significant amount of physical activity contributing to cardio-respiratory endurance and to at least one of muscular strength, muscular endurance, flexibility or balance. Check, check and cheque.
BEST END TO A SEASON
A walloping 29 cm over Marmot Basin's closing weekend last season.
BEST START TO A SEASON
A walloping 80 cm a week by the end of November at Marmot Basin.
SUNNIEST WINE FESTIVAL
Now in its 17th year, Sun Peaks Winter Okanagan Wine Festival held every January pairs swillers with more than 30 B.C. wineries.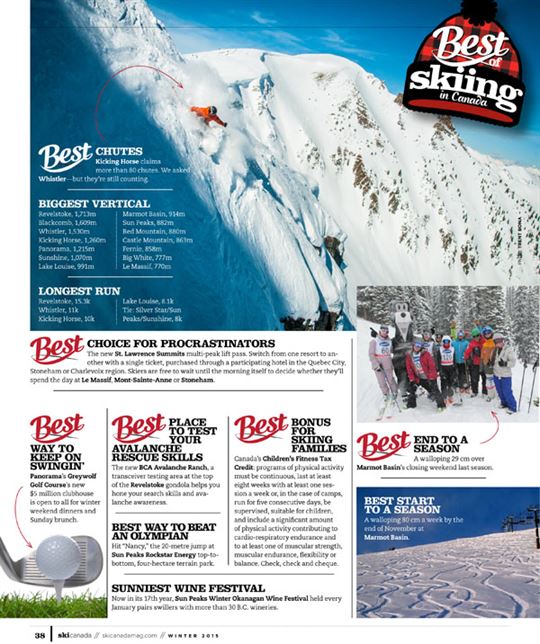 BEST NEW BUBBLES
Who says everything in Whistler is born forever shiny and new? Finally replacing cabins in operation since 1988, the Whistler Village Gondola's new eight-passenger bubbles swing into action this season. What better use of a cool $6 million?
BEST PLACE FOR ANYONE CALLED PATRICK
A free lunch for anyone called Patrick (or derivative) at The Blarney Stone at Big White on St. Paddy's Day 2015. Now, who's up to the challenge of all Roberts receiving a wee dram free on January 25?
CRAZIEST RIDE
A Dual Slalom/Fat Bike Relay Race at Marmot Basin's final 2013-14 weekend.
BEST REALITY REFLEX GAME
Regardez gauche! Regardez droit! The glades at Mont Sutton are dotted with no fewer than 204 junctions. Create your own unique descent each and every time.
BEST FLY-IN VIEW
Travelling to Mt. Washington on Vancouver Island comes with bonus views of the deep blue sea on the spectacular flight—right into Comox Harbour via Harbour Air.
BEST NEW EXPANSIONS
* Sun Peaks opened Morrisey and The Gils, tying with Lake Louise now as second largest ski area in Canada. The new stuff is classed expert and high-intermediate, significantly increasing Sun Peaks's advanced terrain.
* Red Mountain happily went Grey with new black and blue terrain that helps tame some of the resort's rep for being experts-only.
BEST WINE CELLAR
It's not easy to keep count, what with all the sipping and quaffing, but the serenely gracious Post Hotel in Lake Louise estimates around 25,000 as the number of wine bottles in its award-winning cellar.
BEST CAT SHUTTLE/EAST
The best powder in the East gets better. We're keen to head out for some backcountry skiing via the new cat service on Le Massif's Mont Liguori. Each Saturday and Sunday, board the cat for a fresh-tracks adventure—instructor included.
BEST CAT SHUTTLE/WEST
At Red Mountain climb aboard the cat to shuttle from Grey Mountain to the peak of Mt. Kirkup. It's first-come, first-ski for only $10 a run (with a lift ticket or season pass)—a taste of the deep-powder experience for the price of a beer. (Not to be confused or compared with Big Red Cats, the country's biggest day operation nearby.)
BEST NEW RACE TRAINING
The Legacy Training Centre at Red Mountain is a purpose-built centre with racers, parents and coaches in mind, with ultra-modern snowmaking and FIS slopes featuring six slalom and two GS lanes for 2014; future plans include mogul training and slopestyle.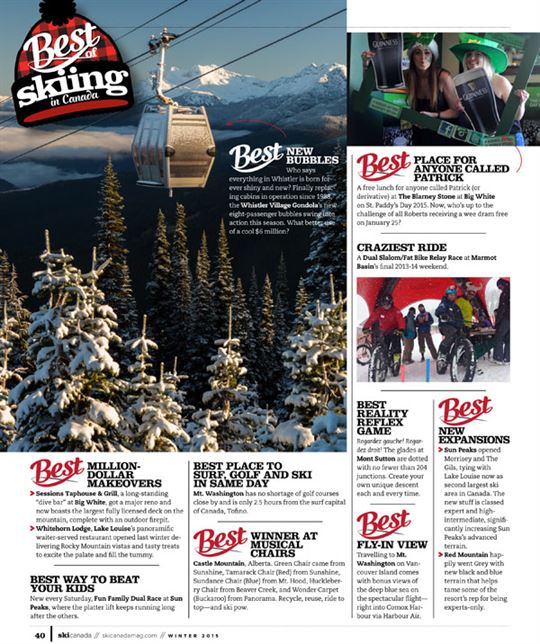 BEST PICNIC SPOT
La Crête Summit at Mont-Sainte-Anne in the spring.
BEST RAIL
Apex Mountain Resort has the world's longest rail at 92.66m and is challenging anyone to come out and try his or her luck at breaking the Guinness World Record: longest rail grind on a snowboard is 78.7m; longest rail grind on skis is 73.63m.
BEST TERRAIN PARKS
Apex Mountain
Canada Olympic Park
Crabbe Mountain
Grouse Mountain
Mount St. Louis Moonstone
Mont St-Bruno
Mont St-Sauveur
Mt. Seymour
Silver Star
Stoneham
Tremblant
Whistler
BEST NEW HUT-TO-HUT TOUR
Selkirk Mountain Experience's newest hut provides a long-awaited spring tour, The Canadian Haute Route. The new Empire Lake Chalet is SE's third hut, perched at 2,117m with views of glaciers in all four directions, and offers three bedrooms for 10 guests and 2 guides.
BEST REINCARNATION
After 15 years sitting idle, and against the flow of closed runs in Canada, bijou Mt. Antoine in northern Ontario has re-opened. First opened in 1975, it's home to one of the province's longest runs, Dambuster, at more than three km. A million dollars in public money will cover a new Doppelmayr quad to serve the 11 runs.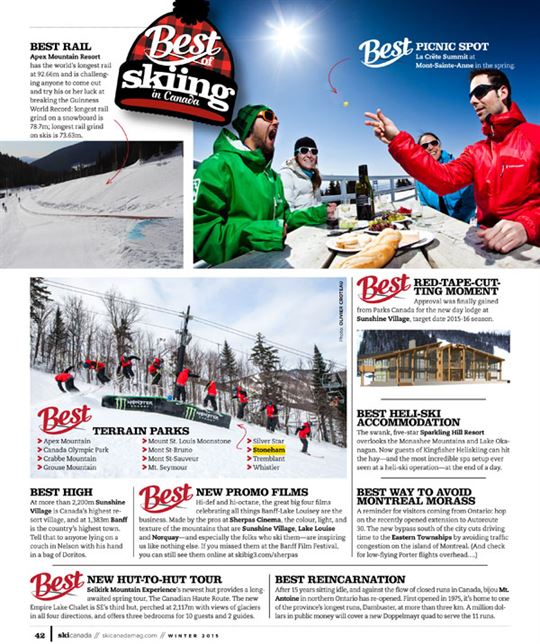 BEST INVESTMENT IN NEW SKIERS
At resorts like Stoneham and Mont-Sainte-Anne, about 30 minutes from Quebec City, enjoy free access to their Magic Carpets. (MSA has the longest Magic Carpet in Quebec.)
LONGEST LOOP
Silver Star, Canada's largest daily groomed cross-country trail network (105 km), adds a new scenic loop and a new warming hut at the gateway to the Alder Point trails.
BEST NEW SLED-HEAD EXPEDITION
Out of Golden, B.C., this winter jump on a sled from the relative comfort of a night in your heated expedition tent at base camp with Adrenalin Descents.
BEST WAY TO SAVE ON A RENTAL CAR
Both Kicking Horse and Fernie have shuttle service to and from Calgary International Airport three times a week—Wednesdays, Saturdays and Sundays.
BEST POWDER
Aside from any heli- and cat-ski operation, here's our choice (alphabetical):
Big White  *  Chic Chocs  *  Fernie  *  Hudson Bay Mountain  *  Le Massif  *  Mt. Washington  *  Powder King  *  Red Mountain  *  Revelstoke  *  Shames  *  Whistler  *  Whitewater
BEST PLACE TO GET BETTER AT SKIING POWDER
Aside from all mountain guide qualifications, Mike Wiegele Helicopter Skiing men and women must hold a minimum Canadian Ski Instructors' Alliance Level III certification. Take advantage of them!
MOST REFRESHING RENO
After three decades, Joso's at Blue Mountain has finally renovated the gents' room.
BEST WORKSHOP
Learn to tune your own skis from the pros at Sidecut Tuning in Whistler. This is where the ski team pros order their tools of the trade. sidecut.com
BEST START TO A HELI WEEK
Blue River airstrip has reopened for winter landings. One km from Mike Wiegele Helicopter Skiing and the doorstep to some of the best heli-skiing in the country, big shooters can skip the drive to Blue River and charter a flight (or bring their own).
BEST ROADSIDE STOP
Blairmore, Alberta, in the Crowsnest Pass is the place for hungry skiers on the drive between Fernie and Calgary. Owned by the same couple, the Bamboo Bistro on one side of the building serves a mix of Thai, Indian and Japanese delights, while on the other side the Blackrock Pizzeria & Bakery dishes up incredible pizza and the best homemade pretzels this side of the Atlantic.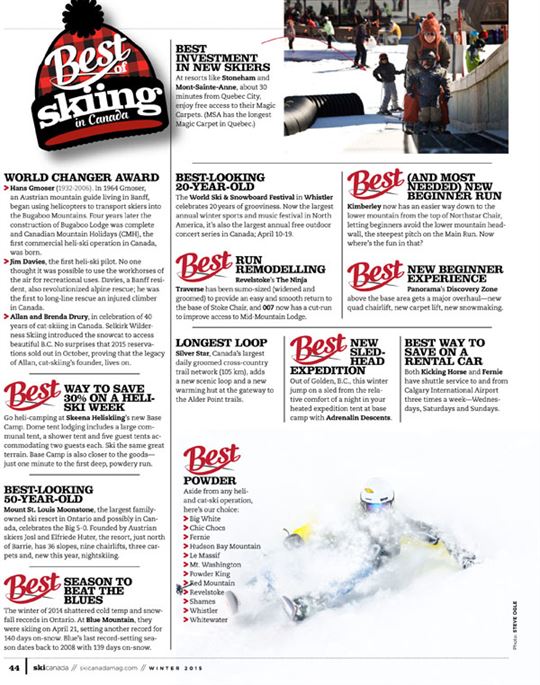 ---
Tags: Adrenalin Descents., All-Mountain Skills Camp, best of skiing, Best Powder, Big White Kids' Centre, Cypress Mountain's Hollyburn Lodge, Expert Zone, fat tire snow biking, Griz Bar, Kingfisher Heliskiing, Legacy Training Centre at Red Mountain, Mt. Antoine, Mt. Begbie Brewing, My1Pass, Norquay, Panorama Pine Inn, Post Hotel, Selkirk Wilderness Skiing, Sessions Taphouse & Grill, Sherpas Cinema, Ski with an Olympian, Sparkling Hill Resort, The Ninja Traverse, Whitehorn Lodge