Where are the best skiers?
---
Ski Test Editor Ron Betts and I were disagreeing the other day about where to find the best skiers in the country. I don't mean names from the World Cup or Olympic podiums or the biggest freeride fish in ski resort ponds across Canada. I'm talking about readers like you, ordinary skiers, an average lift line sampling anywhere. Where do you find Canada's best skiers?
"Now, in my mind," I said to Ron, "I've always thought the best were in Quebec." As a kid who never flew on a plane to go skiing, the real mountains were an eight-hour drive in the Country Estate wagon to hills where ski instruction for my siblings and parents was almost militaristic. Even today, Quebecers take the accuracy of ski instruction incredibly seriously compared to the rest of us. Skiers or not, the vast majority of this province knows how to truly embrace winter. Cold is just part of their culture.
But then Ron got on a rant, a long one, and since I had the tape recorder running, he ended up filling my page this issue.
"If anyone had a silver spoon in the quest to be the nation's best, it would be the skiers of B.C.," said Ron. "Abundant snow, huge mountain ranges stretching the length and breadth of the province, and ski resorts that outnumber Tim Hortons by a factor of five. B.C. skiers have it all—it's like the Willy Wonka Chocolate Factory of the ski world. But all this perfection makes people complacent. Why work on technique when the conditions let you get away with being lazy. Wiggle out a few runs at Whistler in the morning and mountain bike the North Shore in the afternoon. Slarf down Red or Whitewater and then check out the latest reggae/funk fusion band late into the night. Ski the Okanagan then visit a winery or two. If things come too easily, they're often taken for granted. This is the curse of the B.C. skier.
"Albertans will tell you they're the best skiers in Canada—after all, they have the jewel of the Rockies, Lake Louise. But it takes more than glitter to shine in this contest. Sure, with a cowboy mentality, Albertans probably have more bravado than most other provinces, but all the oil money in Canada can't make you ski well. They might have the latest and greatest gear, parking lots full of expensive cars and jacked-up trucks, but they don't have the soft, consistent snow needed to create great skiers. There's a reason their mountains are called the Rockies.
"If it weren't for its unfortunate location and unco-operative climate, the Prairies might produce the country's best skiers. In fact, a great number of residents have last names that end in ski: Katchkowski, Dubrovski, Kowalski… Alas, the Paleoproterozoic Era, about 2.5 billion years ago, dashed those dreams. The Canadian Shield makes learning to ski as easy as learning to surf in a backyard pool. It's possible but it isn't going to help when you get to Hawaii. Similarly, the paltry 380mm of annual precipitation in Saskatoon won't do much for your powder skiing prowess.
"Ontarians are easy to cut out of the running; they're far too high-strung and severe to rate at the top of this list. Sure they're great racers, but that's only because every weekend they speed all the way to the Niagara Escarpment as if the world is ending, so they can apply their competitive Bay Street mentality to the slopes. Speed is all they know. It's easy to spot Ontario skiers out west. They're doing five turns to our one—and avoiding powder at all cost. Nope, the best skiing is about power and grace, not scowl and race.
"Quebecers are a close second in the hierarchy of best skiers. Their ski roots remain very European, giving them a historical advantage. However, their propensity for civil unrest and protest is a distraction. I remember gold medallist Jean-Luc Brassard once saying that his legs were like machine guns, 'rat-a-tat-tat….' There's no place for firearms in a sport like skiing. And I've seen Jean Chrétien ski. It's like scratching your backside; it probably feels great but it looks offensive to anyone watching.
"Nope, everyone knows that the best skiers in the country come from Nova Scotia, New Brunswick, P.E.I. and the Rock," argued Ron, with no trace of a Cape Breton accent. "It's Darwin's theory of evolution by natural selection. Maritime skiers have evolved from seafarers, who, after generations of having sea legs, maintain uncanny balance and an unhealthy thirst for beer, rum and general skulduggery in the most severe weather in the country. Maritime skiers are a double threat, on snow and at après ski."
Ron and I did agree on one thing, and that's maybe the search for the best is an impossible task. The famous Hawaiian ambassador of aloha, Duke Kahanamoku, once said, "The best surfer out there is the one having the most fun." Maybe that's true of all sports, ours included.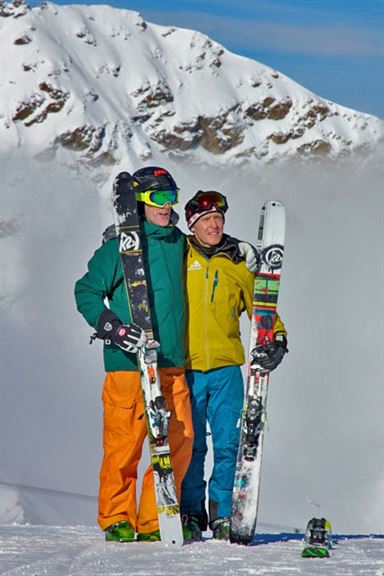 ---
Tags: Alberta, BC, best skiers, Ontario, Québec