Reading Time:
15
minutes
We like to think of our Best of Skiing in Canada Awards as less about the competition and more about how much fun it is to research. Kudos and recognition of worthy people, places and things come in from readers, writers and other contributors all across ski country every year and after a lengthy and complicated decision-making process, the gondola doors finally open up and out spills our annual appreciation project. If you think someone or something needs attention (good or not so good), let us know now and we'll have fun with it next year.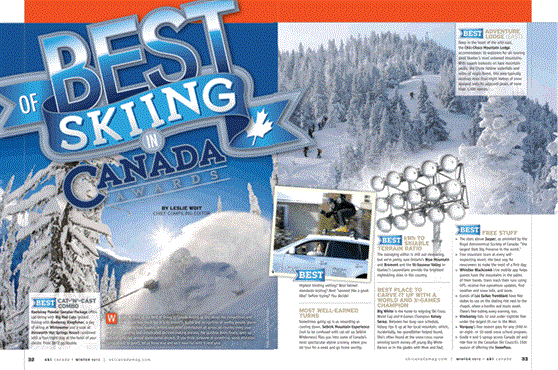 CAT-'N'-CAST COMBO
Kootenay Powder Sampler Package offers cat-skiing with Big Red Cats, guided fishing with Kootenay Kingfisher, a day of skiing at Whitewater and a soak at Ainsworth Hot Springs Resort combined with a four-night stay at the hotel of your choice. From $872 pp/double.
ADVENTURE LODGE (EAST)
Deep in the heart of the wild east, the Chic-Chocs Mountain Lodge accommodates 36 explorers for ski touring amid Quebec's most untamed mountains. With superb lookouts on bare mountain peaks, the Chute Hélène waterfalls and miles of virgin forest, this area typically receives more than eight metres of snow dumped onto its adjacent peaks of more than 1,000 metres.
MOST WELL-EARNED TURNS
Sometimes going up is as rewarding as coming down. Selkirk Mountain Experience (not to be confused with cat-ski op Selkirk Wilderness) flies you into some of Canada's most spectacular alpine scenery, where you ski tour for a week and go home worthy.
kWh TO SKIABLE TERRAIN RATIO
The managing editor is still out measuring, but we're pretty sure Ontario's Blue Mountain and Bromont and the St-Sauveur Valley in Quebec's Laurentians provide the brightest nightskiing skies in the country.
BEST PLACE TO CARVE IT UP WITH A WORLD AND X-GAMES CHAMPION
Big White is the home to reigning Ski Cross World Cup and X-Games Champion Kelsey Serwa. Between her busy race schedule, Kelsey rips it up at her local mountain, which, incidentally, her grandfather helped found. She's often found at the snow-cross course winning lunch money off young Big White Racers or in the glades with Mom and Dad.
FREE STUFF
» The stars above Jasper, as anointed by the Royal Astronomical Society of Canada: "the largest Dark Sky Preserve in the world."
» Free mountain tours at every self-respecting resort, the best way for newcomers to make the most of a first day.
» Whistler Blackcomb Live mobile app helps guests have the mountains in the palms of their hands. Users track their runs using GPS, receive live operations updates, find weather and snow info, and more.
» Guests of Les Suites Tremblant have free skates to use on the skating rink next to the chapel, where a bonfire and music await. There's free tubing every evening, too.
» Kimberley kids 12 and under nightski free under the largest lit run in the West.
» Norquay's free season pass for any child in an eight- or 10-week snow school program.
» Grade 4 and 5 sprogs across Canada ski and ride free in the Canadian Ski Council's 15th season of offering the SnowPass.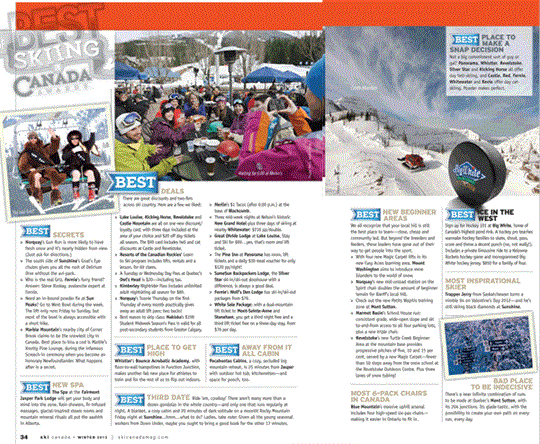 PLACE TO GET HIGH
Whistler's Bounce Acrobatic Academy, with floor-to-wall trampolines in Function Junction, makes another fab new place for athletes to train and for the rest of us to flip out indoors.
DEALS
There are great discounts and two-fers across ski country. Here are a few we liked:
» Lake Louise, Kicking Horse, Revelstoke and Castle Mountain are all on one new discount/loyalty card, with three days included at the area of your choice and $20 off day tickets all season. The $99 card includes heli and cat discounts at Castle and Revelstoke.
» Resorts of the Canadian Rockies' Learn to Ski program includes lifts, rentals and a lesson, for 69 clams.
» A Tuesday or Wednesday Day Pass at Quebec's Owl's Head is $20—including tax.
» Kimberley Nightrider Pass includes unlimited adult nightskiing all season for $89.
» Norquay's Toonie Thursday on the first Thursday of every month practically gives away an adult lift pass: two bucks!
» Best reason to skip class: Nakiska's $199 Student Midweek Season's Pass is valid for all post-secondary students from Greater Calgary.
» Merlin's $1 Tacos (after 6:00 p.m.) at the base of Blackcomb.
» Three mid-week nights at Nelson's historic New Grand Hotel plus three days of skiing at nearby Whitewater: $216 pp/double.
» Great Divide Lodge at Lake Louise, Stay and Ski for $99…yes, that's room and lift ticket.
» The Pine Inn at Panorama has room, lift tickets and a daily $30 meal voucher for only $120 pp/night!
» SameSun Backpackers Lodge, the Silver Star ski-in/ski-out dosshouse with a difference, is always a good deal.
» Fernie's Wolf's Den Lodge has ski-in/ski-out packages from $79.
» White Sale Package: with a dual-mountain lift ticket to Mont-Sainte-Anne and Stoneham, you get a third night free and a third lift ticket free on a three-day stay, from $76 per day.

SECRETS
» Norquay's Gun Run is more likely to have fresh snow and it's nearly hidden from view. (Just ask for directions.)
» The south side of Sunshine's Goat's Eye chutes gives you all the rush of Delirium Dive without the avi-pack.
» Who is the real Griz, Fernie's furry friend? Answer: Steve Ruskay, avalanche expert at Fernie.
» Need an in-bound powder fix at Sun Peaks? Go to West Bowl during the week. The lift only runs Friday to Sunday, but most of the bowl is always accessible with a short hike.
» Marble Mountain's nearby city of Corner Brook claims to be the snowiest city in Canada. Best place to kiss a cod is Marble's Knotty Pine Lounge, during the infamous Screech-in ceremony when you become an honorary Newfoundlander. What happens after is a secret.
NEW SPA
The Spa at the Fairmont Jasper Park Lodge will get your body and mind into the zone. Rain showers, fir-infused massages, glacial-inspired steam rooms and mountain mineral rituals all put the aaahhh in Alberta.
 THIRD DATE
Ride 'em, cowboy! There aren't many more than a dozen gondolas in the whole country—and only one that runs regularly at night. A blanket, a cozy cabin and 20 minutes of dark solitude on a moonlit Rocky Mountain Friday night at Sunshine…hmm…what to do? Ladies, take note: Given all the young seasonal workers from Down Under, maybe you ought to bring a good book for the other 17 minutes.
AWAY FROM IT ALL CABIN
Pocahontas Cabins, a cozy, secluded log mountain retreat, is 25 minutes from Jasper with outdoor hot tub, kitchenettes—and space for pooch, too.
PLACE TO MAKE A SNAP DECISION
Not a big commitment sort of guy or gal? Panorama, Whistler, Revelstoke, Silver Star and Kicking Horse all offer day heli-skiing, and Castle, Red, Fernie, Whitewater and Revie offer day cat-skiing. Powder makes perfect.
NEW BEGINNER AREAS
We all recognize that your local hill is still the best place to learn—close, cheap and community led. But beyond the breeders and feeders, these leaders have gone out of their way to get people into the sport.
» With four new Magic Carpet lifts in its new Easy Acres learning area, Mount Washington aims to introduce more Islanders to the world of snow.
» Norquay's new mid-unload station on the Spirit chair doubles the amount of beginner terrain for Banff's local hill.
» Check out the new Petits Wapitis training zone at Mont Sutton.
» Marmot Basin's School House run: consistent grade, wide-open slope and ski to-and-from access to all four parking lots, plus a new triple chair.
» Revelstoke's new Turtle Creek Beginner Area at the mountain base provides progressive pitches of five, 10 and 15 per cent, served by a new Magic Carpet—fewer than 50 steps away from the snow school at the Revelstoke Outdoors Centre. Plus three lanes of snow tubing!
MOST 6-PACK CHAIRS IN CANADA
Blue Mountain's massive uphill arsenal includes four high-speed six-pax chairs— making it easier in Ontario to fit in.
ICE IN THE WEST
Sign up for Hockey 101 at Big White, home of Canada's highest pond rink. A hockey pro teaches wannabe hockey families to skate, shoot, pass, score and throw a decent punch (no, not really!). Includes a private limousine ride to a Kelowna Rockets hockey game and monogrammed Big White hockey jersey. $850 for a family of four.
MOST INSPIRATIONAL SKIER
Trapper Jerry from Saskatchewan turns a nimble 94 on Valentine's Day 2012—and he's still skiing black diamonds at Sunshine.
BAD PLACE TO BE INDECISIVE
There's a near infinite combination of runs to be made at Quebec's Mont Sutton, with its 204 junctions. Its glade-tastic, with the possibility to create your own path on every run, every day.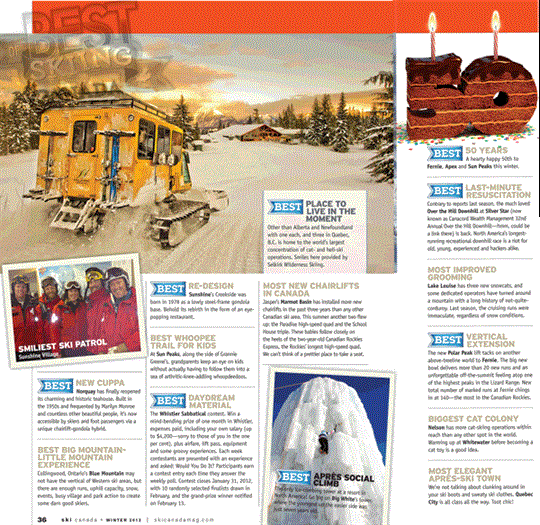 NEW CUPPA
Norquay has finally reopened its charming and historic teahouse. Built in the 1950s and frequented by Marilyn Monroe and countless other beautiful people, it's now accessible by skiers and foot passengers via a unique chairlift-gondola hybrid.
BEST BIG MOUNTAIN-LITTLE MOUNTAIN EXPE IENCE
Collingwood, Ontario's Blue Mountain may not have the vertical of Western ski areas, but there are enough runs, uphill capacity, snow, events, busy village and park action to create some darn good skiers.
RE-DESIGN
Sunshine's Creekside was born in 1978 as a lowly steel-frame gondola base. Behold its rebirth in the form of an eye-popping restaurant.
BEST WHOOPEE TRAIL FOR KIDS
At Sun Peaks, along the side of Grannie Greene's, grandparents keep an eye on kids without actually having to follow them into a sea of arthritic-knee-addling whoopdeedoos.
DAYDREAM MATERIAL
The Whistler Sabbatical contest. Win a mind-bending prize of one month in Whistler, expenses paid, including your own salary (up to $4,200—sorry to those of you in the one per cent), plus airfare, lift pass, equipment and some groovy experiences. Each week contestants are presented with an experience and asked: Would You Do It? Participants earn a contest entry each time they answer the weekly poll. Contest closes January 31, 2012, with 10 randomly selected finalists drawn in February, and the grand-prize winner notified on February 13.
MOST NEW CHAIR LIFTS IN CANADA
Jasper's Marmot Basin has installed more new chairlifts in the past three years than any other Canadian ski area. This summer another two flew up: the Paradise high-speed quad and the School House triple. These babies follow closely on the heels of the two-year-old Canadian Rockies Express, the Rockies' longest high-speed quad. We can't think of a prettier place to take a seat.
PLACE TO LIVE IN THE MOMENT
Other than Alberta and Newfoundland with one each, and three in Quebec, B.C. is home to the world's largest concentration of cat- and heli-ski operations. Smiles here provided by Selkirk Wilderness Skiing.
APRÈS SOCIAL CLIMB
The only ice-climbing tower at a resort in North America! Go big on Big White's tower, where the youngest up the easier side was just seven years old.
CLASSROOM IN THE WEST
The National Sport School opened the doors at a gleaming new venue at Canada Olympic Park. Operated by the Calgary Board of Education and WinSport Canada, the school moved a hop, skip and a jump from the facilities, which the students-cum-athletes use daily to realize their ambitions. From junior national team lugers to the national ski jump squad, the students study and train amid world-class facilities.
NEW SHUTTLE
Get onboard a Brewster bus for the daily transfers to Calgary International Airport and back to Kicking Horse, an extension of the Brewster Banff Airport Express. It also now does daily Ski & Ride service to Kicking Horse from Banff and Lake Louise. And to minimize the possibility of having to actually talk with your seatmate, there's WiFi onboard between Calgary and the Lake.
50 YEARS
A hearty happy 50th to Fernie, Apex and Sun Peaks this winter.
LAST MINUTE RESUSCITATION
Contrary to reports last season, the much loved Over the Hill Downhill at Silver Star (now known as Canacord Wealth Management 32nd Annual Over the Hill Downhill—hmm, could be a link there) is back. North America's longest-running recreational downhill race is a riot for old, young, experienced and hackers alike.
MOST IMPROVED GROOMING
Lake Louise has three new snowcats, and some dedicated operators have turned around a mountain with a long history of not-quite-corduroy. Last season, the cruising runs were immaculate, regardless of snow conditions.
VERTICAL EXTENSION
The new Polar Peak lift tacks on another above-treeline world to Fernie. The big new bowl delivers more than 20 new runs and an unforgettable off-the-summit feeling atop one of the highest peaks in the Lizard Range. New total number of marked runs at Fernie chings in at 140—the most in the Canadian Rockies.
BIGGEST CAT COLONY
Nelson has more cat-skiing operations within reach than any other spot in the world. Warming up at Whitewater before becoming a cat toy is a good idea.
MOST ELEGANT APRÈS SKI TOWN
We're not talking about clunking around in your ski boots and sweaty ski clothes. Quebec City is all class all the way. Toot chic!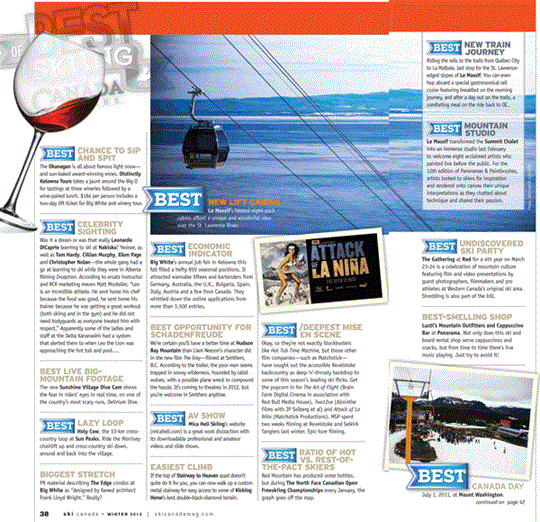 NEW LIFT CABINS
Le Massif's heated eight-pack cabins afford a unique and wonderful view over the St. Lawrence River.
CHANCE TO SIP AND SPIT
The Okanagan is all about famous light snow—and sun-baked award-winning wines. Distinctly Kelowna Tours takes a jaunt around the Big O for tastings at three wineries followed by a wine-paired lunch. $184 per person includes a two-day lift ticket for Big White and winery tour.
CELEBRITY SIGHTING
Was it a dream or was that really Leonardo DiCaprio learning to ski at Nakiska? Yesiree, as well as Tom Hardy, Cillian Murphy, Ellen Page and Christopher Nolan—the whole gang had a go at learning to ski while they were in Alberta filming Inception. According to ersatz instructor and RCR marketing maven Matt Mosteller, "Leo is an incredible athlete. He sent home his chef because the food was good, he sent home his trainer because he was getting a great workout (both skiing and in the gym) and he did not need bodyguards as everyone treated him with respect." Apparently some of the ladies and staff at the Delta Kananaskis had a system that alerted them to when Leo the Lion was approaching the hot tub and pool….
BEST LIVE BI -MOUNTAIN FOOTAGE
The new Sunshine Village Dive Cam shows the fear in riders' eyes in real time, on one of the country's most scary runs, Delirium Dive.
LAZY LOOP
Holy Cow, the 10-km cross-country loop at Sun Peaks. Ride the Morrisey chairlift up and cross-country ski down, around and back into the village.
BIGGEST STRETCH
PR material describing The Edge condos at Big White as "designed by famed architect Frank Lloyd Wright." Really?
ECONOMIC INDICATOR
Big White's annual job fair in Kelowna this fall filled a hefty 850 seasonal positions. It attracted wannabe liftees and bartenders from Germany, Australia, the U.K., Bulgaria, Spain, Italy, Austria and a few from Canada. They whittled down the online applications from more than 3,500 entries.
BEST OPPORTUNITY FOR SCHADENFREUDE
We're certain you'll have a better time at Hudson Bay Mountain than Liam Neeson's character did in the new film The Grey—filmed at Smithers, B.C. According to the trailer, the poor man seems trapped in snowy wilderness, hounded by rabid wolves, with a possible plane wreck to compound the hassle. It's coming to theatres in 2012, but you're welcome in Smithers anytime.
AV SHOW
Mica Heli Skiing's website (micaheli.com) is a great work distraction with its downloadable professional and amateur videos and slide shows.
EASIEST CLIMB
If the top of Stairway to Heaven quad doesn't quite do it for you, you can now walk up a custom metal stairway for easy access to some of Kicking Horse's best double-black-diamond terrain.
/DEEPEST MISE EN SCENE
Okay, so they're not exactly blockbusters like Hot Tub Time Machine, but those other film companies—such as Matchstick—have sought out the accessible Revelstoke backcountry as deep-'n'-throaty backdrop to some of this season's leading ski flicks. Get the popcorn in for The Art of Flight (Brain Farm Digital Cinema in association with Red Bull Media House), Twe12ve (Absinthe Films with JP Solberg et al) and Attack of La Niña (Matchstick Productions). MSP spent two weeks filming at Revelstoke and Selkirk Tangiers last winter. Epic-ture filming.
RATIO OF HOT VS. REST-OF-THE-PACT SKIERS
Red Mountain has produced some hotties, but during The North Face Canadian Open Freeskiing Championships every January, the graph goes off the map.
NEW TRAIN JOURNEY
Riding the rails to the trails from Québec City to La Malbaie, last stop for the St. Lawrence-edged slopes of Le Massif. You can even hop aboard a special gastronomical rail cruise featuring breakfast on the morning journey, and after a day out on the trails, a comforting meal on the ride back to QC.
MOUNTAIN STUDIO
Le Massif transformed the Summit Chalet into an immense studio last February to welcome eight acclaimed artists who painted live before the public. For the 12th edition of Panoramas & Paintbrushes, artists looked to skiers for inspiration and rendered onto canvas their unique interpretations as they chatted about technique and shared their passion.
UNDISCOVERED SKI PARTY
The Gathering at Red for a 4th year on March 23-24 is a celebration of mountain culture featuring film and video presentations by guest photographers, filmmakers and pro athletes at Western Canada's original ski area. Shredding is also part of the bill.
BEST-SMELLING SKI SHOP
Lusti's Mountain Outfitters and Cappuccino Bar at Panorama. Not only does this ski and board rental shop serve cappuccinos and snacks, but from time to time there's live music playing. Just try to avoid it!
CANADA DAY
July 1, 2011, at Mount Washington. (see photo in page image)
NEW QUAD
The new Max 4 Program at Whistler Blackcomb Snow School guarantees there will never be more than four people in any daily adult Snow School group lesson. Five's a crowd.
COACHING COCKTAIL
Mixing freeriders with racers is like mixing oil and water, but skiers and snowboarders blend well—at Whitewater, at least. Whitewater's newest freeride program is a mélange of both disciplines.
GROOMED RIDGELINE
Kicking Horse has built a new groomed traverse to Feuz Bowl along the top of Redemption Ridge. This 500-metre traverse trail has manicured one of the wildest ridgeline rides at the Horse to get you into the south-facing glades of Crystal Bowl or the chutes of Feuz Bowl.
PLACE TO CHILL OUT AFTER A FIGHT WITH YOUR OTHER HALF
Retreat to the Scandinave Spa, nestled in the Whistler mountainside. Alternating hot and cold plunge pools, steam baths and saunas will leave you limber and loose—and the no-talking rule can be a blessing.
BIGGEST SNOW
Mount Washington spent its annual snow removal budget in just 45 days last winter. To clear: more than 19 metres of total snowfall and a settled snowbase that peaked at 800 cm. Not all of us welcome back La Niña with open arms.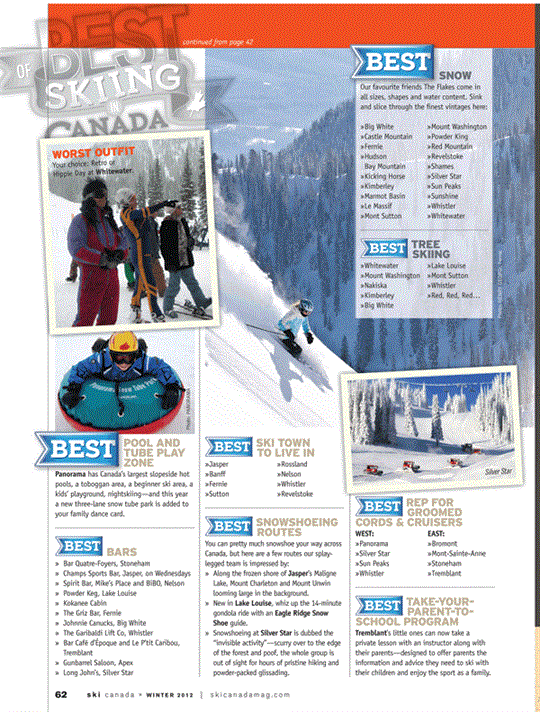 SNOW
Our favourite friends The Flakes come in all sizes, shapes and water content. Sink and slice through the finest vintages here:
» Big White
» Castle Mountain
» Fernie
» Hudson Bay Mountain
» Kicking Horse
» Kimberley
» Marmot Basin
» Le Massif
» Mont Sutton
» Mount Washington
» Powder King
» Red Mountain
» Revelstoke
» Shames
» Silver Star
» Sun Peaks
» Sunshine
» Whistler
» Whitewater
TREE SKIING
» Whitewater
» Mount Washington
» Nakiska
» Kimberley
» Big White
» Lake Louise
» Mont Sutton
» Whistler
» Red, Red, Red…
WORST OUTFIT
Your choice: Retro or Hippie Day at Whitewater.
SKI TOWN TO LIVE IN
» Jasper
» Banff
» Fernie
» Sutton
» Rossland
» Nelson
» Whistler
» Revelstoke
SNOWSHOEING ROUTES
You can pretty much snowshoe your way across Canada, but here are a few routes our splay-legged team is impressed by:
» Along the frozen shore of Jasper's Maligne Lake, Mount Charleton and Mount Unwin looming large in the background.
» New in Lake Louise, whiz up the 14-minute gondola ride with an Eagle Ridge Snow Shoe guide.
» Snowshoeing at Silver Star is dubbed the "invisible activity"—scurry over to the edge of the forest and poof, the whole group is out of sight for hours of pristine hiking and powder-packed glissading.
REP FOR GROOME CORDS & CRUISERS
WEST:
» Panorama
» Silver Star
» Sun Peaks
» Whistler
EAST:
» Bromont
» Mont-Sainte-Anne
» Stoneham
» Tremblant
TAKE-YOUR-PARENT-TO-SCHOOL PROGRAM
Tremblant's little ones can now take a private lesson with an instructor along with their parents—designed to offer parents the information and advice they need to ski with their children and enjoy the sport as a family.
POOL AND TUBE PLAY ZONE
Panorama has Canada's largest slopeside hot pools, a toboggan area, a beginner ski area, a kids' playground, nightskiing—and this year a new three-lane snow tube park is added to your family dance card.
BARS
» Bar Quatre-Foyers, Stoneham
» Champs Sports Bar, Jasper, on Wednesdays
» Spirit Bar, Mike's Place and BiBO, Nelson
» Powder Keg, Lake Louise
» Kokanee Cabin
» The Griz Bar, Fernie
» Johnnie Canucks, Big White
» The Garibaldi Lift Co, Whistler
» Bar Café d'Époque and Le P'tit Caribou, Tremblant
» Gunbarrel Saloon, Apex
» Long John's, Silver Star