Reading Time:
13
minutes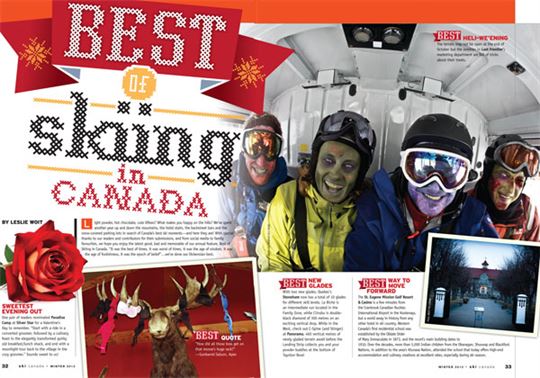 Light powder, hot chocolate, cute liftees? What makes you happy on the hills? We've spent another year up and down the mountains, the hotel stairs, the backstreet bars and the snow-covered parking lots in search of Canada's best ski moments—and here they are! With special thanks to our readers and contributors for their submissions, and from social media to family favourites, we hope you enjoy the latest good, bad and memorable of our annual feature, Best of Skiing in Canada. "It was the best of times, it was worst of times, it was the age of wisdom, it was the age of foolishness, it was the epoch of belief"…we've done our Dickensian best.
Sweetest evening out
One pair of readers nominated Paradise Camp at Silver Star for a Valentine's Day to remember. "Start with a ride in a converted groomer, followed by a culinary feast in the elegantly transformed quirky old breakfast/lunch shack, and end with a moonlight tour back to the village in the cozy groomer." Sounds sweet to us!
Best quote
"How did all those bras get on that moose's huge rack?"
—Gunbarrel Saloon, Apex
Best Heli-we'ening
The terrain may not be open at the end of October but the zombies in Last Frontier's marketing department are full of tricks about their treats.
Best way to move  forward
The St. Eugene Mission Golf Resort & Casino is a few minutes from the Cranbrook Canadian Rockies International Airport in the Kootenays, but a world away in history from any other hotel in ski country. Western Canada's first residential school was established by the Oblate Order of Mary Immaculate in 1873, and the resort's main building dates to 1910. Over the decades, more than 5,000 Indian children from the Okanagan, Shuswap and Blackfoot Nations, in addition to the area's Ktunaxa Nation, attended the school that today offers high-end accommodation and culinary creations at excellent rates, especially during ski season.
Best 

new glades
With two new glades, Quebec's Stoneham now has a total of 10 glades for different skill levels. La Biche is an intermediate run located in the Family Zone, while L'Urubu is double-black diamond of 300 metres on an exciting vertical drop. While in the West, check out C-Spine (and Stinger) at Panorama, 460 vertical metres of newly gladed terrain await before the Landing Strip collects you and your powder buddies at the bottom of Taynton Bowl
Best reason to obey
out-of-bounds signs
Boo, the live-in orphan grizzly bear, happily hibernates mid-mountain at Kicking Horse but you can't be exactly sure when he might wake up and eat you for breakfast.
Best in air
Revelstoke was and is the sole Canadian stop for the Freeride World Tour by The North Face, last season and this. Revy confirms its hardcore habit—it's all about the freeride—by also hosting its first junior freeski comp this winter, the 2013 JETA North American Junior Championships.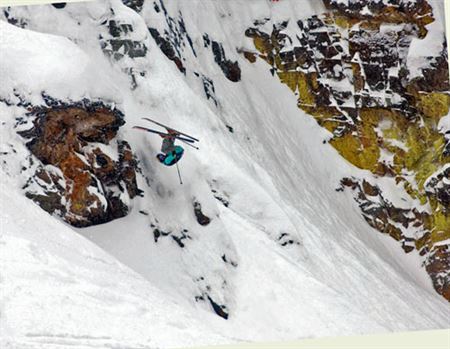 Best early opening following best late closing
Lake Louise and Sunshine Village fired up their lifts on November 9 for the 2012-13 ski season. With 48 cm in the 48 hours leading up to the big day, shin-deep powder was the happy appy to the new season. Not long afterward, on November 21, the entire Lake Louise mountain opened, making it the first in North America to claim the prize. Teamed with Mt. Norquay's early season opening in October, the Big Three scored the winter's first hat trick—which is more than the NHLers are doing for us.
Best austerity plan
This season, Tremblant dropped prices for all season passes by 15 to 22 per cent. Yes, dropped.
Best rumour
Cowtown tongues are wagging at the possibility of Fortress re-opening for the 2014-15 season, with a $50-million investment that includes new lifts and a lodge.
Best spirit of skiing
Earl Becker started the Hanover Ski Club in the 1950s, organizing buses, car pools or whatever it took to get people to the hill. Becker opened a ski shop in the basement of his shoe business to help further promote the sport, eventually taking his business to Collingwood, Ontario, as the lure of the mountain was too much. Becker's sights were then set beyond Collingwood as he organized ski trips west and to the Alps, where travelling skiers returned year after year. Earl's passion for skiing and magnetic personality drew them in from everywhere—ski clubs, word of mouth, even from a conversation on a chairlift—all purely for the love of skiing.
 Proudest reader tip
The Edge coffee shop at Apex, run by Chad and Collin, is the best place on the hill to eat or enjoy a coffee, a treat and good conversation with friends.
Most variety for day trips
Begin the beguine in the Okanagan, where within a 2.5-hour drive of Vernon or Kelowna you can be in Apex, Big White, Silver Star, Sun Peaks, Revelstoke or a plethora of powder cat- and heli-ski ops like Monashee Powder, Mustang Powder or Mica Heli-Ski among others. If there's another place other than Salt Lake City with so many hills within day-trip distance, we want to hear about it! Okay, this just in, the town of Magog, Quebec: 10 minutes from Orford, 25 from Owl's Head, 30 from Bromont, 40 from Sutton, 50 from Jay Peak, 50 from Adstock, 75 from Burke, two hours from Sunday River or Sugarloaf…
 Best reason to skip school
Castle Mountain area kids in grades 1 to 6 get a free season pass from the resort, good for the entire winter season with no blackouts or restrictions. Last season was the first year of SnowKids Next Door and they gave out just over 600 passes; this season they extend it to more than 2,500 potential participants. Skiing, the new public education system.
 Best ever-expanding light show
Bromont in Quebec lights up the season and another side of the mountain, allowing skiers full access to the Versant du Midi under the glow of the moon. As well, more trails have been lit for night, bringing the total number of nightskiing trails to 102—still the largest illuminated skiable area in North America.
Best get-it-while-you-can moment
Locals were hiking early, really early, to ski that famous Fernie pow—more than 40 cm of white—over green. Google "Dylan Siggers October 23" for some entertaining vid evidence.
Best record-breaker
Last season Marmot Basin shattered its own record snowfall with seven metres of snow—and stayed open until May 6. Seems as if the big, fat $25-million spend, including an environmentally friendly snowmaking system, is paying off….
 Best tasty slice of cream pie
The far side of Kimberley, known as the Black Forest, keeps its yummy powder stashes for weeks.
Best way to answer the question: "Where's your daddy?"
Flaik tracking for all snow school lessons at Panorama allows the base station to track the location of instructors and students in real time.
Best talent in the park
Whistler's terrain park, The Highest Level Park, where the pro sightings are off the chain wins West, and Stoneham's long-time rep in the East goes unchallenged.
Best street meat
Whitewater took the wraps off its first Fresh Tracks Café Express Food Truck. The mountain has taken its award-winning pow chow to the streets of Nelson, with an eight-metre-long kitchen-on-wheels.
Biggest snowghosts
With a five-year average of 14 metres of snow or more, the snowghosts have been big at Mt. Washington. Really big!
Best chance to really roll your Gallic Rs
Tell your friends to meet for a Tasmanian Devil at Le Fluide Bar À JUS Tremblant. Practice a few times first.
 Best cross-country double dip
Got a group with non-downhillers? Silver Star and neighbouring Sovereign Lake Nordic Centre now provide a Dual Area XC Trail Pass to keep everyone sliding. The combined Super Trail System on Silver Star Mountain is the largest groomed XC trail system in Western Canada and second largest in the country—105 km of groomed and track-set trails on one pass.
Best retro dudes and dudettes
Kokanee '80s Weekend at Fernie.
Best new Olympic demonstration sport
With live bands every Friday night, Le Quatre-Foyers at Quebec's Stoneham keeps the après ski on the boil with two quasi-Olympic-size hot tubs.
 Best viral video
Dylan Siggers's video Kootenay Influence Episode 5 with more than 63,000 views on Fernie's YouTube Channel.
 Best new ski hotel
First they built the Mountain, then the Train, now comes Hôtel La Ferme, making the Quebec winter playground of Le Massif complete. With the opening this season of the lovely eco-harmonious 145-room hotel in Baie-Saint-Paul, its top cuisine, relaxing ambience and general bien-être will have you swinging from the rafters. What's next—a Club Med?
 Luckiest year to be born
For those who were born in 1952, like Barrie, Ontario's Snow Valley, a free season pass is yours with just a flip of your birth certificate.
 Best place to catch a wave
Within a 2.5-hour drive from the mountain, you can go from the white room at Mt. Washington to the green room in Tofino.
 Most expensive make-over
The brilliant burghers of Whistler are coughing up almost $90,000 from provincial Resort Municipality Initiative funding for new Olympic rings and refurbished Paralympic Agitos. Evidently a more "durable" replica of the original rings (which at the time cost $64,000) are now needed to remind locals and visitors about the big party in 2010.
 Most inspirational celeb appearance
At Slopes for Hope, a fundraiser for the Canadian Cancer Society, with a special outdoor screening of the Josh Dueck documentary The Freedom Chair with Dueck himself. Eight years after breaking his back in a skiing accident, T11 full paraplegic Dueck completed the first-ever backflip on snow in a sit-ski.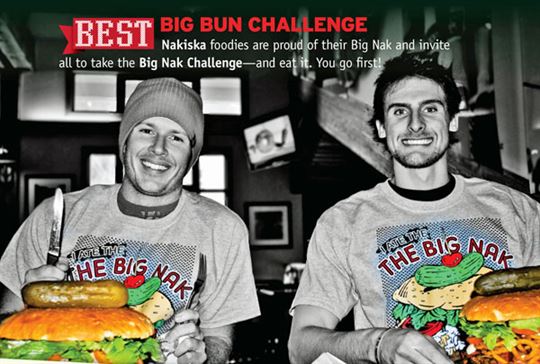 Best big bun challenge
Nakiska foodies are proud of their Big Nak and invite all to take the Big Nak Challenge—and eat it. You go first!
Best

 

province for après ski craft brews
Brewpubs and craft breweries have exploded in growth across Canada in the last few decades but B.C. wins the most per capita, especially when it comes to proximity to powder. From Nelson Brewing's Faceplant to Invermere's new Arrowhead Brewery to the classic Whistler Brewing Co., here are a few other faves:
Fernie Brewing (a proud sponsor of the Ski Canada Test 2014 at Fernie); Barley Mill Brewpub and Tin Whistle Brewing (Penticton); Big Surf Beer, Mill Creek and Tree Brewing (Kelowna); Cannery Brewing (Penticton); Shaftebury Brewing, Okanagan Spring Brewery (Vernon); Bowen Island Brewing, 
Noble Pig Brewhouse (Kamloops); Mt. Begbie Brewing (Revelstoke); Plan B Brewing (Smithers).
 Best end-of-the-world backup plan
Mountain Man Dog Sledding stockpiles more than a tonne of food for the season in Sun Peaks. Sharpen those fangs.
Sweetest picnic spot
The on-mountain sugar shack at Mont-Sainte-Anne is a piste-side pit stop of vrai laine Canadiana: picnic tables, traditional folk music and a view of the
St. Lawrence, all located on the edge of the piste La Pichard. Stop for a traditional hot maple taffy, served on a bed of fresh snow and twirled on a wooden stick.
 Krispiest ski award
Searchmont Resort, a blink of an eye north of Sault Ste. Marie in northeastern Ontario, keeps its faithful skiers coming back for more. Among many annual events, its March Break retro-party honours the raddest outfit with a large petrified rice crispie marshmallow ski boot made "many, many moons ago."
 Best (and worst) 50% off
Skiers at North Van's Mt. Seymour now need just four minutes to ride the new Mystery Peak Express—less than half the time as they had, for the past 50 years, to canoodle on the old two-seater lift.
 Best nightskiing spectacle
Night Ski and Ride on the Night Rail Park at Kimberley, with weekly rail competitions on Thursday nights.
 Best way to get Granny to take you skiing
The new Tri-Area Sightseeing Lift Pass from Ski Banff Lake Louise Sunshine allows non-skiers and boarders to enjoy the scenery from the top of the mountains without having to hurtle back down. Grandma can pull on the long undies and ride the chairlift to Mt. Norquay's historic teahouse, or take a round trip on the Grizzly Express Gondola at Lake Louise to the lookout or the high-speed gondola at Sunshine Village to the day lodge.
Grooviest new landmark
Wouldn't you tire of saying "Good morning, Kuskanax Nakusp" every time the phone rang, too? The former Kuskanax Motel in downtown Nakusp has had a major heli-brushing makeover. Reincarnated as the CMH K2 Rotor Lodge, it's now a vision of retro chic—from a ski-fence front desk and rooms full of alpine kitsch, to a giant new sign that dominates the street. All the hot K2 athletes, from Seth Morrison and Pep Fujas to Andy Mahre, have visited the local school to talk to kids about success, determination and, that most useful of life's lessons: How to get free heli-skiing.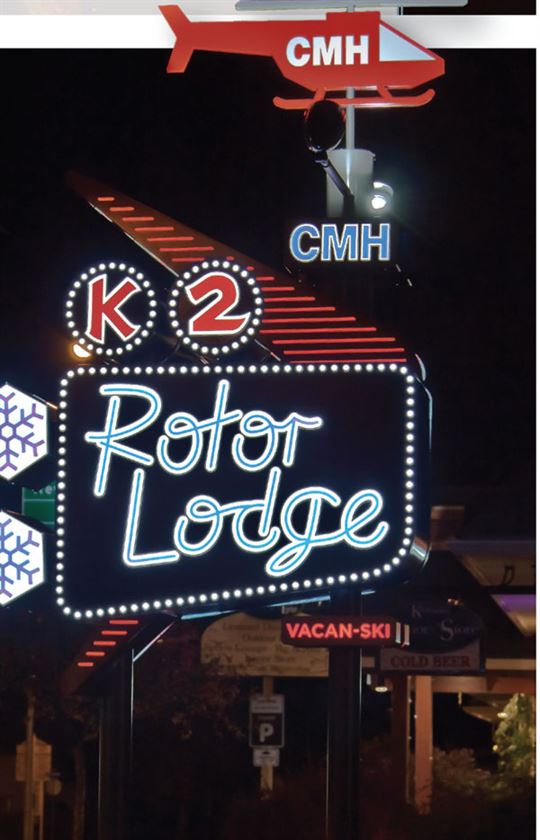 Most-missed spa treatment
The old Face Lift from Fernie was taken out two seasons ago. Nicknamed the "Meat Hook," "Water Ski Rope" and "Rectal Thermometer" (though you weren't really supposed to ride it like that), it doubled as a spa treatment depending on snowfall and grooming conditions. The metal handle tow, that had a knack for finding (and re-finding) its own placement on you (moving up and down from your ankles to your neck), also bizarrely offered a wicked heavy metal massage while you rode. Ahhhh, the memories.
BEST way to annoy your mates
Six remote WiFi hotspots at pretty viewpoints on Whistler and Blackcomb mountains allow you to Facetime with those in less-privileged locations.
 Most potentially action-packed 11 minutes (without skis)
Now you can rent a private gondola cabin on Whistler's Peak 2 Peak for just you and your loved one…or possibly even two or three of them. Could be the ride of your life if you're up for it.
 Biggest drop (for kids)
The learning area on Whistler Mountain is up, up, up mid-mountain with a dedicated chairlift and near the Village Gondola so everyone can meet at the top for lunch. Being so high up keeps little ones warm, comfortable and dry.
Best 

road maps
Follow the six new Wonder Routes at Whistler Blackcomb. From the day-long Powder Stash Route, to the best steeps and superb cruising routes, you'll never be lost or lonely.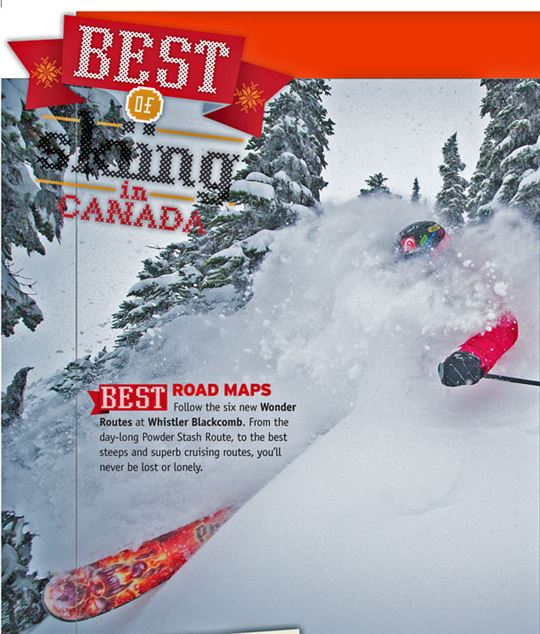 Best T-Bars
The T-BAR 70 restaurant and après-ski bar at Mont Saint-Sauveur is refurbed as a chic and swank retreat from the cold, and whose name pays tribute to the first lift installed in North America in 1934. Originally named Big Hill, it was later renamed in honour of General Sir Arthur Currie, who led Canadian troops during the First World War in France's Lens' Hill 70 conquest. Most contrasting T-Bars must be Panorama's classic slopeside pub, The T-Bar & Grill, and afternoon tea at the Banff Springs. Guess which one serves the best deep-fried pickle?
Best 

ski-in, ski-out parking lot
Mt. Cain is a piddling five-hour drive north of Victoria on Vancouver Island, and once you get there the final approach to the ski area is a rough, narrow, curvy, steep logging road. On-hill accommodation is, er, limited and often reserved months in advance. Two T-bars access slackcountry that is out-of-bounds, neither patrolled nor controlled. It's so good, you've got to want it bad.
Best celebrity moments
»  Watching Hollywood A-List celebrities race at Sunshine during the annual Celebrity Ski, such as gold-medal Olympian Al Joyner chasing Jean Paul DeJoria, and Alec Baldwin on a toboggan.
»  Matthew Gubler being "arrested" by Canadian Mounties. We don't like it when you make fun of Alan Thicke.
»  Gene Simmons of KISS ringing in the New Year at Whistler's Black's Pub and after a few drinks kicking off an impromptu jam session with local musicians and his daughter Sophie.
»  Team Tourism Sun Peaks's fawning over Kevin Costner resulted in his band's reappearance next summer.
Best 

route to the snow
Ride the sophisticated new Massif de Charlevoix Train from Quebec City to the mountains. Just $99, the two-way rail cruise ticket includes breakfast on the way out and tasty tapas on the return. The scenery along the St. Lawrence River is a voyageur's dream, and the train stops right at the base of the mountain.
 Best oversized activity
Human curling—you read it here first! It's part of the roster of family activities to be enjoyed at Kimberley. We suggest you try it now before the Human Rights folks get wind of these wacky ice-capades.
 Best "on-duty" award
Blair Blakley patrolled Panorama slopes from 1971 until his recent retirement in 2010—at the age of 85. Sadly, Blair passed away last fall.
Best 

celebrity thrill for your buck
Where else can you get a mountain tour and an earful of senatorial advice with an Olympic medallist—gratis? Nancy Greene Raine still does regular on-hill duty at Sun Peaks.
Least Gnormal ambassador
Gnorm the Revy Powder Gnome has his own webcam and is highly sought after for in-resort photo ops. With almost 12 metres of snowfall in Revy, it's not easy being of such ab-Gnormal height.
 Best drop in numbers
Selkirk Wilderness, the country's first cat-ski operator (shown here), is getting younger…or attracting a younger client anyway. Average skier age dropped from 64 years of age down to 49 last year, en route to a goal of 45 years old.
Best side trip
Swirl, sniff, slurp… The Okanagan is an oenophilic wet dream. From Big White, hop on either a bus or helicopter for a day tour into the vineyards of Cedar Creek, Summerhill and Calona. Silver Star does an Annual Wine and Dine with food and wine pairing dinner, seminars and "taste like a pro" hosted by the Okanagan's own sommelier, Rainer Wilkins, and a tasting evening exhibiting more than 20 Okanagan wineries. And for a more ski in, swagger out affair, Sun Peaks's Winter Festival of Wine offers a carte full of tastings, dinners and events every January in the village.
 Most brutal design—in a good way
If you've had enough could-be-anywhere, neutral-toned and yawnably decorated slopeside condos (or worse, faux Tirol twaddle), consider the shining example of '70s brutalism architecture at the newly remodelled and renovated Château Mont-Sainte-Anne, unique in ski country.
Most nominated plate of dried meat
We love the air-cured tasting boards at Eagle's Eye at Kicking Horse, the highest elevated—and most evolved—mountain restaurant in Canada. For a decade and counting, it's eaten a place into our hearts.
Best 

town venue
Rossland's historic Miner's Hall is a truly one of a kind.
 Best midweek deal
A Tuesday or Wednesday Day Pass at Quebec's Owl's Head is $20, including tax, even during the school breaks!
 Best view from a loo
Gents' room in Rafters at Red—sit back and take in the commanding views of Granite, Grey and Kirkup.
Best 

parking lots
»  For best improvement, Whitewater's one-way directional parking lot road.
»  For best parking lot setup, Marmot Basin's tiered ski-in/ski-out really minimizes walking and eliminates uphill treks.
»  Second place goes to Castle—if you get there at a reasonable time, you can get a spot right beside the door!
»  Worst parking has got to be Sunshine. Parks Canada ensures that if you're not there at the crack o' dawn, you're hooped!
Most pro-patronized park in the East
Stoneham's long rail line is a mix of technical and creative jibs, which compliments the Olympic halfpipe—the only one of its kind in the East.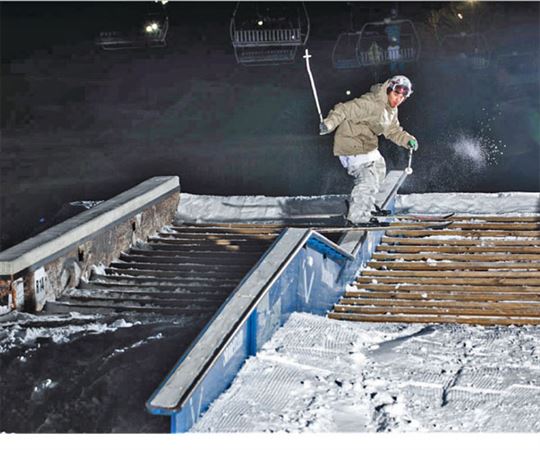 Best flip-flop
Lake Louise has gone from a "no jumping policy," instituted in 2007 along with its sister resorts, to this season's more lofty approach: jumping with bags. Like Banff neigbour Norquay, Louise's Showtime Terrain Park has a new inflated party pillow to cushion the blow.
 Best gym class
With seven per cent of Canadian kids getting the recommended hour a day of physical activity, WinSport at Canada Olympic Park in Calgary is leading the horses to frozen water. Local schools can book free ski days, with no charge for lift tickets, lessons or rentals, in a new program for elementary school children.
 Best pow bros man-cation
Get the guys together for a boy's three-day weekend at Big White: a two-day Edge Camp specifically for men (no asking for directions), a snowmobile tour in the backcountry, followed by a scotch-tasting with cigars at a remote hut with a steak barbecue (or just eat 'em raw), a ski boot fitting and a trip down to Kelowna in a limo for a Kelowna Rockets hockey game. Practice your high-fiving now.
 Best place to watch New Year's Eve fireworks
Soaking in the hot pools at Panorama. (And please, bathers, no personal fireworks in the pool—it's a family resort.)