Reading Time:
10
minutes
Light powder, saucy speeds and hot chocolate with loads of marshmallows and Baileys? What makes you happy on the hills? We've spent another year up and down the mountains, inspecting everything from chairlift rides to stretch-pant perkiness, from hotel stairs to backstreet bars and snow-covered parking lots, in search of the best in ski country. Here are the latest kudos and most memorable moments of what we love most about skiing in Canada—because there is no better place to do it.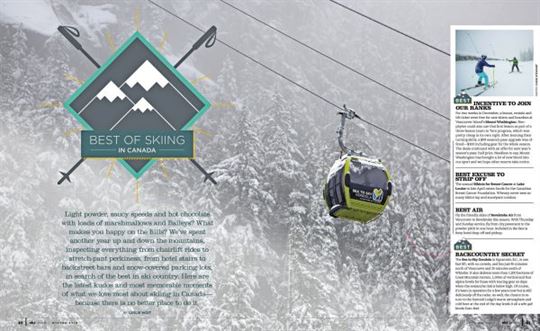 BEST INCENTIVE TO JOIN OUR RANKS
For two weeks in December, a lesson, rentals and lift ticket were free for new skiers and boarders at Vancouver Island's Mount Washington. Neophytes could also use that first lesson as part of a three-lesson Learn to Turn program, which was pretty cheap in its own right. After learning their turning skills, a $99 season's pass upgrade was offered—$300 including gear for the whole season. The deals continued with an offer for next year's season's pass: half price. Needless to say, Mount Washington has brought a lot of new blood into our sport and we hope other resorts take notice.
BEST EXCUSE TO STRIP OFF
The annual Bikinis for Breast Cancer at Lake Louise in late April raises funds for the Canadian Breast Cancer Foundation. Wiwaxy never sees so many bikini top and snowpant combos.
BEST AIR
Fly the friendly skies of Revelstoke Air from Vancouver to Revelstoke this season. With Thursday and Sunday service, fly from city pavement to the powder pitch in one hour. Included in the fare is Revy hotel drop-off and pickup.
BACKCOUNTRY SECRET
The Sea to Sky Gondola in Squamish, B.C., is one fast lift, with no crowds, and lies just 45 minutes north of Vancouver and 35 minutes south of Whistler. It also delivers more than 1,200 hectares of Coast Mountain terrain, 1,100m of vertical and four alpine bowls for those with touring gear on days when the avalanche risk is below high. Of course, it's been in operation for a few years now but is still deliciously off the radar. As well, the chance to return to the Summit Lodge's warm atmosphere and cold beer at the end of the day lends it all a sehr gut! kinda Euro-feel.
BIGGEST THIGHS
The best chance to hobnob with the big boys and gutsy girls is at the Lake Louise AUDI FIS World Cup late November and early December, where the fastest and most fearsome international ski racing set converge—with scarcely a soul there watching (at least by European standards).
BIGGEST CROWDS
Records of skiing in Ontario's Beaver Valley date back to 1936 when the Dominion of Canada Skiing Championships attracted crowds of 2,000 spectators to the valley. Off to a racing start, this portion of the Niagara Escarpment fired up its first ski tow in 1949, and eventually Beaver Valley Ski Club became a private members club in 1967. Bring on the beaver bubbles to celebrate its 50th anniversary this season.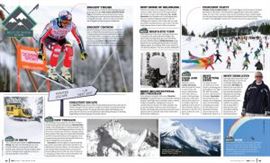 GREATEST ESCAPE
New Big White Escape Rooms allow Escape Sessions from three rooms for six friends. The goal? For your team to escape from locked rooms by discovering clues and solving puzzles. The all-age alternative après-ski challenge competes with all the other non-ski distractions like tubing, skating, ice-climbing, dogsledding and downing jugs at Snowshoe Sam's.
BEST NEW TERRAIN
After decades of yearning, the new Tres Hombres terrain finally opened this season at Marmot Basin, a large, north-facing slope of treeless powder bowls and chutes full of challenging wonders of winter. It's 18 hectares of advanced and expert off-piste skiing that equates to five long runs, seven black diamonds and 367 vertical metres from 32-45 degrees. It's all accessed a pole push from the Paradise Chair so no need to change the name of that lift.
Panorama's terrain is monstrously bigger, better and steeper this winter thanks to an additional 52-hectare ribbon-cut this season. Four new double-black-diamond lines are yours for the shredding. Pano's total vert now stretches to a whopping 1,300m with a newly extended trail measurement at just over 6.5 km long.
BEST IN SHOW
Your ride just got pimped at Selkirk Snowcat Skiing with two new PistenBully cats. The roomier feline's custom guest-boxes offer bucket seats, bluetooth sound and glove heaters for a business class upgrade to some of the best powder in the world.
BEST SENSE OF BELONGING
Whether you stay at the lodge and hostel, rent a condo or cabin, arrive in your RV or get invited by friends to stay in their slopeside digs, Castle Mountain is as friendly as it is challenging with the most clubby-feeling atmosphere west of Collingwood, Ontario. And on any visit, you and your fellow handful that you met at the T Bar last night always seem to have it all to yourselves.
PROUDEST PARTY
Whistler Pride and Ski Festival is one of the biggest and best gay and lesbian ski weeks in the world—and the perfect opportunity to wear your assless chaps. For more than a quarter century, the festival has been combining ski fun with pool prancing and the infamous Snowball Grand Finale Dance Party to make it the highlight of winter for everyone who loves a gay old time.
BEST BIRD'S-EYE VIEW
After doing laps on the most creatively named runs in Canada, such as Blow Me Down (OMJ), Little Heart's Ease and Ugly Stick, get your boots off the ground at Newfoundland's Marble Mountain by zipping from the top of Steady Brook Falls on Canada's highest zipline. Is it thrilling? Well, in the words of a true Newfoundlander, "Yes, b'ye, you'll be shitbaked!"
BEST PARK AND RIDE
Park your car at Crabbe Mountain, New Brunswick, throw on your boots and drop in. Maritimers have often been accused of doing things backward, and that's exactly how they do it at Crabbe, where the parking is at the top of the mountain and you ski down to the lift. All good, unless you miss last chair.
MOST UPLIFTING NEWS
Ten years on, and you still have a 50-50 chance of meeting your ski buddies at the right lift. Still, this winter, to serve 1,200 hectares of terrain, Revelstoke has increased its lift capacity by a whopping 25 per cent merely by stringing up an extra 24 new cabins on its Revelation Gondola and 21 chairs on the Stoke Chair. Have at 'er.
MOST DEDICATED
Although Allen James didn't start skiing until later in his 30s, the co-founder of Minnedosa, Manitoba's, Ski Valley has been at it for more than 50 years. Even more impressive, the elder statesman didn't get into teaching until his early 80s, and now at 90, he's still wearing his instructor's uniform. An inspiration to every skier, if Allen isn't the country's oldest working ski instructor, we don't know who is!
MOST MULTICULTURAL SKI PROGRAM
From racing to moguls to ski cross, SilverStar Academy's comprehensive on-snow skills training program with high-level coaching covers a variety of alpine disciplines. Designed by coach-of-coaches Norman Kreutz, the video analysis, fun social atmosphere with your new international friends, and single-day, multi-day and multi-week options make it a flexible and fruitful alternative ski hol with a difference.
BEST HIGH
For a view less admired but not less admirable, tandem paragliding loops you high above the snow, lifts, forests and peaks. Take flight over Panorama with an instructor and experience the glittering views for $175 per 10- to 15-minute flight, skis on.
BEST "SEE-ME" INSTAGRAM OP
Fix your lipstick in Fernie for your grand debut. Cape Productions captures both carves and cartwheels on film with professional drone footage on a designated run. Put in the hands of a film editor, your own professional ski video comes to virtual life just like in the movies.
BEST FRINGE BENEFITS
Buying a cat-ski operation comes with the obvious benefits of…new cat grooming. One of the earth's first cat-skiing outfits, Great Northern Snowcat Skiing, just had a spanky and much-needed lodge makeover, courtesy of its new owners. The merry little band behind Norquay also added new floors, paint and furniture, but the same old deep fresh powder hasn't changed one flake.
MOST SOPHISTICATED APRÈS-SKI
Mont-Sainte-Anne and Stoneham benefit from the high-rolling Laurentian Mountains and a supreme location only 30 minutes from the delectable delights of Quebec City, with its history, culture and that Gallic je ne sais quoi.
BEST HISTORY LESSON
A new Guided Adventure Program blends great turns at Norquay, Sunshine and Lake Louise with a touch of the history that made it all possible. Not just another ski lesson—indeed, it isn't one at all—ski guides have all taken a Whyte Museum primer to share local natural, geographical and cultural history with their intermediate and advanced charges. A tour of three areas that comprise SkiBig3 wraps up at Norquay, where guests boil maple sap down to syrup, pour onto clean snow, et voila the traditional maple taffy that we hope gets proper transfer credits to Ontario and Quebec. And here's the first question for your well-trained guide: Where's the closest maple tree to Banff?
BEST LIFT-SERVICED POWDER IN THE EAST
Whoever St. Lawrence was, he must have been a skier. Le Massif's share of the dry, light and plentiful is truly massive, thanks to Charlevoix's river-influenced microclimate.
BEST NEW RETRO BLAST
Whitewater upgrades follow an admirable policy of when something works, don't break it. Updating its original double-man Summit Chair, an icon of the resort since 1976, with a new Leitner-Poma fixed-grip quad chairlift doubles the fun yet keeps the WH20 atmosphere authentic. Nostalgic types also sniffled adieu to the trusty Fresh Tracks Café Express Food Truck in favour of expanded hut space at the Glory triple chair. But we know they'll keep their promises to make the same great Whitewater food.
BEST ALL-WEATHER JUNGLE
Jungle Magique is four storeys of fun for quit-early days at Mont Tremblant. Kids run rampant among the tubes, slides, ball pits, zipline, playhouse, ropes and mazes. And parents? Yes, there is free WiFi.
BEST LITTLE WORKOUT
From Penticton to Apex Mountain Resort in B.C., the Hoodoo Adventures Elevator Race sees fit and superfit solos and teams of two to seven people that compete in a six-stage race: paddle, road and mountain bike, run/snowshoe, and nordic and alpine ski. The route ascends a 1,524m elevation across some 60 km. Hearts, lungs and Lycra start pumping March 24.
BEST ON-MOUNTAIN DIVE BAR
Rafters at Red Mountain has it all: live garage and trailer bands, sticky floors, ski shooters, big Caesars and bigger beers, Salmo dinner jackets and beards—the non-ironically worn kinda beards.
MOST EXTREME KUDOS
Kicking Horse's vertical, terrain and snowfall helped win the North American spot to host one of five stops on the Freeride World Tour February 3-9. Four categories (ski men, ski women, snowboard men and snowboard women) and 45 riders make the international journey to Japan in late January, Andorra and Austria in March, and the grand finale the first week
of April in Verbier, Switzerland.
BEST SENIORS-IN-TRAINING MOMENT
If it's anything like the well-established Masters Monday program that's been running for the past 40 years, Big White's new Masters' Weeks for the 50-plusers will be a sellout. Combining great ski-in, ski-out digs with spirited après—wine tastings, dinners, evening sleigh rides and more—the fun happens January 29–February 2 and again February 26–March 3.
BEST PARK PARKING
Following a Federal Court decision to set aside a Parks Canada ban on the overflow parking option at Sunshine Village, skiers are once again allowed to park on the access road leading to the resort. Up to 500 visitors can park at the overflow when the resort parking lot fills up, with shuttles to the top.
MOST "WAS IT REALLY 50 YEARS AGO?" MOMENT
It's hard to believe half a century has passed since Nancy Greene Raine won gold and silver at the Olympic Games in Grenoble, France. Fifty years before the PyeongChang Games, Greene blew away Annie Famose of France in GS with a remarkable 2.64-second lead. (Jean-Claude Killy won the men's—with a .08-second lead.) "Tiger" also won 13 World Cup races, the most by any Canadian, and two Overall World Cup Championships among many other victories and accolades. Senator Nancy is just as savvy holding court on the slopes of Sun Peaks as she is in the Red Chamber in Ottawa.
BEST TOUR-A-PALOOZA IN THE EAST
Now in its fourth season, the one-of-a-kind Festival Rando Alpine Tremblant on February 2-4 is chock full o' touring fun: forest adventures, an evening ascent to a fondue, fatbike rides and alpine touring around the mountain to learn, practice and challenge.
BEST TOURING POWDER IN THE EAST
Collective gasps all-round for Gaspésie skiing, where cuff-deep powder comes wailing in off the Atlantic and the primeval mountainscape is as moonlicious as the cuisine is delicious. Served à la chat ou randonée.
BEST SIN ON A FORK
The delectably rich Chocolate Fondue & Snowshoe Tour at Kimberley blends a health-giving ride up to the mountaintop and gentle half-hour guided snowshoe tour with the full-fat loveliness of a your own fragrant vat of melted chocolate inside the Kootenay House log cabin.
BEST PLACE TO PARK IT
Bromont's five snowparks have something for everyone, from never-evers building skills to experts who are just as happy with their skis above their heads as right side down. Jumps and boxes are only the start of Bromont's evolving features of creative obstacles, separate lanes and contoured bends, whether it's on a bright Quebec day or under the lights at night.
BEST FREE RIDE
Finally, a SkiBig3 free ski bus! With a valid lift ticket to Sunshine, Lake Louise and Mt. Norquay comes the welcome return of a free shuttle to the slopes. With multiple stops around town, tourists, weekend warriors and locals are questioning the need of their own wheels.
B.E.S.T SKI TEAM
They might not have the biggest club in Canada (40 members and counting), they might not have the most alumni on the national ski team (0 and counting), but Cape Breton's Ben Eoin Ski Team is literally the B.E.S.T and deserving of a place on our list—for creativity, at the least.
BEST NEW OLD-SCHOOL LIFT
At Stoneham in Quebec, the new fixed-grip quad chairlift may not be lightning fast, but it cuts ride time up to the second peak like a star.

DEEPEST LOVE
Love so deep it goes with metres and metres of world-famous powder that has blessed the 50-year-long marriage of Bonnie and Mike Wiegele—and falls by the storey in the beautiful Cariboos and Monashees that surround their renowned heli-lodge at Blue River. Congrats on their 50th wedding anniversary—and a lifetime achievement bonus award to the lovely Bonnie, the stalwart pillar of strength who cuts a mean turn in the gates at Masters races across the continent.
BEST PEAK RINK
Skating at Blue Mountain is the most fun you can have on ice. Collingwood's newest attraction is a 1.1-km skating path at the top of the escarpment that winds gently through a tree-covered trail and delivers a one-of-a-kind mountaintop view of Georgian Bay. A hill-top hut has lockers and rental skates.
BEST ART SAFARI ON SKIS
This winter the woodpecker, bear and two porcupines dotted among Mont Sutton's renowned glades and tree runs are joined by an owl made of tires, metal and wood by artist Marek Latzmann and a 1.5m cow on skis by Daniel Haché. Best scavenger hunt in the east.