Reading Time:
9
minutes
Our annual look at what's new, improved, funny and downright worthy of praise about skiing at home. Here are our 'Best' awards for 2019: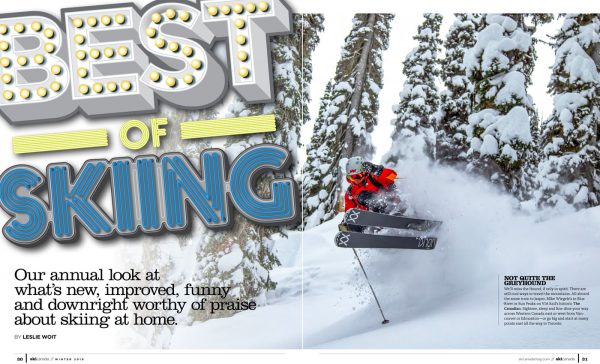 NOT QUITE THE GREYHOUND
We'll miss the Hound, if only in spirit. There are still cool ways to travel the mountains. All aboard the snow train to Jasper, Mike Wiegele's in Blue River or Sun Peaks on VIA Rail's historic The Canadian. Sightsee, sleep and fine-dine your way across Western Canada east or west from Vancouver or Edmonton—or go big and start at many points east all the way to Toronto.
NEW CHEAP SLEEP
The Kootenay's newest hostel—also right at the base of Red Mountain—goes by the name Nowhere Special, despite being anything but. Just two minutes from the chair, with groovy design features and fittings, it's built for "everything you need and nothing you don't": communal kitchen, fridge, dishes and rooms that sleep four with shared ensuite bathroom.
BEST GOOD CLEAN FUN
Stoneham's hot pools bubble away on the terrace of the Main Chalet near Le Quatre-Foyers bar, making it the perfect place to relax with friends, new and old. Both hot tubs are free of charge and welcome you with drink in hand. Towel rentals are $5; the views are free.
NEW SLOPESIDE DIGS
The Josie, Red Mountain's new boutique hotel claims to be the first ski-in, ski-out property built in Canada in more than a decade. With a modern look inspired by Rossland's deep mining heritage, the hotel offers spa and fitness facilities and casual contemporary dining in The Velvet, bringing a whiff of relaxed luxe and 106 rooms to the base of the mountain. thejosie.com
PLACE TO SMOKE
Well into its lucky 13th annual rendition, Kootenay Coldsmoke Powder Festival celebrates all things white and light at Whitewater. The resort's terrain, combined with the Selkirk's legendary snow, provides fantastic opportunities for all levels to ski, learn, share and compete in on-area and backcountry pursuits. From film festival to dance floor schwag competitions, joining a backcountry tour with a mountain guide or hucking in one of the contests, racing randonnée on a punishing course or frying an egg in the Backcountry Olympics, it's always an amusing week to test anyone's mountain cred. February 22-24.
BEST FREE BAG
Flying between Canada and Europe, the Middle East, Japan, even Africa on any Star Alliance carrier, like Air Canada, means we can check the following at no extra charge: a ski or snowboard bag, a boot bag and a 23-kg gear bag. That's three bags full, ma'am—and no baggage fees!
BEST TOILET HUMOUR
Photo: NANCY PALERMO
BEST COOL OLD STORIES
A beautiful new home at Mont Tremblant for the Canadian Ski Hall of Fame and Museum makes this repository of Canadian heritage and skiing DNA vaut le detour. The museum is keeping the turns and the memories alive into the 21st century. skimuseum.ca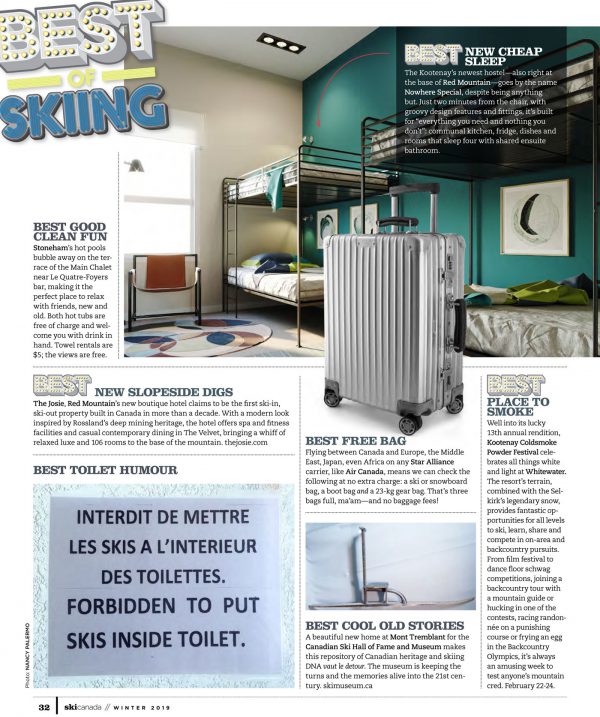 USE FOR A CHAINSAW
Revelstoke has spruced up its Ripper Zone with an air- and style-inducing glading program in Powder Monkey and the Lower Back 40. Revel in the powderliciousness of improved spacing and new line choices in both. This El Niño winter means it's time to check out two new runs added to the Ripper Zone: Blow Down and Simmer Down.
NEXT BEST USE FOR A CHAINSAW
The annual Lake Louise Ice Magic Festival in January turns ice carving into a competitive sport. At the doorstep of Fairmont Chateau Lake Louise, the International Ice Carving Competition is the highlight event, where carvers sculpt towering one-of-a-kind works of glittering art from 140-kg blocks of solid ice over a gruelling 34-hour period.
LATE-SEASON SKIING
Spring brings daffodils, bunny rabbits, longer days, fewer people, corn snow and more sunshine. But one of the best late-season powder stashes can still be found at Marmot Basin. Opened last season, Tres Hombres is steep, deep, wide, north-facing, nearly treeless and 367 vertical metres of advanced- and expert-skier heaven. It joins other memorable Marmot terrain still filled with winter snow in April, such as Charlie's Bowl, Eagle Ridge and Cornice.
BEST NEW HOOK-UP
Among Whistler Blackcomb's three new lifts this season is what the mothership, Vail Resorts, claims is "the first three-gondola connection in the world." The new 10-seater gondola, a six-passenger speed lift to replace the Emerald Chair and a four-passenger, high-speed lift on Blackcomb Mountain allow folks to upload and connect between the mountains via the Peak 2 Peak Gondola and download in a gondola for a weather-protected experience. None of that nasty turning and sliding business, unless absolutely necessary.
BEST NEW SKI BOOK
Award-winning author and big skier Dave Butler's new mystery page-turner, No Place for Wolverines, chronicles Park Warden Jenny Willson's covert inquiry into the proposed ski resort at fictional Collie Creek. Jenny's drawn into a web of political, environmental and criminal intrigue that threatens to tear apart a small B.C. town. "In the Alps, skiers can start their day in Switzerland, ride a lift to the border, ski down into Italy or France for lunch, catch a lift back to the border again, and then ski back to Switzerland in time for dinner. In Collie Creek, skiers would ski back and forth between Crown Land in B.C. and Yoho National Park, similarly using lifts and ski runs on both sides of the park border." No wonder there was a murder. Published by Dundurn.
Photo: Kelly MacDonald
COAST TO COASTER
From Mt. Washington on Vancouver Island to Marble Mountain on The Rock, Canadian skiing is as varied as the folks who love it. Ski and golf, surf and kayak, snowshoe and hike, snowtube and salmon fishing! These two geographical darlings are our hotspots for outdoor adventure and the wilderness that is Canada.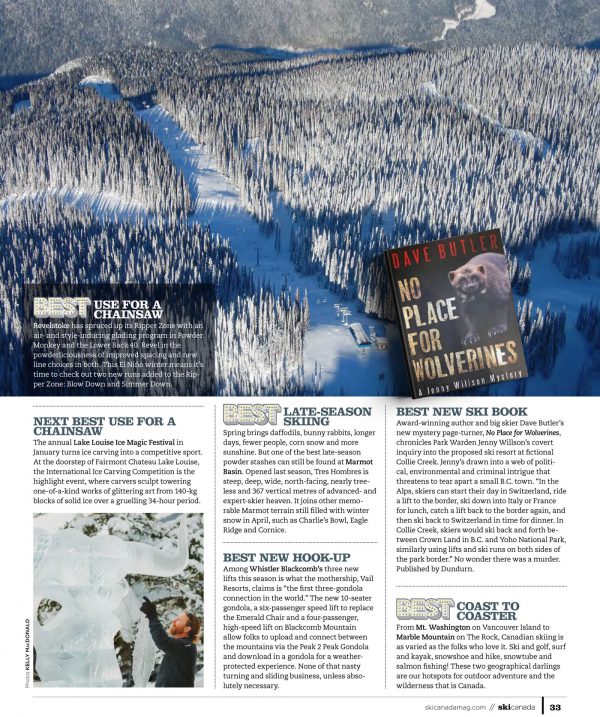 GOODWILL GESTURE
Lake Louise actually lowered prices for season passes this year. To celebrate last winter's record snowfall of 798 cm, Lake Louise lowered early lift pass prices. Most remarkably, the youth pass fell by 61 per cent from $769 to $299, while adult midweek dropped 40 per cent from $829 to $499.
MOST ICONIC LUNCH SPOT
Norquay's 1950s tearoom at 2,100m is today the stunning Cliffhouse Bistro. Retro-cool mid-century modern décor and uninterrupted views of Mt. Rundle and the town of Banff make it one of the best peak-gazing lunch venues in the Rockies.
LAST RUN
Double denim, always a brave move. Classic Canadian Cowboy Erik Guay tucked out the last race of his career much as he zoomed into it: wearing form-fitting washed-out jeans and a denim jacket. The fashion-forward 37-year-old Montreal native may look 23, but he retired this November at the season's first World Cup—on something of a whim following a nasty and convincing crash by teammate Manny Osborne-Paradis. The three-time Olympian is Canada's most accomplished alpine ski racer, having reached the World Cup podium on 25 occasions and captured three World Championship medals. He won the downhill World title in 2011, and added a super-G World title in 2017 as well as the silver in downhill. Guay also won the Overall World Cup super-G title in 2010. A ski life well raced!
MEOW MIX
One of the top pit stops on B.C.'s Powder Highway is Panorama, where its snowcat delivers new terrain and more vertical around famously fab Taynton Bowl. But all that tasty alpine backcountry is bound to burn some calories, so Pano's new food truck snowcat cooks up the yum-yums inside one of only two pussy-restos of their kind in North America—and first in Canada. Meow!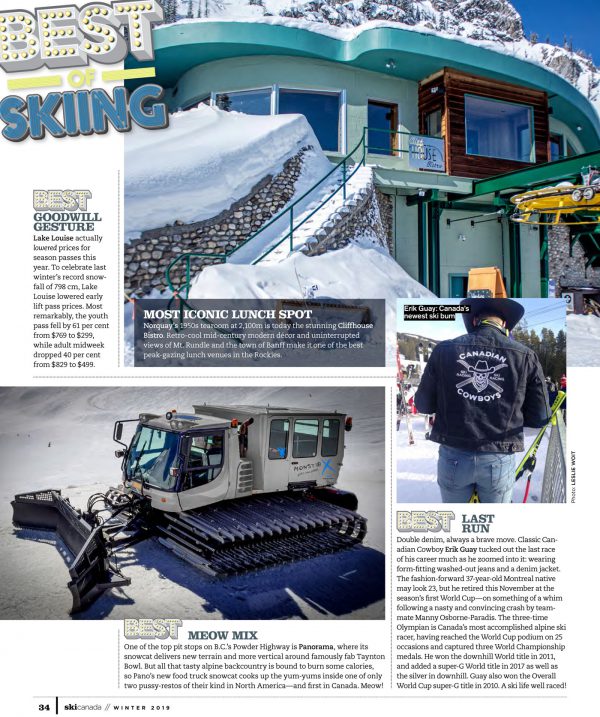 NEW LANDING SPOT
Purcell Heliskiing now picks up at the base of Kicking Horse, keeping day heli-skiers deeply happy.
FASTEST MASTERS
This ain't no beer belly squished into Lycra racing! Panorama hosts the 2019 Canadian Alpine Masters National Championships March 25-31. If you didn't make the cut, grab a cowbell, make some noise and cheer on these masters of the ski universe.
WAY TO STRETCH THE SEASON
Selkirk Sowcat Skiing tweaked its schedule to create two additional high-season tours of its unique five-day/six-night package.
TASTIEST HOT CHOCOLATE
Get pumped for cold days and warm drinks during Winter Kickoff's Hottest Chocolate competition in Nelson, B.C.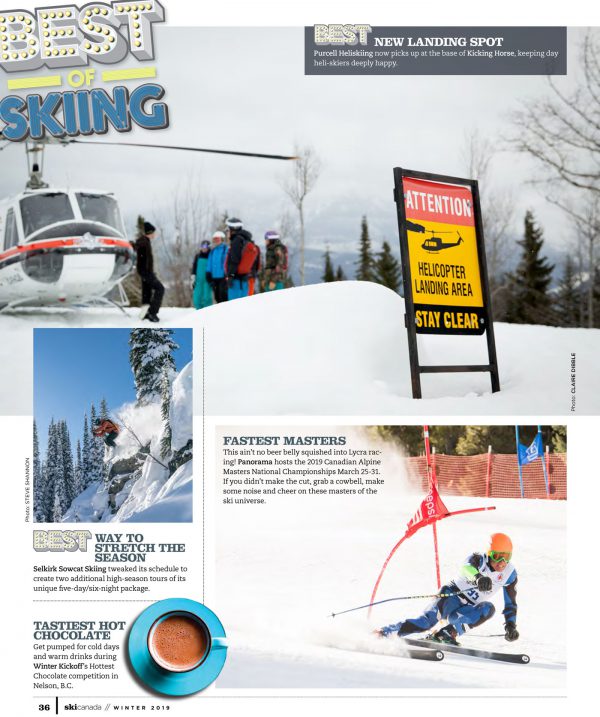 OVER AND UNDER
› In Whistler, visitors can practice their dare-devilishness on the air-rich suspension bridge from The Peak to West Ridge, then soak up the 360-degree view from a new cantilevered viewing platform.
› Big White's new skier tunnel, which rang in at a whopping $1.5 million, is a budget-busting burrow that expands the underpass on the Hummingbird run from its previous width of 7m to its current 18m, accommodating increased skier and foot traffic. The resort has also rigged up the new four-passenger Powder Chair.
BEST SHOW OF FORCE
› Ski Bromont is in the arms race with 100 new snowguns, creating a total of 1,300, a forceful complement to their 10 grooming machines that operate day and night. In all, Bromont is investing more than $100 million until 2026. And this winter, a hybrid chairlift on the main slopeside revs up its winning combo of eight-seater gondolas and six-seater chairs.
› Tremblant claims the largest arsenal of guns—snowguns, that is—in North America. And this is on top of nearly four metres of natural snow annually.
OUTING FOR NON-SKI FRIENDS
Snow Limo gives anyone that on-mountain glide. Take your granny or your visiting relations out into the mountains, where they'll settle in and let the chauffeur drive a comfortable, on-mountain ride through the snowy splendour of Sun Peaks. A perfect way for skiers to join non-skiers on tours from 30 minutes to two hours.
42ND ANNIVERSARY
From baby crawls to pub crawls, denim daddies to the dummy downhill, Fernie's infamous annual Griz Days Winter Festival roars through town and mountain March 1-3.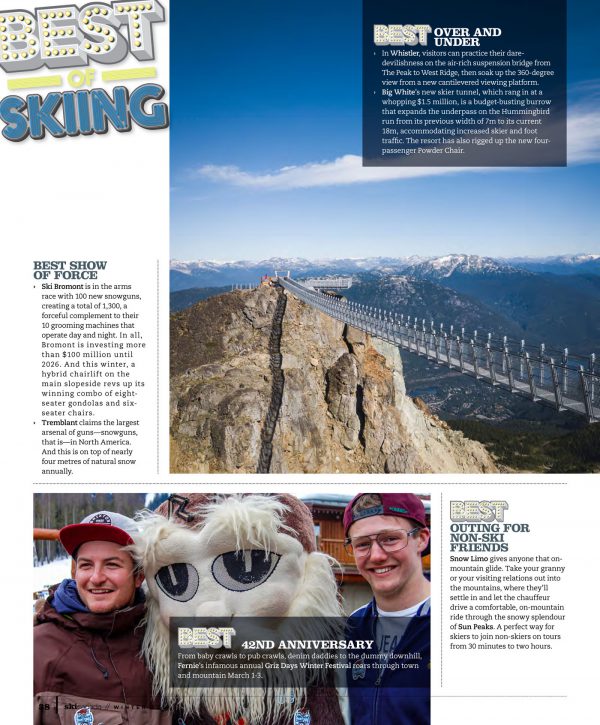 MARKETING MISNOMER
Nowhere feels the power of Rocky powder like Fernie, receiving the most snow in the Canadian Rockies—layering its five legendary bowls with up to 11m of powder per season. Ergo, we table an immediate name change: from "Rockies" to "Snowies."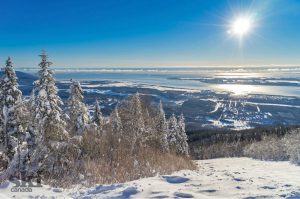 $8 TICKET
You can now climb Mont-Sainte-Anne's summit with skins, then enjoy all your favourite 71 slopes on the downside, thanks to the groovy touring ascent routes located on both the South and North sides of the mountain. These up-trails snake through picturesque scenery in the mountain forests. And the nominal charge when lifts aren't being used? We think it's more than fair considering skinners use resort services such as ski patrols, parking lots, toilets and more.
NEW SPAS
Everyone in the pool at the newly renovated Pomeroy Kananaskis Mountain Lodge. Part Marriott, pure Canadian Rockies, the huge modernized property features 247 renovated guest rooms and suites and a 4,600-sq-metre Nordic Spa with five outdoor pools, six saunas and steam cabins, outdoor heated hammocks and eight treatment rooms.
And in the heart of Old Québec smack on the banks of the St. Lawrence, the new Scando-sleek Strøm Spa offers panoramic views of the river and Cap Diamant cliff from your robe-swaddled repose.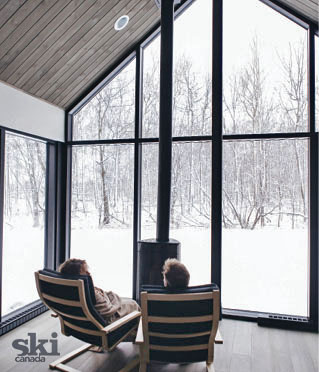 NEW HELI PICKUP
Explore more from Kimberley Alpine Resort. By joining forces with Boulder Hut Adventures, ski touring is easier now that guests can step from Trickle Creek Lodge at the base right into a waiting helicopter. The service opened up more than 6,000 hectares of untracked terrain to explore in the Purcell backcountry.
BEST LIFT INTO THE BACKCOUNTRY
Sure, everyone is out there accessing the backcountry with helicopters and cats (and dropping wads doing it), but what about the humble ol' chairlift? Yamnuska Mountain Adventures' popular backcountry guided tours from Lake Louise get you safely up and just beyond the ski area boundary. Tour areas from Louise include West Bowl, Speed Run area, Hidden Bowl, Redoubt Bowl, Purple Bowl, Wolverine Ridge and the Tylenols, where hidden stashes of powder are piled and your legs are fresher from riding the lift most of the way and only doing a short skin up from there. Yamnuska will also set you up with the gear, the guide and the ticket. Now, just go!
FASTEST WAY TO THE SUMMIT
SilverStar's new gondola, the Summit Express, opened for its first winter season to provide quicker access to Alpine Meadows, Vance Creek and Powder Gulch, especially for beginners, and warm access to the upper cross-country ski trails. The fab SilverStar nightskiing just got a lot warmer, too.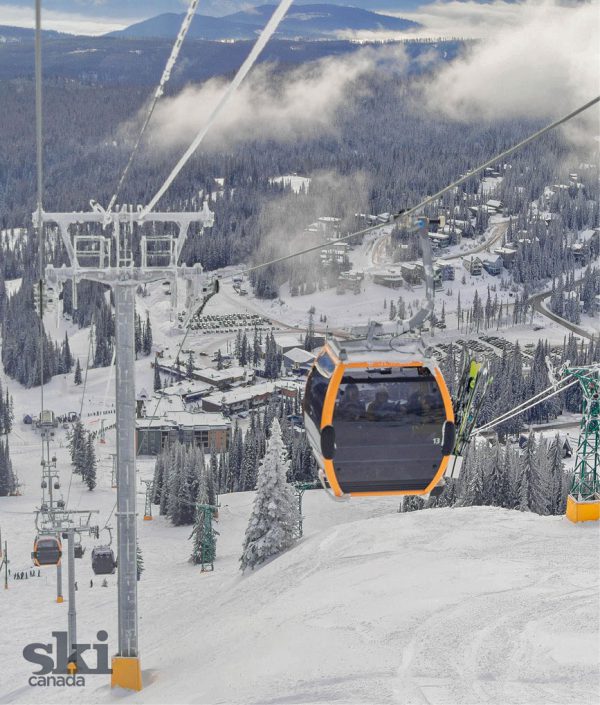 COUGAR MILK
This legendary tipple was a favourite of Lizzie Rummel's at Assiniboine Lodge in the pioneering days of this rustic, rugged and deeply stunning backcountry hut with 90 years of ski touring history to its credit. Guests today can still experience the same flavour combo in her historical lodge.
BEST REALITY CHECK
Two Nintendo Gaming Lounges located on- and off-mountain at Whistler Blackcomb are cocked and loaded to lure hunchbacked kids from the temptations of all that distracting fresh air and clean living. Favouring Super Mario Odyssey and Nintendo Switch—over actual powder odysseys and riding switch—the new lounges are being promoted as a great way to "recharge, take a break, and have fun with friends and family." Sort of like, um, skiing then? And if you do manage to get them out onto the snow, they can get busy not talking to each other by fiddling on their phones in the gondolas.
MOST POSH HOLE-IN-THE-WALL
At Whistler, Canada's first pod-hotel delivers the affordability of a hostel with the sexy vibe of a boutique hotel. Complete with living room and rooftop patio, Pangea's design-forward food and drinking spaces are open till 1:00 a.m. daily.