Reading Time:
6
minutes
Our skiers' alphabet takes you on a tour of one of the world's most beautiful wilderness settings.
by Leslie Woit in the Buyer's Guide 2015 issue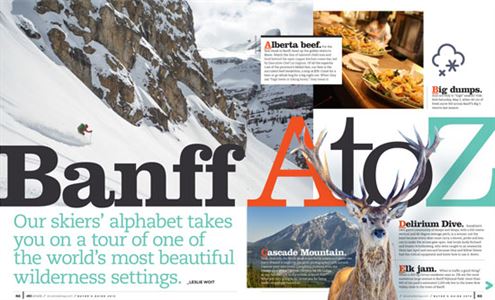 Alberta beef. For the best steak in Banff, head up the golden stairs to Bison. Watch the line of talented chefs toss and broil behind the open copper kitchen-come-bar, led by Executive Chef Liz Gagnon. Of all the superior cuts of the province's fabled fare, our fave is the succulent beef tenderloin, a snip at $39. Come for a beer or go whole hog for a big night out. When they say "high heels or hiking boots," they mean it.
Big dumps. And not only in "high" season! Vide Sick Saturday, May 2, when 40 cm of fresh snow fell across Banff's Big 3 resorts last season.
Cascade Mountain. Yeah, that one, the iconic peak so perfectly positioned above the town of Banff it might be the most photographed rock around. Capture your own iconic Canadiana moment from the money-shot spots: Cascade Gardens by the bridge or, our fave, smack in the middle of Banff Ave. What are they going to do, arrest you for being traffic-stoppingly beautiful?
Delirium Dive. Sunshine's own gated community of steeps and deeps, with a 610-metre vertical and 40-degree average pitch, is a winner, not the least because every skier must carry a shovel, probe and beacon to make the access gate open. Ask locals Andy Richard and Dustin Schellenberg, who were caught in an avalanche there last April and rescued because they and fellow Divers had the critical equipment and knew how to use it. Bravo.
Elk jam. When is traffic a good thing? When a 400 kg Cervus canadensis says so. Elk are the most numerous large animal in Banff National Park: more than 900 of the park's estimated 3,200 elk live in the lower Bow Valley close to the town of Banff.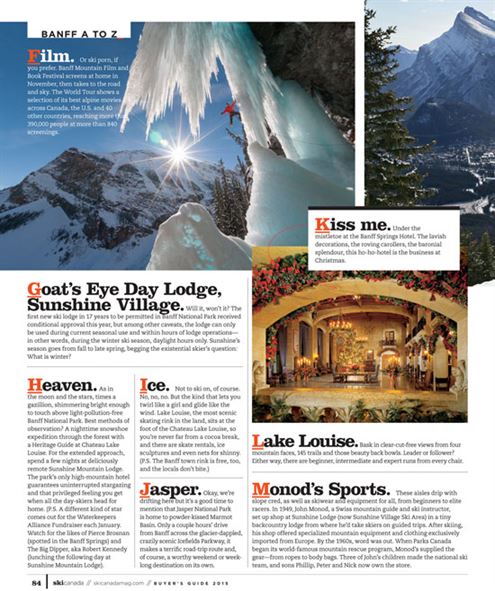 Film. Or ski porn, if you prefer. Banff Mountain Film and Book Festival screens at home in November, then takes to the road and sky. The World Tour shows a selection of its best alpine movies across Canada, the U.S. and 40 other countries, reaching more than 390,000 people at more than 840 screenings.
Goat's Eye Day Lodge,
Heaven. As in the moon and the stars, times a gazillion, shimmering bright enough to touch above light-pollution-free Banff National Park. Best methods of observation? A nighttime snowshoe expedition through the forest with a Heritage Guide at Chateau Lake Louise. For the extended approach, spend a few nights at deliciously remote Sunshine Mountain Lodge. The park's only high-mountain hotel guarantees uninterrupted stargazing and that privileged feeling you get when all the day-skiers head for home. (P.S. A different kind of star comes out for the Waterkeepers Alliance Fundraiser each January. Watch for the likes of Pierce Brosnan (spotted in the Banff Springs) and The Big Dipper, aka Robert Kennedy (lunching the following day at Sunshine Mountain Lodge).
Ice. Not to ski on, of course. No, no, no. But the kind that lets you twirl like a girl and glide like the wind. Lake Louise, the most scenic skating rink in the land, sits at the foot of the Chateau Lake Louise, so you're never far from a cocoa break, and there are skate rentals, ice sculptures and even nets for shinny. (P.S. The Banff town rink is free, too, and the locals don't bite.)
Jasper. Okay, we're drifting here but it's a good time to mention that Jasper National Park is home to powder-kissed Marmot Basin. Only a couple hours' drive from Banff across the glacier-dappled, crazily scenic Icefields Parkway, it makes a terrific road-trip route and, of course, a worthy weekend or week-long destination on its own.
Kiss me. Under the mistletoe at the banff Springs Hotel. The lavish decorations, the roving carollers, the baronial splendour, this ho-ho-hotel is the business at Christmas.
Lake Louise. Bask in clear-cut-free views from four mountain faces, 145 trails and those beauty back bowls. Leader or follower? Either way, there are beginner, intermediate and expert runs from every chair.
Monod's Sports. These aisles drip with slope cred, as well as skiwear and equipment for all, from beginners to elite racers. In 1949, John Monod, a Swiss mountain guide and ski instructor, set up shop at Sunshine Lodge (now Sunshine Village Ski Area) in a tiny backcountry lodge from where he'd take skiers on guided trips. After skiing, his shop offered specialized mountain equipment and clothing exclusively imported from Europe. By the 1960s, word was out. When Parks Canada began its world-famous mountain rescue program, Monod's supplied the gear—from ropes to body bags. Three of John's children made the national ski team, and sons Phillip, Peter and Nick now own the store.
Norquay. Just 10 minutes from downtown Banff to liftoff, this is the steep-'n'-sweet destination locals favour.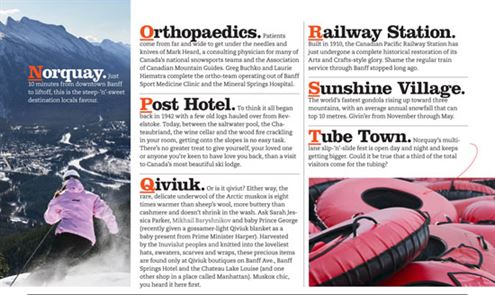 Orthopaedics. Patients come from far and wide to get under the needles and knives of Mark Heard, a consulting physician for many of Canada's national snowsports teams and the Association of Canadian Mountain Guides. Greg Buchko and Laurie Hiemstra complete the ortho-team operating out of Banff Sport Medicine Clinic and the Mineral Springs Hospital.
Post Hotel. To think it all began back in 1942 with a few old logs hauled over from Revelstoke. Today, between the saltwater pool, the Chateaubriand, the wine cellar and the wood fire crackling in your room, getting onto the slopes is no easy task. There's no greater treat to give yourself, your loved one or anyone you're keen to have love you back, than a visit to Canada's most beautiful ski lodge.
Qiviuk. Or is it qiviut? Either way, the rare, delicate underwool of the Arctic muskox is eight times warmer than sheep's wool, more buttery than cashmere and doesn't shrink in the wash. Ask Sarah Jessica Parker, Mikhail Baryshnikov and baby Prince George (recently given a gossamer-light Qiviuk blanket as a baby present from Prime Minister Harper). Harvested by the Inuvialut peoples and knitted into the loveliest hats, sweaters, scarves and wraps, these precious items are found only at Qiviuk boutiques on Banff Ave., Banff Springs Hotel and the Chateau Lake Louise (and one other shop in a place called Manhattan). Muskox chic, you heard it here first.
Railway Station. Built in 1910, the Canadian Pacific Railway Station has just undergone a complete historical restoration of its Arts and Crafts-style glory. Shame the regular train service through Banff stopped long ago.
Sunshine Village. The world's fastest gondola rising up toward three mountains, with an average annual snowfall that can top 10 metres. Givin'er from November through May.
Tube Town. Norquay's multi-lane slip-'n'-slide fest is open day and night and keeps getting bigger. Could it be true that a third of the total visitors come for the tubing?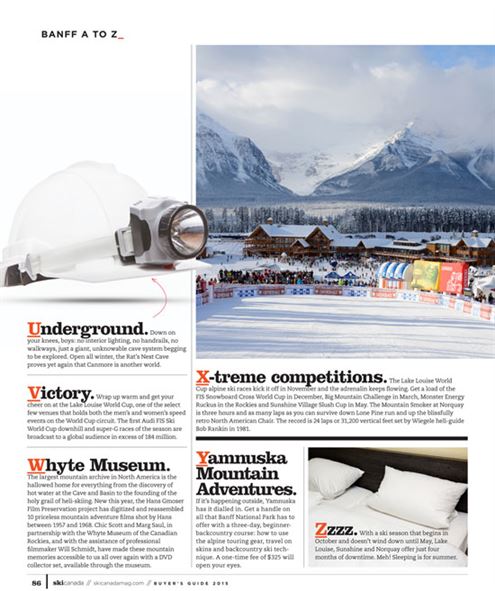 Underground. Down on your knees, boys: no interior lighting, no handrails, no walkways, just a giant, unknowable cave system begging to be explored. Open all winter, the Rat's Nest Cave proves yet again that Canmore is another world.
Victory. Wrap up warm and get your cheer on at the Lake Louise World Cup, one of the select few venues that holds both the men's and women's speed events on the World Cup circuit. The first Audi FIS Ski World Cup downhill and super-G races of the season are broadcast to a global audience in excess of 184 million.
Whyte Museum. The largest mountain archive in North America is the hallowed home for everything from the discovery of hot water at the Cave and Basin to the founding of the holy grail of heli-skiing. New this year, the Hans Gmoser Film Preservation project has digitized and reassembled 10 priceless mountain adventure films shot by Hans between 1957 and 1968. Chic Scott and Marg Saul, in partnership with the Whyte Museum of the Canadian Rockies, and with the assistance of professional filmmaker Will Schmidt, have made these mountain memories accessible to us all over again with a DVD collector set, available through the museum.
X-treme competitions. The Lake Louise World Cup alpine ski races kick it off in November and the adrenalin keeps flowing. Get a load of the FIS Snowboard Cross World Cup in December, Big Mountain Challenge in March, Monster Energy Ruckus in the Rockies and Sunshine Village Slush Cup in May. The Mountain Smoker at Norquay is three hours and as many laps as you can survive down Lone Pine run and up the blissfully retro North American Chair. The record is 24 laps or 31,200 vertical feet set by Wiegele heli-guide Bob Rankin in 1981.
Yamnuska Mountain Adventures. If it's happening outside, Yamnuska has it dialled in. Get a handle on all that Banff National Park has to offer with a three-day, beginner-backcountry course: how to use the alpine touring gear, travel on skins and backcountry ski technique. A one-time fee of $325 will open your eyes.
Zzzz. With a ski season that begins in October and doesn't wind down until May, Lake Louise, Sunshine and Norquay offer just four months of downtime. Meh! Sleeping is for summer.