Bagging Victoria – Lake Louise
---
Louise's most iconic and daunting peak has been skied by few.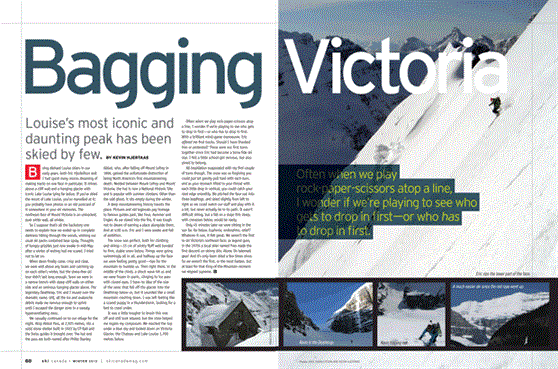 Being diehard Louise skiers in our early years, both Eric Hjorleifson and I had spent many moons dreaming of making tracks on one face in particular. It shines above a cliff wall and a hanging glacier with iconic Lake Louise lying far below. If you've skied the resort of Lake Louise, you've marvelled at it; you probably have photos or an old postcard of it somewhere in our ski memories. The northeast face of Mount Victoria is an untracked, pure white wall, all winter.
So suppose that's all the backstory one needs to explain how we ended up in complete darkness hiking through the woods, wishing our usual ski sacks contained bear spray. Thoughts of hungry grizzlies just now awake in mid-May after a winter of resting had me scared. I tried not to let on.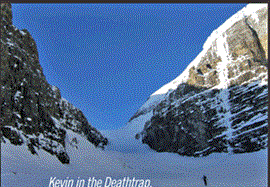 When dawn finally came, crisp and clear, we were well above any bears and catching up on each other's winter, but the stress-free ski tour didn't last long enough. Soon we were in a narrow trench with steep cliff walls on either side and an ominous hanging glacier above. The legendary Deathtrap. Eric and I mused over the dramatic name; still, all the ice and avalanche debris made me nervous enough to sprint until I escaped the danger zone in a sweaty, hyperventilating mess.
We casually continued on to our refuge for the night. Atop Abbot Pass, at 2,925 metres, sits a solid stone shelter built in 1922 by CP Rail and the Swiss guides it brought over. The hut and the pass are both named after Philip Stanley Abbot, who, after falling off Mount Lefroy in 1896, gained the unfortunate distinction of being North America's first mountaineering death. Nestled between Mount Lefroy and Mount Victoria, the hut is now a National Historic Site and is popular with summer climbers. Other than the odd ghost, it sits empty during the winter.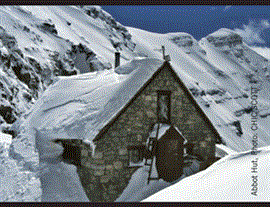 A deep mountaineering history haunts the place. Pictures and old logbooks pay homage to famous guides past, like Feuz, Aemmer and Engler. As we stared into the fire, it was tough not to dream of earning a place alongside them. And at 4:00 am. Eric and I were awake and full of ambition.
The snow was perfect, both for climbing and skiing—15 cm of wintry fluff well bonded to firm, stable snow below. Things were going swimmingly all in all, and halfway up the face we were feeling pretty good—ripe for the mountain to humble us. Then right there, in the middle of the climb, a shock wave hit us and we were frozen in panic, clinging to ice axes with closed eyes. I have no idea of the size of the serac that fell off the glacier into the Deathtrap below us, but it sounded like a small mountain crashing down. I was left feeling like a scared puppy in a thunderstorm, looking for a bed to crawl under.
It was a little tougher to brush this one off and still look relaxed, but the vista helped me regain my composure. We reached the top under a blue sky and looked down on Victoria Glacier, the Chateau and Lake Louise , 1,700 metres below.
Often when we play rock-paper-scissors atop a line, I wonder if we're playing to see who gets to drop in first —or who has to drop in first. With a brilliant mind-game manoeuvre, Eric offered me first tracks. Should I have thanked him or protested? These were our first turns together since Eric had become a bona fide ski star. I felt a little school-girl nervous, but also pined to belong.
All trepidation evaporated with my first couple of turns though. The snow was so forgiving you could just let gravity pull hard with each turn, and as your stomach lifted to your throat with each little drop in vertical, you could catch your next edge smoothly. We pitched the face out into three leapfrogs, and skied lightly from left to right so we could watch our sluff and play with it a bit, but never actually be in its path. It wasn't difficult skiing, but a fall on a slope this steep, with crevasses below, could be nasty.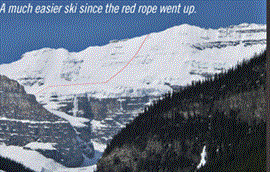 Only 5 minutes later we were sitting in the sun far, far below. Euphoria, endorphins, relief? Whatever it was, it felt great. We weren't the first to ski Victoria's northeast face; as legend goes, in the 1970s a local skier named Yves made the first descent on skinny skis. Alone. On telemark gear! And it's only been skied a few times since. So we weren't the first, or the most badass, but at least for that King-of-the-Mountain moment we reigned supreme.

Tags: Abbot Pass, Alberta, Chateau Lake Louise, Deathtrap, Eric Hjorleifson, Featured, Lake Louise, Mount Lefroy, Mount Victoria, Philip Stanley Abbot, Victoria Glacier