---
Staying safe in the backcountry will always be about making the right decisions. But Mother Nature can be random and make things difficult for our journeys and adventures. When that happens, these products might just keep you alive.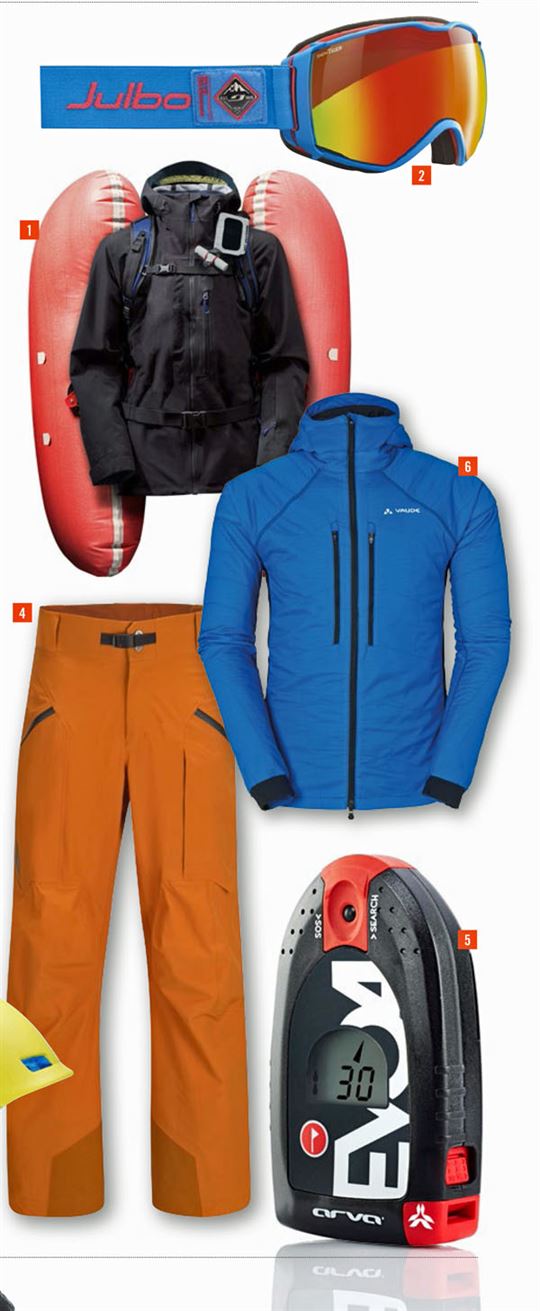 1.  The North Face Modulator ($1,000; thenorthface.com)
The best way to stay on the surface of an avalanche is to deploy an air bag pack. Thanks to the law of inverse segregation, the added volume means you're more likely to be sitting on top of the debris when it comes to rest—like the brazil nuts rising above the peanuts…. We think anyone who spends 10 days or more in the backcountry a season should own one. But they're impractical if you use different-sized packs for different adventures, say a slackcountry tool box and your winter camping Sherpa. But not the Modulator. With just a few clips it securely straddles just about any bag, turning it into an air bag pack.
2.  Julbo Aerospace
($250; julbo-canada.ca)
Skinning uphill in goggles is usually an exercise in basic meteorology. The nasty conditions outside that warrant them mixes with the body vapour from a working body to fog the lens. To solve the problem, Julbo of France took a cue from farmers cracking their greenhouses when designing the Aerospace model, possibly the first backcountry-specific goggle. A flap on either side of the goggle lifts the lens up and away from the frame, flooding the interior with fresh air. It's enough to clear fog in seconds, but not enough to make the goggles feel pointless. Even in a heavy snow and wind they still offer protection.
3.  Salomon MTN Lab Helmet
($200; mtn.salomon.com)
Ski mountaineering mixes the speed and flow of the first, and the technical terrain and exposure of the latter. Head protection is a good idea for both, but typically, downhill helmets don't have the rockfall protection, while climbing helmets lack the aesthetics and below-zero cred. Enter the MTN Lab. Weighing 300 grams, with vents and a removable liner, it won't slow a climber down. It retains the ski helmet look, and the wool liner traps heat (not stink) for cold days. Plus it's tested to mountaineering and ski standards.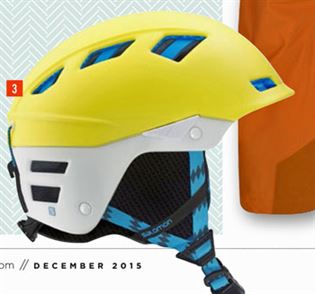 4.  Black Diamond Mission Pant ($600; blackdiamondequipment.com)

Ski guides have been stashing their transceivers in a pant pocket for years. It's handier for doing quick beacon checks or searches, and out of the way where it won't chafe, irritate or interfere with layering and pack straps. But pant pockets haven't been designed to house such an important piece of equipment—until now. Already a stellar ski pant, with Gore-Tex waterproofing, articulated knees, vents and reinforced insteps, the Mission also has a padded, thigh-zip pocket. Inside is a mesh sleeve that fits most beacons. They tether to a clip and attach to a webbing strap that's also sewn into the hip belt as an extra backup.

5.  Arva EVO4
($300; arva-equipment.com)

Digital beacons almost work themselves: pull the search knob and simple graphics on the screen point the way to your victim. Where things can go sideways is in multiple burial situations or if someone forgets to turn on his or her beacon. The EVO4 has both covered. First, the "on" switch was eliminated by making the key to the harness the "on" for the beacon. To make sure everyone is also transmitting, it has a group check function that shows the number of transceivers that are on. Then when searching, a mark button tells the transceiver to ignore a found beacon and continue searching for others. It's a common feature on more expensive transceivers, but rare at this price.

6.  Vaude Bormio Jacket
($350, vaude.com)

The slim fit and four-way stretch fabric of the Bormio make a unique thermal layer to go under your favourite shell, then keep it on for après ski or stow it in its pocket. Available in both men's and women's versions, the jacket's Euro look and fully breathable soft fabric will turn heads.

Tags: Arva EVO4, backcountry, Black Diamond Mission Pant, Julbo Aerospace, Salomon MTN Lab Helmet, The North Face Modulator, Vaude Bormio Jacket