Backcountry Boots & Bindings
---
KICKING GRAMS
Whatever their spirit creature, ski-touring boots keep getting lighter.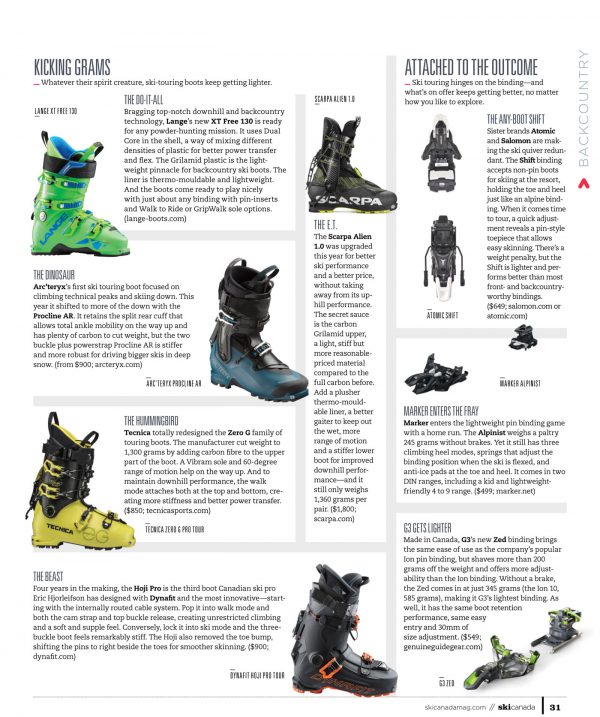 The Do-it-all
Bragging top-notch downhill and backcountry technology, Lange's new XT Free 130 is ready for any powder-hunting mission. It uses Dual Core in the shell, a way of mixing different densities of plastic for better power transfer and flex. The Grilamid plastic is the lightweight pinnacle for backcountry ski boots. The liner is thermo-mouldable and lightweight. And the boots come ready to play nicely with just about any binding with pin-inserts and Walk to Ride or GripWalk sole options. (lange-boots.com)
The E.T.
The Scarpa Alien 1.0 was upgraded this year for better ski performance and a better price, without taking away from its uphill performance. The secret sauce is the carbon Grilamid upper, a light, stiff but more reasonable-priced material compared to the full carbon before. Add a plusher thermo-mouldable liner, a better gaiter to keep out the wet, more range of motion and a stiffer lower boot for improved downhill performance—and it still only weighs 1,360 grams per pair. ($1,800; scarpa.com)
The dinosaur
Arc'teryx's first ski touring boot focused on climbing technical peaks and skiing down. This year it shifted to more of the down with the Procline AR. It retains the split rear cuff that allows total ankle mobility on the way up and has plenty of carbon to cut weight, but the two buckle plus powerstrap Procline AR is stiffer and more robust for driving bigger skis in deep snow. (from $900; arcteryx.com)
The hummingbird
Tecnica totally redesigned the Zero G family of touring boots. The manufacturer cut weight to 1,300 grams by adding carbon fibre to the upper part of the boot. A Vibram sole and 60-degree range of motion help on the way up. And to maintain downhill performance, the walk mode attaches both at the top and bottom, creating more stiffness and better power transfer. ($850; tecnicasports.com)
The beast
Four years in the making, the Hoji Pro is the third boot Canadian ski pro Eric Hjorleifson has designed with Dynafit and the most innovative—starting with the internally routed cable system. Pop it into walk mode and both the cam strap and top buckle release, creating unrestricted climbing and a soft and supple feel. Conversely, lock it into ski mode and the three-buckle boot feels remarkably stiff. The Hoji also removed the toe bump, shifting the pins to right beside the toes for smoother skinning. ($900; dynafit.com)
ATTACHED TO THE OUTCOME
Ski touring hinges on the binding—and what's on offer keeps getting better, no matter how you like to explore.
The any-boot Shift
Sister brands Atomic and Salomon are making the ski quiver redundant. The Shift binding accepts non-pin boots for skiing at the resort, holding the toe and heel just like an alpine binding. When it comes time to tour, a quick adjustment reveals a pin-style toepiece that allows easy skinning. There's a weight penalty, but the Shift is lighter and performs better than most front- and backcountry-worthy bindings. ($649; salomon.com or atomic.com)
Marker enters the fray
Marker enters the lightweight pin binding game with a home run. The Alpinist weighs a paltry 245 grams without brakes. Yet it still has three climbing heel modes, springs that adjust the binding position when the ski is flexed, and anti-ice pads at the toe and heel. It comes in two DIN ranges, including a kid and lightweight-friendly 4 to 9 range. ($499; marker.net)
G3 gets lighter
Made in Canada, G3's new Zed binding brings the same ease of use as the company's popular Ion pin binding, but shaves more than 200 grams off the weight and offers more adjustability than the Ion binding. Without a brake, the Zed comes in at just 345 grams (the Ion 10, 585 grams), making it G3's lightest binding. As well, it has the same boot retention performance, same easy entry and 30mm of size adjustment. ($549; genuineguidegear.com)

Tags: backcountry, Dynafit Hoji Pro, G3 Zed, Lange XT Free 130, Marker Alpinist, Scarpa Alien 1.0'Arc'teryx Procline AR, Tecnica Zero G