---
You don't have to look far past the ski area boundaries of Banff National Park to experience some spectacular backcountry turns.
By Ryan Stuart // Photos by Ryan Creary // from Winter 2014 issue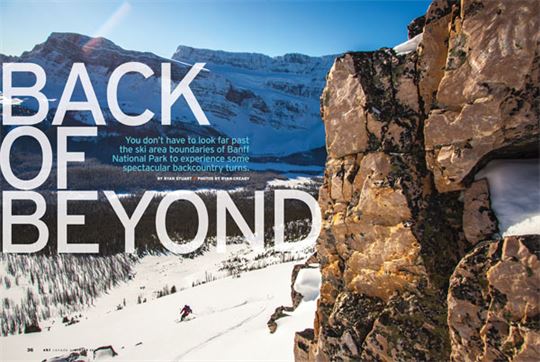 One last step and I'm on the ridgetop, my chest heaving from the effort of hiking. I suck in a deep breath of icy air and look across a wide valley at Lake Louise's iconic backside, one of my favourite playgrounds. A week after the last storm, it now resembles a lizard's skin, all bumpy and textured, covered in moguls.
My gaze continues down the other side of the ridge into aptly named Hidden Bowl. Out of sight of the resort there's not a track marring its short but perfectly pitched slope. It's why I've made the 45-minute trek to get here, first on skins, zigzagging up a progressively narrower ridge, and then bootpacking up a rocky chute. Now I'm standing on a small summit with my brother Derek, almost ready to graffiti the canvas spread beneath us with Ss and 8s.
We make a plan. Even though the avalanche danger is low, we decide to ski the safest line, a rib splitting the bowl, one at a time. It's hero snow—boot-top fluff spraying our shins as we carve effortlessly down. Twenty turns later, a smile plastered on my face, snow coating my legs, I coast onto the flats at the bottom and tap poles with my brother.
************************************************************************************************************************ 
 There's plenty of terrain to explore at Banff National Park's three resorts, but there's exponentially more beyond the boundaries and it's often totally untracked. While there are better-known ski touring areas in Western Canada, places that get more snow or have easier to predict avalanche danger, few can compare to this mountain park for access and almost guaranteed snow quality.
Driving north from Lake Louise, every side valley and many of the slopes above the highway shelter great ski terrain within a short hike from the car. The southern part of the park and in neighbouring Kananaskis Country, accessible from the Spray Lake Road above Canmore, hide more stellar destinations. And like at Louise, a ride to Sunshine Village provides an easy lift to all kinds of options just a short wander beyond the boundary lines.
All that untracked potential comes with two caveats: first, you have to earn every turn with sweat equity; and second, you have to play with caution. The Rockies' high elevation and continental influence conspire to preserve instabilities in the snowpack. That means the snow tends to stay light and fluffy, but avalanches are also more easily triggered long after a storm. As temperatures rise and the snowpack gets deeper in March and April, however, the danger can settle nicely, making a spring trip to the Rockies a great time to sample its backcountry treats.
That's what we found as we lapped Hidden Bowl. We spent the day alone, smiling at the skiing ants carving on the groomers across the valley. The snow feels stable and we haven't seen any signs of recent avalanches or instability. On each lap, we ski deeper into the bowl, testing steeper terrain, even jumping off the cornice.
By afternoon, we're four laps deep and getting tired. We stop mid-climb at the top of the Corral Chutes, three parallel avalanche paths that end at a trail heading back to the resort. It's our commute to the lifts.
We hop into the fast lane, cranking high-speed turns through the open terrain at the top and then slowing down to dodge through the Christmas trees lower down. Twenty minutes later we're on the Ptarmigan Chair.
"So, where do you want to go tomorrow?" Derek asks.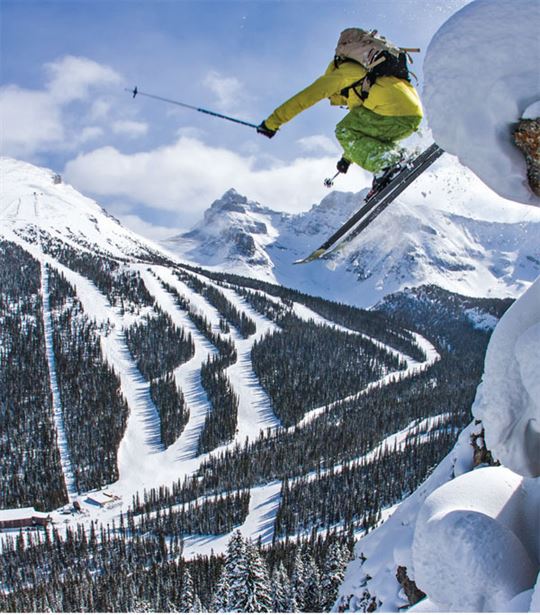 Some recommendations 
FROM THE SKI HILLS
Before heading out, check with Ski Patrol about avalanche stability and terrain closures. Do your homework and ask lots of questions.
LAKE LOUISE
Choose a boundary at Louise and you'll find worthwhile turns. 
West Bowl: Backcountry doesn't get any easier than this: slide beyond the boundary at the top of the Outer Limits run, navigate the rocks until you hit deeper snow, ski perfect fall line and then traverse back inbounds. Easy access and exit mean it's extremely popular; get there early after a storm, but remind yourself and others of significant avalanche danger—this bowl slides regularly. If it's all tracked out and you have skins, explore farther to the north and off to the northwest.
Purple Bowl: Follow the bootpack from the top of the Larch Chair all the way to the top. Ski anywhere in the expansive bowl using the horseshoe ridge to access your line. What's the skiing like? Let's just say it used to serve as the arena for Louise's annual Powder Eight contests. Exit through the notch where the bottom of the bowl butts against Wolverine Ridge, heading back inbounds at the bottom of the Rock Garden.
SUNSHINE VILLAGE
The area around Sunshine begs to be explored for turns.
Quartz Ridge: Slap on the skins and head south from the resort to a low ridge rising out of the rolling terrain leading toward Mt. Assiniboine. Follow the ridgeline to the top and ski the east-facing slope. Smile on the way home.
Wawa Ridge: From the top of the Wawa Chair, climb north onto Wawa Ridge. Drop to the east at any time, through open terrain and more skiable trees, working your way back to the Wawa area or descending through ever-steepening terrain to the ski-out. Or skin to the summit and drop into Wizard Chute, a north-facing shot that descends to Healy Creek, upstream from the resort's parking lot.
Backcountry gear
 GET GOOD GEAR
Scarpa Freedom SL  ($800, scarpa.com)
Like skis, you could have a different boot for backcountry and resort skiing or you could have a quiver killer like the Freedom SL. Four buckles and a carbon fibre internal frame ensures responsive performance on-hill. A 27-degree flex, 450g weight per pair and a sole that can be switched from DIN to grippy touring and even pin-hole tech bindings mean day-long tours are within reach, too.
Ortovox Zoom+  ($285, ortovox.com)
The Zoom+ is one of the simplest and easiest to use beacons, which is exactly what you want when you're trying to save someone's life. There are two buttons—one turns it on, one switches between transmit and search—and an LCD display. That's it. It can search up to a 40-metre span and switches back to transmit if you stop moving, which is handy if you're caught in a subsequent slide or forget to switch back after practicing.
G3 Empire 127  ($900, genuineguidegear.com)
Leave the untracked on most fat, reverse camber skis and expect the performance of a rental ski. Not the Empire. G3's fattest pistols pivot on a needle for shredding tight trees, float through the deepest fluff and straightline with confidence, but when you slip back on-piste, they're still fun, holding a surprisingly solid edge on hardpack.
Backcountry Access BC Link  ($175, backcountryaccess.com)
The first two-way radio designed specifically for recreational skiers, the Link is intended to prevent one of the most common causes of avalanche accidents: a breakdown in communication. The base unit radio hides in a pack and links to the glove-friendly, weatherproof mic. More robust and easier to operate than smaller handhelds, it makes it easy to stay in touch in the biggest terrain and gnarliest weather.
Black Diamond Anthem  ($279, blackdiamondequipment.com)
Whether skinning, bootpacking or lapping the sidecountry, this pack's got your back. The 28 litres of space stores everything you need for a day tour, and compresses flat for just carrying essentials. Hidden straps rack skis diagonally, and a mesh helmet holder appears when you need it. In the skin track, rotating shoulder straps move with your swagger. And if the worst should ever happen, the onboard AvaLung apparatus can add precious time in an avalanche burial.
HIGHWAY ACCESS TOURS AND TURNS
 A classic tour: Surprise Pass This tour has it all: epic scenery, a gradual climb, interesting route finding, intimate terrain and a long, fall-line ski. Looping around Mt. Fairview, it begins at the Chateau Lake Louise, first climbing to Saddleback, then traversing into a box canyon lined with cliffs. The escape is a short, steep climb into a notch. This is aptly named Surprise Pass. Below is a long ski ending with a skate across Lake Louise. It's a classic.
Yo-yo slope: Bow Summit North of Lake Louise, the Icefield Parkway hits a high point at Bow Pass. The snow falls deep here and treeless alpine is a short climb from the highway, making this a great spot for a short, easy day of skiing. Pick an objective from the highway; both sides offer several options, with the most obvious and open terrain on the west side above the Bow Summit parking lot. On the east it's possible to climb all the way to the top of Observation Peak for an expansive view of the Wapta Icefield and a sea of glaciers and peaks.
Banff's backcountry beckons
Powder skiing options in Banff range from highway-side hot laps to some of the highest summits in the park and week-long tours to lift-accessed cheater slopes. One rule reigns: the farther from the lifts or highway you get, the fewer tracks and company you will have. Plan accordingly.
The website Backcountry Skiing Canada has route beta for destinations throughout the country and sells a guidebook to ski touring around Banff. backcountryskiingcanada.com
 Summits & Icefields, a ski touring guidebook and backcountry bible (3rd edition) by ski mountaineer gurus (and locals) Chic Scott and Mark Klassen, is another valuable resource. rmbooks.com
Rent backcountry safety and ski gear at Mountain Magic Equipment in Banff (mountainmagic.com) or in the town of Lake Louise at Wilson Mountain Sports (wmsll.com).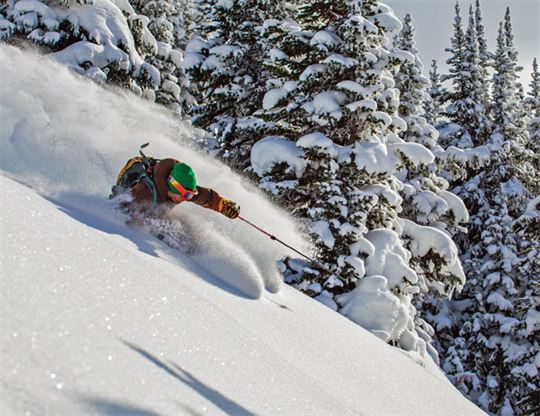 ---
Tags: Alberta, backcountry, Backcountry Access BC Link, Backcountry Skiing Canada, Banff National Park, Black Diamond, Bow Summit North, G3, Genuine Guide Gear, Kananaskis Country, Lake Louise, Mountain Magic Equipment, Ortovox, Scarpa, Summits & Icefields, Sunshine Village, Surprise Pass, Wilson Mountain Sports