Reading Time:
8
minutes
My emotional rebuild was more difficult than the physical part, but a return to the alpine was necessary therapy.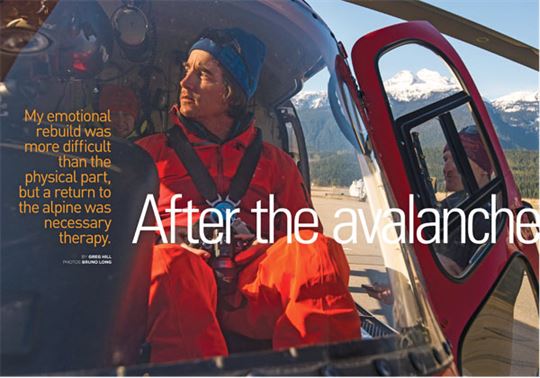 A year and a half ago I made a serious judgment error and my confidence, something I used to have a lot of, is now gone—lost in an avalanche. How do I get it back? Will it ever be like it was? My entire life revolves around ski mountaineering in wild places, and if I've truly lost my comfort out there, then who am I?
In May 2014, Kodak courage had me breaking my mountain rules and I ended up paying the price—mostly buried in the middle of Pakistan. I'd been on an expedition to climb and ski a remote unknown 7,000m mountain. While acclimatizing, we skied off an unnamed 5,500m peak. The avalanche hazard appeared to be low, there were no naturals anywhere and my tests on the way up showed no slab.
Needing a bit of excitement and hoping to get some great footage, I skied a line that I shouldn't have. The cameras were rolling so I didn't do my usual ski cut. Instead my first tracks were to be directly down the face.
My first turn triggered a size 3 slab that began to chase me down. Since I was skiing a line with no safe spots, I tried to outrun it but it slammed into me and tumbled me 300-400m down the mountainside. Struggling the whole way, I managed to stay afloat but was left mostly buried, with my head out and a severely broken tib/fib. A 23-hour rescue ensued, and six days of travel later, I was back in Canada for surgery in Banff—my confidence shattered, my body suffering, and my mind feeling responsible.
I spent most of last winter learning to ski again. Initially green runs were hard and then slowly the physical part of my skiing returned, but I found myself full of worries out in the backcountry. When assessing slopes that never would have scared me in the past, I didn't trust my inner snow guru or mathematician who balanced all the equations to decide yes or no.
Part of my mental rehab had to be a trip into my local mountains, to tag local dream lines. For this, I wanted a group of friends with a variety of strengths. I had to have a team that would aid in my emotional comeback. So I put together a wicked team: Mark Hartley, hardcore coffee roaster; Aaron Chance, my oldest ski partner; Darek Glowacki, wildman mountain guide; and photographer extraordinaire Bruno Long. If these guys couldn't help me, no one could.
The Battle Range lies deep in the Selkirk Mountains. We flew out early in the morning and dropped off our gear at camp, then landed at 3,000m near the summit of Mt. Proteus. I was here 10 years ago during an 11-day traverse, so it was familiar territory—we had snow-caved at this exact spot. Without too much messing around, we started climbing Proteus (3,198m). The last 100m turned out to be a bit of a struggle, a rimed-up rocky mess, but I was happy. We'd earned the summit.
The snow stability felt good, however we still needed to gain confidence in the snowpack, so we chose the most conservative glacial line. It was an extraordinary ski, with towering ice walls overhead and crevasses to cross—a visually dynamic ski descent.
We threaded our way through the blue ice and looked up at our next objective. A wild zigzaggy couloir had Mark all excited, so we headed back up what we had just skied and found ourselves climbing across a rocky ridge to get just below the summit of Whitejacket. I bootpacked to where I could stand on a rock and look down the run. It was epic, but my mind wasn't ready yet. Knowing I couldn't rip the first pitch, I urged Mark to shred it. And he did, pinning it down the opening ramp, slashing mad turns on his board. I then eked my way down, dropping a few jump turns but mostly just getting to where I was finally in the run and shredding it up.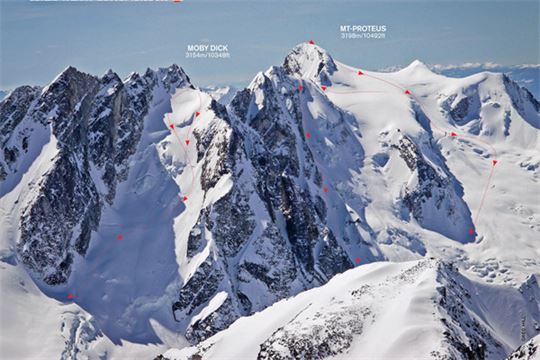 We skied down to 1,800m and then skinned up to camp and our waiting bags. The col was quite windy so we chose a nice bench on the west side, looking straight up the line we wanted to ski. Moby Dick… Damn, for 10 years I've dreamt of coming back to ski this. Everything felt great, but the line was worrisome. Huge blue seracs threatened from all sides. There appeared to be only one way up—straight up the guts of it. Once on the line, a massive ice wall reinforced the route to the bottom. If anything went wrong, there was nothing we could do to save ourselves. We went to sleep excited, but ready—and for me, full of apprehension.
The next morning the light hit our line early, around 5:30 a.m. By the time we were ready and discussing our day, there was already warm snow on the cliffs threatening the line. We tried to convince ourselves it was okay but in the end we knew it wasn't right, so we skinned up to Mt. Butters at 3,139m. The perspective from here really showed us the seriousness of the line we were heading for, and the wild nature of this gem.
On our way down we passed a group from the ski touring lodge Battle Abbey. The Gmoser family was carrying the ashes of Robson Gmoser (see Short Turns, last issue) to the summit. The reality of the severe hazards in the mountains was obvious in the grief etched into their faces.
We headed back to camp and ate our lunch quietly. The more we stared up at our line, the more we knew we needed more information. Looking at the line head-on, it was tough to see the benches or safe spots—if there were indeed any. I decided that our fear was the result of not being adequately informed.
So we geared up and headed toward the great white whale. As we got closer, some hazards got smaller, others seemed more avoidable. It was also out of the sun now and beginning to cool down. What had threatened our ascent route in the morning, no longer intimidated us in the afternoon. Soon enough I was uncoiling the rope off my shoulders and tying in Mark so he could cross a bergshrund. After he was safely 10m away, I tied in and followed him.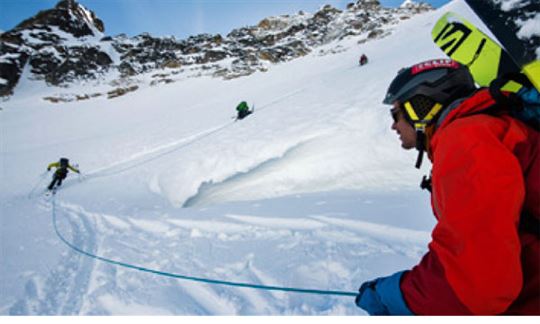 By this point, if we were to slide uncontrollably we would fall off a 100m-tall ice cliff, so there was no room for error. Mark held nothing back on this ascent. Plunging his axe and kicking his steps in, he stomped his way to the top with self-assurance. For a brief 30m interlude, I set the track to feel the true exposure of the place. My thoughts centred on the massive difference between following a bootpack and setting one. As the second, all decisions have already been made, hazards analyzed. It's easier, less worrisome. But once I stepped out in front, I began to feel the exposure; the massive seracs below grew bigger. Everything was more real, more frightening.
Looking up, I knew the way and continued on. Looking down at the gang working their way up, fear gripped me, but I was here to overcome it and I pushed higher a few more steps. Looking around, knowing the true consequences of a mistake, I was frozen. Feigning crampon issues, I stopped and calmed myself. As I tightened the straps, I went back through all our decisions to be in this spot. It all made sense. We knew our strengths and antidotes for each other's weaknesses, and we'd all agreed that we should be here.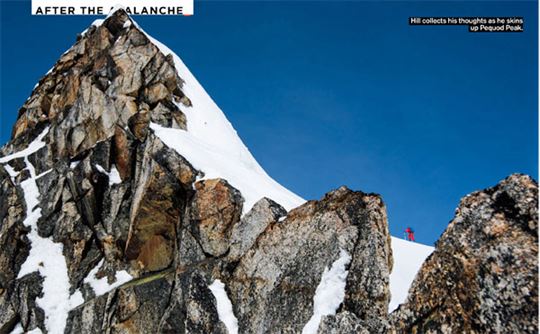 Breathing deeply, I stood up and worked my way to a rock face, where I stopped and hung on. Feeling safe again, I passed the lead off to Mark and he crushed his way to the top. He continued to send the line up to the high shoulder and soon we all stood atop a line of our dreams.
I looked higher at the final 150m bootpack/rock scramble and I realized I didn't have it in me. (Now I wish I had.) By then, it was already 4:30 and we had exposed ourselves enough. We were ready for a great ski back to camp. Not having a strong jump turn, I eked my way down the first 100m and then, when it eased back to a more comfortable 45 degrees, I began to link up some nice turns in a wild spot. The skis flowed effortlessly as we slid back to camp. Beers and cheers followed as we gazed back up at our line—thanking Mark for his stairway to the top.
The next day was blue and perfect but getting warm, so we opted for a Mt. Pequod circumnavigation. It started off directly above camp with some glacial touring, a bergshrund crossing and then a steep bootpack to a high col. When we reached the bergshrund, I had it in mind to bootpack across, but Mark deemed it skinable. The argument was that more weight is distributed with less potential of falling through. That has always made sense to me, but my skins were already off and I was tied to a rope anyway.
So the group skinned across and continued the bootpack up. By then the first two were off the rope since it's safer to be free of it once past the bergshrund. Darek and Bruno kept the rope tight as I climbed across the bridge. I was scampering above their skin track when I decided to step down and use their trail. I placed one foot in their track, brought my other foot in and stepped down. With the skin track about 30 cm deep, my foot penetrated deeper into the snowpack and in an instant I was falling into the bergshrund, the entire seven-metre-long snow bridge falling with me. In no time, I had weighted the rope and was standing on the bottom. Sheepishly, I walked out and looked up at my team of boys. All were poised above, looking down at me concerned. I muttered "All good, boys," which it was but all of a sudden I realized I was separated from my team by a three-metre gap and a three-metre wall above it.
We did however have an umbilical cord linking our two worlds. I struggled up the rope for a few minutes until I realized I could just ascend the rope. Derek dug himself a deep seat, sat down and became an anchor for me as I sweated my way up.
This was a great learning moment. Since we understood the hazards involved, we had the appropriate safety measures in place and when it did go wrong, everything continued right. The rope had caught me safely, and all was good.
This was probably the biggest re-learn for me. Obviously there are hazards; there are times when you have to risk it. But before those times, you have to ask yourself: Have I gone through the right protocol? Do I have a good understanding of the snowpack? Have I skied similar smaller lines? Is the group a well-balanced team and all in agreement? If so, remain cautious and follow all safety precautions—and enjoy.
That afternoon a pilot from Arrow Helicopters picked up our satiated group and flew us back to Revelstoke. From the air, I pointed out our lines to the pilot as I pondered the success of the trip. It really did seem as though my confidence was gaining, and that supported by a great team, I could continue to accomplish fun objectives in the mountains. Physically, I'm still not 100 per cent but with time it will be better, and if my body never returns to its peak, I now know that I can still enjoy wild times in the hills. There's a part of me that will always yearn for exploration and adventure.
Salomon and Arc'teryx ambassador Greg Hill is a supremely passionate ski mountaineer. His energies have taken him around the world in pursuit of first descents, new mountaintops, endurance challenges and any other adventures he can find. When not travelling the world, he guides people in his home ranges around Revelstoke.