Reading Time:
2
minutes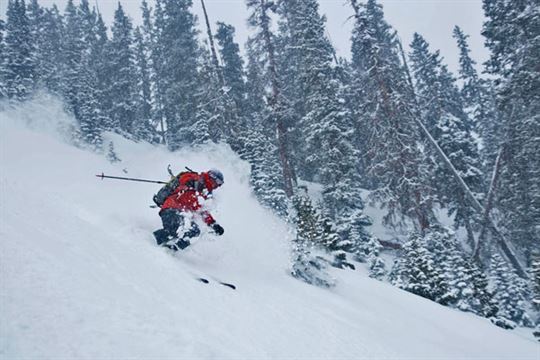 Resorts visited: Wolf Creek, Durango Mountain Resort, San Juan Untracked snowcat skiing, Silverton Mountain Telluride
Photos: Scott D.W. Smith
Sliding through the icy main intersection in tiny Ridgway, Colorado, the county sheriff shook his head, our epic five-resort Ski Canada road trip nearly came to an end. Luckily the dark crossroads was empty, we slid on through unharmed, and the near-mishap happened after successfully navigating Colorado's fearsome, over 3,300-metre-high Red Mountain Pass, or we might have never set out in the blizzard.
The trip had flipped in a seeming eye-blink from the famine of a month-long snow drought, with Colorado's ski areas  little more than boneyards, to the feast of a multi-day season-setting storm. That it happened at Silverton Mountain was even better.
The Ski Canada team — photographer Scott Smith, athlete Claire Challen and me — got to explore the incredible steep avalanche gullies and open bowls of this gigantic, off-piste-only, single-chairlift mountain with resort co-owner Jen Brill as the blizzard delivered an inch of powder every hour. Look for the trip wrap-up in a few days, and see the full story in next season's Ski Canada.