RYAN REPORT – Arc'Teryx air bag pack owners just got $250 richer
---
Anyone who ski tours in sub -20C weather knows nothing works quite as well in the freezing cold. That goes for the Arc'Teryx Voltair Avalanche Airbags. When the backpacks went on sale last winter Arc'Teryx advertised the battery powered air bag pack as working unimpeded down to -30C. But a winter of testing later is telling the Vancouver-based company something different.
"Our quality control team has recently discovered an issue with our battery which affects its proper deployment at extremely cold temperatures due to an unanticipated change during battery production. This change impacts the proper deployment of the airbag when the battery is exposed to temperatures below -20°C (-4°F)," Arc'Teryx wrote in a news release.
As a result of the decreased performance Arc'Teryx is offering Voltair owners two options. 1. Keep the bag and receive a $250 Arc'Teryx gift card as compensation. 2. return the pack for a full refund and a $250 Arc'Teryx gift card. The advisory applies to both the 20 and 30 Litre versions of the pack.
For more information call 1-866-458-2473 or go to the advisory page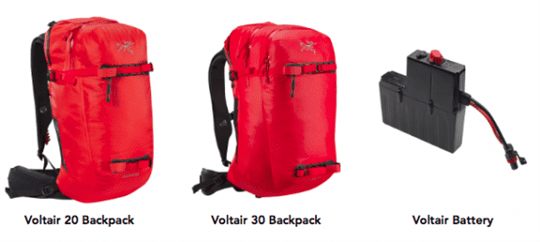 RYAN REPORT is a frequent web post by Ski Canada magazine's technical editor, Ryan Stuart.

Tags: airbag, Arc'Teryx, avalanche, backcountry, Ryan Report