---

A ski trip to Québec is more than just great snow. So much more!
Nobody in North America knows how to après-ski better than the Québecois. From relaxing spas to off-slope activities, friendly microbreweries to late-night dancing, Québec doesn't sleep after skiing, it comes alive.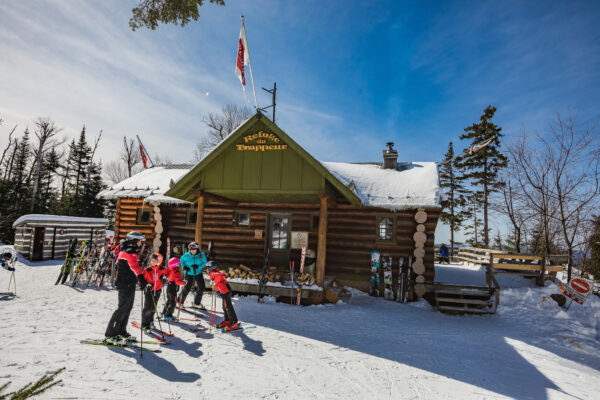 In a welcoming and enviable culture that leaves a smile on your face, winter visitors can doff their skis or snowboard and don skates or snowshoes for more active fun — or head straight for the music on a slopeside deck or friendly pub to relish the day's events with new friends. Maybe relaxing beside a roaring fire is what you need before heading out to a candlelit dinner? Why not watch the alpenglow slowly disappear over frozen lakes, rivers and snow-laden mountains in a cozy outdoor hot tub or steaming pool. Québec's distinctive, award-winning restaurants can offer gastronomy unique to both the province and each region. With more ski areas than any other region or province in the country, the choice is vast, the choice is yours.
Québec City and Charlevoix
Saguenay-Lac-Saint-Jean
Laurentians
Eastern Townships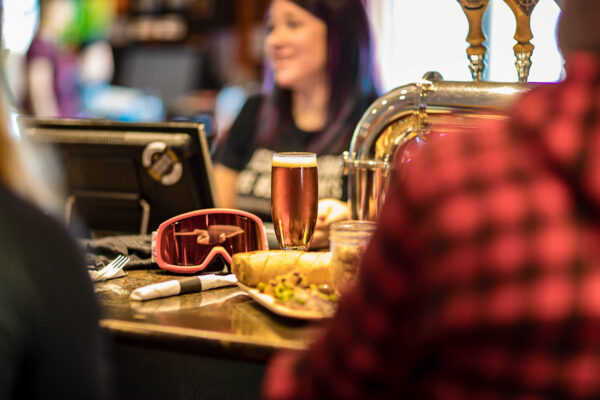 The Charlevoix's postcard-perfect Baie-Saint-Paul is an excellent example of what small-town Quebec can offer gourmet foodies, an experience that might otherwise only be available in a large urban centre. The historic town is just 25 minutes from Le Massif de Charlevoix's powdery ski slopes with the stunning views of the St Lawrence River, where the celebration of fine dining continues. Forget pizza or burgers, when did you last order Cuisse de canard confit or Omble chevalier poêlé while you were wearing ski boots? It's little wonder Club Med chose Le Massif for its North American village. While there, embark on a side trip to Mont Grand-Fonds, a stunning one-hour drive along the St. Lawrence River from Baie-Saint-Paul to a regional park with a plethora of winter activities, including 41km of snowshoeing trails with heated huts. The Charlevoix's renowned reputation for scenic and culinary perfection continues all the way up the river to include mighty Mont-Sainte-Anne, Stoneham, Le Relais and ultimately Québec City, from intimate dining rooms in some of the country's most historic settings to hip, contemporary hotels, restaurants and nightclubs worth hitting after night skiing. Consider a night at the iconic Château Frontenac, it's so close!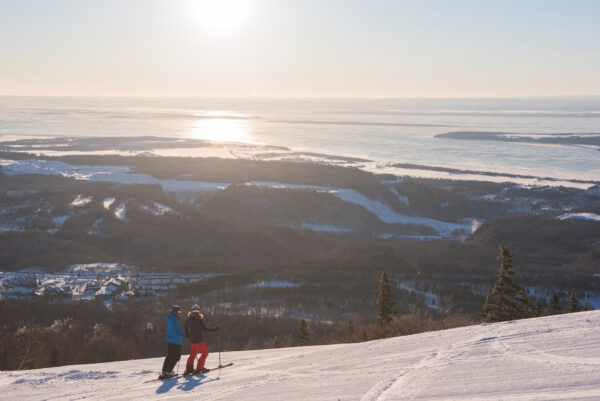 You don't have to be an expert skier or snowboarder to appreciate Saguenay-Lac-Saint-Jean's famously light snow that averages seven metres a season. That's metres, not feet by the way! Whether you're curious about backcountry skiing and need a guided tour, or it's already your passion, both Mont Édouard and Valinouët are magnets for those seeking a matchless winter adventure. It's also little wonder visitors come from so far to enjoy the secrets of the Saguenay-Lac-Saint-Jean, just the sense of "discovery" is a huge draw. Sitting on the impressive Saguenay Fjord, the waters of which eventually make their way to the salty St Lawrence River, the city of Saguenay was formed only 20 years ago when the cities of Chicoutimi and Jonquière and the town of La Baie merged, but it was almost 350 years ago that French colonists came to town. When you make the journey, come prepared for a warm welcome that you won't find on a typical ski trip. Then, after an adventurous day of touring, it's a great feeling having a beer with old friends and new, still in your baselayers, hanging your skins to dry, swapping pics, videos and stories…these are the days you'll always remember.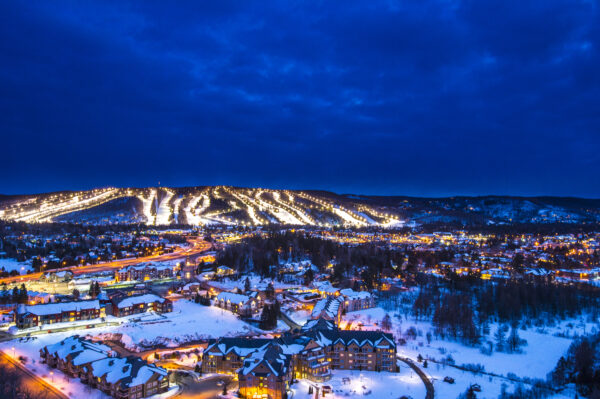 Who doesn't like numbers? At 13, the Laurentians (or Laurentides en français) have roughly the same number of spas as ski resorts. Whether you fly to Tremblant or take a smooth drive up Autoroute 15 from Montréal, the region will present you with so many signature spa treatments and rejuvenation options, you mustn't forget to save time for the famous, unforgettable après-ski scene. Oh, and also dog-sledding, fatbiking, skating, snowshoeing, snowmobiling, tobogganing, a casino…and of course, shopping and dining. Sommet Saint-Sauveur, Mont Blanc, Tremblant are all names with big histories, big reputations, and for big reasons, from festivals to just knowing how to live winter life to the fullest. Accommodations range widely from comfy and handy to posh private condos, owner-operated boutique hotels to grand resorts. If you find you just didn't book enough time; you can always sleep when you get home.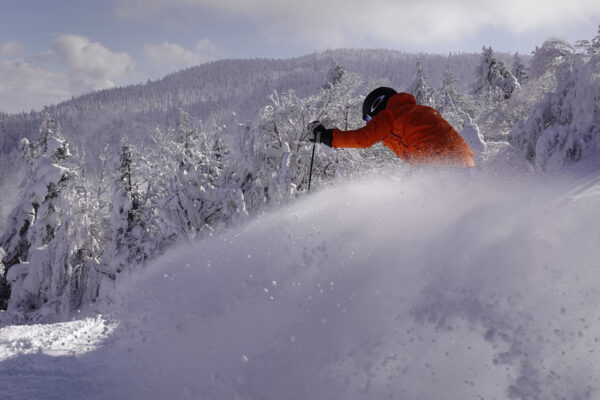 Sharing a border with Vermont, New Hampshire and Maine, the lovely bucolic winter scenes of the Eastern Townships remain unparalleled. Its vineyards may be asleep for the season but their products are on the table waiting to be tasted after a thrilling day on the slopes of Mont-Orford, Owl's Head, Bromont – montagne d'expériences and Mont SUTTON. And what goes with wine from the Eastern Townships? Cheese of course! Les fromages de l'Estrie have won multiple international awards including a coveted No. 1 spot at the 2020 World Cheese Championships. Like the unique wines and cheeses, each ski resort is yours to compare and contrast from impressive and varied mountain stats to memorable accommodations and dining experiences, après-ski to non-ski activities. Between the Eastern Townships' historic towns, a complete winter holiday is waiting for your top marks.

Visit Bonjour Québec to plan your trip, and get more than snow this winter.

Tags: Le Massif, Le Massif de Charlevoix., Le Valinouët, Mont Blanc, Mont Edouard, Mont Grand-Fonds, Mont Orford, Mont Sutton, Mont-Sainte-Anne, Mont-Tremblant, Owl's Head, Québec, Relais & Chateaux, Ski Bromont, skiing Quebec, Sommet Saint-Sauveur, Stoneham, Tremblant