---
When it comes to the drudgery of organized press trips, some ski writers are in a class of their own.
by James Cove; illustrations by Tina Holdcroft –  from Fall 2012 issue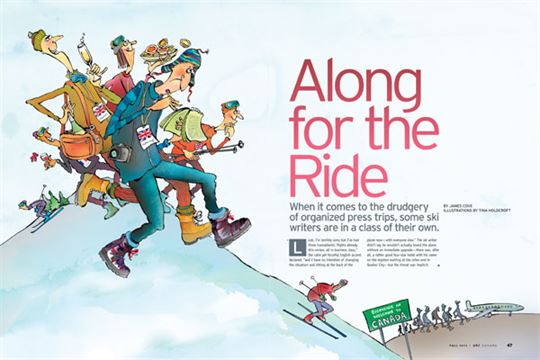 "Look, I'm terribly sorry but I've had three transatlantic flights already this winter, all in business class," the calm yet forceful English accent declared, "and I have no intention of changing the situation and sitting at the back of the plane now—with everyone else." The ski writer didn't say he wouldn't actually board the plane without an immediate upgrade—there was, after all, a rather good four-star hotel with his name on the register waiting at the other end in Quebec City—but the threat was implicit.
The fraught PR lady accompanying the trip whispered into her mobile phone at one end of the VIP lounge, her hand cupped over the mouthpiece. After several calls, and an increasingly furrowed brow, she took the hack to one side to confirm that she'd managed to get him an upgrade—and asked him not to tell the others. He smiled broadly, served himself another flute of complimentary champagne and immediately strolled over to tell his fellow writers of his good fortune.
As they bade farewell to the comforts of the business-class lounge, several in the group grabbed their last handfuls of free food while one journalist discreetly slipped a bottle of wine into his hand luggage. Most people would be pleased with a complimentary flight across the Atlantic and a few days' skiing at Mont-Sainte-Anne, Le Massif and Stoneham, but the assignment wasn't reflected in these faces as they trudged toward the back of the plane.
On this particular familiarization, or fam, trip were the appointed (and self-appointed) elite of the British ski press corps: journalists from national newspapers, writers from the top snowsports magazines and yours truly, who writes for a ski website. Tourist boards, whether national or local, rely on years, sometimes decades, of our connections with publications, as well as the relationships we've established and maintained, that will ultimately help open up new or increase numbers from existing markets of visiting tourists.
As opposed to print, my online colleagues and I are sometimes treated with caution by traditional writers as they see their terrain being eaten away by the onward march of the electronic media. We also take photos, shoot and edit videos and put it online in real time. Our stories don't show up six months or a year later; we need to be done before dinner.
"You really ought to stop working so hard and come spend a bit of time in the spa" was how one writer deep in his research put it to me in a hotel near Le Massif. "My readers will want to find out about the relaxation facilities of the hotel and I can't do the subject justice without experiencing it first-hand." He then toddled off down the long, carpeted corridor in his crisp, white hotel bathrobe that looked somewhat tight around his ample frame.
The next day's train from Quebec City to Le Massif along the shores of the St. Lawrence River was a vivid example of the Fourth Estate in action. It was an early start for the jet-lagged foreign press corps and, though we had the best seats as the locomotive pulled out of the station, the view of the river wasn't quite what I had anticipated.
"I was expecting more ice and even perhaps some marine life…this simply won't make a decent photograph," I found myself grumbling. "And there's not much room for my legs!" moaned my observant colleague as he slid into his first-class seat and was served breakfast. It was 7:00 a.m. and moods were dark. On the return journey there were no such complaints. It was late afternoon and the complimentary dinner was washed down with ample supplies of wine.
It's easier keeping ski writers happy and entertained when their glasses are full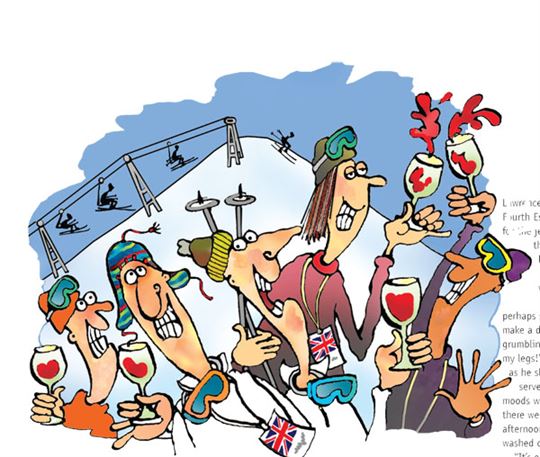 "It's easier keeping ski writers happy and entertained when their glasses are full" was how an exasperated PR host put it to me. As I sipped a glass of the local tipple, pear cider, on the return journey, I could only nod in agreement.
It reminded me of an anecdote a PR friend told me as she took a group of writers on a ski press trip to Spain. The group returned to the five-star hotel at 4:00 in the morning to find the bar closed. This didn't faze one of the more resourceful, and still thirsty, hacks who went to his room, picked up his mini-bar and noisily brought it down to the lounge so the group could continue the evening. Our lady with the clipboard needed all her charm and skills to prevent an irate manager from throwing the lot from the hotel the next day.
Last winter, on press trips funded by tourist boards and related businesses, I skied all the main resorts in Utah, where we had our own driver to ferry us around. I can report uniquivocally that the Mormon state is not a dry state as we had a tour of a whiskey distillery and drank chilled champagne in private dining rooms. (As one fellow writer pointed out, though, the whiskey was a bit bland and the champagne was served in the wrong-shaped glass.)
In Hochgurgl, in the Austrian Alps, we lunched at the five-star Top Hotel in the village. One of our group complained that we were not being entertained with an overnight stay; at $553 per person, per night, we all agreed it would have been more appropriate than our three-star alternative.
On this trip to Canada I saw international writers moan about the temperature of the soup, the size of the swimming pool and the lack of a valet to carry their skis. They whinged about the room service and complained if they had to buy their own coffee.
But that was nothing compared to one ski writer's request on a different trip. He wanted to bring his wife and child, and then asked if he could be provided with a suite in a neighbouring hotel—for his mistress. This last request was turned down, but she came anyway, on his dime. His wife is now his ex-wife.
Often noticed on the ground is the fact that a few of the writers are perhaps not quite as good on skis as they ought to be—a case of travel writers who like to ski rather than skiers who know how to write about travelling. On one trip to Villars in Switzerland, a trip billed for advanced skiers, one journalist never actually told anyone he couldn't ski and helpfully arrived with no ski kit. The PR woman lent him her spare pair of trousers, pink with embroidery on the sides. He looked a sight as he made his first tentative snowplough turns.
Over the years, I've heard some pretty daft questions from the people who somehow intelligently inform others about snowsports. "Is my helmet on backwards?" "Do you have to be good to do a backflip?" "Does this look like a rash to you?"
But I also know of the pathetic pay professional travel writers receive for their work. Pay rates have been halved in the last two decades (not including time value of money), expense accounts for writers on staff at publications dropped entirely, and cheques arrive months after stories and photos are filed.
After five-star fam trips, most writers return to their distinctly one-star homes and lifestyles with a degree of culture shock, while ski resorts and holiday companies receive significant media exposure for relatively little hard cash changing hands.
Air Canada may not have provided a ticket to a Ski Canada writer in decades, but for the international media, the airline can find an empty business-class seat on a transatlantic flight. Hotel rooms are often empty as press trips typically run in a resort's low season. And yes, writers receive free lift passes, but as marketing departments recognize, the lifts are running anyway so the return on investment is significantly swayed in the resort's favour. Some ski resorts refer to dollars spent on writers for their equipment hire or lunches as "mountain money."
On the surface the system is a simple one. A host national tourist board or ski resort or travel company invites a writer with a solid reputation of producing stories in significant publications on a trip. He or she is then expected to produce a story, photographs or online video about the experience. When things go wrong, which happens, are these nightmares written into the story? "I'm not owned by anyone," one travel writer, whose prowess on skis is impressive, says defiantly. "I've ridiculed the deserved in my stories and I always get invited back, well…pretty much, but if I'm on a trip and we have rain or something's obviously not impressing me, I simply don't include it in my story. No one says 'You must write about this, this and this!'"
Resorts and tourist boards are genuinely proud and like to show off. And the writer is, somewhat understandably, happy to accept. Eyes from the other side of the fence don't ask to see stories before publication and, yes, there are examples of writers not being asked back, possibly because they haven't produced what the resort hoped for but more likely because they didn't produce anything at all. (Or they were taped on security video play-fighting with fire extinguishers after the hotel disco closed.) Some names have made a black list and banned from return visits—all good fodder for a TV show or movie script.
The key issue, of course, is does the reader get served best by this arrangement. First of all, we are talking about travel and holidays, not investigative journalism. But all stories have accompanying costs and with no expense accounts from a publication for travel stories, that leaves marketing or swag budgets of businesses to pick up the tab or the core tab anyway. A few holdouts, like the Los Angeles Times, still adamantly refuse to publish stories that contain research generated from a press trip, but this lofty approach has become hard to hold.
Of course, not all travel stories are influenced by press trips. While Canadian-based ski writers are rarely, if ever, on organized group press trips at home, the international press is a different posse. That minibus of Brazilian or Australian writers sees more and gathers more research in five days than most could do in 25. And it's reflected in entertaining and informative stories that hopefully increase tourism later.
Nevertheless, discussing the subject of press trips with the PR gal for one of the oldest U.K. ski tour operators resulted in laughter and a tossing back of the head. Anecdotes of ski journalists behaving badly are many. From not eating local specialties to drunken food fights, her cup runneth over.
"On one trip I was accused of losing a journalist's passport and we spent the morning arranging how we were going to get a replacement when it was in his suitcase all the time. Another journalist threw a temper tantrum when skiing and shouted that he was to be left alone—'No one watch me ski!'"
As we made our way back to the airport at Quebec City with a change in Montreal, another transatlantic flight and a dawn arrival at Heathrow before catching the tube straight into the office, I kept my fingers crossed for an upgrade to business class. Would it change what I wrote about skiing in Canada? No. Would it make me happier? You bet.
James Cove runs the U.K. snowsport website PlanetSKI.eu and has written for all major British ski magazines. He has been skiing more than 40 years and writing about it for almost 20. He has covered skiing for BBC TV, Radio and Online (but never on a press trip). At last count he has visited more than 400 ski resorts.
---
Tags: Austria, Featured, Hochgurgl, Le Massif, Mont-Sainte-Anne, Québec, Stoneham, Switzerland, Utah, Villars