---
Whether or not your ski experience is going to be revolutionized, it sure is fun to play in the candy store.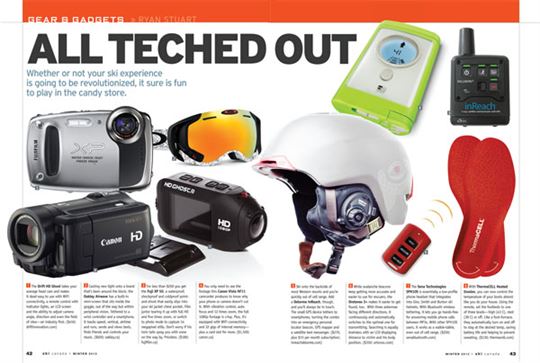 1.  The Drift HD Ghost takes your average head cam and makes it dead easy to use with WiFi connectivity, a remote control with indicator lights, an LCD screen and the ability to adjust camera angle, direction and even the field of view—an industry first. ($450; driftinnovation.com)
 2. Casting new light onto a brand that's been around the block, the Oakley Airwave has a built-in mini-screen that sits inside the goggle, out of the way but within peripheral vision. Tethered to a wrist controller and a smartphone, it tracks speed, vertical, airtime and runs, sends and views texts, finds friends and controls your music. ($600; oakley.ca)
3. For less than $200 you get the Fuji XP 50, a waterproof, shockproof and coldproof point-and-shoot that easily slips into your ski jacket chest pocket. Film junior tearing it up with full HD and five times zoom, or switch to photo mode to capture 14 megapixel stills. Don't worry if his twin tails spray you with snow on the way by. Priceless. ($180; fujifilm.ca)
4. You only need to see the footage this Canon Vixia HF11 camcorder produces to know why your phone or camera doesn't cut it. With vibration control, auto focus and 12 times zoom, the full 1080p footage is crisp. Plus, it's equipped with WiFi connectivity and 32 gigs of internal memory—plus a card slot for more. ($1,500; canon.ca)
5. Ski onto the backside of most Western resorts and you're quickly out of cell range. Add a Delorme inReach, though, and you'll always be in touch. The small GPS device tethers to smartphones, turning the combo into an emergency personal locator beacon, GPS mapper and a satellite text messenger. ($270, plus $15 per month subscription; inreachdelorme.com)
6. While avalanche beacons keep getting more accurate and easier to use for rescuers, the Orotovox 3+ makes it easier to get found, too.  With three antennae facing different directions, it continuously and automatically switches to the optimal one for transmitting. Searching is equally brainless with an LCD displaying distance to victim and his body position. ($350; ortovox.com)
7. The Sena Technologies SPH10S is essentially a low-profile phone headset that integrates into Giro, Smith and Burton ski helmets. With Bluetooth wireless tethering, it lets you go hands-free for answering mobile phone calls between MP3s. With other SPH10S users, it works as a walkie-talkie, even out of cell range. ($200; senabluetooth.com)
8. With ThermaCELL Heated Insoles, you can now control the temperature of your boots almost like you do your house. Using the remote, set the footbeds to one of three levels—high (43 C), med (38 C) or off. Like a foot-furnace, they automatically turn on and off to stay at the desired temp, saving battery life and helping to prevent sweating. ($130; thermacell.com)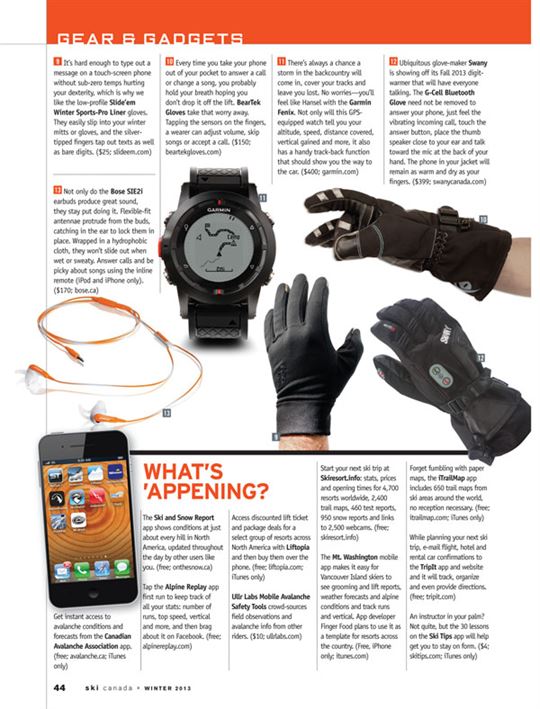 9. It's hard enough to type out a message on a touch-screen phone without sub-zero temps hurting your dexterity, which is why we like the low-profile Slide'em Winter Sports-Pro Liner gloves. They easily slip into your winter mitts or gloves, and the silver-tipped fingers tap out texts as well as bare digits. ($25; slideem.com)
10.  Every time you take your phone out of your pocket to answer a call or change a song, you probably hold your breath hoping you don't drop it off the lift. BearTek Gloves take that worry away. Tapping the sensors on the fingers, a wearer can adjust volume, skip songs or accept a call. ($150; beartekgloves.com)
11.  There's always a chance a storm in the backcountry will come in, cover your tracks and leave you lost. No worries—you'll feel like Hansel with the Garmin Fenix. Not only will this GPS-equipped watch tell you your altitude, speed, distance covered, vertical gained and more, it also has a handy track-back function that should show you the way to the car. ($400; garmin.com)
12. Ubiquitous glove-maker Swany is showing off its Fall 2013 digit-warmer that will have everyone talking. The G-Cell Bluetooth Glove need not be removed to answer your phone, just feel the vibrating incoming call, touch the answer button, place the thumb speaker close to your ear and talk toward the mic at the back of your hand. The phone in your jacket will remain as warm and dry as your fingers. ($399; swanycanada.com)
13.  Not only do the Bose SIE2i earbuds produce great sound, they stay put doing it. Flexible-fit antennae protrude from the buds, catching in the ear to lock them in place. Wrapped in a hydrophobic cloth, they won't slide out when wet or sweaty. Answer calls and be picky about songs using the inline remote (iPod and iPhone only). ($170; bose.ca)
What's 'appening?
Get instant access to avalanche conditions and forecasts from the Canadian Avalanche Association app. (free; avalanche.ca; iTunes only)
The Ski and Snow Report app shows conditions at just about every hill in North America, updated throughout the day by other users like you. (free; onthesnow.ca)
Tap the Alpine Replay app first run to keep track of all your stats: number of runs, top speed, vertical and more, and then brag about it on Facebook. (free; alpinereplay.com)
Access discounted lift ticket and package deals for a select group of resorts across North America with Liftopia and then buy them over the phone. (free; liftopia.com; iTunes only)
Ullr Labs Mobile Avalanche Safety Tools crowd-sources field observations and avalanche info from other riders. ($10; ullrlabs.com)
Start your next ski trip at Skiresort.info: stats, prices and opening times for 4,700 resorts worldwide, 2,400 trail maps, 460 test reports, 950 snow reports and links to 2,500 webcams. (free; skiresort.info)
The Mt. Washington mobile app makes it easy for Vancouver Island skiers to see grooming and lift reports, weather forecasts and alpine conditions and track runs and vertical. App developer Finger Food plans to use it as a template for resorts across the country. (Free, iPhone only; itunes.com)
Forget fumbling with paper maps, the iTrailMap app includes 650 trail maps from ski areas around the world, no reception necessary. (free; itrailmap.com; iTunes only)
While planning your next ski trip, e-mail flight, hotel and rental car confirmations to the TripIt app and website and it will track, organize and even provide directions. (free; tripit.com)
An instructor in your palm? Not quite, but the 30 lessons on the Ski Tips app will help get you to stay on form. ($4; skitips.com; iTunes only)
---
Tags: avalanche beacon, BearTek Gloves, bluetooth, Bose SIE2i, Canon Vixia HF11, Delorme inReach, Drift HD Ghost, Featured, Fuji XP 50, Garmin Fenex, glove liner, gloves, head cam, heated insoles, helmet cam, iTrailMap, Liftopia, Mt. Washington, Oakley Airwave, Ortovox 3+, satellite radio, Sena Technologies SPH10S, ski app, ski gear, skier apps, Slide'em, Swany, Swany G-Cell Bluetooth, ThermaCELL, TripIt, Ullr Labs