Reading Time:
4
minutes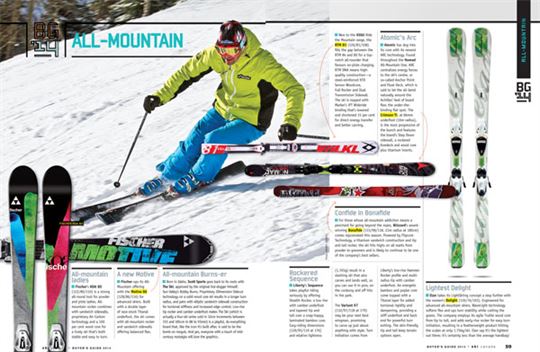 photo: HENRY GEORGI
 All-mountain ladies
Fischer's KOA 80 (122/80/110) is a strong all-round tool for powder and piste ladies. All-mountain rocker combines with sandwich sidewalls, proprietary Air Carbon technology and a 100 per cent wood core for a lively ski that's both stable and easy to turn.
A new Motive
Fischer ups its All-Mountain offering with the Motive 86 (128/86/116) for advanced skiers. Built with a double layer of race-stock Titanal underfoot, the ski comes with all-mountain rocker and sandwich sidewalls offering balanced flex.
All-mountain Burns-er
Born in Idaho, Scott Sports goes back to its roots with The Ski, approved by the original hot-dogger himself, Sun Valley's Bobby Burns. Proprietary 3Dimension Sidecut technology on a solid wood core ski results in a longer turn radius, and pairs with elliptic sandwich sidewall construction for torsional stiffness and increased edge control. Low-rise tip rocker and camber underfoot makes The Ski (which is actually a four-ski series sold in 10cm increments between 155 and 185cm in 88 to 93mm) is a playful, do-everything board that, like the icon it's built after, is said to be the bomb on moguls. And yes, everyone with a touch of mid-century nostalgia will love the graphics.
Ride the Mountain (RTM)
New to the Völkl Ride the Mountain range, the RTM 81 (126/81/108) fills the gap between the RTM 84 and 80 for a top-notch all-rounder that favours on-piste charging. RTM DNA means high-quality construction—a steel-reinforced XTD Sensor Woodcore, Full Rocker and Dual Transmission Sidewall. The ski is topped with Marker's iPT Wideride binding that's lowered and shortened 15 per cent for direct energy transfer and better carving.
Atomic's Arc
Atomic has dug into its core with its newest ARC technology. Found throughout the Nomad All-Mountain line, ARC centralizes energy forces to the ski's centre, or so-called Anchor Point and Float Deck, which is said to let the ski bend naturally around the Achilles' heel of board flex: the under-the-binding flat spot. The Crimson Ti, at 86mm underfoot (16m radius), is the most progressive of the bunch and features the brand's Step Down sidewall, a rockered foredeck and wood core plus titanium inserts.
Confide in Bonafide
For those whose all-mountain addiction means a penchant for going beyond the ropes, Blizzard's award-winning Bonafide (133/98/118, 21m radius at 180cm) comes rejuvenated this season. Powered by Flipcore Technology, a titanium sandwich construction and tip and tail rocker, the ski hits highs on all marks from powder to groomers and is likely to continue to be one of the company's best sellers.
Rockered Sequence
Liberty's Sequence takes playful riding seriously by offering Stealth Rocker, a low rise with camber underfoot and tapered tip and tail over a snap-happy, laminated bamboo core. Easy-riding dimensions (129/95/119 at 176) and relative lightness (1,765g) result in a slashing ski that also carves and lands well, so you can use it in pow, on the corduroy and off hits in the park.
The Variant 97 (132/97/118 at 179) may be your next best wingman, promising to carve up just about anything with style. Turn initiation comes from Liberty's low-rise Hammer Rocker profile and multi-radius tip with camber underfoot. An energetic bamboo and poplar core come topped with a Titanal layer for added torsional rigidity and dampening, providing a stiff underfoot and back end for powerful turn exiting. The skin-friendly tip and tail keep terrain options open.
Lightest Delight
Elan takes its LightSkiing concept a step further with the women's Delight (126/76/103). Engineered for advanced all-mountain skiers, WaveLight technology softens flex and ups turn stability while cutting the grams. The company employs its agile Trulite wood core from tip to tail, and adds early-rise rocker for easy turn initiation, resulting in a featherweight product hitting the scales at only 1.75kg/ski. Elan say it's the lightest out there; it's certainly less than the average handbag!
 Special FX
Skiers can choose from a quiver of three as Kästle reinvents its FX (Free Cross) All-Mountain lineup this season. This year's trio includes the nimble Kästle FX84 (122/84/110), the stable FX94 (128/94/117) and the FX104 (133/104/123). All feature sandwich sidewall construction, proprietary Hollowtech tips, Titanal top and base sheets, and early-rise tips.
Prodigy
Faction's Prodigy provides a versatile wingman for all-mountain adventurers. The Verbier-made, freeride-loving twin with rockered tip and tail and camber underfoot sells with a solid ash/poplar wood core, 136/98/126 sidecut and weighs 2,000g/ski at 178cm.
All-mountain ripper
After almost a decade on the slopes, Armada updates its longest-running model. Enter the ARV Ti, a piste-loving all-mountain daily driver that now comes beefed up 5mm underfoot with a 135/99/125 sidecut (one of the most sold sectors in the ski industry in 2012). Tip and tail semi-cap construction reduces swing weight, while a titanium layer provides the added dampening and stiffening for frontcountry duty.
Top of the Rictor scale
In conjunction with its new SpYne boot series (see page 70), K2 unveils a completely revamped All-Mountain Performance (AMP) lineup this season. In addition to the Seattle-based company's innovative geometry, RoX technology combines rocker, carbon webbing and core sculpting throughout the line. Bridging the gap between All-Mountain and Freeride, comes the AMP Rictor 82 XTi (127/82/112), which also features a metal laminate over an aspen/paulownia core for a sturdy, all-conditions, hard-charging weapon. Those looking for more access can upsize to the AMP Rictor 90 XTi (132/90/115), which in addition offers a progressive sidecut and powder-specific tapered tip, and comes with tip and tail grommets designed for the company's proprietary Z-Clip skins.
The Quest begins
 Salomon's Quest series comes in four different underfoots: 90, 98, 105 and 115. Utility rocker throughout the lineup means early rise under the hood and a touch under the rear. The two lower denominations are versatile all-mountain rippers, while the broader pair promise to shine when fresh snow falls. Tips and tails have been lightened to smooth out rattle, while the wood core means pop and good turn initiation.
More Morpheo
Elan's Parabolic Rocker technology combines an early-rise profile with parabolic sidecut and stabilizer that's said to improve learning progression. The All-Mountain-specific series ranges from the entry-level Morpheo 4 (114/70/100) to the advanced skier's Morpheo 10Ti Green Fusion (125/76/104), which also features Elan's WaveFlex technology, a PST sidewall, dual wood core construction and titanium in its veins.