---
All-Mountain
Ski Canada Test 2012 – Expert All Mountain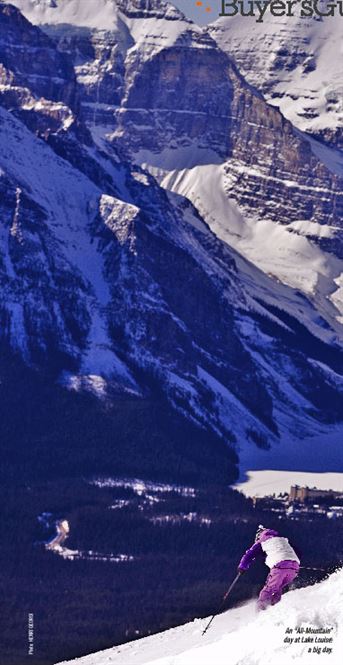 Versatility is the name of the All-Mountain game. These skis must perform
everywhere under all conditions. Competition is steep—one of the most
contested areas of the ski world. The biggest manufacturers are putting their
R&D dollars here, while boutique ski makers tap into the domain. Wider underfoot
than Frontside skis for better off-piste float, most are now mixing rocker, to ease turn
initiation, and camber, for on-slope stability. Expect wood cores and titanium layers for
solidity. Garage brands cite underfoots well into the three digits, while the mainstream
typically hovers between 80-90mm. With that much real estate below, look for weight-saving
technologies.

Snow's up, dude
Taking from the newest developments in the
sliding sports world, Salomon has pushed
the envelope with this season's aqua-blue
BBR 8.9 and 7.9. Named after designer
Beber, the BBR defies categorization by being
a powder ski that carves on-piste and a piste
ski that floats in the pow. At the heart of the
trick is Salomon's patented "V" shape, with a
140+mm-wide, surfboard-styled lightweight tip
and low profile rocker that tapers to a 102mm
pin tail. Underfoot, an 88mm-waist means
easy-to-control short-radius turns (12.5m).
While both are semi-twintip, full wood-core
skis, the beefier BBR 8.9 comes with sandwich
sidewalls and edge reinforcements in 166, 176
and 186 cm lengths, while the 7.9 monocoque
sells in lengths between 149 and 179.

All-Mountain Organic
The name says it all: Spirit
Organic Two (Spirit OTWO for
short) shows that sustainability
and skiing have lots in common.
With a nod to the environment,
Stöckli employs a dry, solvent-free
adhesive, laminated
fibreglass bamboo sidewalls,
a solid titanal layer and tops
them off with a dose of Swiss
precision. The package results
in a balanced flex and torsional
stiffness for both precise
frontside carving, along with
high power for smooth off-piste
running. The ski comes with a
126/75/108 sidecut.

All-Mountain Amphibio
Elan is beaming with pride over the Amphibio WaveFlex 82XTi, its ultimate All-Mountain tool.Behind the hype is the revolutionary combination of rockered outside edges and cambered inners, and its tried-and-tested WaveFlex technology. The laminated wood core and DualTi technology combine with its robust 128/82/109 geometry to produce optimum flex for the ever-changing snow conditions and terrain of the genre.

Outland-ish versatility
Dynastar calls the Outland 80 Pro its All-Mountain
ski for riders wanting to excel on the
groomers, yet cross over and enjoy soft snow,
too. The ski's moderate tip and tail rise creates
a shorter-running edge length for improved
manoeuvrability and pivoting at low speed
and in the pow. Yet edge angles increase with
pace; the traditional camber and moderate
rocker working together results in a full-length
powerful edge grip. Aerospace-inspired basalt
fibre layers with wood core provide stability,
dampening and snow contact. The ski sells
at 158, 165, 172 and 178 cm lengths with a
126/80/110 sidecut.

Enduro-ing the mountain
Salomon completely replaces its Tornado series
with a lineup of Enduros. The idea behind
this family of skis is to integrate the best of
both on- and off-piste worlds. To accomplish
this, expect all-terrain rocker and Powerline
technologies. The former makes for easy and
progressive turning through a 95 per cent
pressure zone when the ski is on edge, while
only 80 per cent when pressured flat. The latter
technology works as an active dampening
system with twin arms integrated into the
top edges of the ski to absorb vibrations and
provide stability in all snow conditions. At the
top of the line look for the Enduro XT 850
(127/84/111) and 800 (125/80/108), full
wood-core skis updated with double Ti laminate
layers and reinforced with bamboo over
sandwich sidewalls. Salomon builds the rest in
monocoque construction.

Are you Experience-d?
Rossignol's Experience lineup features
Auto Turn technology (70 per cent camber
underfoot with extended sidecut), and
promises excellent edge grip and stability
on hard snow. Meanwhile, the 30 per cent
tip/tail rocker and Cascade tip combine to
enable impressive speed control and easy
manoeuvrability whether carving on groomers
or cruising glades. At the heart of the lineup,
Rossignol positions Experience 83 as its
without-limits, do-it-all ski.

Super Models
Who would have thought weight loss could be
so much fun? At K2, this year's mantra was shed
the pounds without sacrificing performance. The
result is the precedent-setting T:Nine women's
series reinvented as the Super Models. These
seven All-Mountain sisters all weigh in at 10-20
per cent less than last year's models. And with
the weight savings below foot, now you can
gorge yourself on-slope! Innovations like thinner
steel edges, leaner strips of titanal, slimmer MOD
structure, smaller tip protectors, reduced tails,
and lighter Marker/K2 ERS high-performance
and ER3 performance binding systems all save
on weight. Highlights include the speedy
SuperBurnin for high-performing women on
the slopes, SuperOne for those on their way to
frontside greatness, SuperStitious (128/84/112)
for All-Mountain ladies with a penchant for the
ungroomed, and the SuperFree and Superific
(both 120/76/104) for those split between piste
and piste off. SuperSweet (118/74/103) and
SuperSmooth (119/72/103) come with catch-free
technology for newbies looking to sugar-up
their corduroy cravings. Super Duper!
Between an AMP and a Side place
SideShow, K2's newest addition, slides in between its AMP frontside-loving and its BackSide-specific series. At a solid 90mm underfoot, it's a telltale sign that fat is phat, and skinny is passé. Equally at home arcing on hardpack as floating in pow, the ski comes complete with BackSide series add-ons, like tip and tail holes for skins, Hybritech Sidewall Aspen/Paulownia Core, All-Terrain Rocker and snowphobic topsheet, and at 1,850g will likely rank high on every tourer's wish list.
Rockered Motives
Fischer now brings rockered profiles to its
All-Mountain boards. Check out the Motive
series, which comes in 74-84mm underfoots.
With five models in the series, there's just
the right amount of soft flex in these Fischer
sandwiches to handle the off-piste but they're
equally happy on the groomers.

The Theory: All-Mountain accessibility
Atomic extends its democratizing offer in
getting skiers off the beaten path. Theory
joins its All-Mountain twin lineup, with step-down
sidewalls and a 95mm waist over a
wood core with an Adaptive Rocker profile at
a low price point. Juniors can also step into
the twin scene with Atomic's Trooper, a cap
over fibre construction.
Rocker is the Mantra
Rocker, rocker, rocker. That's what Völkl's
R&D have been repeating regularly. And not
surprisingly, its star ski, the Mantra, with a
96mm underfoot, returns with easy-initiation
tip rocker. Expect it to be as stable, fun and
performance-oriented as before, but now even
more versatile.
Back with Avenger
The Avenger series delivers the most versatile,
high-performance All-Mountain ski experience
that Rossignol has to offer. New this season,
the Avenger 82 Basalt features an integrated
technology replacing traditional fibreglass
with aerospace fibre layers. Here, titanium
stringers are woven into basalt fibres to reduce
vibration and improve snow contact. The
Power Turn cambered wood-core ski comes in
162, 170, 177 and 182 cm lengths.
Take a Peak
With a model for every mission, Head's four-ski
Peak all-mountain lineup weighs in at
90, 84, 78 and 74 underfoot. Each comes
tuned with the company's proprietary Flow
Ride Technology, where a portion of the wood
core in the front of the ski is substituted
with an elastomeric material to optimize ski
adaptability. Expect big-mountain performance,
thanks to round and raised tails in the wider
models and versatile sidecuts in the narrower.
If you gotta pick just one, try the aggressive
i.Peak 84, which is built upon a solid sandwich
construction for off- and on-piste pleasure.

A new Verdict
This season's new Verdict and Zealot feature
new construction, bringing a new level of edge
hold and terrain-absorbing dampness. At the
heart of the technology is Black Diamond's
bomber 3D Metal Sandwich construction,
complete with rockered tip, semi-rockered
tail (camber underfoot), stabilizing sheets of
titanal and ABS sidewalls. The skis weigh in
at 4.6 kg per pair, and BD designed them for a
50/50 mix of soft and hard snow.

Love is like Oxygen
Last May, Whistler-made Prior proudly
introduced the O 2 , its sixth ski. It was
designed as a quiver of one. At 119/85/109
underfoot over a vertically laminated rock-hard
maple wood core (with no metal
reinforcements, thank you very much), expect
good edge-to-edge without loss of stability in
the muck. Under the hood, there's combined
urethane and rubber dampening along with
quadraxial fibreglass construction. As with
other Prior constructs, it's available with a
variety of custom topsheet and base graphics
and can be ordered online.

All-Mountain Infidels and Prophets
G3 touts its Infidel and Line adds a pair of models to its everyday All-Mountain mid-fats. With 97mm underfoot, the Infidel twintip comes packaged with a rockered Sweet Rise Camber over a meaty titanal sandwich construction. While Line's pow-loving Prophet 98 and the All-Mountain specialist Prophet 90 bring capwall construction, early-rise tips and a die-cut titanal composite laminate matrix over a maple core.

Exclusively for women
Adventurous, high-performance women skiers
with a penchant for ripping groomers and
carving up glades, should look to Dynastar's
Exclusive Eden. Built with a wood core, two
sheets of titanium alloy and a 126/85/110
sidecut, which translates into a 16m-radius turn
shape, expect laser-like turns on hard snow and
groomers, yet dexterity in crud, trees and pow.
Significant tip rocker gives it smoothness and
flow, so you're not muscling your turns. Strong
sidecut and traditional camber along 70 per
cent of its length enable precise edge grip and
snappy rebound on hard snow.
Goode's goods
Goode's new All-Mountain lineup is a quiver of
seven skis that range from Plunge (for men)
and Akasha (for women) with a traditionally
cambered 120/74/104 shape, and Impact (men)
and Nirvana (women) with a greater 130/88/116
girth, all the way to Fire's wholesome 135/98/125
sidecut. All the skis in the line are carbon fibre
over wood core for lightweight strength and
tenacity, and ride on super-smooth sintered
graphite bases. All but the first two come with
slight rocker. If you can pick only one, women
might like a lot of Nirvana, while men with a
taste for pow will edge toward Fire.

Tags: All-Mountain, Atomic, Atomic Theory, Auto Turn, Black Diamond, Black Diamond Zealot, Dynastar, Dynastar Exclusive Eden, Dynastar Outland, Elan, Elan Amphibio, Featured, Fischer, Fischer Motive, Flow Ride Technology, G3, G3 Infidel, Head, Head i.Peak 84, Henry Georgi, Hybritech, Hybritech Sidewall Aspen/Paulownia Core, K2, K2 AMP, K2 Backside, K2 Superstitious, K2 T:Nine, Line, Line Prophet, Power Turn, Prior, Prior O2, Rossignol, Rossignol Avenger, Rossignol Experience, Salomon, Salomon BBR, Salomon Enduro, Stockli, Volkl, Volkl Mantra