Reading Time:
5
minutes
All-Mountain means just about everything. This is a ski that loves abuse and can just
as easily carve hardpack as float through powder or provide stability in crud. Expect
solid wood core skis jacked up with dampening technologies with a variety of hybrid
constructions, many using a sidewall underfoot and capped extremes.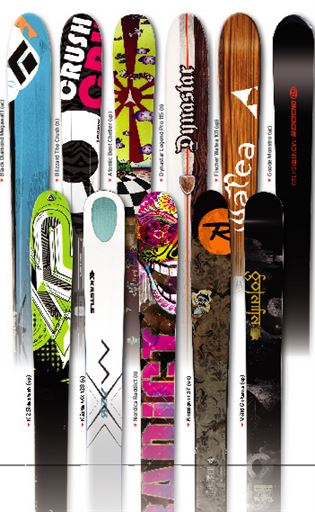 top row, left to right: Atomic Nomad Crimson, Black Diamond Kilowatt, Blizzard Magnum 7.6, Dynafit Manaslu, Dynastar Exclusiv Elite, Fischer Motive 80
bottom row, left to right: Goode Carbon 82, K2 Aftershock, Kastle MX 88, Rossignol Avenger 82, Volkl AC50
Stealthy ski
The X-Wing Enduro blends a rockered freeski
with Salomon's trademark Powerline vibration
dampening technology. Under the hood expect
all the goodies for on-piste performance:
sidewall construction, full wood core and
titanium reinforcement. Those spending more
time near the lifts can top it off with Salomon's
integrated Smartrak binding system.
Step up, step down
Atomic's pro-level step down sidewall now trickles into its Nomad series. Combining the
best of both worlds, sidewall construction means superb power transmission and energy – ideal
underfoot. Toward the kicker and the tail, All-Mountain skiers want supple, and that's where a
half cap comes in. The cap also helps protect your topsheet from getting chopped up. Better
still, it provides a more resilient edge against rock and tree abuse. Most in the Nomad series now
are constructed with a wood core.
E-Motive
The all-new Motive line is based on sandwich
sidewall construction combined with Fischer's
Dynamic Grip Control, giving maximum power
transfer and smooth running and stability at
whatever the mountain throws your way. The
series is available in five sizes, from 74 to 84
mm underfoot, with the biggest of the bunch
coming with the low-to-the-ground, tool-free
adjustable Powerrail binding system.
Fire on Ice
Nordica's new, twintipped Fire Arrow series
combines a slalom shovel and a GS sidecut
from its Spitfire line with an aggressive all-terrain
profi le, making for a hybrid geared for
experts that performs on- and off-piste. The
Fire Arrow 80 XBI CT and 74 XBI CT come in
a range of lengths from 156 to 180 cm at 74
and 80 mm underfoot, with snappy turning
radii from 12.5 to 16 metres.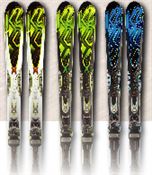 A.M.P.-lification
K2's all-new, six-ski A.M.P. (All Mountain
Performance) lineup takes a smash-resistant
hybrid cap and sidewall construction, and adds
three different kinds of rocker and a unique
dampening system with solid zinc, along with a
variety of performance sidecuts. Its co-produced
Marker K2/MX bindings come on the series'
top models. With extra-light toepieces, these
bindings work atop embedded titanal hubs and
are said to result in more powerful and precise
power transmission. Aftershock, the meatiest
ski in the line, comes with all the extras and an
all-terrain rocker (70% camber/30% rocker). It
measures in at a solid 86 mm underfoot.
Back with Avenger
Rossignol says its All-Mountain series
packs in the most bite for your buck. New is
the Avenger 74 Carbon. Like the rest of the
lineup, this oversize, wood-core ski features
Rossi's All-Mountain tip, which extends the
ski's sidecut beyond snow contact for turn
initiation, a vibration absorption system
and an integrated ski/binding system.
The Avenger 74 Carbon also comes with a
rockered tip and tail – what the company calls
AutoTurn technology – for easier steering.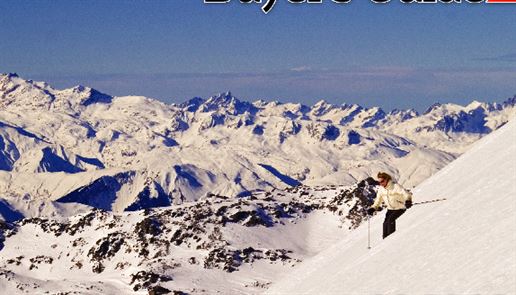 Hot Rod goes light
According to Nordica's Steve Gardner, the
company has trimmed the fat off its Hot Rod
line. Expect a snappier, lighter All-Mountain
series from the Italian maker, with injected
I-Core polyurethane inserts livening up its wood
cores. New to the series are the Hot Rod Pro
Helldiver I-Core XBI CT (90 mm underfoot),
HR-Pro Jet Fuel Helldiver I-Core XBI CT (80
mm), Hot Rod Tempest XBI CT (80 mm) and
the women's Infinite XBI-CT (80 mm).
If big is better
Ruby and Pika are Moment's all-mountain
solutions for men and women respectively.
Born and bred in America's snowy Sierra
Nevadas, both these beefy wood cores
size in at 141/111/129 underfoot for an
all-mountain experience with a definite
backcountry bend. The women's model comes
in 150, 160 and 170 cm lengths; the men's in
170, 180 and 188.
Rocker reinvented
Head introduces Flow Ride into its Peak All-Mountain Freeride collection. The
technology substitutes a portion of wood core
at the front end of the ski with elastomeric
material. In short turns expect easier turn
initiation (like in a rockered ski). Head claims
that by maintaining a regular camber line
(unlike a rockered ski), the tip provides added
stability at high speed. The Peak series comes
in 74, 78, 82 and 88 mm underfoot.
All-Mountain twins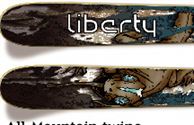 Liberty promises that its Morphic, an All-Mountain
twin for those with a powder appetite,
will be a one-ski quiver. Its hourglass profile
(126/94/119 mm at 171 cm) with regular
camber underfoot carves 17-metre turns.
Liberty's lightweight bamboo core keeps the
weight down to 1675 grams. It comes with 78-
degree sidewalls and the burliest edge available,
perfect for digging into hardpack or holding tight
in the glades. You'll find it in 164, 171, 181, and
186 cm lengths at 85 and 94 mm underfoot.
Light delights
All-mountain also means skiing all day long,
and for Goode, Kastle and Blizzard that means
lightening things up. Goode's midfat Carbon
82 with a 119/82/109 sidecut comes in 156,
166, 176 and 186 cm lengths. Carbon fibre
technology means the ski weighs as little as
1030 grams. Kastle also sheds weight with
Hollowtech technology in the tips of its MX 88 and LX 82. Blizzard reduces weight and bulk
with its elegant IQ binding interface on its
racy Magnum 8.1 Ti. With the turn of a single
screw, you can turn all Blizzard boards with the
IQ system into telemark or AT skis – you just
need to have the attachable Blizzard bindings— – making them not only light, but perhaps the
most versatile boards on the slope this season.
Coast-to-coast All-Mountain
Volkl introduces its brand-new men's Kendo (88 mm underfoot) and Kenja (86 mm) for
women. Essentially a beefed-up GS ski, they're
modelled on the 96-mm Mantra and come
with a full sensor wood core strengthened with
a metal plate. These are All-Mountain boards
aimed at both Eastern and Western Canadians,
says company spokesman Michael Kay. In an
understated way, he adds 'You can definitely
carve with them'.