Reading Time:
7
minutes
Park City, now the biggest ski area in the U.S., and five other snowy resorts are all within a short drive of Salt Lake City.
BY LESLIE WOIT in December 2015 issue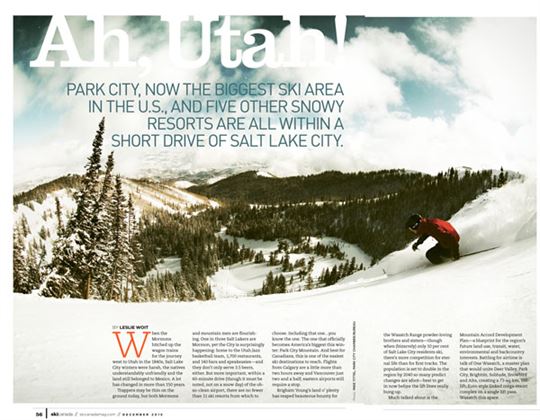 When the Mormons hitched up the wagon trains for the journey west to Utah in the 1840s, Salt Lake City winters were harsh, the natives understandably unfriendly and the land still belonged to Mexico. A lot has changed in more than 150 years.
Trappers may be thin on the ground today, but both Mormons and mountain men are flourishing. One in three Salt Lakers are Mormon, yet the City is surprisingly happening: home to the Utah Jazz basketball team, 1,700 restaurants, and 140 bars and speakeasies—and they don't only serve 3.5 beers, either. But more important, within a 60-minute drive (though it must be noted, not on a snow day) of the oh-so-clean airport, there are no fewer than 11 ski resorts from which to choose. Including that one…you know the one. The one that officially becomes America's biggest this winter: Park City Mountain. And best for Canadians, this is one of the easiest ski destinations to reach. Flights from Calgary are a little more than two hours away and Vancouver just two and a half; eastern airports still require a stop. [ed. note: Air Canada began direct flights Toronto to Salt Lake City in June 2016]
Brigham Young's land o' plenty has reaped beauteous bounty for the Wasatch Range powder-loving brothers and sisters—though when (bizarrely) only 10 per cent of Salt Lake City residents ski, there's more competition for eternal life than for first tracks. The population is set to double in the region by 2040 so many predict changes are afoot—best to get in now before the lift lines really bung-up.
Much talked about is the Mountain Accord Development Plan—a blueprint for the region's future land use, transit, water, environmental and backcountry interests. Battling for airtime is talk of One Wasatch, a master plan that would unite Deer Valley, Park City, Brighton, Solitude, Snowbird and Alta, creating a 73-sq-km, 100-lift, Euro-style linked mega-resort complex on a single lift pass. Wasatch this space.
PARK CITY SKI RESORT  (and the area formerly known as Canyons)
Last summer, they went at it with hammers and tongs—and 50-million bucks. With typical American aplomb, the mothership Vail Resorts Inc. has heralded "the largest resort improvement project in the history of American skiing"—though to be fair, I think the first chairlift, erected in Sun Valley back in 1936, has even odds to win that prize. In any case, a new two-way eight-man gondola now links Park City Ski Resort and neighbouring Canyons, resulting in America's biggest ski area. (You can also upload on the new gondola and ski into Thaynes Canyons via gated ski access.) More than 3,000 hectares and 300 trails, seven terrain parks and 14 bowls served by 38 lifts. God bless you know who.
It's a leg-testing, seven-km-wide swath of skiing, measured edge-to-edge, with the new incarnation, not including backcountry powder via access gates at the top of 9990 and Peak 5 chairlift. From Super Condor at the Canyons side, all the way to McConkey lift at the edge of Park City, a world of beautiful grooming and Utah-powder-padded glades lies between. Begin on the orange-bubble chair—the only heated seats in the U.S.!—and don't miss the on-ski real estate tour through Orwellian-named "The Colony": a rash of $3-million-plus on-mountain homes. The teensiest ones start with 10 bedrooms, easy. Keep your eyes peeled for Will Smith scraping the ice off his Ferrari.
Such big skiing deserves and receives some vibrant après ski (or au-pray, as Americans say). The town of Park City is a stylish, fun-loving spot, indeed—a real town with an authentic mining and ranching pedigree. Main Street stretches for nearly a mile and a chairlift loads right into downtown, connecting skiers directly with all the shopping and dining of one of America's great ski towns. Dozens of restaurants and bars pepper the main drag—book a table at Handle for its industrial chic vibe and stellar cooking, ski to the door of High West Distillery for a burger and a shot, or if you're looking to play with the Orange County housewives and the Manhattan masters, several swank hotels are not to be missed. There's the St. Regis, with their afternoon sabre-ing of the Champagne ritual, and the over-the-top Montage with a bowling alley and vintage arcade for all the entitled little angels among us. Just 35 minutes from the airport, Park City's riches are more accessible than most people's 9-5.
Dry, cold and spilling over the edges—like a good martini. Deer Valley receives an annual average of 750 cm across its six rounded peaks: Little Baldy Peak, Bald Eagle, Bald, Flagstaff, Empire and Lady Morgan. And as you snake and meander over its Kardashian-coiffed pistes, you'll never feel more than a discreet nod or an eyebrow-raise away from help, should help be required. Take my skis! Where's my car? Deer Valley is consistently ranked numero uno for guest service—uniformed ski valets ferry equipment to and fro, libations are fetched swiftly, there are mini glove and boot dryers in the lift stations, free valet parking, complimentary ski storage… On my visit, I rode a gondola kitted out with reading lights and speakers. If I asked, no doubt someone would have ridden it for me.
Real estate porn abounds. Celebs, politicians and pro athletes like it here, especially during the Sundance Film Festival—Robert Redford owns local hangout Zoom—and a good share of One Percenters invest in these hills. For the finest in classic Austro-chic, Stein Eriksen Lodge delivers superb service and Texas-proportioned suites with bathrooms as big as most New York apartments. (It was a warmup getting to my coffee maker each morning.) The muscles require limbering for skiing but not just legs—to ski Deer Valley is to rubberneck the surroundings. My favourite is the round architectural Wunderchalet owned by a TV anchor whose name no one could recall; it's rumoured to rotate to face the sun. Vaguely familiar-looking, attractive people—no doubt the round house owner, too—can be seen lunching at lovely on-mountain spots like Royal Street Café. Oh and this: DV is one of only two resorts left in the U.S. that doesn't allow snowboarding. In a most curious discovery, the other, almost the antithesis of Deer Valley, is Vermont's Mad River Glen.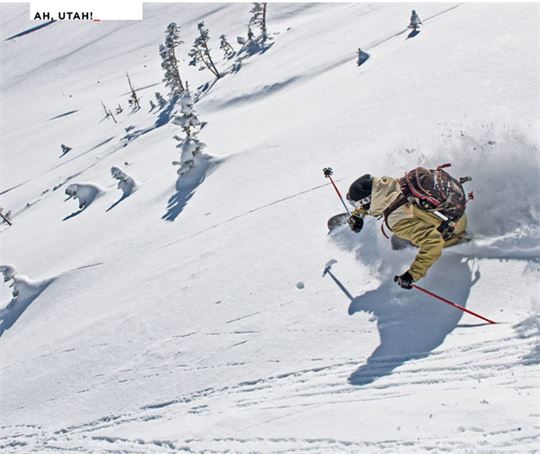 Over in Big Cottonwood Canyon, an annual 1,270 cm of Utah blower is falling and big stuff is happening. The two little areas that always fancied each other—shy Solitude and grungy Brighton—finally hooked up three years ago, co-joined by one long, skinny logging trail that snakes through a comely Aspen-speckled forest. The connection known as Sol-Bright not only multiplies the terrain of these two areas, it adds character. Solitude, a low-key, family-friendly area, is anchored by a bijou slopeside village with a workable if small assortment of shops and restaurants, while its somewhat less refined cousin, Brighton, has wood-lined terrain to die for and one old school lodge with a cafeteria that smacks of 1970s Ontario where people come to ski, not be seen skiing. But oh, the gnarly trees and chutes, cliffs, natural terrain parks and glades, and dependable powder stashes that Brighton dishes up—all high-speed chair accessible, with the main runs groomed but many left au natural. Brighton may not have Deer Valley's table service, but they do have the goods.
The big news? Last year, soignée Deer Valley bought Solitude and all are poised to see this understated little area polished to high-karat quality by the customer-service gurus over the hill. Watch for a new chairlift alignment and upgraded, chic lodge remodels and a full overhaul of menus, service and general stylishness. (First on the list, they'll want to bin the wine produced in Idaho by its former owners.) Try as they might, we hope they won't polish away Solitude's handsomely rugged terrain. A powder day in Honeycomb Canyon's steep chutes and tree runs delivers all the feeling of beautiful backcountry from the relative comfort of the in-bounds side of the tracks.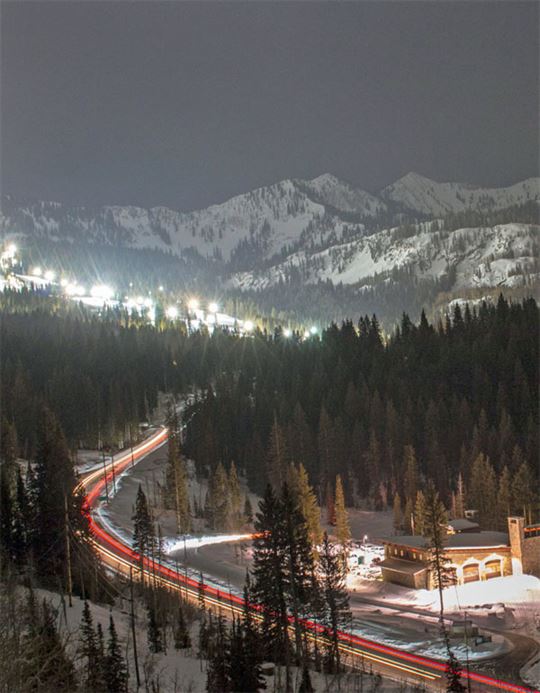 Just as Europe was heading for war in 1938, skiers at Alta were riding the first lift in Utah, two years after Sun Valley set the tone. Since then, Alta has grown slowly; in many ways it barely grew at all. A skiers' mountain only for skiers—not for snowboarders, not for snowcats, not for snow-anything, just skiers. There is a spirit, a kind of noble purity that Altaistes espouse.
"I shouldn't say 'old school'. It's 'classic'," explains Andria Huskinson, a big-mountain skier who's passed the locals' test of skiing Rustler from top to bottom many a time. It was fairly big news in these parts when a new on-mountain restaurant called Collins opened last season. The norm is retro-chic at the handful of small, august hotels where full board meets board games: Alta Lodge has a 75 per cent return clientele and celebrates its 75th anniversary this year. Folks gather again and again to settle into the comfy arts and crafts chairs of its Sitzmark Club for après chat. Or at the classic, brown-hued bunker-chic Rustler Lodge where understated New England money meets the soft folds of California cashmere. Locals head for P-Dog at the Peruvian Lodge, where there are still dorm rooms with shared efficiencies and pitchers going cheap. Not so much has changed despite the world-rocking connection to Snowbird in 2001. Skiing is still king and the monarchy is secure.
Thanks to lake effect over Great Salt Lake, huge dumps averaging almost 13 metres a season fall on both Alta and Snowbird (though not last season when we visited during that special 2015 winter). At Snowbird, its fabulous three areas—Mineral Basin, Peruvian Gulch and Gad Valley—dish up endless powder lines and faceplants.
New this season, The Summit: a glass-tastic restaurant complex that is the highest year-round, lift-served facility of its type in North America. At the base, iconic Cliff Lodge rooms have been fully refurbed. Make sure you get a load of the Magic Carpet through the 180m tunnel. The powder is low density, and the Alta-Bird is flying high.