Reading Time:
12
minutes
ALL-TERRAIN SKIING, MODERATE SPEEDS, MEDIUM TURNS
Some days just get better and better. With our "Triple A" category, you can't really do anything wrong—no matter what your mom says! These skis are designed to make you look good, feel good and generally become a better person. The Adventure All-Mountain category is sporty, it's fun and it's often the majority of who's in the liftline.
It's no accident snow, skiing and smiles all start with the same letter. Good runs should end with your monkey lips stretched ear-to-ear as you enjoy beautiful terrain and rip exciting lines in a variety of snow conditions. These easy-to-turn, medium-wide and stable adventure sticks make life fun.
WRITTEN BY D'Arcy Sego
Atomic | Blizzard | Elan | Head | K2 | Kastle | Line | Nordica | Ogasaka |Salomon |Stockli | Volkl
FIND SKIS using Ski Canada's interactive ski test tool – SkiFinder. Also available as a free app from the iStore & Google Play.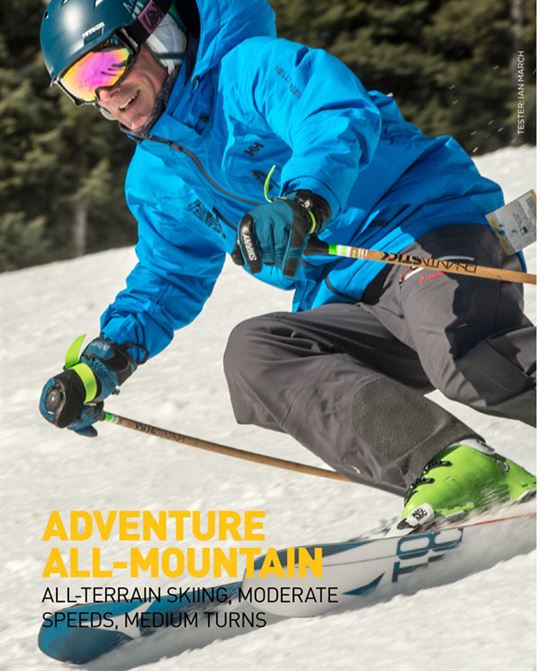 ATOMIC Vantage 90 CTi
$699  *  LENGTHS: 167*, 176, 184*  *  SIDECUT: 133.5/90/117  *  RADIUS: 17.8@184
BEST IN: initiation (M)/Stability, Agility (W, tie)  *  OVERALL SCORE: men 6.5  women 7.2
MEN & WOMEN: The Vantage 90 CTi offers all-mountain performance with a killer attitude. It will put a grin on your face as you swoop long turns on a freshly groomed carpet of corduroy. As Chris Candow commented, "Intermediate skiers will like this one if snow conditions are consistently soft. Going fast on hard snow gives some chatter." Yet the ski is exceptionally versatile, allowing riders to excel at everything and explore the mountain at moderate speeds. Ally Wagorn found it "very playful…fun in the bumps and soft snow at medium-radius turns." This is a solid performer that turns with ease.
BLIZZARD Brahma
$799  *  LENGTHS: 166, 173, 180*, 187  *  SIDECUT: 125/88/110  *  RADIUS: 19@180
BEST IN: Edge Grip  *  OVERALL SCORE: 8.1
MEN: This jaw-dropping blaster was the cream of the crop in this category for our pro testers. The Brahma is snappy and playful so you can bang out short turns, but its versatility allows you to lay out and rip big GS arcs. Dave Gollogly had a good time: "Turn and burn! Stable, fun and energetic!" This is an all-mountain machine that delivers a consistent sugar high in all snow conditions. Rodger Poole made note of its "impressive performance for a semi-wide ski. This is your one-ski quiver. As fast as you want to go, and as much as you push this ski, you won't ski it out."
BLIZZARD Black Pearl
$749  *  LENGTHS: 152, 159*, 166, 173  *  SIDECUT: 123/88/108  *  RADIUS: 16@159
BEST IN: Edge Grip  *  OVERALL SCORE: 7.6
WOMEN: The stunning Black Pearl thrives everywhere and is an ideal choice for riders looking to venture off-piste throughout the day. Barb Kupferschmidt said it was "great all-round. It's versatile in short and long turns, with good edge hold and a nice weight." With its knack for speed, you'll appreciate the solid stability through big, fast turns. "It's a no-surprises kind of ski that eases you through your day," commented Anne Terwiel. The ski tackles both medium and long turns with ease. The solid design and stupendous edge hold is a confidence builder for those intermediate and advanced riders looking to carve on any slope.
ELAN Amphibio 84 XTi Fusion
$899  *  LENGTHS: 164, 170, 176*, 182  *  SIDECUT: 131/84/112  *  RADIUS: 17.1@176
BEST IN: Agility  *  OVERALL SCORE: 7.0
MEN: Grip it, stick it and get froggy with this dual-shaped kicker of a ride that rips into the turn with ease, and snaps out on demand. Tester George Terwiel found the clean turner "sporty, easy to bend at medium speeds and agile." The Amphibio 84 XTi is easy to operate and "provides a predictable, stable platform at all times," wrote Peter Eaton. Elan has tweaked out a little dream machine that moves quickly, offers great performance, feels like steel under your foot and plays like a kitten. This is a great pick for the strong intermediate looking for that consistent smooth carving ability in every turn.
ELAN Twilight 90 Carbon
$549  *  LENGTHS: 155, 164*, 173  *  SIDECUT: 129/90/114  *  RADIUS: 14.3@164
BEST IN: STABILITY, LONG RADIUS (TIE)  *  OVERALL SCORE: 6.6
WOMEN: The Twilight 90 loves to cruise, and at speed this ski can rip. Solid and stable, it's a delight on any terrain—soft bumps or crud are a breeze, and powder or sunbaked groomers become a cakewalk. Donie Blunden enjoyed "its playfulness at speed. Deep snow or hardpack, this ski is versatile." Give this ride some extra attention and enjoy long relaxed turns with an energetic finish. "Once you find the sweet spot, it gets snappy and wants attention. Be on top of it and you get the versatility needed to bring you to a higher level of skiing," commented Britta Gretzmacher.
HEAD Power Instinct Ti Pro
$899  *  LENGTHS:  149, 156, 163, 170, 177*, 184  *  SIDECUT: 124/82/109  *  RADIUS: 16.5@170
BEST IN: STABILITY, LONG RADIUS (TIE)  *  OVERALL SCORE: 7.8
MEN: The Power Instinct Ti Pro is nimble enough to cut in and tear out the lines of corduroy, almost automating your carving ability. Guy Paulsen was impressed: "It's extremely versatile. Big turns, small turns, it does them both well. This highly predictable ski allows you to relax and play." There's a lot of energy in this fun, dynamic little ripper. It begs to be pushed, and its outstanding edge grip will instill confidence and deliver a sensational sporty feel. Paul Cunnius liked "the even flex throughout the first and second half of the turn, making turns feel smooth everywhere, on and off the groomers."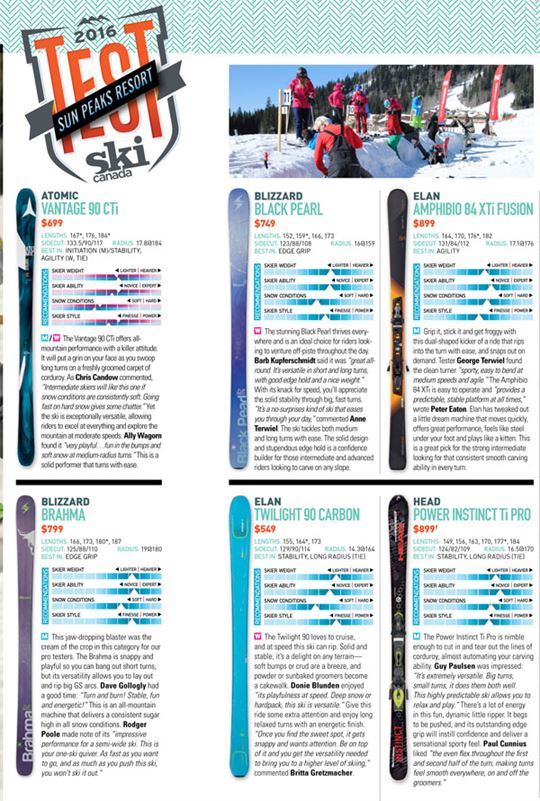 HEAD Great Joy
$649  *  LENGTHS: 153, 158, 163, 168*, 173  *  SIDECUT: 140/98/123  *  RADIUS: 14.3@168
BEST IN: Stability  *  OVERALL SCORE: 6.5
WOMEN: It's big, it's fun and can comfortably schuss down fresh corduroy carpets or venture out to explore the sidecountry. This ski is surprisingly agile for its size and weight, and handles long turns at speed with extraordinary stability. Heather Robilliard wrote on her test card: "It's easy-turning, stable and smooth as silk on the groomers. Responsive and fun to ride." The Great Joy shines in soft powder, and has the ability to smooth over crud. High-intermediate to advanced skills will make this all-terrain ski blissfully happy. Jill Sagan was feeling the joy as she "floated effortlessly over the soft snow."
K2 Pinnacle 95
$749  *  LENGTHS: 170, 177, 184*, 191  *  SIDECUT: 132/95/115   *  RADIUS: 17@184
BEST IN: VERSATILITY  *  OVERALL SCORE: 7.8
MEN: In soft snow and steep runs, athletic riders who love excitement will rip swoopy turns with ease, hop rocks and wiggle into tight spots in their pursuit of unfathomable powder. "It's awesome in the trees; a deep-snow ripper," commented Ski Canada tester Erin Keam. The Pinnacle 95 slams a home run in all conditions, holding a particular shine for days filled with fluffy fresh snow. Kristian Armstrong noted that it "likes to live on the edge. There's great turn shape and feel to this ski." The soft rockered tip smooths out bumpy terrain with luxurious comfort, making this all-mountain explorer a standout in this category.
K2 Remedy 92
$549  *  LENGTHS: 156, 163, 170*  *  SIDECUT: 124/92/118    *  RADIUS: 17@170
BEST IN: INITIATION  *  OVERALL SCORE: 4.6
WOMEN: The Remedy 92 is a light option for intermediate and advanced skiers looking to explore more. With a broad sweet spot and strong edge grip, this ski is stable and versatile. Nina Gretzmacher opened the throttle on her run: "It likes speed! Once you let the ski go, it prefers longer sweeping turns." Those who keep a medium pace down the mountain will find this baby loves to carve, and is lively over humps, bumps and jumps. Wendy Lumby felt "it's a heavier-feeling ski that enjoys medium-size turns." Those looking to have fun and play hide-and-seek on the mountain with minimal effort need this Remedy.
KÄSTLE FX95 HP
$1,249  *  LENGTHS: 165, 173, 181*, 189  *  SIDECUT: 126/95/115  *  RADIUS: 20@181
BEST IN: INITIATION  *  OVERALL SCORE: 6.6
MEN: The FX95 HP knocks you up with its pick-me-up attitude. The big sweet spot makes it easy to smear a turn, skid off speed to tighten a line or self-check before hitting the big one. The soft shovel and stable midsection simplify soft snow and bumpy terrain. Ian March enjoyed his ride: "It's fun, responsive and puts a smile on your face. It encourages you to play your way down the mountain." George Terwiel added, "It has solid, silky edge grip with great performance in short and long turns. The ski was easy to roll on edge and just as easy to release, making it versatile in different conditions."
KÄSTLE FX95
$1,149  *  LENGTHS: 165, 173*, 181, 189  *  SIDECUT: 126/95/115  *  RADIUS: 18@173
BEST IN: INITIATION, EDGE GRIP (TIE)  *  OVERALL SCORE: 7.2
WOMEN: The FX95 has the ability to go anywhere. It's fun and playful off-piste, but can also hold a strong edge on-piste. The ski is versatile and stable underfoot, and is not afraid of speed. Lightweight Ally Wagorn found it "strong, grippy, fast and fun. This ski could charge through anything like butter. You need to work it in short turns, but it really sails in medium to long turns." Anne Terwiel had her world rocked: "This is an all-mountain ski! Steeps, bumps, soft snow, groomers—I had fun on everything. It has a large sweet spot, a beautiful even flex, and is lively but strong."
LINE Supernatural 92 lite
$500  *  LENGTHS: 165, 172, 179*  *  SIDECUT: 127/92/115   *  RADIUS: 19.6@179
BEST IN: INITIATION  *  OVERALL SCORE: 7.8
MEN: The testers loved this explosive high-octane performer that attacks the fall line with meticulous precision. Everything and anything is suddenly super-easy on this lightweight, zippy ski. Justin Terwiel liked its "versatile personality. It's happy in both short and long turns. A very balanced-feeling ski." The Supernatural 92 Lite has a strong, smooth flex that cuts through challenging crud and chop for a playful and trouble-free ride. Lighter guys will enjoy the poppy feeling of this ski. John Storey felt it was ideal for "a mid-weight adventurer wanting to explore the mountain easily, to play and have fun."
LINE Soulmate 92
$550  *  LENGTHS: 151, 158, 165*  *  SIDECUT: 127/92/115   *  RADIUS: 14.6@158
BEST IN: INITIATION  *  OVERALL SCORE: 6.1
WOMEN: With 92mm underfoot, you get a light and comfortable cruise down the mountain. It has a bit of a stiffer ride, with a consistent flex from tip to tail. Here's Wendy Anderson's take on the Soulmate 92: "It's super-dynamic in short turns, and has amazing edge grip and a solid platform at speed. It's responsive in bumps, and effortless in soft snow." Wendy Lumby added, "This is a fun, easy-to-turn ski that's quick in short turns and stable in long turns at faster speeds. A good all-terrain ski." This would be a stable and forgiving option for anyone—including beginners.
NORDICA Nrgy 90
$699  *  LENGTHS: 161, 169, 177*, 185  *  SIDECUT: 126/90/110  *  RADIUS: 19.5@177
BEST IN: INITIATION  *  OVERALL SCORE: 7.7
MEN: Now you can slay any beast, whether it's bumps, crud, powder or groomers. The NRGY 90 has tightly wrapped its versatile performance for your personal satisfaction. Fritz Stephenson was impressed with its responsive edge grip: "A very powerful ski for those who like fast and stable. It grips early and high, staying strong to the end." Rail out massive GS turns with confidence by bending through the arc with extensive edge performance; change gears and flick through short-radius turns with push-button precision. Mark Stein liked that it was "quick underfoot, arcing clean round turns and adjusting easily from small to medium turns at speed."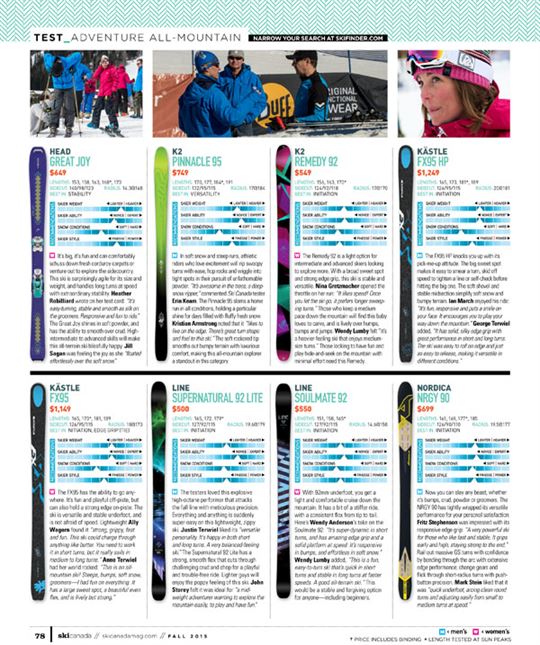 NORDICA Wild Belle
$699  *  LENGTHS: 145, 153, 161, 169*, 177  *  SIDECUT: 124/88/108  *  RADIUS: 17.5@169
BEST IN: STABILITY, VERSATILITY, LONG RADIUS (TIE)  *  OVERALL SCORE: 8.0
WOMEN: The Wild Belle does it all. Comfortable on bumps, crud, soft snow or hardpack, it turns, jumps and rips on- and off-piste. This ski instills confidence in any level of rider. The secure edge grip and stable design, combined with a large forgiving sweet spot, make initiating turns stress-free. Ally Wagorn wrote: "What a great, solid ski! It felt like I had a full package under my feet. Stability, edge grip, playfulness—I was not afraid to let loose and give 'er." Aggressive riders like Barb Kupferschmidt will get loads of energy through the turn: "Work this ski to make it perform at its best."
OGASAKA Unity AS/1
$1,337  *  LENGTHS: 155, 160, 165*, 170  *  SIDECUT: 118/75/102   *  RADIUS: 15.9@165
BEST IN: EDGE GRIP  *  OVERALL SCORE: 6.1
MEN: Lighter guys looking for race-inspired excitement on the frontside will find bliss from the Unity AS/1. Erin Keam thought it "gripped the snow admirably for a smaller, lighter ride. It's super-playful, and medium-radius turns were where it shone." This ski was easy to initiate, and the consistent flex delivered great edge hold and stability with loads of liveliness exiting the turn. The energy through the turn made this pocket rocket so much fun to ride. Paul Cunnius commented that it's a "great advanced-level, long-turn cruiser that can handle packed snow just as well as loose snow."
OGASAKA Unity AS/2
$1,011  *  LENGTHS: 150, 155*, 160, 165  *  SIDECUT: 118/73/102   *  RADIUS: 13@155
BEST IN: EDGE GRIP  *  OVERALL SCORE: 7.1
WOMEN: The AS/2 is ideal for the light, aggressive rider who loves to race. This ski performs exceptionally well on hard snow, and as speed increases so does stability. Katie Joyce was happy on this well-behaved ski: "An easy-going, obedient little ski. It was easy to manoeuvre and did anything you asked of it. It would make any groomer- happy skier shine with little effort."  Gillian Browning found it "energetic and fun for someone wanting traditional performance. It excels in short to medium turns, and is stable at speed in long turns." With lots of zing through the arc of the turn, well-balanced riders will be pleasantly pleased.
Salomon Q-98
$629  *  LENGTHS: 156, 164, 172, 180*, 188  *  SIDECUT: 134/97/120   *  RADIUS: 19.2@180
BEST IN: VERSATILITY, LONG RADIUS (TIE)  *  OVERALL SCORE: 6.8
MEN: Discover the quick agility of this jack-of-all-trades ripper with an outstanding attitude. With minimal weight underfoot, rocking through gnarly terrain becomes effortless and entertaining. Whip it out to the hardpack, step on the gas and be mesmerized by the Q-98s stimulating edge-to-edge dexterity and solid edge hold. Sun Peaks's Christopher Nicholson had this to say after his run: "It's an easy-turning big ski for soft conditions in varied terrain. It loves the trees and chopped powder." This ski met with Jeremie Boiteau's expectations: "It's everything you should expect of an all-round, easy-going ski."
SALOMON Lumen
$629  *  LENGTHS: 154, 162, 170*, 178  *  SIDECUT: 131/96/117    *  RADIUS: 18.8@170
BEST IN: LONG RADIUS  *  OVERALL SCORE: 6.3
WOMEN: The Lumen was built to go off-piste and explore every corner of the mountain. With a preference for big lines, this large, solid ski has an easy-to-find sweet spot with a very forgiving concept of rider balance that gives the confidence needed to be aggressive and push harder through the turn. Heather Robilliard highlighted that this is a "great all-mountain option for the more aggressive female. I had the ride of my life and a ton of fun." Kathy Broderick was also onboard with this one: "Just point where you want to go, commit to the outside ski and you will have a sensational experience."
STOCKLI Stormrider 88
$999  *  LENGTHS: 168, 177*, 186  *  SIDECUT: 127/88/113   *  RADIUS: 19@177
BEST IN: LONG RADIUS  *  OVERALL SCORE: 5.8
MEN: Fresh-snow stability on a laid-back cruiser to chillax anywhere you want to go. The Stormrider 88 is playful and gentle in the bumps, allowing you to noodle around the mountain with zero effort. Mike Dempsey commented, "This ski was really easy to turn. Soft snow and moderate speeds were a pleasure. It likes to be enjoyed, not raced." Simple flowing turns are the root of this good-natured, all-mountain cruiser. "It's stable at speed and easy to initiate for shorter turns," said tester Chris Candow. A strong, powerful style combined with this scientific creation will keep your technical skiing sharp and you happy.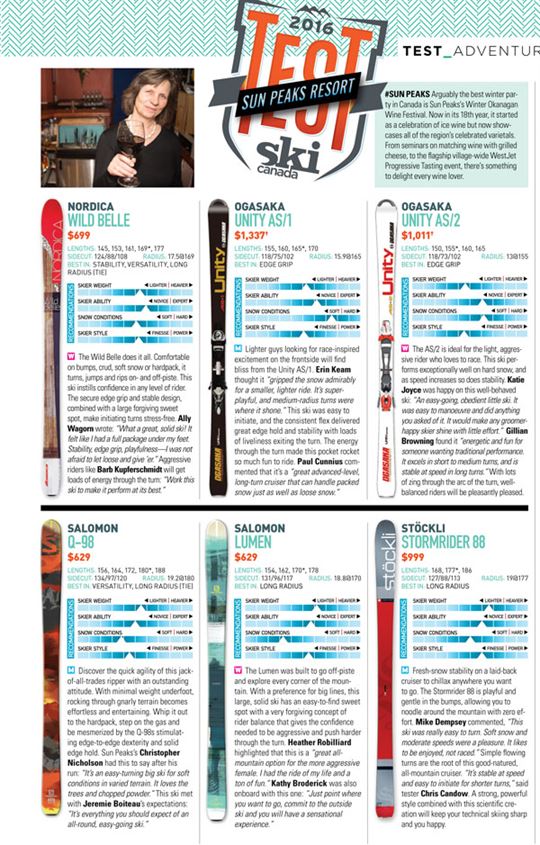 STOCKLI Stormrider Motion
$1,049  *  LENGTHS: 159*, 167, 175  *  SIDECUT: 127/84/109   *  RADIUS: 13.5@159
BEST IN:  LONG RADIUS  *  OVERALL SCORE: 7.1
WOMEN: The Stormrider Motion is for riders who love to push boundaries. This ski allows you to enjoy the versatility and comfort to confidently roam in unchartered territory, yet on the groomers you still have a dynamic performer. According to tester Sandra Haziza, "It's smooth and sensual, a beautiful ride. Fast, furious and fun at high speed. Lovely and responsive in the bumps." Valerie Cahill made note of the ski's ability "to push through the clumpy snow," so no matter what bumpy or rough terrain your day delivers, this is one ride that boasts stability and reliability for handling anything thrown your way.
VOLKL Kendo
$749  *  LENGTHS: 163, 170, 177*, 184  *  SIDECUT: 127/90/110  *  RADIUS: 20.8@177
BEST IN: STABILITY, LONG RADIUS (TIE)  *  OVERALL SCORE: 7.3
MEN: Performance is not an issue if you have the drive to grit your teeth, push your comfort zone and just let go. "Hard chargers will love it. Power, grip, stability—it's all there," wrote fan Ian March after his test run. It's surprisingly versatile to bang off short turns and play in the bumps, yet you'll still find happiness as you carve big arcs. Fritz Stephenson noted that "it's perfect for everyday use and the strong guy who likes to go fast. This ski doesn't disappoint anywhere." The Kendo is stable throughout the turn, with rock-solid torsional stability delivering consistent precision as it bends through the curve.
VOLKL Kenja
$749  *  LENGTHS: 149, 156, 163*, 170  *  SIDECUT: 127/90/110   *  RADIUS:  16.8@163
BEST IN: STABILITY  *  OVERALL SCORE: 7.9
WOMEN: Kenja? Of course you can! The unyielding edge grip and large sweet spot delivers pure performance in all turn shapes and sizes. "Open this up on groomers. You'll love ripping at higher speeds. It's friendly and predictable at all speeds. This ski really shines!" raved Anne Terwiel. Initiating a turn is super-smooth, with a bit of effort through the transition, but experienced riders are assured they will dominate the performance. Shelley Johnston "loved it. It's aggressive, agile, stable and generally fantastic for someone who likes to shred everything and everywhere. It's easy to initiate—and did I mention I love it!"