Reading Time:
13
minutes
ALL-TERRAIN SKIING, MODERATE SPEEDS, MEDIUM TURNS
You may have heard the terms "anytime, anywhere," "midfats," "all-purpose" or "one-ski quiver." These are the names given to skis found in the Adventure All-Mountain category. Designed to perform in a variety of snow conditions over the entire mountain, these babies are the four-wheel drive in the lift line. They rip, roar and go anywhere. Excelling in medium turns at moderate speeds, they ooze fun from deep inside their core.
Our testers don't rip as fast or aggressively as they do on the high-performance Expert All-Mountain product line, but they still push this category hard. Their expectations are incredibly high as they seek a comfortable, reliable ride with outstanding functionality in all snow conditions. They demand a responsive, consistent performance that will never let them down.
WRITTEN BY D'Arcy Sego  .. photos by Adam Stein .. published in  Fall 2014  issue
Atomic | Blizzard | Elan | Fischer | Head | K2 | Kastle | Line | Nordica | Ogasaka |Salomon | Snoday | Stockli | Volkl
FIND SKIS using Ski Canada's interactive ski test tool – SkiFinder. Also available as a free app from the iStore & Google Play.
† Price includes binding  * Length tested at Sun Peaks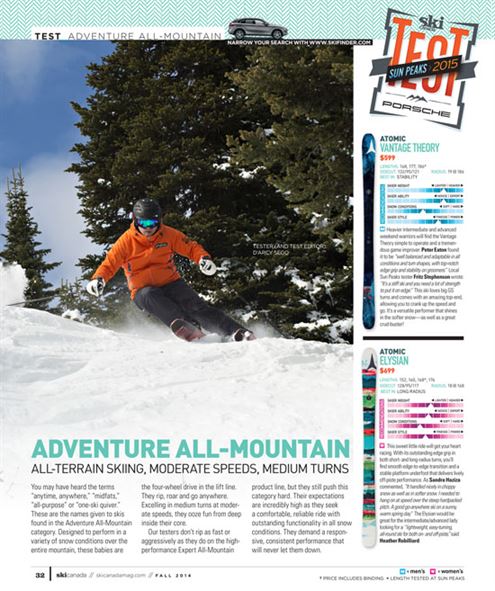 ATOMIC  VANTAGE THEORY
$599  *  LENGTHS: 168, 177, 186*  *  SIDECUT: 132/95/121   *  RADIUS: 19 @ 186
BEST IN: STABILITY
MEN:  Heavier intermediate and advanced weekend warriors will find the Vantage Theory simple to operate and a tremendous game improver. Peter Eaton found it to be "well balanced and adaptable in all conditions and turn shapes, with top-notch edge grip and stability on groomers."  Local Sun Peaks tester Fritz Stephenson wrote: "It's a stiff ski and you need a lot of strength to put it on edge."  This ski loves big GS turns and comes with an amazing top-end, allowing you to crank up the speed and go. It's a versatile performer that shines in the softer snow—as well as a great crud-buster!
ATOMIC ELYSIAN
$699  *  LENGTHS: 152, 160, 168*, 176  *  SIDECUT: 128/95/117  *  RADIUS: 18 @ 168
BEST IN: LONG RADIUS
WOMEN: This sweet little ride will get your heart racing. With its outstanding edge grip in both short- and long-radius turns, you'll find smooth edge-to-edge transition and a stable platform underfoot that delivers lively off-piste performance. As Sandra Haziza commented, "It handled nicely in choppy snow as well as in softer snow. I needed to hang on at speed over the steep hardpacked pitch. A good go-anywhere ski on a sunny, warm spring day."  The Elysian would be great for the intermediate/advanced lady looking for a "lightweight, easy-turning, all-round ski for both on- and off-piste," said Heather Robilliard.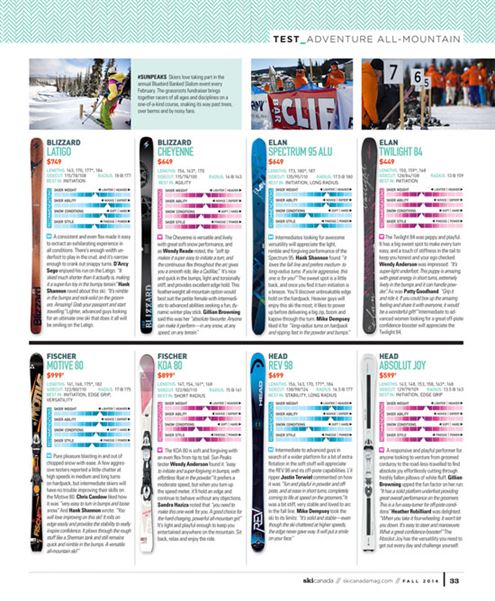 BLIZZARD LATIGO
$749  *  LENGTHS: 163, 170, 177*, 184  *  SIDECUT: 115/78/108  *  RADIUS: 18 @ 177
BEST IN: INITIATION
MEN:  A consistent and even flex made it easy to extract an exhilarating experience in all conditions. There's enough width underfoot to play in the crud, and it's narrow enough to crank out snappy turns. D'Arcy Sego enjoyed his run on the Latigo: "It skied much shorter than it actually is, making it a super-fun toy in the bumpy terrain." Hank Shannon raved about this ski: "It's nimble in the bumps and rock-solid on the groomers. Amazing! Grab your passport and start travelling." Lighter, advanced guys looking for an ultimate one ski that does it all will be smiling on the Latigo.
BLIZZARD CHEYENNE
$649  *  LENGTHS: 156, 163*, 170  *  SIDECUT: 115/78/100  *  RADIUS: 16 @ 163
BEST IN: AGILITY
WOMEN: he Cheyenne is versatile and lively with great soft-snow performance, and as Wendy Reade noted, the "soft tip makes it super easy to initiate a turn, and the continuous flex throughout the arc gives you a smooth ride, like a Cadillac."  It's nice and quick in the bumps, light and torsionally stiff, and provides excellent edge hold. This featherweight all-mountain option would best suit the petite female with intermediate to advanced abilities seeking a fun, dynamic winter play stick. Gillian Browning said this was her "absolute favourite. Anyone can make it perform—in any snow, at any speed, on any terrain."
ELAN SPECTRUM 95 ALU
$649  *  LENGTHS: 173, 180*, 187  *  SIDECUT: 135/95/110   *  RADIUS: 17.5 @ 180
BEST IN: INITIATION, LONG RADIUS
MEN:  Intermediates looking for awesome versatility will appreciate the light, nimble and forgiving performance of the Spectrum 95. Hank Shannon found "it loves the fall line and prefers medium- to long-radius turns. If you're aggressive, this one is for you!" The sweet spot is a little back, and once you find it turn initiation is a breeze. You'll discover unbreakable edge hold on the hardpack. Heavier guys will enjoy this ski the most; it likes to power up before delivering a big zip, boom and kapow through the turn. Mike Dempsey liked it for "long-radius turns on hardpack and ripping fast in the powder and bumps."
ELAN TWILIGHT 84
$449  *  LENGTHS: 150, 159*, 168  *  SIDECUT: 128/84/108  *  RADIUS: 13 @ 159
BEST IN: INITIATION
WOMEN: The Twilight 84 was peppy and playful. It has a big sweet spot to make every turn easy, and a touch of stiffness in the tail to keep you honest and your ego checked. Wendy Anderson was impressed: "It's super-light underfoot. This puppy is amazing, with great energy in short turns, extremely lively in the bumps and it can handle powder." As was Patty Goodhand: "Grip it and ride it. If you could box up the amazing feeling and share it with everyone, it would be a wonderful gift!" Intermediate to advanced women looking for a great off-piste confidence-booster will appreciate the Twilight 84.
FISCHER MOTIVE 80
$999†  *  LENGTHS: 161, 168, 175*, 182  *  SIDECUT: 122/80/110  *  RADIUS: 17 @ 175
BEST IN: INITIATION, EDGE GRIP, VERSATILITY
MEN:  Pure pleasure blasting in and out of chopped snow with ease. A few aggressive testers reported a little chatter at high speeds in medium and long turns on hardpack, but intermediate skiers will have no trouble improving their skills on the Motive 80. Chris Candow liked how it was "very easy to turn in bumps and loose snow." And Hank Shannon wrote: "You will love improving on this ski! It rolls on edge easily and provides the stability to really inspire confidence. It plows through the rough stuff like a Sherman tank and still remains quick and nimble in the bumps. A versatile all-mountain ski!"
FISCHER KOA 80
$899†  *  LENGTHS: 147, 154, 161*, 168  *  SIDECUT: 122/80/110  *  RADIUS: 15 @ 161
BEST IN: SHORT RADIUS
WOMEN: The KOA 80 is soft and forgiving with an even flex from tip to tail. Sun Peaks tester Wendy Anderson found it "easy to initiate and super-forgiving in bumps, with effortless float in the powder." It prefers a moderate speed, but when you turn up the speed meter, it'll hold an edge and continue to behave without any objections. Sandra Haziza noted that "you need to make this one work for you. A good choice for the hard-charging, powerful all-mountain girl." It's light and playful enough to keep you entertained anywhere on the mountain. Sit back, relax and enjoy the ride.
 HEAD REV 98
$699  *  LENGTHS: 156, 163, 170, 177*, 184  *  SIDECUT: 138/98/124  *  RADIUS: 16.5 @ 177
BEST IN: STABILITY, LONG RADIUS
MEN:  Intermediate to advanced guys in search of a wider platform for a bit of extra flotation in the soft stuff will appreciate the REV 98 and its off-piste capabilities. L'il ripper Justin Terwiel commented on how it was "fun and playful in powder and off-piste, and at ease in short turns, completely coming to life at speed on the groomers." It was a bit stiff, very stable and loved to arc in the fall line. Mike Dempsey took the ski to its limits: "It's solid and stable—even though the ski chattered at higher speeds, the edge never gave way. It will put a smile on your face."
HEAD ABSOLUT JOY
$599†  *  LENGTHS: 143, 148, 153, 158, 163*, 168  *  SIDECUT: 129/79/109  *  RADIUS: 13.5 @ 163
BEST IN: INITIAtION, EDGE GRIP
WOMEN: A responsive and playful performer for anyone looking to venture from groomed corduroy to the road-less-travelled to find absolute joy effortlessly cutting through freshly fallen pillows of white fluff. Gillian Browning upped the fun factor on her run: "It has a solid platform underfoot providing great overall performance on the groomers. This is a fun easy-turner for off-piste conditions." Heather Robilliard was delighted: "When you take it four-wheeling, it won't let you down. It's easy to steer and manoeuvre. What a great confidence-booster!" The Absolut Joy has the versatility you need to get out every day and challenge yourself.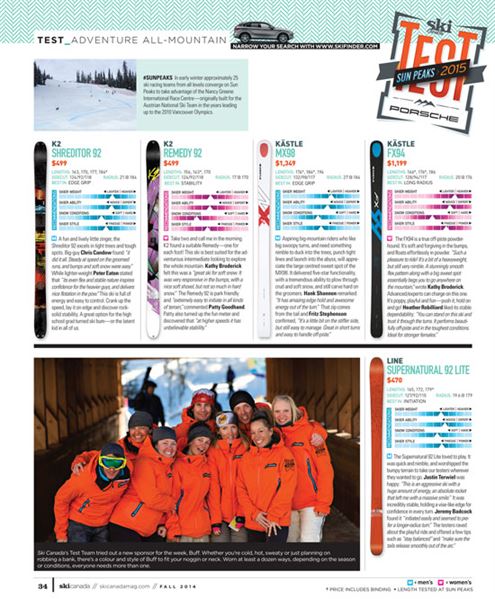 K2 SHREDITOR 92
$499  *  LENGTHS: 163, 170, 177, 184*  *  SIDECUT: 124/92/118  *  RADIUS: 21 @ 184
BEST IN: EDGE GRIP
MEN:  A fun and lively little zinger, the Shreditor 92 excels in tight trees and tough spots. Big-guy Chris Candow found "it did it all. Steady at speed on the groomed runs, and bumps and soft snow were easy." While lighter-weight Peter Eaton stated that "its even flex and stable nature inspires confidence for the heavier guys, and delivers nice flotation in the pow." This ski is full of energy and easy to control. Crank up the speed, lay it on edge and discover rock-solid stability. A great option for the high school grad turned ski bum—or the latent kid in all of us.
K2 REMEDY 92
$499  *  LENGTHS: 156, 163*, 170  *  SIDECUT: 124/92/118  *  RADIUS: 17 @ 170
BEST IN: STABILITY
WOMEN: Take two and call me in the morning. K2 found a suitable Remedy—one for each foot! This ski is best suited for the adventurous intermediate looking to explore the whole mountain. Kathy Broderick felt this was a "great ski for soft snow. It was very responsive in the bumps, with a nice soft shovel, but not so much in hard snow."  The Remedy 92 is park friendly and "extremely easy to initiate in all kinds of terrain," commented Patty Goodhand. Patty also turned up the fun meter and discovered that "at higher speeds it has unbelievable stability."
KÄSTLE MX98
$1,349  *  LENGTHS: 174*, 184*, 194  *  SIDECUT: 132/98/117  *  RADIUS: 27 @ 184
BEST IN: EDGE GRIP
MEN:  Aspiring big-mountain riders who like big swoopy turns, and need something nimble to duck into the trees, punch tight lines and launch into the abyss, will appreciate the large centred sweet spot of the MX98. It delivered five-star functionality, with a tremendous ability to plow through crud and soft snow, and still carve hard on the groomers. Hank Shannon remarked: "It has amazing edge hold and awesome energy out of the turn."  That zip comes from the tail and Fritz Stephenson confirmed, "It's a little bit on the stiffer side, but still easy to manage. Great in short turns and easy to handle off-piste."
KÄSTLE FX94
$1,199  *  LENGTHS: 166*, 176*, 186  *  SIDECUT: 128/94/117  *  RADIUS: 20 @ 176
BEST IN: LONG RADIUS
women:   The FX94 is a true off-piste powderhound. It's soft and forgiving in the bumps, and floats effortlessly in powder. "Such a pleasure to ride! It's a bit of a heavyweight, but still very nimble. A stunningly smooth flex pattern along with a big sweet spot essentially begs you to go anywhere on the mountain," wrote Kathy Broderick. Advanced/experts can charge on this one. It's poppy, playful and fun—push it, hold on and go! Heather Robilliard liked its stable dependability: "You can stand on this ski and trust it through the turns. It performs beautifully off-piste and in the toughest conditions. Ideal for stronger females."
LINE SUPERNATURAL 92 LITE
$470  *  LENGTHS: 165, 172, 179*  *  SIDECUT: 127/92/115  *  RADIUS: 19.6 @ 179
BEST IN: Initiation
MEN:  The Supernatural 92 Lite loved to play. It was quick and nimble, and worshipped the bumpy terrain to take our testers wherever they wanted to go. Justin Terwiel was happy: "This is an aggressive ski with a huge amount of energy, an absolute rocket that left me with a massive smile."  It was incredibly stable, holding a vise-like edge for confidence in every turn. Jeremy Badcock found it "initiated easily and seemed to prefer a longer-radius turn."  The testers raved about the playful ride and offered a few tips such as "stay balanced" and "make sure the tails release smoothly out of the arc."
LINE CELEBRITY
$370  *  LENGTHS: 147, 157*, 167  *  SIDECUT: 115/85/112   *  RADIUS: 14 @ 157
BEST IN: SHORT RADIUS
WOMEN:  Line has produced a fun all-round entertainer for the lighter lady. The Celebrity was pure enjoyment everywhere it went. There was no need for aggression or power to get exuberant entertainment. Patty Goodhand said it was "zippy and great for short turns. It rode beautifully in the soft snow and was lovely on the groomed." It skied effortlessly, and when our testers put some grrr into it, the ski was snappy and exciting. As Wendy Anderson pointed out, "It grips like a cat when on edge. Amazing rebound and energy in short turns, dynamic and lively in bumps, and equally enjoyable on-piste and off."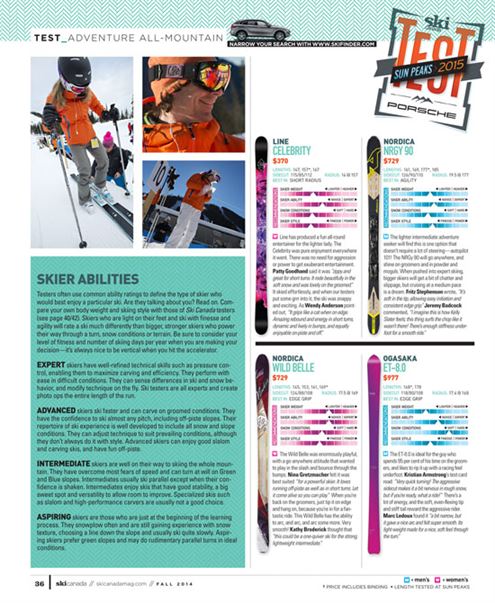 NORDICA NRGY 90
$729  *  LENGTHS: 161, 169, 177*, 185  *  SIDECUT: 126/90/110  *  RADIUS: 19.5 @ 177
BEST IN: AGILITY
MEN:  The lighter intermediate adventure seeker will find this is one option that doesn't require a lot of steering—autopilot 101! The NRGy 90 will go anywhere, and shine on groomers and in powder and moguls. When pushed into expert skiing, bigger skiers will get a bit of chatter and slippage, but cruising at a medium pace is a dream. Fritz Stephenson wrote, "It's soft in the tip, allowing easy initiation and consistent edge grip." Jeremy Badcock commented, "I imagine this is how Kelly Slater feels; this thing surfs the chop like it wasn't there! There's enough stiffness underfoot for a smooth ride."
NORDICA WILD BELLE
$729  *  LENGTHS: 145, 153, 161, 169*  *  SIDECUT: 124/88/108   *  RADIUS: 17.5 @ 169
BEST IN: EDGE GRIP
WOMEN: The Wild Belle was enormously playful, with a go-anywhere attitude that wanted to play in the slash and bounce through the bumps. Nina Gretzmacher felt it was best suited "for a powerful skier. It loves running off-piste as well as in short turns. Let it come alive so you can play."  When you're back on the groomers, just tip it on edge and hang on, because you're in for a fantastic ride. This Wild Belle has the ability to arc, and arc, and arc some more. Very smooth! Kathy Broderick thought that "this could be a one-quiver ski for the strong, lightweight intermediate."
OGASAKA ET-8.0
$977  *  LENGTHS: 168*, 178  *  SIDECUT: 118/80/108   *  RADIUS: 17.4 @ 168
BEST IN: EDGE GRIP
MEN:  The ET-8.0 is ideal for the guy who spends 95 per cent of his time on the groomers, and likes to rip it up with a racing feel underfoot. Kristian Armstrong's test card read: "Very quick turning! The aggressive sidecut makes it a bit nervous in rough snow, but if you're ready, what a ride!"  There's a lot of energy, and the soft, even-flexing tip and stiff tail reward the aggressive rider. Marc Ledoux found it "a bit narrow, but it gave a nice arc and felt super smooth. Its light weight made for a nice, soft feel through the turn."
OGASAKA U-AS/1
$1,078  *  LENGTHS: 155, 160, 165*, 170  *  SIDECUT: 118/75/102  *  RADIUS: 17.5 @ 170
BEST IN: LONG RADIUS
WOMEN:  The technical intermediate/advanced lady looking for a dynamic, playful all-mountain ride will appreciate the silky smooth performance that will max out her fun meter. Sun Peaks tester Wendy Reade noted that it "performed best at medium speeds in medium-size turns. The soft tip created a nice entry into the turn, but you need to stay centred on it (stiff tail)." Bigger, sweeping turns give the feeling of freedom, with the stability to cut through crud and soft snow. Petite Ally Wagorn wrote, "This is a lot of ski! A taller, heavier lady would get the most performance from it."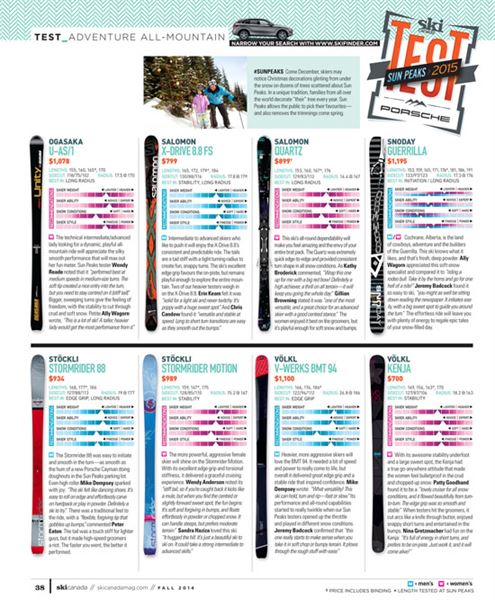 SALOMON X-DRIVE 8.8 FS
$799  *  LENGTHS: 165, 172, 179*, 184  *  SIDECUT: 130/88/116   *  RADIUS: 17.8 @ 179
BEST IN: STABILITY, LONG RADIUS
MEN:  Intermediate to advanced skiers who like to push it will enjoy the X-Drive 8.8's consistent and predictable ride. The tails are a tad stiff with a tight turning radius to create fun, snappy turns. The ski's excellent edge grip favours the on-piste, but remains playful enough to explore the entire mountain. Two of our heavier testers weigh in on the X-Drive 8.8. Erin Keam felt it was "solid for a light ski and never twitchy. It's poppy with a huge sweet spot." And Chris Candow found it "versatile and stable at speed. Long to short turn transitions are easy as they smooth out the bumps."
SALOMON QUARTZ
$899†  *  LENGTHS: 153, 160, 167*, 176  *  SIDECUT: 129/83/112  *  RADIUS: 14.4 @ 167
BEST IN: LONG RADIUS
WOMEN: This ski's all-round dependability will make you feel amazing and the envy of your entire brat pack. The Quartz was extremely quick edge-to-edge and provided consistent turn shape in all snow conditions. As Kathy Broderick commented, "Wrap this one up for me with a big red bow! Definitely a high achiever, a thrill on all terrain—it will keep you going the whole day."  Gillian Browning stated it was "one of the most versatile, and a great choice for an advanced skier with a good centred stance."  The women enjoyed it best on the groomers, but it's playful enough for soft snow and bumps.
SNODAY GUERRILLA
$1,195  *  LENGTHS: 153, 159, 165, 171, 176*, 181, 186, 191  *  SIDECUT: 133/97/123    *  RADIUS: 17.3 @ 176
BEST IN: INITIATION / LONG RADIUS
MEN & WOMEN:  Cochrane, Alberta, is the land of cowboys, adventure and the builders of the Guerrilla. This ski knows what it likes, and that's fresh, deep powder. Ally Wagorn appreciated this soft-snow specialist and compared it to "riding a rodeo bull. Take it by the horns and go for one hell of a ride!" Jeremy Badcock found it so easy to ski, "you might as well be sitting down reading the newspaper. It initiates easily, with a big sweet spot to guide you around the turn."  The effortless ride will leave you with plenty of energy to regale epic tales of your snow-filled day.
STÖCKLI STORMRIDER 88
$934  *  LENGTHS: 168, 177*, 186  *  SIDECUT: 127/88/113  *  RADIUS: 19 @ 177
BEST IN: EDGE GRIP, LONG RADIUS
MEN:  The Stormrider 88 was easy to initiate and smooth in the turn—as smooth as the hum of a new Porsche Cayman doing doughnuts in the Sun Peaks parking lot. Even high roller Mike Dempsey sparked with joy: "This ski felt like dancing shoes. It's easy to roll on edge and effortlessly carve on hardpack or play in powder. Definitely a ski to try."  There was a traditional feel to the ride, with a "flexible, forgiving tip that gobbles up bumps," commented Peter Eaton. The tail was a touch stiff for lighter guys, but it made high-speed groomers a riot. The faster you went, the better it performed.
 STÖCKLI  STORMRIDER MOTION
$989  *  LENGTHS: 159, 167*, 175  *  SIDECUT: 128/85/110  *  RADIUS: 15.2 @ 167
BEST IN: STABILITY
WOMEN: The more powerful, aggressive female skier will shine on the Stormrider Motion. With its excellent edge grip and torsional stiffness, it delivered a graceful cruising experience. Wendy Anderson noted its "stiff tail, so if you're caught back it kicks like a mule, but when you find the centred or slightly forward sweet spot, the fun begins. It's soft and forgiving in bumps, and floats effortlessly in powder or chopped snow. It can handle steeps, but prefers moderate terrain."  Sandra Haziza loved this ski: "It hugged the hill. It's just a beautiful ski to ski on. It could take a strong intermediate to advanced skills."
 VÖLKL V-WERKS BMT 94
$1,100  *  LENGTHS: 166, 176, 186*  *  SIDECUT: 122/94/112  *  RADIUS: 26.8 @ 186
BEST IN: EDGE GRIP
MEN:   Heavier, more aggressive skiers will love the BMT 94. It needed a bit of speed and power to really come to life, but overall it delivered great edge grip and a stable ride that inspired confidence. Mike Dempsey wrote: "What versatility! This ski can hold, turn and rip—fast or slow." Its performance and all-round capabilities started to really twinkle when our Sun Peaks testers opened up the throttle and played in different snow conditions. Jeremy Badcock confirmed that "this one really starts to make sense when you take it in soft chop or bumpy terrain. It plows through the rough stuff with ease."
VÖLKL KENJA
$700  *  LENGTHS: 149, 156, 163*, 170  *  SIDECUT: 127/87/106  *  RADIUS: 18.2 @ 163
BEST IN: STABILITY
WOMEN: With its awesome stability underfoot and a large sweet spot, the Kenja had a true go-anywhere attitude that made the women feel bulletproof in the crud and chopped-up snow. Patty Goodhand found it to be a "lovely cruiser for all snow conditions, and it flowed beautifully from turn-to-turn. The edge grip was so smooth and stable."  When testers hit the groomers, it cut arcs like a knife through butter, enjoyed snappy short turns and entertained in the bumps. Nina Gretzmacher had fun on the Kenja: "It's full of energy in short turns, and prefers to be on-piste. Just work it, and it will come alive!"