Reading Time:
13
minutes
Everywhere you look these days—magazines, online, television—there's someone telling you how to be better, to improve, to go farther, faster, stronger than you ever thought possible. Motivation is not just for posters anymore.
Skiing better has always motivated me. It's a sport that, if you really want to improve, offers constant reward for increases in skill. Look no further than how we rate the difficulty of ski runs: green, blue, black, double black. There's always a new challenge on the horizon. Almost everyone I've ever had the pleasure of teaching to ski has had a common goal: to ski more of the mountain—and look good doing it.
There's no secret formula to becoming a better skier. What it takes are two simple things: time on skis and the right gear. And one lends itself to the other. If you are on the right gear, then skiing is fun; when something is fun, you want to do it more; so the more you do it, the better you become; and when you get better, it becomes more fun…easy.
Adventure All-Mountain skis are designed to open doors in your skiing. They have user-friendly flex patterns, ample sidecut and enough width to let you explore more of the mountain and have more fun doing it. The majority of skiers in most liftlines around the world are part of this Adventure All-Mountain club—and they're happiest on these medium speed ATVs.
—R.B.
ADVENTURE ALL-MOUNTAIN
All-terrain skiing, moderate speeds, medium turns
To match the expectations for this group, testing was not as fast or aggressive as in the high-performance Expert All-Mountain category. The same assessment of comfort in ungroomed snow was checked, with special attention to such things as how balanced they felt (sweet spot) and general good manners in less-than-perfect conditions. Testers want these skis to respond to every demand, and also be manageable and predictable. Waist 75-85 mm.
Skis tested: ATOMIC | BLIZZARD | DYNASTAR |
ELAN | FISCHER | HEAD | K2 |KASTLE |
NORDICA | OAGASAKA |ROSSIGNOL | VOLKL

Use SkiFinder to input your personal skiing characteristics to find the skis that best match your profile.
Recommendations Legend
A Skier ABILITY (Intermediate (1) to Expert (10))
C Snow CONDITIONS (Soft (1) to Firm (10))
S Skier STYLE (Finesse (1) to Power (10))
W Skier WEIGHT (Lighter (1) to Heavier (10))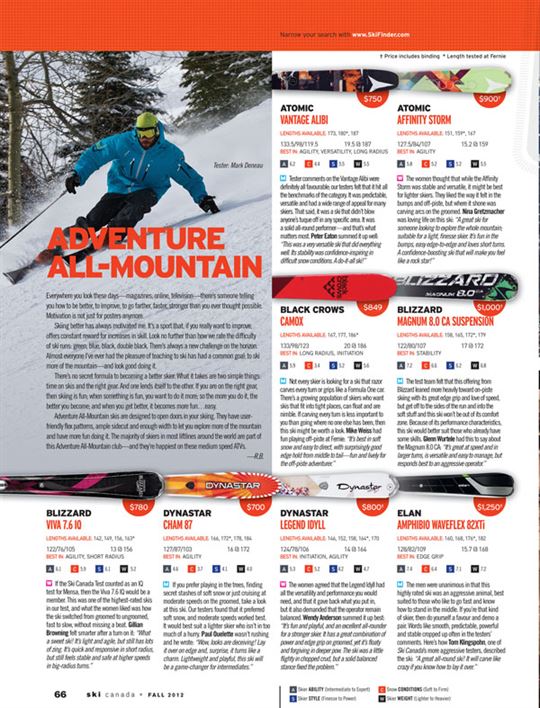 ATOMIC VANTAGE ALIBI
LENGTHS AVAILABLE: 173, 180*, 187  *  MSRP: $750
sidecut: 133.5/98/119.5    turn radius: 19.5 @ 187
BEST IN: AGILITY, VERSATILITY, LONG RADIUS  *  AVERAGE SCORE: 7.0
abitity: 6.2   conditions: 4.4  style: 5.5  weight: 5.5
Tester comments on the Vantage Alibi were definitely all favourable; our testers felt that it hit all the benchmarks of the category. It was predictable, versatile and had a wide range of appeal for many skiers. That said, it was a ski that didn't blow anyone's tuque off in any specific area. It was a solid all-round performer—and that's what matters most. Peter Eaton summed it up well: "This was a very versatile ski that did everything well. Its stability was confidence-inspiring in difficult snow conditions. A do-it-all ski!"
ATOMIC AFFINITY STORM
LENGTHS AVAILABLE: 151, 159*, 167  *  MSRP: $900 with bindings
sidecut: 127.5/84/107            turn radius: 15.2 @ 159
BEST IN: AGILITY  *  AVERAGE SCORE 7.5
ability: 5.8   conditions: 5.2   style: 5.2   weight: 5.5
WOMEN: The women thought that while the Affinity Storm was stable and versatile, it might be best for lighter skiers. They liked the way it felt in the bumps and off-piste, but where it shone was carving arcs on the groomed. Nina Gretzmacher was loving life on this ski: "A great ski for someone looking to explore the whole mountain; suitable for a light, finesse skier. It's fun in the bumps, easy edge-to-edge and loves short turns. A confidence-boosting ski that will make you feel like a rock star!"
BLACK CROWS CAMOX
LENGTHS AVAILABLE: 167, 177, 186*     MSRP: $849
sidecut: 133/98/123        turn radius: 20 @ 186
BEST IN: Long Radius, Initiation * Average score: 5.4
ability: 5.9   conditions: 3.4   style: 5.2   weight: 5.6
MEN: Not every skier is looking for a ski that razor carves every turn or grips like a Formula One car. There's a growing population of skiers who want skis that fit into tight places, can float and are nimble. If carving every turn is less important to you than going where no one else has been, then this ski might be worth a look. Mike Weiss had fun playing off-piste at Fernie: "It's best in soft snow and easy to direct, with surprisingly good edge hold from middle to tail—fun and lively for the off-piste adventurer."
BLIZZARD MAGNUM 8.0 CA SUSPENSION
LENGTHS AVAILABLE: 158, 165, 172*, 179    MSRP: $1000 with bindings
sidecut: 122/80/107        turn radius: 17 @ 172
BEST IN: STABILITY  * AVERAGE SCORE: 7.3
ability: 7.2  conditions: 6.6  style: 6.2  weight: 6.8
MEN: The test team felt that this offering from Blizzard leaned more heavily toward on-piste skiing with its great edge grip and love of speed, but get off to the sides of the run and into the soft stuff and this ski won't be out of its comfort zone. Because of its performance characteristics, this ski would better suit those who already have some skills. Glenn Wurtele had this to say about the Magnum 8.0 CA: "It's great at speed and in larger turns, is versatile and easy to manage, but responds best to an aggressive operator."
BLIZZARD VIVA 7.6 IQ
LENGTHS AVAILABLE: 142, 149, 156, 163*   MSRP: $780
sidecut: 122/76/105        turn radius: 13 @ 156
BEST IN: AGILITY, SHORT RADIUS  *  AVERAGE SCORE: 7.7
ability: 6.1  conditions:  5.9  style:  6.1   weight: 5.2
WOMEN: If the Ski Canada Test counted as an IQ test for Mensa, then the Viva 7.6 IQ would be a member. This was one of the highest-rated skis in our test, and what the women liked was how the ski switched from groomed to ungroomed, fast to slow, without missing a beat. Gillian Browning felt smarter after a turn on it: "What a sweet ski! It's light and agile, but still has lots of zing. It's quick and responsive in short radius, but still feels stable and safe at higher speeds in big-radius turns."
DYNASTAR CHAM 87
LENGTHS AVAILABLE: 166, 172*, 178, 184   MSRP: $700
sidecut: 127/87/103        turn radius: 16 @ 172
BEST IN: Agility  *  Average score: 5.8
ability: 4.6  conditions:  3.7  style:  4.1  weight:  4.0
MEN: If you prefer playing in the trees, finding secret stashes of soft snow or just cruising at moderate speeds on the groomed, take a look at this ski. Our testers found that it preferred soft snow, and moderate speeds worked best. It would best suit a lighter skier who isn't in too much of a hurry. Paul Ouelette wasn't rushing and he wrote: "Wow, looks are deceiving! Lay it over on edge and, surprise, it turns like a charm. Lightweight and playful, this ski will be a game-changer for intermediates."
DYNASTAR LEGEND IDYLL
LENGTHS AVAILABLE: 146, 152, 158, 164*, 170    MSRP: $800 with bindings
sidecut: 124/78/106        turn radius: 14 @ 164
BEST IN: Initiation, Agility  *  Average score: 7.4
ability: 5.3  conditions:  5.2   style: 4.2   weight: 4.7
WOMEN: The women agreed that the Legend Idyll had all the versatility and performance you would need, and that it gave back what you put in, but it also demanded that the operator remain balanced. Wendy Anderson summed it up best: "It's fun and playful, and an excellent all-rounder for a stronger skier. It has a great combination of power and edge grip on groomed, yet it's floaty and forgiving in deeper pow. The ski was a little flighty in chopped crud, but a solid balanced stance fixed the problem."
ELAN AMPHIBIO WAVEFLEX 82XTi
LENGTHS AVAILABLE: 160, 168, 176*, 182   MSRP: $1250 with bindings
sidecut: 128/82/109        turn radius: 15.7 @ 168
BEST IN: EDGE GRIP * AVERAGE SCORE: 7.6
ability: 7.4   conditions: 6.4   style: 7.1   weight: 7.2
MEN: The men were unanimous in that this highly rated ski was an aggressive animal, best suited to those who like to go fast and know how to stand in the middle. If you're that kind of skier, then do yourself a favour and demo a pair. Words like smooth, predictable, powerful and stable cropped up often in the testers' comments. Here's how Tom Klingspohn, one of Ski Canada's more aggressive testers, described the ski: "A great all-round ski! It will carve like crazy if you know how to lay it over."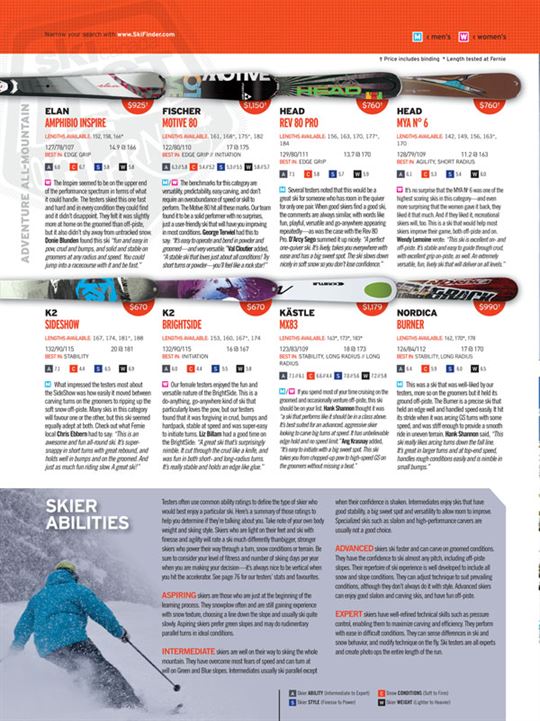 ELAN AMPHIBIO INSPIRE
LENGTHS AVAILABLE: 152, 158, 166*  MSRP: $925 with bindings
sidecut: 127/78/107        turn radius: 14.9 @ 166
BEST IN: Edge Grip  * AVERAGE SCORE:  7.6
ability: 6.0   conditions: 6.7  style: 5.8  weight: 5.8
WOMEN: The Inspire seemed to be on the upper end of the performance spectrum in terms of what it could handle. The testers skied this one fast and hard and in every condition they could find and it didn't disappoint. They felt it was slightly more at home on the groomed than off-piste, but it also didn't shy away from untracked snow. Donie Blunden found this ski "fun and easy in pow, crud and bumps, and solid and stable on groomers at any radius and speed. You could jump into a racecourse with it and be fast."
FISCHER MOTIVE 80
LENGTHS AVAILABLE: 161, 168*, 175*, 182  MSRP: $1150 with bindings
sidecut: 122/80/110       turn radius: 17 @ 175
BEST IN: EDGE GRIP  (men)// INITIATION (women)  *  AVERAGE SCORE: 7.5 men; 7.4 women
ability men: 6.3  women: 5.8      conditions men:  5.4  women: 5.2        style men: 5.3 women: 5.5       weight men: 5.8  women 5.7
MEN & WOMEN:  The benchmarks for this category are versatility, predictability, easy carving, and don't require an overabundance of speed or skill to perform. The Motive 80 hit all these marks. Our team found it to be a solid performer with no surprises, just a user-friendly ski that will have you improving in most conditions. George Terwiel had this to say: "It's easy to operate and bend in powder and groomed—and very versatile." Val Cloutier added, "A stable ski that loves just about all conditions! Try short turns or powder—you'll feel like a rock star!"
HEAD REV 80 PRO
LENGTHS AVAILABLE: 156, 163, 170, 177*, 184   MSRP: $760 with bindings
sidecut: 129/80/111        turn radius: 13.7 @ 170
BEST IN: Edge Grip  * AVERAGE SCORE: 7.4
ability: 7.1  conditions:  5.8  style: 5.7  weight:  5.9
MEN: Several testers noted that this would be a great ski for someone who has room in the quiver for only one pair. When good skiers find a good ski, the comments are always similar, with words like fun, playful, versatile and go-anywhere appearing repeatedly—as was the case with the Rev 80 Pro. D'Arcy Sego summed it up nicely: "A perfect one-quiver ski. It's lively, takes you everywhere with ease and has a big sweet spot. The ski slows down nicely in soft snow so you don't lose confidence."
HEAD Mya N° 6
LENGTHS AVAILABLE: 142, 149, 156, 163*, 170   MSRP: $760 with bindings
sidecut: 128/79/109       turn radius:  11.2 @ 163
BEST IN: AGILITY, SHORT RADIUS  *  AVERAGE SCORE: 8.0
ability: 6.1  conditions: 5.3  style: 5.4  weight: 6.0
WOMEN: It's no surprise that the MYA No 6 was one of the highest scoring skis in this category—and even more surprising that the women gave it back, they liked it that much. And if they liked it, recreational skiers will, too. This is a ski that would help most skiers improve their game, both off-piste and on. Wendy Lemoine wrote: "This ski is excellent on- and off-piste. It's stable and easy to guide through crud, with excellent grip on-piste, as well. An extremely versatile, fun, lively ski that will deliver on all levels."
K2 SIDESHOW
LENGTHS AVAILABLE: 167, 174, 181*, 188    MSRP: $670
sidecut: 132/90/115        turn radius:  20 @ 181
BEST IN: Stability  *  AVERAGE SCORE: 7.5
ability: 7.1  conditions:  4.4   style: 6.5    weight:  6.9
MEN: What impressed the testers most about the SideShow was how easily it moved between carving turns on the groomers to ripping up the soft snow off-piste. Many skis in this category will favour one or the other, but this ski seemed equally adept at both. Check out what Fernie local Chris Ebbern had to say: "This is an awesome and fun all-round ski. It's super-snappy in short turns with great rebound, and holds well in bumps and on the groomed. And just as much fun riding slow. A great ski!"
K2 BRIGHTSIDE
LENGTHS AVAILABLE: 153, 160, 167*, 174  MSRP: $670
sidecut: 132/90/115        turn radius: 16 @ 167
BEST IN: INITIATION  *  AVERAGE SCORE: 7.3
ability: 6.0  conditions:  4.4   style:  5.5   weight:   5.8
WOMEN: Our female testers enjoyed the fun and versatile nature of the BrightSide. This is a do-anything, go-anywhere kind of ski that particularly loves the pow, but our testers found that it was forgiving in crud, bumps and hardpack, stable at speed and was
super-easy to initiate turns. Liz Billam had a good time on the BrightSide: "A great ski that's surprisingly nimble. It cut through the crud like a knife, and was fun in both short- and long-radius turns. It's really stable and holds an edge like glue."
KÄSTLE MX83
LENGTHS AVAILABLE: 163*, 173*, 183*   MSRP: $1179
sidecut: 123/83/109     turn radius:  18 @ 173
BEST IN: STABILITY, LONG RADIUS (men) * LONG RADIUS (women)  *  AVERAGE SCORE: 6.8 men; 6.6 women
ability: 7.1 men  6.1 women   conditions:  6.6 men  4.4 women   style: 7.0 men 5.6 women     weight:  7.2 men  5.8 women
MEN & WOMEN: If you spend most of your time cruising on the groomed and occasionally venture off-piste, this ski should be on your list. Hank Shannon thought it was "a ski that performs like it should be in a class above. It's best suited for an advanced, aggressive skier looking to carve big turns at speed. It has unbelievable edge hold and no speed limit." Ang Krasnay added, "It's easy to initiate with a big sweet spot. This ski takes you from chopped-up pow to high-speed GS on the groomers without missing a beat."
Nordica Burner
LENGTHS AVAILABLE: 162, 170*, 178  MSRP: $990 with bindings
sidecut: 126/84/112     weight: 17 @ 170
BEST IN: STABILITY, LONG RADIUS  *  AVERAGE SCORE: 7.3
ability: 6.4  conditions: 5.9  style: 6.0  weight: 6.5
MEN: This was a ski that was well-liked by our testers, more so on the groomers but it held its ground off-piste. The Burner is a precise ski that held an edge well and handled speed easily. It hit its stride when it was arcing GS turns with some speed, and was stiff enough to provide a smooth ride in uneven terrain. Hank Shannon said, "This ski really likes arcing turns down the fall line. It's great in larger turns and at top-end speed, handles rough conditions easily and is nimble in small bumps."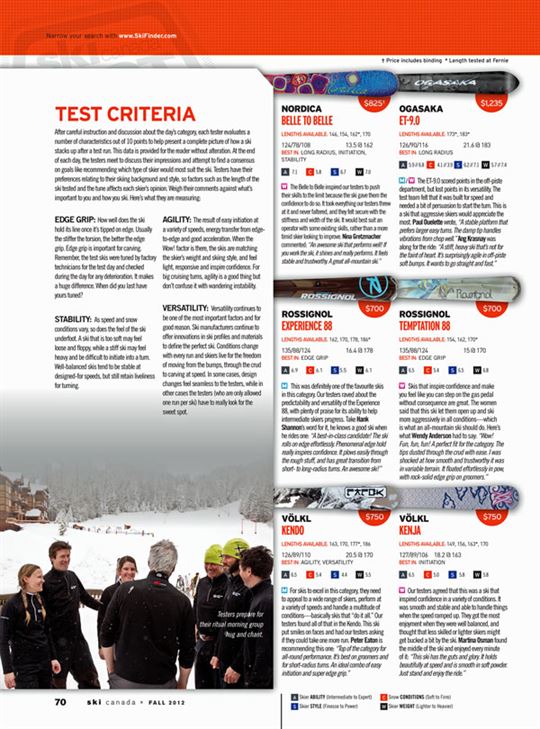 Nordica Belle to Belle
LENGTHS AVAILABLE: 146, 154, 162*, 170  MSRP: $825 with bindings
sidecut: 124/78/108      turn radius:  13.5 @ 162
BEST IN: LONG RADIUS, INITIATION, STABILITY  *  AVERAGE SCORE: 7.4
ability: 7.1  conditions:  5.8   style: 6.7  weight: 7.0
WOMEN: The Belle to Belle inspired our testers to push their skills to the limit because the ski gave them the confidence to do so. It took everything our testers threw at it and never faltered, and they felt secure with the stiffness and width of the ski. It would best suit an operator with some existing skills, rather than a more timid skier looking to improve. Nina Gretzmacher commented: "An awesome ski that performs well! If you work the ski, it shines and really performs. It feels stable and trustworthy. A great all-mountain ski."
OGASAKA ET-9.0
LENGTHS AVAILABLE: 173*, 183*   MSRP: $1235
sidecut: 126/90/116    turn radius:  21.6 @ 183
BEST IN: LONG RADIUS  * AVERAGE SCORE: 4.9 men; 4.6 women
ability: 5.9 men; 6.8 women    conditions:  4.1 men; 3.9 women  style  6.2 men; 7.1 women   weight: 5.7 men; 7.4 women
MEN & WOMEN:  The ET-9.0 scored points in the off-piste department, but lost points in its versatility. The test team felt that it was built for speed and needed a bit of persuasion to start the turn. This is a ski that aggressive skiers would appreciate the most. Paul Ouelette wrote, "A stable platform that prefers larger easy turns. The damp tip handles vibrations from chop well." Ang Krasnay was along for the ride: "A stiff, heavy ski that's not for the faint of heart. It's surprisingly agile in off-piste soft bumps. It wants to go straight and fast."
Rossignol Experience 88
LENGTHS AVAILABLE: 162, 170, 178, 186*  MSRP: $700
sidecut: 135/88/124  turn radius:  16.4 @ 178
BEST IN: EDGE GRIP  *  AVERAGE SCORE: 7.3
ability:6.9  conditions: 6.1   style: 5.5  weight:  6.1
MEN: This was definitely one of the favourite skis in this category. Our testers raved about the predictability and versatility of the Experience 88, with plenty of praise for its ability to help intermediate skiers progress. Take Hank Shannon's word for it, he knows a good ski when he rides one: "A best-in-class candidate! The ski rolls on edge effortlessly. Phenomenal edge hold really inspires confidence. It plows easily through the rough stuff, and has great transition from short- to long-radius turns. An awesome ski!"
Rossignol TEMPTATION 88
LENGTHS AVAILABLE: 154, 162, 170*    MSRP: $700
sidecut: 135/88/124        turn radius: 15 @ 170
BEST IN: EDGE GRIP  *  AVERAGE SCORE: 7.0
ability: 6.5  conditions:  5.4  style:  6.5   weight: 6.8
WOMEN: Skis that inspire confidence and make you feel like you can step on the gas pedal without consequence are great. The women said that this ski let them open up and ski more aggressively in all conditions—which is what an all-mountain ski should do. Here's what Wendy Anderson had to say: "Wow! Fun, fun, fun! A perfect fit for the category. The tips dusted through the crud with ease. I was shocked at how smooth and trustworthy it was in variable terrain. It floated effortlessly in pow, with rock-solid edge grip on groomers."
VÖLKL KENDO
LENGTHS AVAILABLE: 163, 170, 177*, 186  MSRP: $750
sidecut: 126/89/110   turn radius:  20.5 @ 170
BEST IN: AGILITY, VERSATILITY  *  AVERAGE SCORE: 7.9
ability: 6.5  conditions:  5.4   style:  4.4     weight: 5.5
MEN: For skis to excel in this category, they need to appeal to a wide range of skiers, perform at a variety of speeds and handle a multitude of conditions—basically skis that "do it all." Our testers found all of that in the Kendo. This ski put smiles on faces and had our testers asking if they could take one more run. Peter Eaton is recommending this one: "Top of the category for all-round performance. It's best on groomers and for short-radius turns. An ideal combo of easy initiation and super edge grip."
VÖLKL KENJA
LENGTHS AVAILABLE: 149, 156, 163*, 170  MSRP: $750
sidecut: 127/89/106     turn radius:  18.2 @ 163
BEST IN: Initiation  *  AVERAGE SCORE: 7.3
ability: 6.5  conditions:  5.0   style:  5.8   weight:  5.8
Our testers agreed that this was a ski that inspired confidence in a variety of conditions. It was smooth and stable and able to handle things when the speed ramped up. They got the most enjoyment when they were well balanced, and thought that less skilled or lighter skiers might get bucked a bit by the ski. Martina Osman found the middle of the ski and enjoyed every minute of it: "This ski has the guts and glory. It holds beautifully at speed and is smooth in soft powder. Just stand and enjoy the ride."