---
Ethnic and upscale offerings are feeding powderful appetites in what was once a culinary wasteland.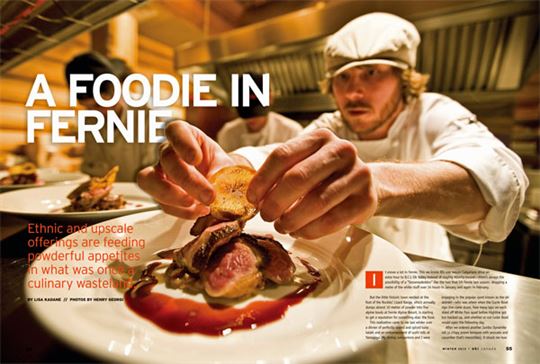 By Lisa Kadane  //  photos by Henry Georgi in Winter 2013 issue
It snows a lot in Fernie. This we know. It's one reason Calgarians drive an extra hour to B.C.'s Elk Valley instead of staying Alberta-bound—there's always the possibility of a "Snowmadeddon" like the two that hit Fernie last season, dropping a metre of the white stuff over 24 hours in January and again in February.
But the little historic town nestled at the foot of the Rockies' Lizard Range, which annually dumps almost 10 metres of powder into five alpine bowls at Fernie Alpine Resort, is starting to get a reputation for something else: the food.
This realization came to me last winter over a dinner of perfectly seared and spiced tuna tataki and an embarrassment of sushi rolls at Yamagoya. My dining companions and I were engaging in the popular sport known as the ski debrief—who was where when the Currie Bowl sign line came down, how many laps we each skied off White Pass quad before Highline got too tracked up, and whether or not Cedar Bowl would open the following day.
After we ordered another Jumbo Dynamite roll (a crispy prawn tempura with avocado and cucumber that's irresistible), it struck me how far Fernie has come—I wasn't eating nachos and swilling Kokanee. Instead I'd spent an hour delicately devouring sushi that rivalled anything in Calgary, and pairing it with Sapporo. This, I thought—not wide-waist rocker skis or even the new Polar Peak chairlift—was progress.
Feeding an urban appetite in Fernie used to be a challenge. When I first started chasing powder there 15 years ago, there wasn't much available beyond pub fare and diner-type meals, so I rarely ventured past the kitchen at the Raging Elk Hostel, where my husband and I cooked ramen noodles for dinner and tucked in to the free pancake breakfast every morning (evidently, our urban appetites were largely undeveloped). But one night in 2004, after waiting in line for a table at the Curry Bowl, we sat down to seriously good Thai and Indian dishes: lentil dip scooped up with chewy naan bread, tender chicken swimming in a spicy-sweet green coconut curry sauce, and pad Thai closely resembling that of a Bangkok street vendor's version.
We returned to the Curry Bowl the next year, and then we became adventurous: Yamagoya for dinner, the Blue Toque Diner for brunch, Big Bang Bagels for lunch. Yum, yum and yum. Like turning a different direction at the top of the chairlift, each visit revealed a new, delicious discovery in what has become an avalanche of options in town, from Mexican at El Guapo to modern Italian at the new Central Local House to grass-fed, SPCA-certified steak at the Fernie Cattle Company, another newcomer.
"I think people are pretty surprised when they come here and discover all these little gems," says born and raised local Krista Turcasso, editor of the town's monthly lifestyle magazine, Fernie Fix.
In the past five years she's seen a storm of talented entrepreneurs come to the town of 4,000 ready to enjoy the mountain lifestyle, engage in the community and invest in Fernie's food culture. Phil Gadd arrived from England in 2009 with his wife and daughters to open Loaf Bakery, which branched out from bread and pastries to gourmet pizza and now offers dinner in a refurbished space on historic 2nd Avenue. James Heavey and his family moved to Fernie from Ireland to start up Beanpod, a tiny chocolate factory that makes decadent bonbons and chocolate bars, and roasts its own coffee.
They're bringing some pretty demanding taste buds with them and you just can't cut it anymore with the mom-and-pops.
"Everybody's from somewhere else and they're from big cities—Vancouver, Toronto, Calgary. That's played a huge part in shaping Fernie's dining. They're bringing some pretty demanding taste buds with them and you just can't cut it anymore with the mom-and-pops," says Yamagoya owner Cam Carr, whose popular enterprise helped awaken culinary cravings when it opened in 2003.
Carr describes Fernie back then as a "clean slate." The mountain had just undergone a huge expansion and snow-hungry skiers were arriving—with nowhere to satisfy their off-slope appetite. It was an ideal tableau for fresh chefs with new ideas, like Keith Farkas, the executive chef at Island Lake Lodge who strives to bring extraordinary yet approachable cuisine to clients.
In fact, "extraordinary yet approachable" pretty much sums up the town and helps explain Fernie's magnetism; it's no wonder chefs like Farkas and weekenders like me are drawn to it. Most days the conditions are so consistently good that it's hero-snow. The town is fun and funky with zero pretension. And now, finally, Fernie's food revolution is bringing a bounty of honest epicurean delights.
There are other B.C. mountain towns with powder riches, such as Golden and Revelstoke, Nelson and Rossland. Is Fernie's dining scene hotter? Does the Elk Valley town out-ethnic, out-organic and out-farm-to-fork the competition? Well, I really can't say. I never make it that far west. I, like so many other Calgarians, stop in Fernie.
So perhaps it's we Cowtowner weekenders with our truffle oil-spoiled palates—plus our insatiable appetite for powder—that's conspired to turn Fernie into a feast for all senses.
Whatever it is, I'll take it—and another Jumbo Dynamite roll.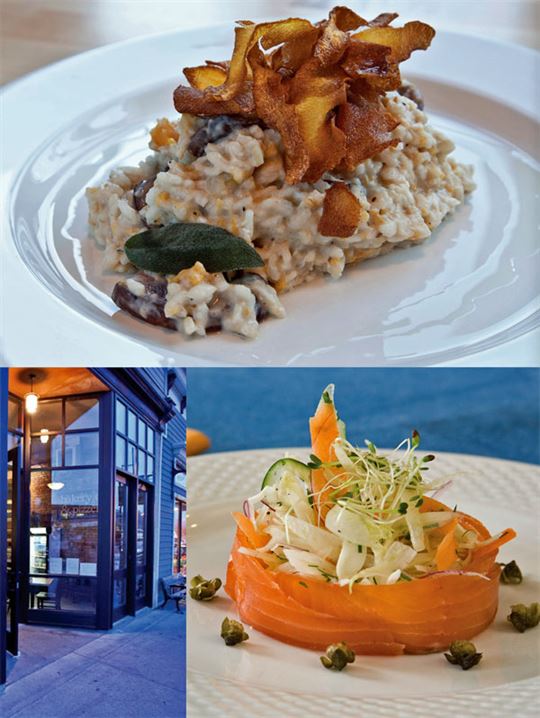 Bits & Bites
Beanpod (691 2nd Avenue) makes the richest hot chocolate in town, along with delish bonbons and bars of bean-to-bar chocolate. James Heavey and his wife, Mary, make everything on-site, and the kid-friendly shop rivals Willy Wonka's chocolate factory—children can press their faces up to a glass wall at the back of the shop to watch the antique mélangeur grinding cacao beans.
The from-scratch bagels at Big Bang Bagels (502 2nd Avenue downtown) are so fresh, chewy and, well, bang-on there's always a lineup at lunch. They're worth the wait and just as good spread with plain cream cheese as they are with capers and red onion in a Switchback Salmon sandwich.
The Griz Bar is a blast from the past that just happens to have the hottest après scene in town. It's all about location (above the day lodge at the resort's base), retro ski memorabilia decor, comfy vinyl booths and a killer Griz Bar Caesar.
Yamagoya (741 7th Avenue) makes unrivalled sushi rolls—and it's not because they're the only sushi bar in town (they are). It's the creative way the three Japanese sushi chefs combine tuna and green onion with kimchi and tempura to create a Fernie roll so good, its devoted devourers from Cowtown attest that "the best sushi in Calgary is in Fernie."
"Omyomyom" pretty much sums up the pizza from Loaf Bakery & Restaurant (641 2nd Avenue). After you fill up on the prosciutto and mushroom thin-crust pie, or the equally drool-worthy The Griz (spicy sausage, ham and pepperoni with veggies and cheese), be sure to take away some pastries or a loaf of rye for the next day's breakfast.
For matchless margaritas, head to El Guapo (902 6th Avenue). No sour mix here, just pure lime juice shaken with tequila and triple sec and served on the rocks. Drink a couple and everyone will look a little more guapo (handsome). The food isn't authentic, but the fish tacos are wildly popular and it's a fiesta ambience every day, thanks to the kitschy giant sombrero decor.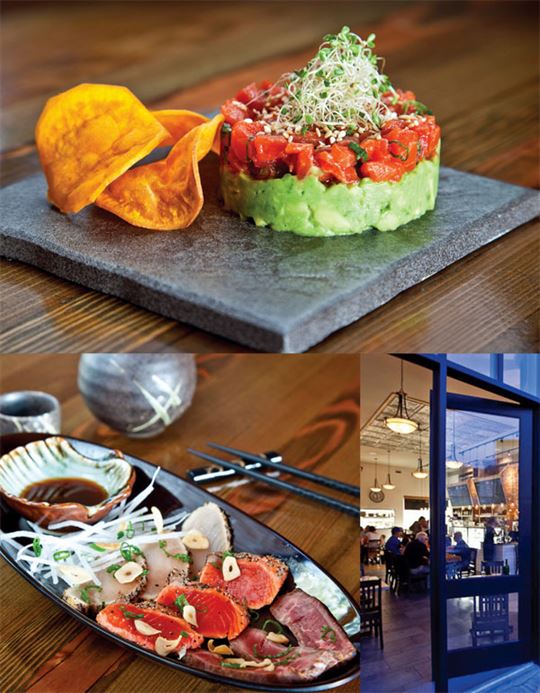 ---
Tags: B.C., British Columbia, Central Local House, Curry Bowl, El Guapo, Fernie, Fernie Alpine Resort, Fernie Cattle Company, gormet, Lizard Range, restaurants, Yamagoya