Reading Time:
3
minutes
Whistler Blackcomb 's CEO goes beyond the ropes with Ski Canada.
by Tobias C. Van Veen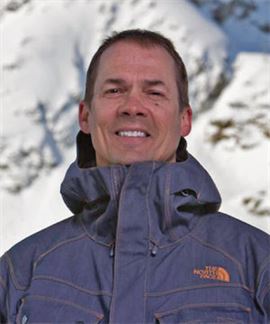 Dave Brownlie is not your average CEO. As I chased him down The Bite on Blackcomb,  a steep line through trees and drops into Jersey Bowl, I realized that he was letting me know something through the old skier 's adage: Show and Prove.  As captain, Brownlie has overseen Whistler Blackcomb's public offering. On skis, he's a precise, energetic handler of demanding terrain. I sat down with him over a coffee on a brilliantly sunny day at Blackcomb's Horstman Hut to talk about what the backcountry means to the resort.
Ski Canada: How does Whistler Blackcomb see itself in relation to Garibaldi Park, the backcountry and slackcountry?
Dave Brownlie: I think we certainly encourage it; it's a great experience and a healthy experience, and truly an adventure. But the important thing is education. How do you ensure that the people who are taking that step have the tools, have the knowledge, have the partner, so that they do it safely? That's what it's all about, the education, the guidance. And that's a challenge for our community.
SC: This year saw Whistler Mountain lose backcountry access from the Symphony Road. This was a first.
DB: Ultimately, the end result is that people go beyond what's closed at the time, and we have to deal with that in pretty harsh manner. That's just because, you know what, we've just got to send the message. Because not only are they putting themselves in danger —that's one thing—but they're also putting our employees and our other guests in danger. That's the real problem. Our patrol works with it every day. It's a bit of a game that people play.
SC: I understand that there's been a shift from getting your pass taken for the year to lifetime bans for poaching a permanently closed area.
DB: It's a series of penalties. Do it once, do it twice, it's definitely a series, but it starts with losing your pass for the year.
SC: Will the mountain reopen some areas, terrain skied in the past, that are now closed? Of course, the main area would be Weekend Chutes above West Bowl. That's poached regularly.
DB: You know, it's something that from an operations and patrol point of view we're always kind of looking at. At the end of the day, if we can make it safe, if it can be safe —not only for the people who are skiing it, but for our employees and for the other guests who are around—that's what we have to take into consideration. When you can do that, then we would let that evolve. Again, patrol deals with it every day. It's one thing for some guy who can do that, but at the end of the day, if he kicks off a slide or something, what's the broader impact? Again, it's to our staff and the other guests in the resort. That's really the bigger issue.
SC: On Blackcomb, another piece of terrain that has been proposed for opening would be Showcase Chute, which has a high avalanche danger, but appears feasible.
DB: Remember that whole bench [underneath Showcase Chute by Surf's Up] used to be fenced from one end to the other, and that's open now. There's progress being made. But at the end of the day, it's about the avalanche danger from the top. It's not about the individual who's jumping in ….
SC: I've seen slides two metres deep in there off Surf's Up.
DB: For sure. And with Surf's Up—hey, you know what? —that was controlled every day! Right? So here you go. Even within a ski area, an area that's been skied, that's been controlled, and you go "wow." The pictures of that were unbelievable. Unbelievable.
SC: Two-metre crown line.
DB: Right down to the bottom of the bowl. Fortunately, it was set off by people who knew what they were doing at the time.
SC: I had a really great conversation yesterday with some of the Whistler Heli guides, and we all kind of acknowledged that something will probably change with Whistler Heli 's access to the Spearhead Range because the ACC Hut system is coming in. Yesterday when we went heli-skiing, we actually dropped on Phalanx, which I was a little surprised by because it's so close to the Blackcomb boundary. However, the weather was really iffy. So I understood the decision-making, but …
DB: Whistler Heli has used that terrain for 30 years. I think it's a great experience and a unique experience that Whistler can offer to the world. It's a world-class resort, and you can heli-ski out your back door. As you know with heli-skiing, it's a challenging business on the West Coast with weather and helicopter costs and fuel. We look at our access in the park as critical to make the business work. So then you put that aside, and you go, okay, we understand this backcountry thing, which has been going on for 30 years as well. And we think, why can't we coexist? Why can't we make it work? Then you layer on that whole other side of safety —if something happens, who's managing it, who's working it, who's supporting it? And whether you look at Whistler Heli-Skiing or the mountain, I think a lot of it falls to the group of people who ultimately make Whistler their living. You have to bring it all together and look at it holistically. In my opinion, they have coexisted and can continue to coexist.