Reading Time:
10
minutes
by Ron Betts, technical editor test * photos: John Schwirtlich in Winter 2013 issue
Made for Powder
This year's crop of fat boys was put to work by the guides at Mike Wiegele Helicopter Skiing.    
Every sport has its holy grail, its pinnacle. In hockey it's the hat trick, baseball the grand slam, golf the hole-in-one, surfers want to spend time in the green room… Skiing, yes, is competitive, but for many of us, it's more about faceshots, first tracks, cold smoke, putting on the snorkel, wearing the lab coat, sipping champagne… Ask any hardcore skier what he or she lives for and you'll hear it: powder days. They're rare, they're coveted, they're hoarded; we remember them, talk about them, relive them on bar stools, and blow off work and responsibility for the chance at putting the first line on our favourite run. Yet, some frustrated skiers say they just don't get powder skiing. They wallow in deep snow, fall a lot, fog up and eventually blow up because it feels more like hard work than fun. Like a few simple tips, the Ski Canada Powder Test at Mike Wiegele's is an important step to unlocking what is the most rewarding treasure chest in our sport. Although the saying goes that there are no friends on powder days, most skiers will agree that the right ski is your best friend.  
Skis tested: ARMADA | BLACK CROWS | BLIZZARD | DPS | DYNASTAR | ELAN |  HEAD | K2 |
KASTLE | NORDICA | ROSSIGNOL | SALOMON | SKEVIK | VOLKL
ARMADA BUBBA
LENGTHS AVAILABLE: 168, 178,188*
sidecut: 135/150/132/139/129 *  turn radius: 21 @ 188 * $1000
MEN:  The Bubba impressed our testers at Mike Wiegele's with its flotation and surf-like feel. The ski handled tricky snow easily, and our testers found they could still have fun in spite of the challenging conditions. In drier snow it provided ample flotation and sidecut for an enjoyable ride. Willy Rens had this to say about the Bubba: "The camber and sidecut of this ski give it the ability to make fairly easy turns. With enough speed, it performs well in heavy snow."
BLACK CROWS NOCTA
LENGTHS AVAILABLE: 176, 188*
sidecut: 146/125/140 *  turn radius: 18 @ 188  *  $999
MEN: With its neon-orange graphic, the Nocto will be easy to spot when looking for a lost ski on powder days. This ski is right- and left-foot specific and one tester commented that he didn't feel much difference in deep snow when he got them mixed up. When you do get it right, though, you're in for a fun ride. According to Jordan Stiefvater, "It was fast and stable, blasted through deep and cut-up powder, and handled fakie well." Martin Fichtl said, "A versatile ski that handled everything from deep pow to wind slab with aplomb."
BLIZZARD BODACIOUS
LENGTHS AVAILABLE: 176, 186*, 196
sidecut: 142/118/132 *  turn radius: 32 @ 186  *  $1000
MEN:  The construction of this ski was one of the beefiest in the test, which made the ski stiff and unruly for some and stable and performance-oriented for others, like the bigger testers. If you like to ski fast and on edge, and you have a bit of weight onboard, then this ski will really appeal to you. Lightweight skiers might feel they're along for the ride. Those who aren't looking for all the bells and whistles, such as twintips, reverse camber and lots of rocker, will enjoy the more conventional construction of this ski.
DPS LOTUS 138
LENGTHS AVAILABLE: 182, 192*
sidecut: 125/140/138/139/108  *  $899
MEN:   DPS changed the game in 2005 when it came out with the first version of the Lotus 138—and the ski world hasn't looked back. Its designers should be thanked for introducing the world to the first fully rockered ski and influencing so many others since. It's little wonder that the weight-to-stiffness ratio of this chubby, surfy ski was so obvious. This über-light model is pure carbon fibre and it showed in its stability. "This was one super easy ski to ski," wrote Ron Betts. "Minimal sidecut, easy to plane and light as a feather—but with plenty of stiffness and power to charge."
DYNASTAR CHAM 127
LENGTHS AVAILABLE: 189*
sidecut: 149/127/141 *  turn radius: 22 @ 189  *  $900
MEN:  This ski appealed to many of our test team because of its solid construction and fairly traditional shape. It did have some rocker in the nose, but featured a square (non-twintip) tail, which many testers appreciated. They felt it would perform best in wide-open spaces, where it was free to run. There were a couple of comments about the ski being a bit too heavy, but tester Mike Wheater enjoyed how easily it handled: "I skied this one in big alpine terrain and saw lots of windslab and sun crust—the ski didn't even notice."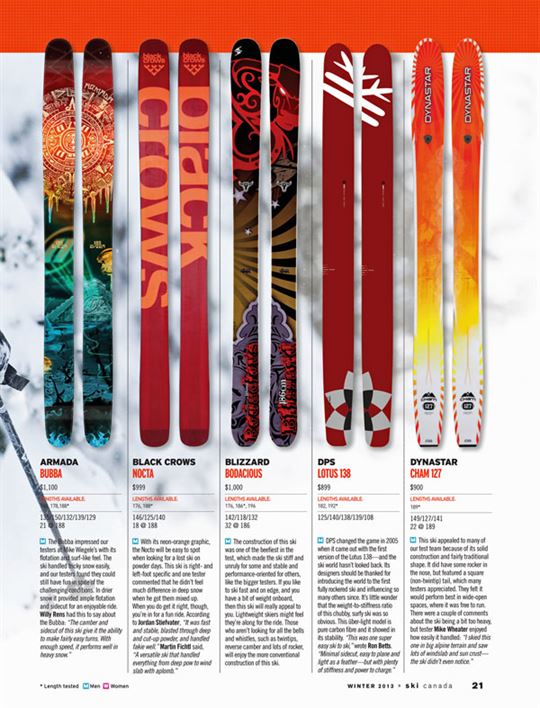 ELAN BOOMERANG
LENGTHS AVAILABLE: 168, 181*, 190
sidecut: 140/120/130 *  turn radius: 27.7 @ 190  *  925
MEN:  The name of this ski sums up what a good ski should do. Like a Boomerang, you should be able to throw it out there and know it will come back, and by all accounts, our testers felt that the ski lived up to its name. They liked how it handled a variety of snow conditions, and that the ski had a nice light feel that would appeal to mid- to lightweight skiers. Martin Fichtl called it "confidence inspiring."  Jason Martin said, "The ski handled it all and never threw a curve ball. Very consistent."
ELAN BLISS
LENGTHS AVAILABLE: 155, 165, 175*
sidecut: 137/110/125 *  turn radius: 20 @ 165  *  $725
WOMEN:  When our testers come back smiling, we know we're onto something good. This was a ski that put smiles on faces. It worked well for a variety of ski styles, and the overall consensus was that it was an incredibly user-friendly ski that took very little effort to figure out. Linda Johannson said it best: "This ski was Bliss! It was snappy, fun and easy to ski. A very enjoyable ride! And it had the coolest graphics of all the skis in the test—an added bonus!"
HEAD HAMMERED
LENGTHS AVAILABLE: 171, 181*, 191
sidecut: 148/113/131  *  turn radius: 19 @ 181  *  $800
MEN & WOMEN: Naming a series of skis after one of the most straight-up, hard-rocking bands of all time is brilliant. Most of our testers loved the Hammered (from the Motörhead series), especially when they realized how nimble and quick it was from edge-to-edge, which is a nice feature in wider powder skis. Bob Sayer, a long-time heli-ski guide, called this "a nice all-round, off-piste ski that worked well from quick short turns to long-radius turns as well."
K2 PETTITOR
LENGTHS AVAILABLE: 169, 179*, 189
sidecut: 147/120/141  *  turn radius: 22 @ 179  *  $700
MEN:  This ski impressed our testers by having the best of both worlds. It featured fairly aggressive tip and tail rocker while having more conventional camber and sidecut underfoot, which along with the flex of the ski made most of the test team happy indeed. They also agreed that the Pettitor would suit someone looking to ski all over the mountain, from park to peak. Jordan Stiefvater said, "It was soft yet stable. I was able to move my weight from tip to tail and have positive feedback from all angles."
KÄSTLE XX110 WEST
LENGTHS AVAILABLE: 170, 180, 190
sidecut: 134/110/134  *  turn radius: 21.5 @ 180  *  $899
MEN:  The XX110 West is built for skiers on the aggressive end of the spectrum. Our testers commented that its stiffness would overpower lighter skiers. It also took a bit of speed to get the ski to come alive, probably due to the flex pattern. Martin Fichtl liked what he felt when he got the West revved up: "The ski was reluctant to turn at slow speeds, but once you got up to speed you could lay it on edge and it went wherever you pointed." This ski would be best suited to big-mountain skiers who like to go fast.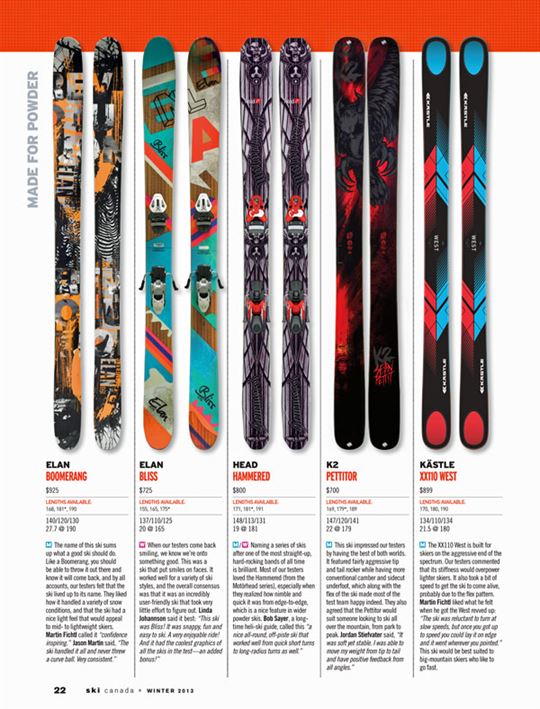 KÄSTLE BMX118
LENGTHS AVAILABLE: 168*
sidecut: 139/118/128   *  turn radius: 29 @ 168  *  $1149
WOMEN:  The women found the BMX118 to be on the aggressive side; they would have liked more sidecut and less of a tendency to want to go straight. They did like how it felt in deep snow, but in firmer snow or crust they found it a bit hard to manage. For racer types or women who like to go really fast, this ski will shine. Tester Polly Simpich thought the ski was "made for those girls who like to turn as little as possible in the steep and deep."
NORDICA PATRON
LENGTHS AVAILABLE: 177, 185*, 193
sidecut: 143/113/132   *  turn radius: 21 @ 193  *  $770
MEN:  This ski had testers yelling "Fun!" in a couple of languages. What impressed them most was the smooth, soft flex and the great rebound from long, fast turns. Tester Andreas Hoffer, who hails from Austria, felt that short, slow turns were somewhat difficult, but as soon as the ski hit its speed limit, you could easily carve in the powder and get a sense of the rebound. Mike Wheater, who's from this side of the Atlantic, asked, "Do you like to have fun? This ski excelled in soft spring snow."
ROSSIGNOL SUPER 7
LENGTHS AVAILABLE: 188, 195*
sidecut: 146/117/127   *  turn radius: 22.5 @ 195  *  $900
MEN:  The Super 7 was one of the favourites in this category. It was lively, consistent and able to handle a variety of conditions. The ski that was tested was centre-mounted and a couple of the testers thought that a traditional mount would have been better. What they did agree on was the tip and tail rocker and camber underfoot was a winning combo. Lee Boland was impressed: "The design of this ski was done right with its rocker tip and tail and camber for carving performance. A great ski!"
ROSSIGNOL S7 W
LENGTHS AVAILABLE: 168, 178*
140/110/118 14.8 @ 178
WOMEN:  When testers write comments such as "the ski inspired confidence" or "I would buy this ski," then you know they really liked it. This ski garnered both those responses. The women liked the softer flex and ample sidecut, which made the ski easy to turn and forgiving enough to handle all conditions. Linda Johannson said, "The softer flex and stiff tail felt forgiving, and the sidecut made it fun and lively. The ski handled wind crust by easily plowing through it."
SALOMON ROCKER2 122
LENGTHS AVAILABLE: 170, 180, 184*, 192
sidecut: 142/122/132   *  turn radius: 26 @ 184  *  $899
MEN:  Our team called this a big-mountain twintip with great float and performance. The ski was centre-mounted and the testers felt that gave it good snap and pop. The comments for the Rocker2 were all on the positive side of the fence, mostly because the ski worked well in all the conditions in which it was tested. Bob Sayer, who has skied on every powder ski since the Miller Soft, wrote, "Good all-round performance! It holds an edge really well and works in all soft snow conditions."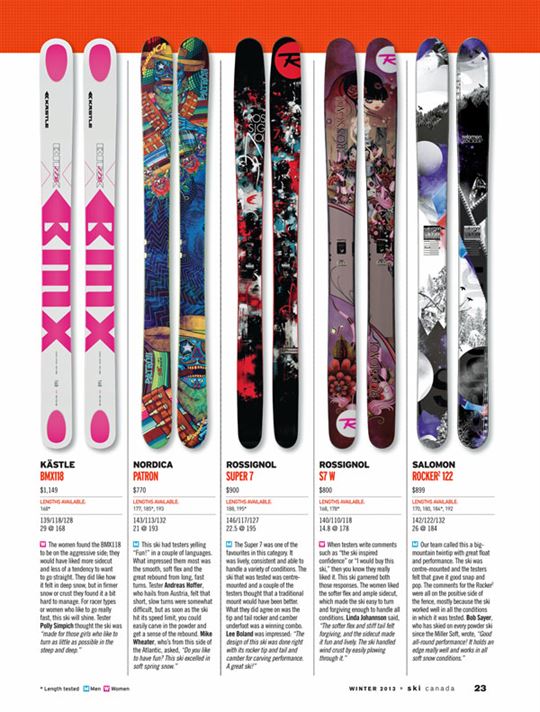 SKEVIK ANTON
LENGTHS AVAILABLE: 165, 175, 185
sidecut: 142/122/135  *  turn radius: 23 @ 185  *  $700
MEN:  The Anderson brothers started the Skevik brand in Vernon, B.C., a few years ago. Our test team really liked the way this ski walked the line between old-school performance and new-school playfulness. Testers enjoyed the easy initiation and lazy feel while having enough high-end performance to keep the experts happy when it came time to tip it over and carve. It's always nice to support manufacturers who are still building skis one pair at a time, and most skiers wouldn't be disappointed with the Anton.
VÖLKL SHIRO
LENGTHS AVAILABLE: 173, 183*, 193, 203
sidecut: 151/119/135   *  turn radius: 26.4 @ 183  *  $800
MEN:  The challenge with powder skis today is trying to balance new sidecut geometry and reverse camber, while still building skis that bend underfoot and carve in a fun arc. Maybe that's not what people want anymore, but a good ski needs to turn when it's tipped on edge. The Shiro seems to have just the right balance of old and new. It worked well enough to thoroughly impress tester Willy Rens, who said, "Reverse camber, yet has good initiation. It feels supportive in any snow condition, from dry powder to hard, moist snow."
VÖLKL KIKU
LENGTHS AVAILABLE: 154, 162, 170*, 178
sidecut: 139/107/123   *  turn radius: 22.5 @ 170  *  $800
WOMEN:  The Kiku was tested in just about every condition you could imagine. From dry snow to crust to moist schmoo, it performed well in all of them. Testers liked the flex of the ski, which made initiation a breeze. They also liked how it ran the gamut from mellow to hard-charging big turns. Linda Johannson enjoyed her time on this ski from Völkl: "It was fun and zippy, and was great in steep treed pow lines. It floated above the crust and was able to handle it well."
made for Powder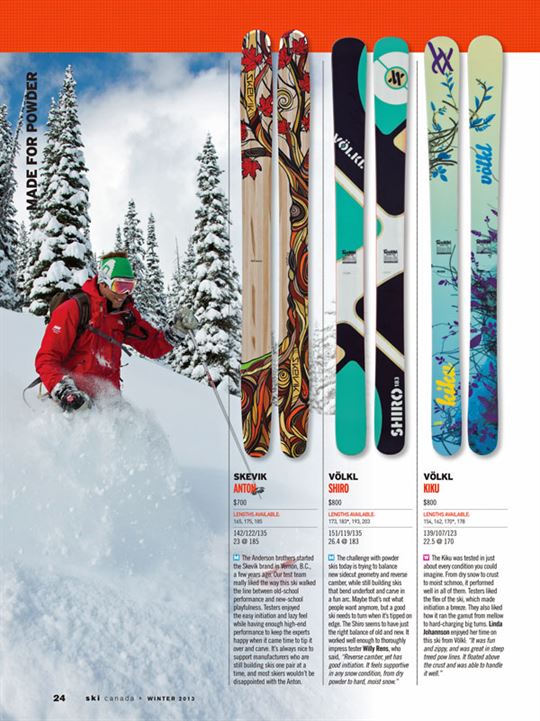 TEAM WIEGELE
Marco Beisteiner
Marco arrived in Blue River from Austria ready to follow in the footsteps of many of his fellow countrymen. He sports a neck tattoo and a hot girlfriend, so he must be doing something right. It's also a little-known fact that his surname translates to "Best at Everything." That part may not be true, but the girlfriend part is.
Ron Betts
At a young age Ron (above) decided that playing was better than working, so his entire life has been in pursuit of this realization. Ski instructing, coaching and ski guiding have kept him busy in the winter, and in the summer he pushes people off cliffs at his business, Treetop Flyers Zipline, near Kamloops, B.C.
Lee Boland
Lee is a "wonder from Down Under." He doesn't ski like your typical Aussie—in fact, he's one of the few non-Austrians to hold the Staatlich geprüfter Skilehrer, which is the Austrian ski instructors full certification. Good on ya, mate.
Martin Fichtl
Martin is a dedicated man, both to his family and his love of the mountains. He wanted to work at Wiegele's so much that he was willing to chop his flowing locks and hasn't looked back since.
Andreas Hoffer
Andreas, also from Austria, is softer spoken than some of his countrymen, so he let his skiing do the talking and it spoke loudly. He's hard to photograph because the images usually came out blurry.
Linda Johannson
Some say that Linda became a respected doctor as a way to pay for her skiing addiction. She divides her time between the Kootenays and her adopted home of Blue River.
Jason Martin
Jason is a ski guide, photographer and mountain-bike rock star. He has a great eye from both sides of the lens, with his work appearing on numerous websites and the pages of Ski Canada. The Ginger Ninja has never once let his red hair slow him down.
Willy Rens
Willy, a guide at Wiegele's for many years, hails from Belgium, so it's a bit of a surprise that he has embraced the big mountains. In his spare time Willy loves the thrill of jumping off high places with a paraglider.
Bob Sayer
One of the most highly respected guides in the industry, Bob has been living the ski lifestyle most of his life. He's quick to share his knowledge and insights, but never his secret stashes of powder or his good scotch.
Polly Simpich
Polly came to B.C. from California, where she worked for many summers guiding on Mt. Shasta. She's a force to be reckoned with on a pair of skis.
Jordan Stiefvater
Jordan joined the Wiegele family as an apprentice guide and quickly rose through the ranks to where he's now guiding guests in the steep-and-deep. When he isn't skiing down mountains, he's finding spots to jump off them.
Mike Wheater
Mike has been living the dream in Blue River for the past three winters. He splits his time between guiding and doing field research for the University of Calgary snow science program. He's a snow geek extraordinaire, and can tell the difference between surface hoar and facets blindfolded.
Made for Powder
Made for Powder