Reading Time:
9
minutes
Ski Canada readers discovered first-hand why Verbier is one of the iconic resorts of the Alps.
_By IAIN MacMILLAN    Photos YVES GARNEAU
If he went down there—and headed west…" said Yves, his voice trailing off as we both scanned the vast alpine scene of imposing jagged peaks, blue glaciers and enormous valleys below us, "well, he's gone."
"Gone?" I gulped. "For how long?"
With what sounded like ominous certainty, Yves replied dryly, "Hikers in the spring might find him."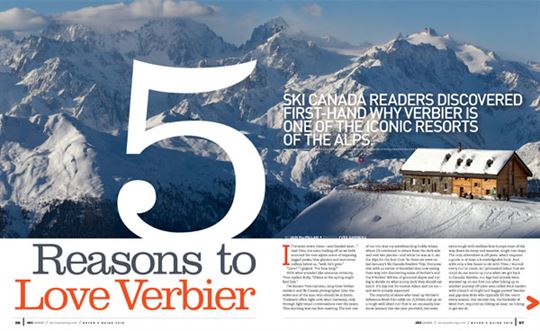 I've known Yves Garneau, long-time Verbier resident and Ski Canada photographer (also the eldest son of the man who should be in Justin Trudeau's office right now, Marc Garneau), only through light email conversations over the years. This morning was our first meeting. The lost one of our trio was my snowboarding buddy Adam, whom I'd convinced to return from the dark side and rent two planks—and while he was at it, ski the Alps for the first time. So there we were on last January's Ski Canada Readers' Trip. Everyone else with us earlier at breakfast was now easing their way into discovering some of Verbier's and the 4 Vallées' 400 km of groomed slopes and trying to decide on what sunny deck they should eat lunch. It's day one for roomie Adam and me too—and we're already separated.
The majority of skiers who head up Verbier's infamous Mont Fort cable car (3,300m) end up on a tough well-skied run that in an unusually low-snow January like last year provided, becomes extra tough with endless firm bumps most of the way down its steep and massive, single-run slope. The only alternative is off-piste, which requires a guide or at least a knowledgeable local. And with only a few hours to ski with Yves, I wanted every run to count, so I persuaded Adam that we could do our warm-up runs when we got back to Canada. Besides, our legs had already been warmed up on our first run after hiking up to another yummy off-piste area called Rock Garden with a bunch of bright and baggy-panted Swedes and gap-year Brits who typically fill the resort every season. Our second run, the backside of Mont Fort, required no hiking (at least, no hiking to get into it).
We could see from a lack of any tracks that most, okay, all recent backside skiers had avoided the steep sun-baked slope directly underneath the metal grating of the lookout area because, well, it's steep enough to send you sliding (for a while), should you get knocked off balance. While the three of us stood admiring the overwhelming panoramic view of Switzerland's most important peaks, like the Matterhorn and Monta Rosa, some punter knocked one of Yves's poles under the balcony rail, which meant our plans changed on how we would begin our descent. Adam sensibly chose to ski around and meet up with us, and this is where better instruction (and less time on my part faffing around taking photos) would have kept us together as a group.
By the time Yves and I were within sight of Adam's planned meeting point below, there was no Adam. Likely a minute earlier he'd decided he needed to catch up rather than wait up. Which brings us to me now thinking about finding Adam "in the spring."
Yves, thought (hoped) Adam had followed other skiers or at least gone in their general direction rather than choosing what appeared to be the more inviting long slope to nowhere. So, while I stayed higher up scanning the cosmic no-man's land below, my remaining partner skied off for a better view down our intended valley and within minutes was waving me down to join him. A tiny solitary speck far in the distance attracted his attention, not because we recognized Adam or could even make out the colour of the figure's clothing, it was simply the fact that he was completely alone in the bottom of a vast alpine expanse, something not regularly seen and, consequently, conspicuous. Well beyond earshot (and mobile phone service), the figure slowly trudged along some lengthy flats and stopped, at which point Yves and I began waving madly. Adam waved back.
Back at the hotel dining room that night, Adam won the first of the week's Bollé Goggle Awards for memorable anecdotes of the day.
1. OFF-PISTE OPPORTUNITIES
While most cable cars in the Alps are still jammed full of carving skis, a few at ski areas like Chamonix or La Grave in France, St. Anton in Austria and Switzerland's Verbier and the 4 Vallées ski domain have an inordinate number of fat skis on board (as well as silently transmitting avalanche transceivers, airbag backpacks, touring bindings, telescopic poles, appropriate goggle tans, creative facial hair and so on). Indeed, Verbier's reputation with freeriders has been established for so long it's often hard to differentiate on- and off-piste skiing on some mountain faces given the accessibility as well as speed that the tracks are laid out everywhere after a snowfall. Plenty of hardcore seasoned skiers who were once labelled "extreme" may have moved on to less-crowded alpine scenes, but there are still parades of young, good skiers from across Europe and beyond who settle in for the season every year.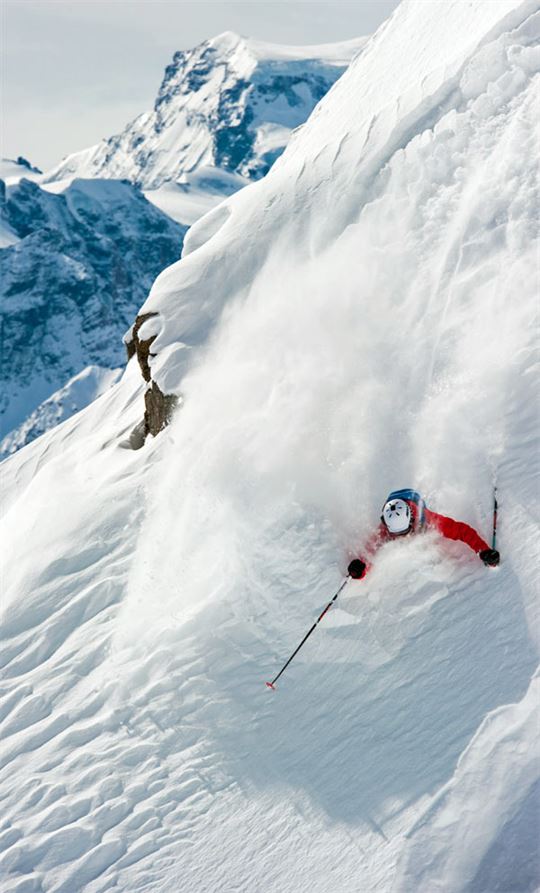 The backside of Mont Fort may be only one of countless extraordinary off-piste runs that have made Verbier famous in the freeride crowd, but it's not all about 40+ degree slopes and sphincter-tightening couloirs. There's plenty of off-piste skiing that's ready to entertain any confident intermediate who has the sensibility to hire a mountain guide or qualified instructor. Competing groups offer similar services, but you might want to start your research with Canadian expat Felix Tanguay and his guides and instructors at Powder Extreme in the village centre. Patty and a clutch of 40-something ladies on the Ski Canada trip released their mates then unabashedly chose their instructor-guide by sorting through important qualifications posted at Powder-Extreme.com like photo, height, weight, age…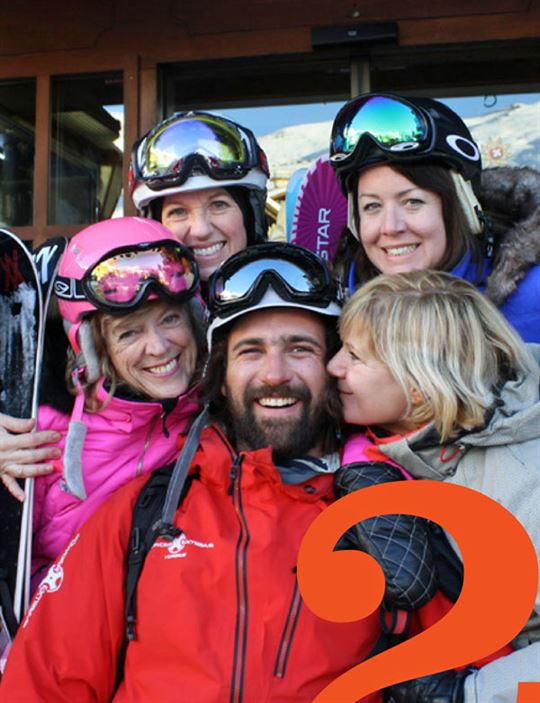 Planning the Readers' Trip nine months earlier, Ski Canada had reserved all remaining rooms at the cozy Hotel de Verbier in the village centre, which meant our 40 beds sold out to readers before we could run a single ad in the first issue of the magazine. Although Verbier is one of the top 10 resorts in the Alps, for budgets like ours it has far more catered chalet accommodation than hotel space mostly due to the numbers of British visitors, many of whom are experts at finding the best deal.
Virtually unheard of in North America, British-style "chalet accommodation" typically involves an enormous ski tour operator like Inghams (which we used) commandeering chalets and hotels for the entire season, bringing their own staff of university-aged kids (and fighting with national authorities over what constitutes "minimum wage"…but that's another story), perfecting a fixed weekly menu of buffet breakfasts, multi-course dinners, après-ski snacks, pre-dinner aperitifs, wine (apparently unlimited at dinner), providing hosts for seamless airport pickup and, if you reside in Great Britain, include airfare. By packaging the Alps up into select chalets and hotels, Inghams and other tour operators are able to offer some incredibly priced, near all-inclusive packages—even to posh Verbier.
Of course, our difficulty in finding affordable accommodation is understandable given Verbier's rep with European royalty, film and footballs stars, oligarchs and magnates in general. Go upscale if you can afford to. A $50-million chalet price tag isn't uncommon for some real estate budgets around town; or if you just want to get a feel for the place, you could always rent Richard Branson's lodge that sleeps 18, for $230,000 a week. For those who care, Prince Andrew and Sarah, Duchess of York (and one-time Verbier chalet girl), have bought a chalet together. You know, for the kids…. And if you can recognize a celeb in helmet and goggles, you may be squished into a cable car or gondola with Becks, Posh Spice and their oddly named lot, or Jamie Oliver, Jude Law, Leonardo DiCaprio and other Verbier regulars too numerous to list.
No matter how over-the-top exclusivity becomes behind closed doors in Verbier, everyone shares the same slopes and I for one think your money is better spent on a good mountain guide. Besides, we loved the creaky stairs and cozy crackling fireside chat with our Scottish compatriots, who had booked the rest of the rooms at Hotel de Verbier. Overall, it felt more like staying at a friend's chalet.
2. PRACTICE YOUR FRENCH
They say the British are too polite to be honest and the Germans are too honest to be polite and although these stereotypes can be dead-on sometimes, they're not always true when you're skiing in Switzerland. Nevertheless, what is enormously true in Verbier is the absolute domination of tourism from the U.K. Despite being in the French part of the canton Valais, English appears to be the first and often only language of both visitors and residents (or seasonal ones anyway). A rite of passage for many gap-year kids is a winter playing chalet-girl or chalet-boy, making meals, cleaning rooms, delivering skiers to and from the lift station, etc. And to whom are they catering? More Brits. One day at après skied with friends from the nearby small city of Martigny my very unilingual friend Pierre-Jean couldn't make his order understood in a trendy Verbier pub simply because he didn't speak English. Explained our Scouser waitress quite simply (in a thick Liverpudlian accent), "Sorry, love, no one here today speaks French."
English accents may rule in Verbier, but the occasional American can be heard and appreciated when it comes to ski gear. A born-and-raised Pacific Northwesterner, Blair Brouillet is one U.S. expat worth seeking out. His shop SkiService in the village centre uses an apt adjective in its name. Rental possibilities are huge (including complete touring gear) and the condition of the equipment is excellent. On a continent where "the customer comes first" is apparently an untranslatable mantra, it's obvious that the staff at SkiService has been trained by an American.
3. THE BAR BILL
Verbier's aggressive extreme-skiing reputation is matched only by its standing in the extreme-partying category. Ski Canada's HQ for the week was handily located across the street from the notorious Farinet, where a splashy (don't wear your best outfit) evening with 300 new friends and a great cover band can be had most nights. Just be ready for anything, like, say, a buck-naked guy wearing only a reindeer head dispensing shots. Non-skid footwear is a good recommendation, handy for tabletop dancing, which is encouraged.
From après ski to après dîner to after 4:00 a.m., take your pick. Ski Canada trip vet Ginny offers her week's favourites: Pub Mont Fort, The Loft, T-Bar, Le Rouge, Big Ben (aka the Grizzly Bar), Twin Peaks (FKA the Casbah, FKA the CocoClub…) and, of course, the Farm Club, which has been pounding for more than 40 years and is showing no sign of slowing down.
4. EVENT MANAGEMENT
The Ski Canada airport bus couldn't reach the hotel on our arrival day. Close, but not quite there, so our weary jetlagged posse trudged uphill about 150 metres toward the front door quietly grumbling about the effort required. Although I was aware that the ISMF Ski Mountaineering World Championships had begun the day before, it only occurred to me when the cowbells started ringing beside us and suddenly Spaniard Killian Jornet, followed by 100 or so other insanely fit bodies in tight Lycra suits, literally ran past us uphill on skis. In just under 40 minutes Jornet skinned and skied up 847 vertical metres atop Les Ruinettes, and skied back to the start—incredible. In total, 251 athletes from 23 nations were in Verbier for the week's festival of some of the world's strongest hearts and enormous lung capacities. Jornet is a bit of a mountain runner, too. He holds the record for ascending the Matterhorn from Breuil-Cervinia to the peak—and back—in less than three hours.
Verbier welcomes a packed calendar of events from the start to the finish of the ski season every year. The Freeride World Tour culminates here, and the venue (off Mont Fort) is recognized as the most challenging and technical of all events.
5. BRUSON
While Verbier itself is an enormous ski area, it's only part of the 400 km and 88 lifts of the 4 Vallées, which include the satellite resorts of Collons/Thyon, Veysonnaz, Nendaz, La Tzoumaz and Bruson. Although it's not possible to ski in one continuous run, there's a 1,900-vertical-metre difference from the top cable car station of Mont Fort and most village accommodation, nearly 2,500 if you're lucky enough to ski a storm's aftermath right into Le Châble below Verbier. Yes, it's massive, but playing lost and found for a week while you discover some of the biggest ski domains in the Alps is a key difference between a week's holiday in Europe vs. North America.
Sometimes it requires shuttle buses to reach outer lifts included in your pass, and sometimes a single lift can change everything. In the past 10 years, the lift company in Verbier has spent more than $100 million on infrastructure and Swiss engineering feats, including a seamless yo-yo gondola that connects Les Ruinettes above Verbier with sleepy Le Châble 700 metres farther down into the valley, but it also continues up the other side onto Bruson. With so few skiers making the trek in the opposite direction of the 4 Vallées, only a few lifts are needed to ski Bruson, simply because the numbers aren't there. "Morning" corduroys can last until the next day and crowds are nonexistent. Bruson is also a jumping-off spot for some spectacular touring routes, where we spent our final day with mountain guide Hervé Grech, my new local friend Vincent Riba and crazy wingsuiter, splitboarder Géraldine Fasnacht. Our skin up to Six Blanc and the ridge beyond was an uncomplicated alpine stairmaster workout, but the reward was delicious. With no new snow for almost two weeks and early February sun so warm you're cowering on some lunch decks, our final long run down in thigh-deep, dry, crystalline powder was magical. Our little secret. More Verbier: verbier.ch, vallais.ch, myswitzerland.com
from Buyer's Guide 2016 issue