---
An excellent adventure is easy when you include Monashee Powder, Red Mountain and Whitewater
by IAIN MACMILLAN from Winter 2012 issue * photos: COLLEEN GENTEMANN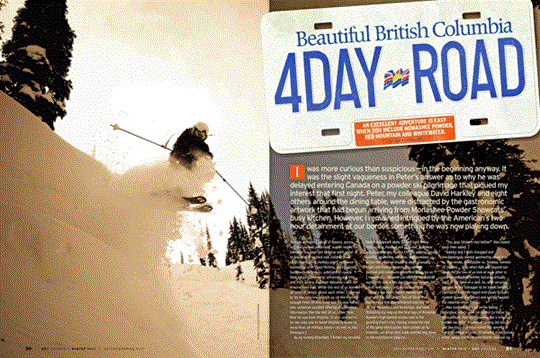 I was more curious than suspicious—in the beginning  anyway. It was the slight vagueness in Peter's answer as to why he was delayed entering  Canada on a powder ski pilgrimage that piqued my interest that first night. Peter, my colleague David Harkley and eight others around the dining  table, were distracted by the gastronomic artwork that had begun arriving  from Monashee Powder Snowcats' busy kitchen. However, I remained intrigued by the American's two-hour detainment at our border, something  he was now playing down.
As each wonderful blend of flavour, aroma and texture was presented, our ski mates for the next few days got to know each other in the kind of excited talk children have on Christmas Eve. Harkley and I were now teamed up with three smiling, backslapping buddies from Oregon, a delightful couple from Calgary, two lucky university-age kids and their loving dad from Kelowna—and our evasive lone wolf. While the rest of us learned all sorts of details about each other, I seemed to be the only one to pick up on the friendly-enough Peter (if this truly was his real name) who somehow avoided offering any personal information like the rest of us, other than that he was from Virginia. (I also seemed to be the only one to know Virginia is home to more than 20 military bases—as well as the Pentagon.)
As my tummy distended, I folded my serviette beside my dessert plate, pushed back in my chair a little, listened and observed. Now here was a modern-day Agatha Christie setting: snow swirling around the windows, thermometers across the province dropping as an unusually frigid cold front settled in, the satellite internet and communications link down (or so I imagined)… We were cut off from the outside world with only a few days' gourmet rations, 60 cm of new snow—and mysterious Peter.
Only a few hours earlier, Harkley and I had split the Ski Canada Test at Silver Star, beginning a four-day whirlwind road trip to ski the Monashees and Kootenays, and were fishtailing our way up the final legs of Monashee Powder's high-banked access road in his growling Ford F-150. Having missed the rest of the gang who'd earlier been picked up by snowcat, cat-driver Alex made another trip down to the trailhead to meet us.
"You guys driven a sled before?" Alex stated more than asked.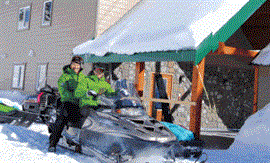 Harkley and I both shrugged and simultaneously started yammering about two-vs. four-stroke, Bombardier vs. Yamaha, helmets vs. mullets… Only when Alex was beyond ear-range did the two of us look at each other in surprise and admit neither had ever actually been at the helm of a sled. So, after securing our gear in the toboggan to be towed behind, I claimed victory in a rigged rock-paper-scissors contest (I was in mittens) and quickly bagsied the steering-wheel thingy.
Alex took off like a jet in the fading alpenglow, which gave me licence to follow in close pursuit, Harkley screaming like a schoolgirl behind me. After decades of cursing Jet-skis and Sea-doos that have ruined the sanctity of Ontario cottage country, 15 minutes of excessive noise, speed and tight switchbacks released my inner sledhead, I'm loath to admit. As I stood proudly tossing the machine's keys in the air at Tsuius Lodge, our storybook alpine cabin destination, all Harkley could say was, "I kept thinking, when I bail, how far do I have to jump and still miss getting flattened by the gear-toboggan we're towing."
Monashee Powder almost doubled its facilities two years ago with the completion of a second building that now houses all 24 guests in 16 simple, cozy bedrooms, each with private bath. Sitting at 1,600 metres, in the centre of MP's 66 sq-km of terrain, friendly and fun owners Tom and Carolyn Morgan have built an alpine oasis in an epicentre of winter white (averaging almost 20 metres annually). A warm, family feeling wraps around you the moment you're welcomed inside, and it's a perfect example of how one couldn't possibly compare a town-based powder operation with something like this entirely self-suffi cient remote alpine lodge. With a wood-burning central furnace warming the entire operation, including two hot tubs, a welcome drying-room, billiards room, bar and open-concept living area upstairs, I felt I was settling into a friend's weekend place more than I'd become another customer. Visions of sugar plum fairies (on big fat skis) bounced in my head as I easily drifted off to sleep that night.
Our first day brought blue skies with spectacular deep snow over almost all above-treeline terrain. As the day went on, the Quebec-like temperatures sucked the humidity from the latest dump and created true blower you typically find near deserts. Friendly and chatty guides John and birthday-boy Mark led us to harvest the day's riches. Long, wide-open runs on Cottonwood Bowl and Top of the World were idyllic, worth returning to, just to show that life sometimes gives you a second chance, even if the first was as close to perfection as one can hope for.

Each journey back up in the cat would become noisier, with lots of time between runs to chat about the mates, family, pets and work we'd left behind. Despite Harkley's exaggerated eye rolls over my new obsession, my suspicions about Peter grew, especially when I observed his abilities in big snow. How could someone who claimed to be from Virginia ski so well?
Meanwhile UVIC student Russ, on his way to being as good a skier as the guides, was charging huge lines with so much snow swirling and trailing his big frame he looked like a cartoon figure snowballing down the slope with only the occasional flash of a glove or his helmet.
I suggested he pop off a good-sized rock for my lens, which he did with the gracious prowess of a charging yeti on big, barrel-stave twintips.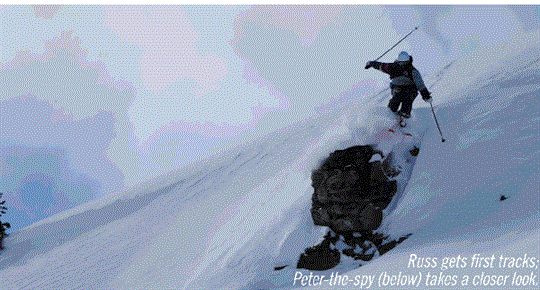 After a little yelling from below, several of us convinced the "spy" to follow in Russ's tracks, but unbeknownst to us (as well as poor Peter), Russ had knocked a false bottom out of the lead-up to the outcropping. With a sympathetic audience below, our secret agent coolly skied directly into what I've heard Austrian skiers aptly call a Mausefalle, or mousetrap. A total train wreck followed as 007's tips drove straight into a hole like a pole vaulter might use; heels over the head, followed by a slow-motion sequence of a body dribbling over the rock face and dropping unceremoniously into a feathery landing—then screams, hoots and hollers. With a hysteria that until then had been reserved only for his father's shortcomings on skis, I thought Russ was going to lose a lung laughing so voraciously.
Much to his chagrin, Peter was the centre of attention back in the cat as everyone who had witnessed the spectacular launch took turns re-enacting and describing it from his particular view. As the guffaws settled down, I kept the agent on stage by peppering him with subtle questions like, So what's so secretive with our work that would lead to a Canada Border Services strip search anyway, Peter?"" I don't recall the first chink n his armour, but I remember Harkley finally jumping up with pointed finger and blurting out. So! you are  a spy!"
As others in the powder village mob agreed, neither his feigning acceptance of the accusation, or quick denials, convinced us that he was anything but a well-trained CIA mountain assassin. By suppertime that night, it was like our group had been together for a week, not a day. Our elusive spy who came in from the cold didn't react when, after fnding on Google Translator how to say in Russian "How are you this evening?", he pretended not to understand.
The evening ended with a raucous game of Crud around the pool table, led by the country's best snowboard photographer, Mark Gallup, whom I hadn't seen in 20 years. Between those from our own cat colony, Mark and his entourage of baggy-panted boarders and a handful of barrel-chested Swiss and Germans all running into one another in fear of letting the ball come to a halt (and losing the round), it was like a scene out of junior high school. I slept well again.
Remarkably, the snow was even drier the following day. The runs skied faster and more confidently. I noticed fewer polite "You first"s being offered. The gang agreed a short trek beyond the cat drop-off was well worth it to access some of the steeper stuff like Southern Cross, Epiphany and High Plains Drifter. Harkley said something about missing home when we dropped into his day's favourite: Hot Viking Woman.
Our last run at Monashee Powder was unique, with widely spaced burned-out trees and the lodge in clear sight well below —Powder Pig Ridge Home Run. I'm not a big-air kinda guy, but the pillows atop well-buried stumps and rocks seemed so perfectly spaced (the spectacular snow conditions didn't exactly make the skiing overly difficult). A level of confidence came over us as we received a repeated series of communion-like faceshots, followed by time spent floating through the air. Very dreamy.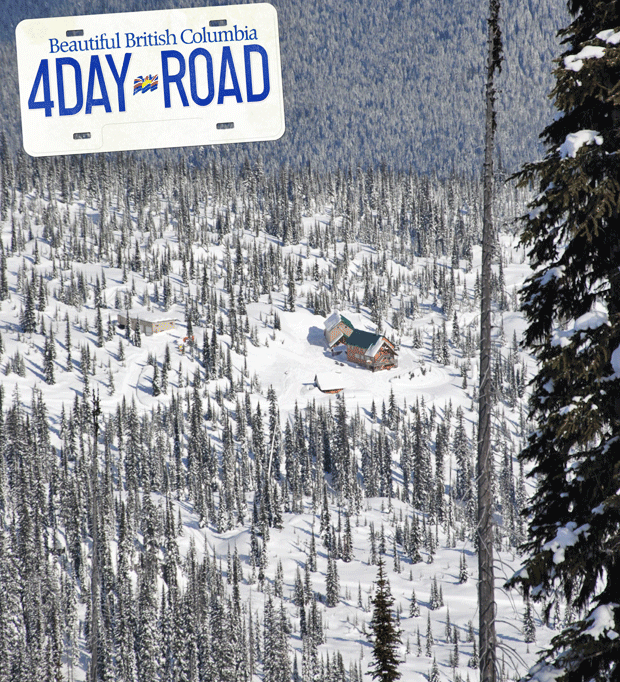 **************************************************************************************************************
With a late dinner reservation at Ainsworth Hot Springs to make, Harkley grudgingly hopped on the back of my sled for the reverse rip back down to the now-buried truck. We sailed to Cherryville, crossed Lower Arrow Lake by ferry at Needles, and pushed on to Nakusp, New Denver and Kaslo, places I'd like to xplore some day.
Four hours later we were standing in 42-degree geothermal waters at the mouth of a narrow horseshoe-shaped cave trying to read the rules through the dense fog. We stopped at number 7. "No moaning!? What the hell?"  Harkley and I read and blurted out in unison.
On the shores of Kootenay Lake, the hot springs have been attracting white visitors for more than 100 years, and likely natives a lot longer. But it was silver, lead and zinc pulled out of the nearby mines that developed the big, natural hot tub. With a hotel long part of the picture, it was a welcome diversion on the way to Red Mountain and Whitewater.
*************************************************************************************************************
Wanting to wrap up the trip with the Cold Smoke Festival in two nights' time, we bypassed Nelson the next morning and headed straight to the black diamonds of Red Mountain. And waiting for us beneath the stunningly blue cloudless sky were friends Mika Hakkola and Erik Kalacis. "It's another sunny day, damn it!" apologized x-freestyle national teamer Kalacis. In our world of wacky weather, a two-week drought at powder-ccentral Red is considered bizarre. On the other and, for the first time I was offered such clear and complete views of one of my favourite ski areas. I was hardly put off.
If you've never visited and only know the name because it produced Nancy Greene, the original Red Mountain, at 1,590 metres, is the smallest of the surrounding peaks. Until the much larger and higher Granite Mountain  (22,075m) was developed, the only skiing was on Red. For those who don't mind hoofing it a little beyond the ropes for their powder, there are (among others) Mount Roberts (11,995m) and, on the opposite side, which I've only read about, Grey Mountain (2,048m).
So with Harkley checking his watch, me with the clipboard and whistle, and Mika in pants two sizes too large, we put in only a few laps off Motherlode and Paradise chairs before it was time to rent some skins, strap on our beacons and head out for the hour hike up Grey.
There's something so mesmerizing about slowly traipsing uphill on touring bindings and sticky skis. I don't need to listen to an iPod. I don't worry if someone in the queue hikes faster or slower than I do. I just truly enjoy the feeling of simply being alone in the alpine, going at my own speed, cracking jokes, talking philosophy, walking in silence, away from Red's fancy ski-in/ski-out new digs at the base, and knowing I'm getting to the top without anyone's help. The views are better. The air is fuller. And Mika's cookies have so much more taste.
There are several routes down Grey Mountain —through open alpine at the top, light trees and eventually cut runs. Or there are other backcountry options, any of which can be arranged with a guide through Red's Snowsports School. Some day Grey Mountain will have a lift on it and perhaps we'll use it to go touring farther field, but our day at Red was to remind us why interest in alpine touring is growing exponentially in Canada.
********************************************************************************************************************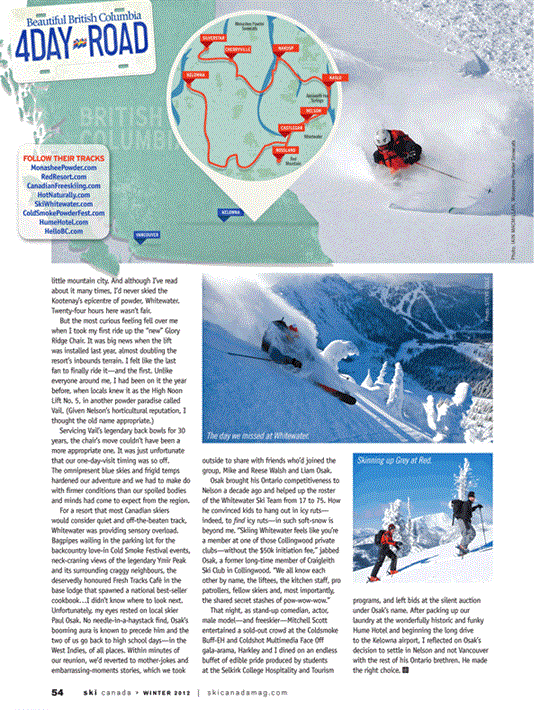 I hit a couple of firsts on our final day of 'Harkley and Iain's Excellent Road Trip'. I'd never been to Nelson, even though my favourite auntie was born and raised in B.C.'s perfect little mountain city. And although I've read about it many times, I'd never skied the Kootenay's epicentre of powder, Whitewater. Twenty-four hours here wasn't fair.

But the most curious feeling fell over me when I took my first ride up the "new" Glory Ridge Chair. It was big news when the lift was installed last year, almost doubling the resort's inbounds terrain. I felt like the last fan to finally ride it—and the first. Unlike everyone around me, I had been on it the year before, when locals knew it as the High Noon Lift No. 5, in another powder paradise called Vail. (Given Nelson's horticultural reputation, I thought the old name appropriate.)

Servicing Vail's legendary back bowls for 30 years, the chair's move couldn't have been a more appropriate one. It was just unfortunate that our one-day-visit timing was so off. The omnipresent blue skies and frigid temps hardened our adventure and we had to make do with firmer conditions than our spoiled bodies and minds had come to expect from the region.

For a resort that most Canadian skiers would consider quiet and off-the-beaten track, Whitewater was providing sensory overload. Bagpipes wailing in the parking lot for the backcountry love-in Cold Smoke Festival events, neck-craning views of the legendary Ymir Peak and its surrounding craggy neighbours, the deservedly honoured Fresh Tracks Café in the base lodge that spawned a national best-seller cookbook…I didn't know where to look next. Unfortunately, my eyes rested on local skier Paul Osak. No needle-in-a-haystack find, Osak's booming aura is known to precede him and the two of us go back to high school days—in the West Indies, of all places. Within minutes of our reunion, we'd reverted to mother-jokes and embarrassing-moments stories, which we took outside to share with friends who'd joined the group, Mike and Reese Walsh and Liam Osak.

Osak brought his Ontario competitiveness to Nelson a decade ago and helped up the roster of the Whitewater Ski Team from 17 to 75. How he convinced kids to hang out in icy ruts—indeed, to find icy ruts—in such soft-snow is beyond me. "Skiing Whitewater feels like you're a member at one of those Collingwood private clubs—without the $50k initiation fee," jabbed Osak, a former long-time member of Craigleith Ski Club in Collingwood. "We all know each other by name, the liftees, the kitchen staff, pro patrollers, fellow skiers and, most importantly, the shared secret stashes of pow-wow-wow."

That night, as stand-up comedian, actor, male model—and freeskier—Mitchell Scott entertained a sold-out crowd at the Coldsmoke Buff-EH and Coldshot Multimedia Face Off gala-arama, Harkley and I dined on an endless buffet of edible pride produced by students at the Selkirk College Hospitality and Tourism programs, and left bids at the silent auction under Osak's name. After packing up our laundry at the wonderfully historic and funky Hume Hotel and beginning the long drive to the Kelowna airport, I reflected on Osak's decision to settle in Nelson and not Vancouver with the rest of his Ontario brethren. He made the right choice. ❄

Tags: Ainsworth Hot Springs, alpine touring, B.C., backcountry, British Columbia, Cold Smoke Festival, Cottonwood Bowl, Craigleith Ski Club, Epiphany, Erik Kalacis, Featured, Fresh Tracks Café, Glory Ridge Chair, Granite Mountain, Grey Mountain, heli-snowcat skiing, High Noon Lift No. 5, High Plains Drifter, Hot Viking Woman., Hume Hotel, Kootenay Lake, Mark Gallup, Mika Hakkola, Mitchell Scott, Monashee Powder', Motherlode, Mount Roberts, Nancy Greene, Nelson, Paradise, Powder Pig Ridge Home Run, Red Mountain, Selkirk College Hospitality and Tourism, Ski Canada Test, Southern Cross, Tom and Carolyn Morgan, Top of the World, Tsuius Lodge, Whitewater, Whitewater Ski Team, Ymir Peak