Reading Time:
25
minutes
Looking for something new and different or just heading to familiar grounds?
With all the skiing to be done this winter, your research starts here with Ski Canada's annual guide to our favourite destinations—right here at home.
From Travel Guide 2010 issue
LAKE LOUISE, SUNSHINE, NORQUAY
www.skibig3.com
877/754-7080
Enough with the hackneyed-twins fantasy: How about playing with some truly shapely triplets near Banff? Between them, there's more than 3,200 hectares of terrain and three fine ski resorts smack in the heart of Canada's protected playground, Banff National Park. Plus the classic ski town of Banff is an international favourite. All day and into the night, plus one of the longest ski seasons in North America, ski the big three from early November to mid-May.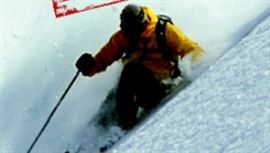 RUNS Together, they share their 274 runs on one lift pass. Lake Louise is the giant with more than 1,700 hectares of terrain spread across four faces with beginner to expert runs from every chair. For more than 80 years, Sunshine Village has been getting bigger, better and longer—it's open from early November until late May, with a historical average annual snowfall 10 metres. Ski in both Alberta and B.C. on the same run. The local's fave, Norquay, offers the only nightskiing in the area and is just minutes from downtown Banff.
POWDER Check out remote bowls like Purple at Lake Louise, or controlled backcountry zones including Delirium Dive at Sunshine, or get a slow start in Banff and do Norquay cruisers all afternoon. Take a three-day Club Ski program and visit all the resorts with one instructor. Your ski pro will show you the best places to find powder, as well as teach you how to love it.
PARK Sunshine's Rogers Terrain Park has a lucky 21 different boxes, rails and jumps over five hectares. Back from the no-air-edict dead, Louise's park is right under Glacier Chair with no extra fees or permits required for its six+ medium-to-large jumps, and 15+ rails and boxes. Norquay offers a fully lit terrain park, nicknamed The Backyard by locals, with great views over the town of Banff
SLEEPING Do it like a baron at the Fairmont Banff Springs and Chateau Lake Louise, like a posh princess at the Post Hotel in Lake Louise, or an eco-romantic at the newly renovated ski-to-the-door Sunshine Mountain Lodge high up on the mountain. New and historical notable stays in Banff include the suites of the Fox Hotel, Buffalo Mountain Resort atop Tunnel Mountain and Brewster's
Mountain Lodge.
EATIN' & A-BOOZIN' Banff is the mothership for going out. Try Bison Bistro & Lounge for hipness, The Maple Leaf for the refined crowd, Giorgio's for classic Italian, and The Balkan for a touch of belly dancing and plate smashing. Top it off with a beer, or four, at Wild Bill's. Club scene: Hoodoo and the Aurora, or so says first-in-line Riley.
FOOLING AROUND In the heart of a UNESCO World Heritage Site, Banff National Park is all things to all nature lovers. Walk
through frozen waterfalls, go snowshoeing, skating, ice climbing, dogsledding. Take a sleigh ride or if even that sounds strenuous, head for the spa at the Banff Springs, also open to non-residents. Count sheep and elk before calling it a night. Norquay opens a new tubing park this winter.
CASTLE MOUNTAIN
www.skicastle.ca
403/627-5101
Why be a dirty rascal when you can be king of a Castle off the beaten track in southwest Alberta? Fiercely loyal locals remain dedicated Castle Mountain skiers, but they're also happy to welcome visitors. They have lots to be proud of, including some fantastically long, uninterrupted fall-line steeps bathed in more than 900 cm annually of deep, light powder. Cat-lovers rejoice, this year Castle offers the only lift-accessed cat-skiing we know, opening Haig Bowl's light, dry and copious stash to anyone who's happy to hike less and ride more.
RUNS Modest numbers, yes—around 70 runs—but not a crowd in sight. The longest run is five km and Castle is just three years
into treating us to a completely new mountain. Mount Haig opened in 2006, adding some fab new terrain replete with intermediate and novice runs. Looking for something more gnarlsome? Try Super South.
POWDER The warm downslope wind over the Rockies can blow, but it also delivers the goods. Ski it off the lift or forge into local backcountry, lovingly referred to as Land of the Wild & Woolly. New glading this year makes a great freeride mountain amazing.
SLEEPING Slopeside and nearby cabins and lodges offer something for everyone.
EATIN' & A-BOOZIN' Line 'em up at the T-bar Pub, stumbling distance from the lift. A Canuck classic.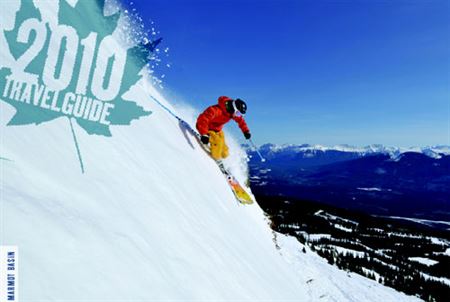 MARMOT BASIN
www.skimarmot.com
866/952-3816
Short on hassle and long on natural beauty, quality snow, length of ski season, varied accommodation—and elk droppings. Go deep in rugged Jasper National Park in the Rocky Mountains, where Marmot Basin claims the highest base elevation of all Canadian ski areas and a charming ski town that hasn't been killed by the slopeside condo. New this season, the Canadian Rockies Express is whisking skiers up nearly 600 vertical metres (the biggest in Alberta) in less than eight minutes. Arrive in style aboard Via Rail's gleaming cruise ship The Canadian, with service from Toronto and Vancouver three times a week.
RUNS There are some 86 named runs across four distinct areas of the resort. With varied terrain from cut runs, bowls and glades to wide-open cruisers and gentle slopes, this is an all-comers-leave-happy zone. Try the new Escalator chute under the Canadian Rockies Express.
POWDER Averaging 400 cm of deliciously dry Rocky Mountain powder each season, Eagle Ridge bowls and glades make prime pickings. A traditionally regional secret, those who know where to look (or simply ask) can find powder long after a storm.
PARK The Rogers Terrain Park is located at Lift Line in the lower area of the mountain, accessible to all abilities. And this year it's bigger and better.
SLEEPING The always quaint and welcoming Town of Jasper has 25 different possibilities, ranging from swank Jasper Park Lodge to family motor inns, rustic cabins and youth hostels.
EATIN' & A-BOOZIN' Check out the suntrap decks on the lower and mid-mountain. In-town faves include Fiddle River and Cassios. Home to the only brew pub in a national park, Jasper Brewing Company uses mountain water sourced from the Canadian Rockies.
FOOLING AROUND More than 200 km of trails make Jasper one of the largest cross-country ski areas in Canada, many from your doorstep. Maligne Canyon Ice Walks tour the deep canyon through ice-clad limestone walls, icefalls and ice caves. Drive your own team of dogs through the wilderness. Skate on frozen lakes, or snowmobile and snowshoe, too. The new Beloved Natural Healing Clinic offers an aroma oxygen bar, foot detox, oxyvibe and oxygen sauna.
BEST DEAL Jasper in January's annual two-week winter festival—January 15-31—features discounts on adult lift tickets, deals on accommodation, snow sculpture contests, a chili cook-off, super demo days and more.
NAKISKA
www.skinakiska.com
800/258-7669
It's gorgeously groomed and only 45 minutes from Calgary. And now you can get to the top in less than five minutes on the new Gold Chair Express high-speed quad. This Olympic setting deserves another medal.
RUNS Nakiska is famous for its wide-open corduroy flare. There are 28 marked runs, plus 14 hectares of glades and a new
100-metre magic carpet—the largest in Alberta. This ski area is a family-pleaser with a secure beginner's area and some decent
challenges on the upper mountain.
SLEEPING Delta Lodge, ticker-taped-off homebase for the G8 world leaders a few years back, has a few stories to tell. And for
cutting loose, or if you only have the day, Calgary is only 45 minutes away.
FOOLING AROUND The official National Training Centre of Alpine Canada, whose idea of fooling around is running 40k after skiing. Every year, at least three-quarters of the racing field at the annual Lake Louise Winterstart World Cup trains at Nakiska prior to the event. Come watch!
RED MOUNTAIN
www.redresort.com
800/663-0105
Pull on the pompom hat and stretchies and head for these hills.But hurry, Red's retro reputation is in jeopardy, thanks to recent
improvements to both lifts and accommodation. The massive snow that buries stop signs each winter hasn't changed though, nor have what many readers tell us are the country's best trees, best ski town, best steeps—and did we mention best trees?
RUNS There are 900 vertical metres of steeps, trees, wide-open glades and corduroy groomers. The new beginner and intermediate terrain spans more than 45 hectares and is accessible by the new Silverlode chair. Paradise Basin is the ideal location for intermediates. The hike-to Mount Roberts is a world unto itself.
POWDER Trees, trees, trees—and lots of fluffy stuff in between. Farther afield is lots of easy-to-access backcountry. Big Red Cats snowcat skiing, with likely the most reasonable rates in the country, is 10 minutes down the road.
PARK Red Park includes 15 rails, funboxes and tabletop jumps with features for all levels. There are new jumps this year, and a sound system and skiercross track.
SLEEPING T'was a time slopeside accommodation didn't apply, but Red Mountain Resort Lodging has plenty of ski- or stroll-to-the-door condo and luxury vacation home properties in the pool today. And of course, the historic mining town of Rossland, two minutes away, has a wide choice of hotels and inns.
EATIN' & A-BOOZIN' Gypsy at Red for funky fusion and, new this year, The Drift Izakaya serves Japanese tapas.
FOOLING AROUND Cross-country skiing, snowshoeing, snowmobiling and dogsledding, and an outdoor skating rink opens this winter at the base of the mountain.
BEST DEALS Half-day lift tickets on January 6-7 and April 5, and March 15 is Ski Free Day. Check online for season-opener specials and extend-your-stay deals.
PANORAMA
www.panoramaresort.com
800/663-2929
The resort is located in the pretty, peaky Purcells, smack on the warm side of the Kootenay Rockies. With average temps in the
comfy -5C zone, everyone is happy in this intermediate paradise—even the experts. Panorama is unique with its award-winning groomers, a no-hike off-piste, on-site heliskiing, an envious outdoor hot-pool system and slopeside condo village.
RUNS Nine lifts serve 120 named runs, much of it as smooth as your baby's bottom and as long as… There are loads of groomed fall-line cruisers and a large beginner's area featuring a 135-metre-long carpet lift. The season lasts from mid-December to mid-April, although preseason race training starts early November.
POWDER Head for the "backcountry-style" runs of Taynton Bowl, formerly the terrain of RK Heliski. Expect great powder on Never Never Land, C-Spine and Heli-High.
PARK There's one to start on, The Small- Medium, then one for later, too. Parkheads can progress to Showoff Park, rated up to XL and one of the biggest of the big.

SLEEPING All condos, townhomes and
hotel rooms are ski-in/ski-out or just a short stroll, or gondola ride, from dining, shopping and activities. Panorama lodging guests receive complimentary access to Panorama Springs Hot Pools, Canada's biggest slopeside hot tubs.
EATIN' & A-BOOZIN' Even though every condo has a full kitchen, don't miss out on Pano's Earl Grey Lodge, Jackpine Pub, the Summit or Choppers Landing in the RK Heliplex. The centre of nighttime activity is the T-Bar and Grill, with live music on the weekends.
FOOLING AROUND In addition to all the usual amusements—dogsledding, tubing etc— the outdoor pools and slides keep kids endlessly entertained, and the bead-making classes are a hit with the chicks.
KICKING HORSE
www.kickinghorseresort.com
866/754-5425
A freeskiers' fave, The Horse tops out at an impressive 2,450 metres, and nearly 10 years after it first hung out the shingle, the princess of the Purcells is beginning to come of age. The eight-passenger Golden Eagle gondola delivers three big alpine bowls, massive terrain, excellent food at the Eagle's Eye—and some heavenly vistas.
RUNS In all, more than 100 named runs—including 70 in-bounds chutes—riddle the hills above Golden. Favourite runs include the advanced-only Truth #94 or Dare #95, double-black chutes that require a boot back to the summit of Terminator peak and then an exhilarating slide into Bowl Over. Intermediates are on Cloud Nine, from the top of Stairway to Heaven down through Crystal Bowl. And the perfect 10 is the easiest way down from the top of Eagle's Eye.
POWDER Whitewall is the spot for good skiers, but ridges get wind-blown so often that it can double the snow in the chutes. Even the lower mountain has nice glades and tree skiing. Several nearby powder outfi ts beckon, including Rudy Gertsch's Purcell Helicopter Skiing.
SLEEPING Aside from everything in town, an assortment of ski-in/ski-out accommodation now includes hotel suites right at the base of the mountain, as well as condos at the Aspens or Selkirk, plus high-end private chalets.
EATIN' & A-BOOZIN' Go straight to the top for a memorable meal at Eagle's Eye then come back down, lower…lower…to the
Roadhouse Tavern (aka The Lodge), Golden's infamous peeler bar. Others on-mountain include: Heaven's Door Yurt, Sushi Kuma and Scottish pub Local Hero. Try Taps and Riverhouse in downtown Golden for serious après and avant.
FOOLING AROUND Northern Lights Wildlife Wolf Centre is home to a pack of greys with daily interpretive talks right at the
fence. Also tubing, skating, cross-country, snowshoeing.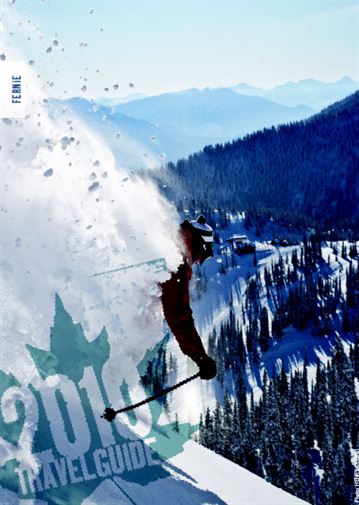 FERNIE
www.skifernie.com
877/333-2339
As powder goes, Fernie's is deep. With an average of almost 10 metres of natural snow a season, this Elk Valley mountainscape is
blessed—and the historical mining town has enough charm you may just stay permanently.
RUNS Choose your adventure. There are 114 runs, 10 lifts and an 870-vertical-metre drop. The Deer and Elk chairlifts access wide, daily groomed rolling slopes perfect for all ages of beginner and intermediate skiers. Most runs in Lizard and Cedar Bowls are intermediate, and fatheads love the glades, steeps and powder in the many bowls and chutes.
POWDER The limestone cliffs of the Lizard Range regularly serve fresh powder for breakfast, lunch and dinner. The famous glades and "side-country" skiing are among the finest in Western Canada.
SLEEPING Enjoy ski-in/ski-out convenience at the retro Lizard Creek Lodge. Or soak in your own private hot tub in a fourstar
mountain hideaway—chalets are available through central booking.
EATIN' & A-BOOZIN' Head for the on-mountain Griz Bar, the watering hole for skiers and riders since 1962. Don't miss the Red Tree Lodge, Curry Bowl and the sushi at Yamagoya. In town there's no shortage of places to eat, drink and be merry.
FOOLING AROUND Dump off the kids at their own movie night, or get them lost and found while geo-caching or doing winter skills orientation. There are also dogsled tours, snowshoeing, cross-country skiing and snowmobile tours.
SUN PEAKS
www.sunpeaksresort.com
800/807-3257
Exactement comme en Tyrol…a picturesque ski-through purpose-built village, heaps of terrain (including above-alpine) across three mountains—yet, ooh-la-la, not a lift line in sight. Where do we sign up?
RUNS There are 122 named runs spread over three mountains—uncrowded cruisers, bowls and glades, with handy access to beginner through advanced runs from the top of every chair. For an adrenaline rush head to Challenger on Tod Mountain; for glades head for The Gils or Mount Morrisey.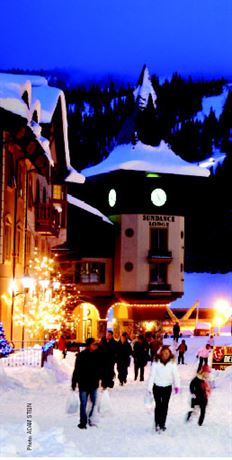 POWDER Dig in! The region is rightly renowned for its dry, easy-to-ski powder.
For some of the best stashes, head to the trees off Spillway or Headwalls. There are 12 gladed areas, two bowls and some sweet steep-and-deep off Top of the World.
PARK About four hectares of playpen with three different zones, each for different ability levels. Clinics teach smart, safe style.
SLEEPING Ski-in/ski-out in the heart of the village from a selection of hotels and family or group-friendly condo suites with
kitchens. There's the well-established Delta and Cahilty and just down by the ol' gum tree, The Kookaburra Lodge opens this winter.
EATIN' & A-BOOZIN' Tod Mountain Coffee House & Crêperie in the Hearthstone Lodge for a breakfast wrap or waffle to start. Sunburst Lodge, located mid-mountain at the top of the Sunburst Express chairlift for lunch. For drinks, do Bottoms in the Coast Sundance Lodge. Boogie-heads aim for Mackdaddy's in the Delta at weekends. If it's good enough for the Austrian ski team, it's good enough for us.
FOOLING AROUND Plenty! Dogsledding, snowmobiling, snowshoeing and activities for the kids such as skating under
the stars, tubing, bungee jump trampoline and outdoor swimming.
BIG WHITE
www.bigwhite.com
800/663-2772
"It's the snow" is Big White's deserving motto, nearly seven metres of it, all as natural as the driven…well, you get the picture. Size-wise, the international (Aussie-owned) resort is second in the province only to Whistler, with five alpine bowls and a virtually 100-per-cent ski-to-the-door village. And did we mention the snow?
RUNS At the top, explore the famous Enchanted Forest full of snow ghosts—the funky frosted trees unique to Big White. With
more than 118 runs, there's something for everyone from the seven-km cruise on Around the World to the many steep bowls and chutes off the aptly named Cliff chair.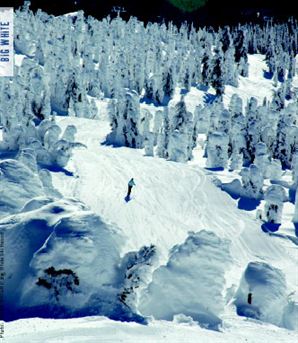 POWDER You're in the B.C. Interior, open wide to gallons of dry champagne powder. Big White's five alpine bowls ensure making tracks is a way of life.
PARK Pounding music, a boardercross course, and dozens of rails and spines are serviced by its own lift and lit for night
sessions. It's fly.
SLEEPING From hostel and private rooms for less than $60 a night to spacious condos like Stonebridge Lodge or vacation homes with private hot tubs on the deck. (Order your groceries and have them delivered to your chalet before you arrive.) Hotels include Inn at Big White, White Crystal Inn and the Chateau Big White.
EATIN' & A-BOOZIN' For dinner, try Kettle Valley Steakhouse, with wines from more than 100 local B.C. wineries. For lunch, the Soup Stone Bistro is a must, and for breakfast, Beano's has the best coffee on the mountain. Snowshoe Sam's, a Ski Canada favourite, has been awarded Best Ski Bar honours more than once.
FOOLING AROUND Kiddy fun galore. Happy Valley Adventure Centre is home to the Mega Snow Coaster Tube Park and Canada's highest-altitude outdoor rink. Also dogsledding and snowmobile tours; you can even rent a pint-sized sled for the tots.
BEST DEAL Fly from Toronto with WestJet and ski for free the day you arrive at Big White. Having a perfect-sized airport like Kelowna only 45 minutes away is a solid bonus.
WHISTLER-BLACKCOMB
www.whistlerblackcomb.com
866/218-9690
Who's your Olympic-size ski resort now? The five-ring circus is coming to town and, yes, the mountains are completely OPEN. Even during the couple of weeks when the Games are on, the mountains are indeed 90 per cent open to the public. If you haven't yet swung, Peak2Peak Gondola sails between the two mountains—across storeys of air beneath its glass floors—in just 11 minutes. Some naïve travellers think 2010 might be a season to skip, but savvy skiers already know WB's best deals ever are being offered this winter. Let the games, all sorts of them, commence.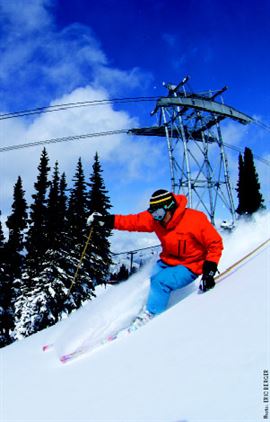 RUNS Two mountains—a million and one routes. Yes, folks, forget the metric system for this one: it's a vertical mile of incredible skiing with at least 16 alpine bowls, three glaciers and 200 named runs.
POWDER Uh…chute, dude… where's my bowl? Over there, right under the lift and in the endless tracts of backcountry and nearby cat- and heli-skiing.
PARK Five parks, one superpipe and one skiercross track.
SLEEPING What's that? But if you insist, choices range from glam at the Fairmont and the Four Seasons, to boutique at the Sundial—and a small city's worth of condoage and holiday homes.
EATIN' & A-BOOZIN' Yes, please. Wine-a-go-go at the Bearfoot Bistro and fab tasting menu at the bar. Sushi Village is still a local's must. Araxi, very smooth. Don't get me started…Oh, and coffee bars, they're everywhere. For boozing—first, the Longhorn (especially in the sun), The Garibaldi Lift Co. (GLC) and Merlin's. Et puis, The Mix is great for 'tinis before hectic action at
Savage Beagle and Tommy's and…
FOOLING AROUND You name it, they've packaged it. All the usuals, nicely done, plus ziptrek, tasting tours, snowcat tours, sno-limo touring, wildlife tours…
BEST DEAL Free music all week (and a lot more) at the annual TWSS Festival in April.
SHAMES
www.shamesmountain.com
250/635-3773
Located 35 km west of Terrace, B.C., this Coast Mountains resort gets pummelled with more than 12 metres of the white stuff each winter. For the metrically challenged, that's 40 feet. Yowzers.
RUNS There are 28 trails and 45 hectares of natural glades served by one double chair, a T-bar and a handle tow. Not vying for the biggest, but with snow like this it's among the deepest.
POWDER See above. All 12 metres of it.
PARK Ride the Rodeo, cowboy.
SLEEPING All the B.C. classics—Sandman, The Coast…—with lift-tickets deals, too.
EATIN' & A-BOOZIN' Back Eddy Pub is the local watering hole, and Hanky Panky's for the pool tables.
FOOLING AROUND Try Mount Layton Hotsprings Resort for odourless ozone-treated mineral waters.
KIMBERLEY
www.skikimberley.com
877/754-5462
Relaxed Purcell living and playing awaits. Some 80 named runs and glades across two mountain faces, and a nice choice of skiin/out accommodation next to a delightful little town of friendly and welcoming Kootenayites and a whole pile of keen Saskatchewan skiers.
RUNS Glading is the name of the game here, with a quarter-million-dollar investment in run improvement and brush cutting, which means that the Black Forest Glades, off the Tamarack Chair, are the place to be if you love skiing deep untracked.
POWDER It's light and dry because of the higher elevation and can measure up to four metres in a normal season. You won't have to fight for first tracks, or seconds, or thirds…
PARK RCR Rail Park offers bars, boxes and rails.
SLEEPING There are plenty of condos and hotels on the mountain, such as Trickle Creek Lodge, that offer ski in/skiout
convenience. Solace on the Mountain, a charming B&B, is run by ex-Canadian national team racer Darren Thorburn. Or stay in a town and celebrate 1970s Bavarian kitsch.
EATIN' & A-BOOZIN' There's plenty of German fare served here, but the best place to steep yourself in history is The Old (very old) Bauernhaus Restaurant. Check out a new restaurant, The Village Bistro. Breakfast at BJ's or pick up home-baked goods and coffee at The Bean Tree. Try Stemwinder for weekend après music or Kimberley pubs such as The Ozone, The Sully and The Kimbrook.
FOOLING AROUND Go curling, bowling, dogsledding and snowmobiling; and ice skating at the resort village with s'mores and a toasty bonfire.
REVELSTOKE
www.revelstokemountainresort.com
866/373-4754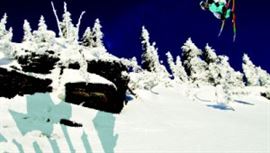 Turns out the magical three words aren't I love you, after all. They're lift, cat, heli. This resort offers all three options from one easy base, as well as North America's longest vertical, 1,713 metres. They're busy filling in the rest of the gaps—but what a starting point.
RUNS Up to 52 and counting. The longest run is Last Spike, which will clock up a thigh-toasting
15 km. They've carved out 10 per cent beginner runs, and the rest is pretty evenly divided among strong intermediate, advanced and expert pitches.
POWDER Off the lifts, hit the deep within 13 gladed areas and by the day, starting at less than $500.
SLEEPING Opened in March 2009, The Nelsen Lodge is at the base area and suites are sweet—big bathrooms, kitchens,  I-pod
docks and washer-dryers. Otherwise, more than 20 hotels, motels, inns, B&Bs, cabins in and around one of Ski Canada's five top ski towns in the country.
EATIN' & A-BOOZIN' Great Oso Negro coffee at the day lodge and a skier's town full of options.
FOOLING AROUND You're in the midst of skidooland. Prepare yourself.
APEX
www.apexresort.com
877/777-2739
Here's something to warm up to. With an average temperature of -4C and low humidity, Apex receives about 600 cm of dry Okanagan powder each season. And it's just a 30-minute drive from Penticton, B.C.
RUNS It has four lifts serving a decent 67 runs, and a nice terrain mix of 16% novice, 48% intermediate and 36% advanced/expert with a bit of everything from cruisers to the steepest of chutes. Just the high-speed quad delivers more than 650 metres of vertical. Apex is also a National Training Centre for freestyle aerials and moguls.
POWDER Go for the steep and steeper chutes, and stay for the south bowls, or cruise through the glades in the Wild Side for extra variety.
PARK Two of them, and you can ride Tim Hortons Tube Park day and night.
SLEEPING All close by: B&B, hostel, hotel accommodation and ski in/out condos.
EATIN' & A-BOOZIN' Gunbarrel Saloon and the Three:Thirty Grill for après.
FOOLING AROUND Nightskiing, lift-accessed tube park, outdoor hockey/skating rink and a one-km ice-skating loop, plus a
World Cup aerial site and mogul course.
SILVER STAR
www.skisilverstar.com
800/663-4431
It's like a mining town, but here the silver comes from above (and there's not much black-faced poverty). More than 700 cm of the Okanagan's light, dry powder snow falls on the slopes of Silver Star every year, and a rare-in-the-ski-world south-facing mountain is appreciated on a sunny day. The Star is a ski in/ski out delight for the entire family.
RUNS There are nearly 100 km of marked runs—some 115 different ones to keep you moving and entertained. Loads of variety and great grooming, too, on Vance Creek's wide, uncrowded slopes as well as some wonderful views of the Monashees.
POWDER More than 60 runs off the high-speed Powder Gulch Quad. Putnam Creek's black-diamond runs and light powder are the motherlode.
PARK Terrain Park & Rail Garden is a progressive-oriented 6.5 hectares.
SLEEPING Good selection of hotels, ski hostel, spacious vacation homes, and suites and condos. This pedestrian, mid-mountain village provides ski-in/ski-out access from every door.
EATIN' & A-BOOZIN' Start with the Bean To Cup for breakfast, and work your way through Bugaboos, Long John's Pub, The Saloon, Bulldog and The Den, with fine dining at the Silver Grill Steak and Chop House, Isidore's and Paradise Camp, 20 minutes by snowcat.
FOOLING AROUND The Canadian, U.S., Australian, Norwegian and Finnish national teams train on the famous cross-country trails here. And you can, too. There are two fully certified biathlon ranges as well, plus tubing, skating, snowmobiling and, wait for it—bingo.
WHITEWATER
www.skiwhitewater.com
800/666-9420
Spoon it up here. Get your deeps, bowls and glades while they're hot, reached via such tiny lift lines and reasonable prices. It's white and it's water in the form we love most. A little hiking and skinning will take you to the riches and treasures of your dreams.
RUNS Two double chairs and a handle tow—classic old-school transport to get to modern winning goods. But WW does have 46
marked runs.
POWDER Oh, yeah. Head for the bowls, the glades, the chutes and the trees. Did we miss anything?
PARK Yes, there's a rail park—but you don't go all the way to a national powder epicentre like Whitewater to teeter-totter in
a park.
SLEEPING Nothing on the hill, but nearby classic ski town and Ski Canada favourite Nelson makes a funky nest.
EATIN' & A-BOOZIN' Home of the famous Fresh Tracks Café and "Whitewater Cooks" recipe bible, plus locally brewed beer
and après snacks at Coal Oil Johnny's Pub.
FOOLING AROUND If you missed the annual White Smoke Festival celebrating all things backcountry, you can always dip into one of several nearby hot springs.
SMITHERS, HUDSON BAY MOUNTAIN
www.hudsonbaymountain.com
866/665-4299
Whoa, something's happening here. Just a year ago, plans were announced to transform a community ski hill in Smithers into a major provincial player and already there's a new eight-km-long "Trail to Town." Watch this space—or better yet ski it first.
RUNS This northern B.C. mountain features runs laced across two bulbous faces—think big, powdery boobies—and now a new trail down into town gives Hudson Bay Mountain (formerly known as Smithers) a continuous big-mountain vertical of 1,150 metres, 533 metres lift accessed. (Okay, you can stop thinking of big boobies now.)
POWDER This Bulkley Valley $75-million resort-in-the-making features top-drawer, lift-accessed powder runs.
PARK RAYZ Park rocks all ability levels with a good mix of jumps, boxes and rails.
SLEEPING Hudson Bay Lodge or the Aspen Inn.
EATING Sushi, pizza and wholesome small-town fare—there's even a Dairy Queen.
MOUNT WASHINGTON
www.mountwashington.ca
888/231-1499
It's the hottest thirty-something in B.C. Mount Washington is the recipient of a legendary 10.5 metres of annual snowfall, so no wonder the place is an Olympic training site for Canadian, U.S., Swiss, and Swedish snowboarders. Two hours north of Victoria (or 30 minutes from Courtenay/ Comox), she's Queen of the Island and a perfect diversion for regular visitors to the province who want to discover a new favourite.
RUNS Some 60 runs (45% expert), nine lifts (including a high-speed six and quad) and 650 hectares of terrain. The Goodtime
Glades are groomed perfectly and spaced gently, so even tree virgins can get the feeling.
POWDER Steep-and-deep tree skiing, a tree hugger's paradise, and plenty o' backcountry for those who truly know what they're doing.
PARK The Stomping Grounds Terrain Park and Green Terrain Park make happy rats.
SLEEPING The pedestrian alpine village has more than 4,000 slopeside beds in hotel suites, condos and townhomes, as well as upscale vacation cabins onhill and nearby.
EATIN' & A-BOOZIN' Fat Teddy's and Alpine Sushi on the mountain—what more can you ask for?
FOOLING AROUND Ozone Snow- Tubing Park. Golf, whale watching and, in the spring, golf and bear watching (sometimes at the same time), plus sea kayaking.
MARBLE MOUNTAIN
www.skimarble.com
888/462-7253
Word is out—Marble's visits are up 75% in 10 years. The apple of the Appalachian foothills announced a $1.2-million investment in 2008—look out, Rock, things are on the move.
RUNS Seven mogul runs and two lovely glade runs—from the gentle slope of Country Road, to the scary bits of OMJ. Oh my Jesus, you'll love it.
POWDER Real Newfie gold dust falls at the local Blomidon cat-skiing operation.
PARK The expanded terrain park has bigair jumps and rails of a bright yellow car and a fishing dory.
SLEEPING Marble Villa is true true ski-in/ ski-out accommodation and could compete with anything slopeside out west. In the heart of Corner Brook there's Greenwood Inn & Suites.
EATIN' & A-BOOZIN' Quite a lot goes off in this part of the world, especially after you've kissed the cod and it all comes to a screeching halt. There's Gitano's in Corner Brook with its mixed platter of scallops, shrimp, salt fish cakes and live entertainment Friday night. The Broadway area is home to The Bar Room, Whalen's Gate and Night Sounds.
FOOLING AROUND Husky-sledding, cross-country skiing, ice fishing, snowboarding and snowmobile tours, snowshoeing, ice
climbing and snow kiting zip tours.
MOUNT ST. LOUIS MOONSTONE
www.mslm.on.ca
877/835-2112
Deep in the heart of Ontario's snowbelt, this place is a Hollywood screenplay in development. It's latest build, completed in 2006, added 10 metres of elevation to the hill—a love story if we ever heard one. And the love is reciprocated: MSLM has more skier visits than the majority of resorts in B.C. and Alberta.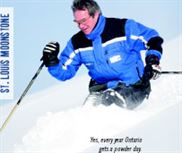 RUNS There are 40 slopes and no less than
12 whizzy state-of-the-art chairlifts. Three magic carpets fly across the largest beginner terrain in Ontario. Three high-speed six-packs and another high-speed quad are the envy of most ski areas in Canada. All told, MSLM moves an impressive 24,000 skiers per hour uphill.
PARKS The Junkyard's smooth rails, press boxes, kickers and Zaung superpipe aren't the half of it. The Outback has some of the most progressive rails and boxes around.
BLUE MOUNTAIN
www.bluemountain.ca
877/445 0231
Draped across the scenic Niagara Escarpment, just above icy Georgian Bay, Blue is a big kid on a modest block—and loved by many. It has an enviable snowmaking system, a commanding view of Georgian Bay and, thanks to 50% Intrawest ownership, a noticeably high standard of living in and around its bijou pedi-village.
RUNS There are 36 from beginner to double-black, served by a hefty 15 lifts, including four high-speed six-packs. 25 trails and 10 lifts are open under the lights.
PARK Park rats have a dedicated chairlift as well as a superpipe. Ride the rails—best in the east.
SLEEPING Four hotels surround the village, offering a choice of boutique and suites. The newest addition, Mosaic at Blue, features stone fireplaces and year-round outdoor pool.
EATIN' & A-BOOZIN' Spoiled for choice, you'd think you were in Toronto: 40 restaurants, bars and shops in the pedestrian village. Try the new Sunset Grill for all-day breakfasts. For après, line 'em up at Rusty's on Thursday, Friday and Saturday for live music
MONT ORFORD
www.orford.com
866/673-6731
Three mountains, four faces, endless vistas. The highest here, with an elevation of some 850 metres, is among the three tallest peaks in Quebec. Monts Orford, Alfred-Desrochers and Giroux await.
PARK One for beginners and one restricted-access park with big air and rails.
SLEEPING Less than 15 minutes' drive to a delightful range of inns, hotels and B&B options, each with its own individuality.
EATIN' & A-BOOZIN' Cozy mountain yurts at the summit come complete with wood fireplaces, and a hopping microbrewery is next to the slopes. There are plenty of gastronomic options waiting to be
discovered.
MONT SUTTON
www.montsutton.com
866/538-2545
They're celebrating its 50th season of charm and hospitality at Sutton, Quebec's gorgeously gladed beauty. This pretty corner of Quebec is a getaway filled with authentic architecture, local farm products, artist workshops and cozy B&Bs.
RUNS We count 54—but more important are the nearly 200 junctions that ensure endless variety to tree-lined route finding. A
whopping 40% of the area is gladed at Sutton. All the expert terrain is on one side of the mountain, while easy to intermediate trails with a family zone are on the other. Take the little ones into the Marvellous Woods, Forêt des merveilles.
POWDER The special microclimate delivers magical powder to a most unexpected area. Lately, Sutton averages more than five metres of snowfall each year.
PARK One snowpark groomed by machine, and by hand, each day.
SLEEPING To name a few: Hebergement Sutton for ski-in/ski-out condos, Auberge Altitude B&B is directly on the slopes and Domaine Tomali Maniatyn has a pool.
EATIN' & A-BOOZIN' Bistro Beaux Lieux offers one of the most creative and delectable menus. Monte Carlo serves fine Italian cuisine; bring your own wine. Il Duetto attracts diners all the way from Montreal.
FOOLING AROUND The decadent design-forward Balnea Spa is a must, plus horse-drawn sleigh rides, live music and shows, art galleries, Vineyard museum…
BROMONT
www.skibromont.com
866/276-6668
Ski Bromont is 45 years old and it's celebrating— day and night. It's a happy, relaxed mountain and there's always someplace new to go. Bromont has a massive 135 trails and glades distributed over seven hillsides, not to mention the largest lit skiable terrain in North America.
RUNS That's right, not only are there 135 marked runs, but almost half of them are open for nightskiing.
POWDER What's the forest I see before me?
APRÈS SKI With a lively nightskiing crowd both in and outside the chalet, there's no need to make the 45-minute drive to Montreal.
BEST DEAL This year, buy a day ticket online for only $39.99!
LE MASSIF
www.lemassif.com
877/536-2774
Downhill skiing: it's a natural at a mountain that you actually ski from the top—the same spot you also left your car. The most spectacular riverside sceneries unfurl from these slopes, slopes that also offer the longest skiable vertical in Eastern Canada. All this in the heart of a UNESCO World Biosphere Reserve—with powder. By late-October, Le Massif was already under 39 cm. New this season is a daily shuttle from Quebec City to Le Massif.
RUNS From atop 770 metres of vertical, 170 hectares of skiable terrain unfold from east to west, with longer, winding trails simply wonderful for carving and cruising. On its western face are glades, bump fields and extreme steeps.
POWDER Look to La 42, La Chaudière and the hors piste sector.
PARK Camp-Boule Express is great for intermediate and advanced park rats.
SLEEPING There are condos and chalets everywhere in the Charlevoix: La Courtepointe Inn in Petite-Rivière-Saint-François, at the base of the mountain; La Grande Maison Inn in Baie- Saint-Paul; or splash out at the Fairmont Manoir Richelieu in La Malbaie.
EATIN' & A-BOOZIN' Mer & Mont will provide a memorable lunch at the summit. For dinner, Restaurant Le 51 and Le Saint-Pub in downtown Baie-Saint-Paul for local delicacies. Après-ski with live music begins at the hill.
FOOLING AROUND In Baie-Saint-Paul: art galleries, exhibit centres, museums, studios and boutiques—not to mention chocolatiers, a microbrewery and fine food shops.
MONT-SAINTE-ANNE
www.mont-sainte-anne.com
888/827-4579
Looking for soigné groomers and efficient lifts? A hop, skip and jump from Quebec City, this is the spot. It's pur laine—check out the onhill sugar shack and enjoy the snow—and the spectacular panorama of the St. Lawrence River and the Laurentians is gratuit.
RUNS Do you like it long? Well, their season is the east's longest—and come nightfall, 17 trails offer the highest vertical for nightskiing in Canada. In the morning, 66 runs covering 69 km on three different sides, including eight hectares of black- and doubleblack-diamond glades that are among the steepest in the east.
PARKS A learning park allows beginners to warm up before crossing over to the controlled-access XL Park, where the stunts are, not surprisingly, extra-large.
SLEEPING More than 60 options, from cozy country B&Bs to all-singing and dancing hotels at the base of the mountain, in the
Mont-Sainte-Anne vicinity or in historic Quebec City, half-an-hour's shuttle away.
FOOLING AROUND Canyoning, paragliding, skating, skidooing and skijoring— your skis and their dogs—with the huskies of Les Secrets Nordiques at the base of the mountain. Race Jacques Villeneuve at The
24 Hours of Le Mont, a test stamina open to skiers of all ages.
OWL'S HEAD
www.owlshead.com
800/363-3342
Named for a great Abenaki native chief, Owl, this mountain sits proudly on the western shore of Lake Memphremagog in Quebec's Eastern Townships with a vertical drop of 540 metres.
RUNS Forty-four marked runs are divided pretty equally between levels, making this a great day out for a mixed-ability family. A new "Super-Bois" glade covers six to eight hectares of powder in the trees.
SLEEPING Ski-in/ski-out from your one-, two- or three-bedroom, full-service condo with fireplace, or the 20-room Auberge hotel.
EATIN' & BOOZIN' The Eastern Townships are filled with quaint restaurants, cafés, B&Bs and historic lodges that have maintained a French charm that can't be replicated in a slopeside village development.
FOOLING AROUND Keep the troops busy with billiards, foosball, darts and, the ultimate calmer, satellite TV.
MONT TREMBLANT
www.tremblant.ca
888/738-1777
The highest peak in the Laurentians is a beacon for skiers from all across the east—and judging from the Russian voices we heard last season, even farther. Tremblant really does provide what the glossy brochures claim—family fun, lift systems that work and a stress-free holiday that includes valet ski service.
RUNS An impressive 95 runs serviced by 14 state-of-the-art lifts. The longest is Nansen at six km, and the steeps are just hat—reaching a slippery incline up to 42 degrees.
PARKS Seven hectares of ramps, rails and jumps as well as an Olympic-calibre superpipe.
SLEEPING Heaps of condo options and service-oriented hotels bookable through central rez. Outside the Intrawest fold, The
Quintessence lives up to its name—the resort's sole true five-star that will not disappoint the most demanding guest.
EATIN' AND BOOZIN' From romantic "old-world" wine cellars to dancing on the bar, from family fun to casinos—there are few places in Canada that could compete with the village of Trembant.
FOOOLIN AROUND Snowmobiling, dogsledding, cross-country skiing, skating, snowshoeing, and included with Intrawest lodging, free tubing and GT sliding jib snow parks. Plus, crazy games for the whole family: volleyball, giant soccer and flag games.
STONEHAM
www.ski-stoneham.com
800/463-6888
Night owls, take your marks. Just a stone's throw from the bright lights and big cheeses of Quebec City, 75 hectares that it claims is the largest nightskiing network in Canada await. Of course, it's also open in the day with enough to keep you and the family well occupied.
RUNS Three new ''sous-bois'' bring the total number of trails to 39 this season, and from 16 to 19 for nightskiing.
PARK Producing some of the best jibbers in the country, Stoneham's Olympic–size seven-metre halfpipe had an $800,000 investment, now ensuring a December opening till late.
SLEEPING Hotel Stoneham, located at the base, is undergoing a full reno. Look for integrated ski-and-stay packages.
EATIN' AND BOOZIN' St-Edmond has a selection of wines by the glass and tapas.