Reading Time:
4
minutes
LAYERING 2022
Staying comfortable on the ski hill is as much about staying cool as it is staying warm. Get sweaty and then sit on a chairlift for 15 minutes and you'll probably feel cold, even with the best layering system. Add some cotton or a non-breathable jacket into the mix and it's a recipe for a bad day.
"Proper layering isn't just about the base," says Tom Brownlee of Mons Royale, a New Zealand company that specializes in merino wool clothing. "If you put plastic or a cotton hoodie over one or two good layers, the whole system breaks down."
Either will dam a moisture transfer system that's moving sweat off the skin toward the exterior. The impact isn't just an incoming chill, says Brownlee. It can also funnel fog into goggles.
The lesson is that layering doesn't begin and end with the first layer. For the system to really work, it has to begin at the skin and end outside. And you have to pay attention to what you're wearing and adjust your pace. Work both sides and you can be comfortable all day long in almost any conditions.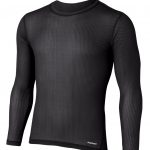 NEXT TO THE SKIN: Brownlee likes merino wool in baselayers, like Mons Royale's new Cascade top and bottom, for their ability to suck up water without feeling wet; their soft feel, natural temperature-regulating and anti-odour properties; and their renewable aspects. Synthetics, like Helly Hansen's Lifa, often dry faster and are more durable than wool. Plus, many now incorporate recycled plastic, reducing their carbon footprint. A new spin is Fine Track Elemental, a sub baselayer. We found wearing the soft, thin, mesh T-shirt or long underwear below our usual baselayers kept our skin drier and, thus, us warmer. It doesn't actually wick sweat, but keeps skin and moist baselayers apart.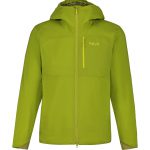 MID-LAYER: Deciding what to stick between the base and outer layers depends on temperature and exertion. The most versatile option is something like Rab's Xenair. It actively regulates temperature, locking in warmth when you're cold, while still allowing moisture to escape. In warmer temperatures and higher-effort days, something like Norrøna's falketind Alpha
120 Zip Hood uses Polartec Alpha and other fleece panels to retain warmth with lots of air transfer. Unless it's really cold out, we'd reserve down puffies for ski-touring breaks and the resort. Down fill packs a ton of warmth, but the tightly woven nylon fabrics needed to contain the fibres don't breathe. And if down gets wet, it loses its insulating properties.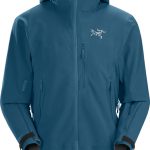 OUTER LAYER: The last defence is key to comfort. It needs to block wind and precipitation, without blocking moisture from escaping the layering system. It comes down to the right mix of breathability and weather resistance. In cold temperatures a softshell with a windproof membrane, like Arc'teryx's Procline is ideal because it's highly breathable and windproof. When wet snow is a possibility, a hardshell like Mammut's La Liste offers more weather protection and versatility.
A JACKET WITH THE WORKS
 Helly Hansen gave the Odin Infinity Insulated Jacket just about all the company's top-quality innovations: LIFA Infinity Pro, its sustainable and super-breathable waterproof membrane; LIFA solution dyed face fabric, which uses much less water than other colour dying processes; and LifaLoft insulation, thermoregulating warmth. HH combined them all into a slick jacket with just enough pockets, a helmet-compatible hood and a casual fit. It comes in almost identical men's and women's styles. $1,000; hellyhansen.com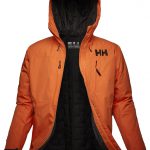 SWEDEN'S COOL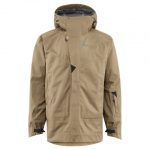 With a population of just .13 per cent of the world, Sweden sure is an influential country when it comes to designing and making stuff: Volvo, Spotify, Electrolux, IKEA…and Klättermusen, just one of many excellent Scandi brands skiers should know. The high-performance mountaineering gear company has been keeping Euros warm, dry, comfy and safe on the slopes since 1975. Its Brage 2.0 Jacket ($800) and Salopette Pant ($680) are full of technical features from prebent sleeves to slanted zippers with storm flaps to a Duracoat reinforced treatment in all the right wear-n-tear places. But it's Klättermusen's unique Oculus Cutan, 100 per cent post-consumer recycled polyester, three-layer fabric that we loved. Fluorocarbon-free, this unique gear is so soft, flexible and has such good stretch you could sleep in it! klattermusen.com
A JACKET MADE FOR MASK MANDATES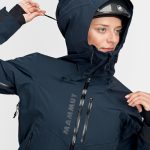 Sometimes you want AI listening to you. Take Mammut's La Liste Jacket. Last winter when we were cursing jacket designers who made collars too constricted to accommodate a mask and the hood on our mid-layer, Mammut was listening. It made the La Liste's hood helmet compatible and added two small zippers. Crack them and the fleece-lined collar expands, creating extra space for hoods, masks and even a scarf, if you're feeling it. The rest of the jacket is just as user-friendly. Pockets and pit-zips are in the perfect spots, even when wearing a pack, and there are hand gaiters and extra-wide wrist closures for locking out flakes even with mitts on. And the Gore-Tex Pro waterproof-breathable fabric is bomber, soft and quiet. $685; mammut.ch
PUFFY PROTECTION: Helly Hansen LifaLoft Air Insulator * Rab Xenair Alpine * Patagonia Micro Puff Storm * Marmot JM Pro * Dissent Labs
all 2022 Powder Buyer's Guide reports