2022 Powder Buyer's Guide pt 4
---
50/50 BOOTS – ALPINE TOURING
In order to see where skiing is heading, it's often illuminating to watch where the energy and R&D are going. And much of that is flowing into boots designed for no-compromise downhill performance with the ability to tour. These four-buckle boots look as if they're made for the resort, but have a grippy sole, a walk mode for skinning and hiking, and touring-binding compatibility. Just about every bootmaker has a pair, including these new models for this season. Both feel like bomber alpine boots, designed to rip, but with plenty of comfort and flex for long bootpacks and hours in the skin track.
Tecnica Cochise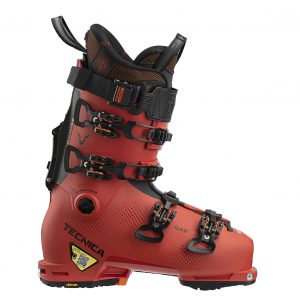 Arguably the inventor of the category when it released the first Cochise in the early 2010s, Tecnica has tinkered again to make it better. On the sliding side, it has an improved walk-ski lever, with a small button that locks it into the downhill mode for confidence and precision. Additional PU in the shell cranks up power transfer. The Cochise comes in three men's and three women's models and includes, for the first time, a women's 120 flex, making it one of the stiffest women's touring boots. For the up, a new hinge point improves striding, and the boot weighs about 10 per cent less than last year's. With a powerstrap, a GripWalk sole and four buckles, it weighs 1.8 kg. Testers who used the old Cochise say it skis better and walks better, too. From $550; blizzard-tecnica.com
Choose it: If you mostly ski the resort, but want the option to walk farther afield.
Lange XT3 Tour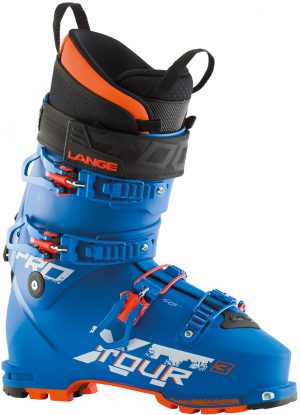 Lange put just about every piece of ski boot technology it has in this boot. It started with Dual Core, hard and soft plastic mixed and layered throughout the boot to tune vibration absorption and energy transfer. Then Lange added a new EVA heat-mouldable liner, Vibram touring sole and rockered boot board. The latter improves comfort on the skin track and is warmer than other boot boards. Like in the Cochise, the ski-walk mode is metal on metal to ensure no flex in the spine. Throughout, Lange managed to cut weight, bringing the boot down to 1.5 kg. It feels even lighter on the ups with a 55-degree range of motion and super-smooth hinging. Overall, we found it retains that classic Lange downhill boot feel, but in a weight that compares with many dedicated touring boots. $850; lange-boots.com

Choose it: If you put in lots of vertical, both inbounds and out, and only want one boot.

alpine touring, backcountry, buyers guide, Lange, powder, Tecnica