---

Heading to Whistler? What to know before you go
WHY DOESN'T THE RACE END IN THE VILLAGE?
"Olympic"—one of the first runs ever cut on Whistler Mountain—ended up over at the garbage dump, which is the site of the current Whistler Village. And ideally perhaps, the Olympic downhill would end there. However, a World Cup downhill race held in 1982 was given a big thumbs-down due to its long flat sections. The Dave Murray course will provide much more challenge.
HOW CAN YOU CHEER ON THE RACERS?
Make like they do in Kitzbühel and get your official VANOC souvenir cowbell (available in two sizes, 2.5 and four inches)—and maybe a set of earplugs. There's even a VANOC-logoed reusable ice pack, suitable for soothing sore muscles or an aching head from a tough day on the slopes.
HOW DO I GET TO THE RACES IF I'M IN VANCOUVER?
Though the Sea-to-Sky Highway has trimmed travel time from downtown to about an hour and twenty minutes, Olympic spectators are being asked to allow at least three hours to travel one-way to Whistler. Book your bus tickets early—the $25 round-trip fare goes up to $50 after January 4. Thinking of doing some skiing while you're waiting for your event to start? Take note: if you're coming from Vancouver for the day, Whistler-bound Olympic buses will not be equipped to carry skis.
WHO WAS DAVE MURRAY?
Easy—the main run and finish line for both men's and women's races will be on the Dave Murray Downhill. This much-loved member of the Crazy Canucks successfully parlayed his fame into a second career as the founder of the Dave Murray Masters Racing Camps. Though "Mur" passed away in 1990, his racing camps—suitable for recreational skiers of all ability levels—are still a staple of ski instruction on Whistler Mountain. Murray married professional freestyle skier Stephanie Sloan and their daughter Julia is a member of the Canadian Ski Cross team. Sloan and Murray's many friends are still very active in the Whistler community.
HOW IMPORTANT IS THE MEN 'S DOWNHILL?
Like the men's hockey finals and the men's and women's figure skating finals, the men's downhill—to be held on the first official day of competition—was earmarked as a "premium" event of the Games. All 7,700 tickets were snapped up in the first round of ticket purchasing.
WHEN ARE THE RACES SCHEDULED?
February 13, 2010 – Men's Downhill
February 14, 2010 – Ladies' Super-Combined Downhill/Ladies'
Super-Combined Slalom
February 16, 2010 – Men's Super-Combined Downhill/Slalom
February 17, 2010 – Ladies' Downhill
February 19, 2010 – Men's Super-G
February 20, 2010 – Ladies' Super-G
February 21, 2010 – Men's Giant Slalom
February 24, 2010 – Ladies' Giant Slalom
February 26, 2010 – Ladies' Slalom
February 27, 2010 – Men's Slalom 1st Run
WHAT ABOUT COURSE PREP?
Though Whistler-Blackcomb has its own impressive armada of grooming machines, VANOC purchased 20 state-of-the-art Pisten Bully snowcats to exclusively groom the downhill course for the races. Snowmaking was beefed up as well and VANOC even started making snow back in October.
WHERE 'S THE PARTY?
What's a trip to Whistler without a good party? The joint will be rockin' for sure with a wide range of watering holes like the Savage Beagle. At the opposite end of the spectrum are those party-hearty Swiss, who will be taking over the Mountain House (in Village North) during the Games. Expect moderate mayhem should Swiss racers like Didier Cuche or Carlo Janka take home a gold.
IF YOU GO?
Staying in Whistler and skiing while the Olympics are on? Be aware that while Whistler is proud to keep 90 per cent of the mountain's vast acreage open, the heavily used—especially by Vancouverites—Creekside lifts and parking area will be closed. However, Blackcomb is wide, wide open and given the likelihood of fresh powder during the two-week period (nothing like a race to bring fresh snow) is likely to be well worth exploring.
The female downhillers will surely be rippin' down two of Creekside's fastest pitches: Mid Franz's from below the Little Red chairlift all the way to where it joins up with the Dave Murray Downhill. For recreational skiers, these are some of the best slopes to get your speed freak on during the "Peak to Creek" annual downhill, which, alas, has been strangely pre-empted for this year.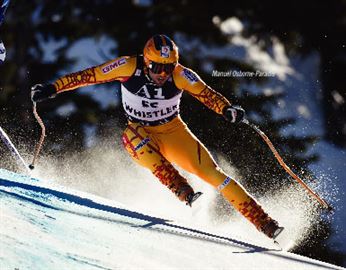 WHO 'S ON THE CANADIAN MEN'S TEAM?
No rest for the wicked: watch for Canadian downhillers Manny Osborne-Paradis, Jan Hudec, Erik Guay and newcomer Robbie Dixon. Olympic rules restrict teams to fielding only four members; little surprise that World Cup races leading up to the Games are being fiercely fought.

WILL YOU BE ABLE TO WATCH THE RACE IF YOU HAVE A LIFT TICKET?
Don't have a ticket to the races? Not a problem! Your Whistler-Blackcomb day ticket allows you to view the races from selected vantage points near the Dave Murray Downhill course.Still, you're a long way from the ?nish line—best to have your 3G phone handy to "watch" the action via your web browser.

WILL THE WEASEL WORKERS BE THERE?
The highly skilled Weasel Workers volunteers will be out in full force and working throughout the Games to manually prep the course, make adjustments to the netting and to sideslip the course. Alpine Canada selected some of the volunteers through a special lottery system that was based on how many people volunteered at previous events.

Take home the ultimate Olympic souvenir

Whether you live in Whistler or in Vancouver, the hot topic of coffee shop conversation is real estate. Both city and resort have the frothiest real estate markets in Canada, with sky-high prices for shoe-box-sized condos to single-family homes. And the Olympics will have a profound effect on housing as well.

Athlete housing for the 2010 Winter Games in both Vancouver and Whistler will become residential housing after the Games. Ironically, the billion-dollar-plus Olympic Village on the southeast shore of False Creek in Vancouver is being partially financed by Fortress Capital—the financially troubled NYC-based equity fund that owns Intrawest, Whistler's mother. Housing in this innovative new neighbourhood—the greenest in Canada— will range from subsidized family housing to multi-million-dollar penthouses designed by renowned (and recently deceased) West Coast architect Arthur Erickson. Local real estate marketer Bob Rennie has come up with a clever slogan to pitch these condos to international guests visiting Vancouver for the Games—"take home the ultimate Olympic souvenir." Indeed. Over 750 new units will go on sale shortly after the torch is extinguished, in addition to the 250-plus that have already been sold.

Alas, Whistler's Olympic Village is considerably smaller, by any measure—and less pricey. Cheakamus Crossing units have been snapped up by primarily Whistler locals looking for environmentally friendly, below-market-value units. Located near the glamorous Whistler Wastewater Treatment Plant and just down from an asphalt and gravel aggregate facility, Cheakamus Crossing has nevertheless sold all of its units.

Tags: 2010 Winter Olympics, British Columbia, Dave Murray, Olympics questions, race schedule, Vancouver, Whistler