2010 Olympic Preview: Freestyle
---

Cypress Mountain is primed to showcase who's hot in moguls and aerials
THE VENUE
Vancouver's most popular "city" ski area, Cypress Mountain, will host all freestyle skiing and snowboarding events at the Games. Its proximity to Vancouver is a boon for spectators, and the test events in 2009 went smoothly except for the cancellation of snowboard's PGS due to a soft course. The coastal location means the whims of Mother Nature—big snowfalls, fog, rain and sunshine—can all be possible and sometimes in a 24-hour period. With events running over 13 days, weather is likely to be a factor at some stage (the 2008 World Cup event here was cancelled because of the conditions). But murky visibility and slow run-ins can be the upshot for freestyle aerialists, and this may well play into the hands of the more experienced athletes.
OLYMPIC SELECTION
The Canadian Freestyle Skiing Association will nominate 18 athletes to the Canadian Olympic Committee for selection on January 25. Jennifer Heil, Steve Omischl and Ashleigh McIvor (ski cross) have all but qualified, effectively leaving 15 spots across three disciplines (male and female). Each discipline can have a maximum of four athletes, while each sex across the sports is capped at 10.
HISTORY OF FREESTYLE SKIING
Developed among the hot-dogging element in the U.S. in the 1960s, the first official competition was held in Attitash, New
Hampshire, in 1966. It took another 13 years for FIS to recognize it and another seven for the first official world championships to be held. At the Calgary Games moguls, aerials and ballet were included as demonstration events. The latter soon died out — look for any videoclips slugged "acro" on YouTube and you'll understand why—while moguls became a full medal sport at the 1992 Games and aerials achieved the same status in Lillehammer two years later.
AERIALS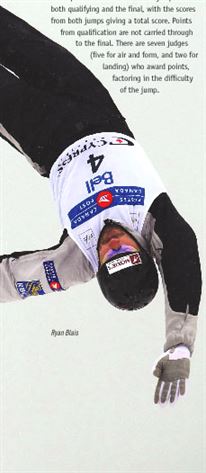 HOW IT WORKS: The competition is run over two days with a qualification on the first day and a 16-skier final round on the subsequent one. Skiers have two jumps in both qualifying and the final, with the scores from both jumps giving a total score. Points from qualification are not carried through to the final. There are seven judges (five for air and form, and two for landing) who award points, factoring in the difficulty of the jump.
THE CANADIANS: It's unfinished business for Steve Omischl, who'll head to Cypress Mountain as the crowd and bookies' favourite. His smooth technique and consistency has led the North Bay native to four World Championship medals and three consecutive World Cup titles. The only hole in the résumé is an Olympic medal, and at 31 years of age it might just be his last chance. Teammate Kyle Nissen, who can actually claim a Nor-Am Cup win in the dying days of acro in 1997, had a solid start to 2009 and on his day can make the podium, while Warren Shouldice and Ryan Blais can also pick up a minor medal pending qualification. The trio finished the last Olympic year at two-three-four on the overall World Cup standings. That, however, was no great omen for Blais, who won a World Cup event just weeks before the Olympics but couldn't get a start in the four-man Canadian Games team.
It will be tough for a Canadian woman to make it to the podium among some quality opposition. Veronika Bauer got on the dais in the first event of last season, but that was as good as it got for the veteran who remains her country's best hope here. Deidra Dionne's retirement because of a benign brain tumour leaves something of a gap as Sabrina Guerin and Amber Peterson would be well pleased with a finals appearance if they get to the starting gate.
INTERNATIONAL CONTENDERS: America's defending World Champion Ryan St. Onge looms large but is the kind of guy who will make the podium or fail to make the final. Belarusian Alexei Grishin is a proven Olympic performer with a 4th and 3rd in the past two Games and will be hard to get off the podium. The Chinese remain a mystery, depending on whom they send, but after Xiaopeng Han's shock win in '06 anything is possible.
In the women's it's a bit more clear-cut with the Chinese team who have been building toward Vancouver for years. With a deep squad expected to contain the likes of Nina Li, Mengtao Xu and Shuang Cheng, they'll be pressing for a sweep. Australia has a two-prong strike force of last year's overall World Cup champion Lydia Lassila, and five-time Globe winner and three-time World Championship medallist Jacqui Cooper in what will be the veteran's fifth and last Games tilt. If Swiss Evelyn Leu nails her triple-triples, back-to-back Games gold isn't out of the question.
Left ski field: Alpine skiing takes the cake for high-speed crashes and moguls for mangling the menisci of its competitors, but for sheer weight of numbers when it comes to injury tolls, it's pretty hard to top aerial skiing. If you haven't spent some serious time in a hospital bed, you haven't made it. Just ask Shouldice, who lost 20 minutes of his life during a World Cup meet in Mont Gabriel in January. Mistiming his speed off the kicker, he smashed into the landing hill injuring his neck, shoulders and stomach before blacking out. It meant a premature end to the season, but he's still hopeful of qualifying for Vancouver. Women's Salt Lake City champion Alisa Camplin won gold with two fractured ankles, while few could forget countrywoman Lassila's shrill scream as she blew her knee in the qualifying stage in Torino. Add concussions, broken backs, fractured arms and a host of other almost regular maladies into the mix and you've got one brutal sport.
TOP 10 PREDICTIONS
MEN
1. Steve Omischl (Can)
2. Alexei Grishin (Blr)
3. Ryan St. Onge (USA)
4. Jeret Peterson (USA)
5. Kyle Nissen (Can)
6. Ryan Blais (Can)
7. Shingling Liu (Chn)
8. Dimitri Dashikis (Blr)
9. Tumefi ed Slivers (Blr)
10. Thomas Lamberts (Sui)
WOMEN
1. Nina Li (Chn)
2. Lydia Lassila (Aus)
3. Mengtao Xu (Chn)
4. Shuang Cheng (Chn)
5. Evelyn Leu (Sui)
6. Shan Shan Zhao (Chn)
7. Veronika Bauer (Can)
8. Alla Tsuper (Blr)
9. Jacqui Cooper (Aus)
10. Emily Cook (USA)
MOGULS
HOW IT WORKS: Qualifying is a one-run competition with the top-20 skiers going through to the final, which is conducted on the same day. The skier with the highest scoring run in the final wins. Competitors are assessed by seven judges, with turns making up 50 per cent of the score, and air and speed 25 per cent each.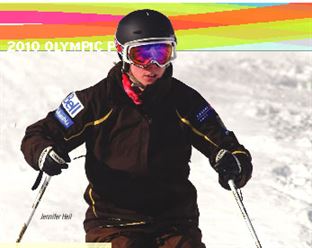 THE CANADIANS: While they might not own the podium, there's every chance Canadians will be majority shareholders in men's and women's moguls. Alexandre Bilodeau looked as if he couldn't buy a World Cup win before 2009, but the 22-year-old from Quebec had a superb back-half of the season. From not having been on the podium since 2006, Bilodeau mounted a stunning run of form that saw him take four consecutive World Cup events, gold in the dual moguls at the World championships in Japan and the Globe for overall title. Throw Vincent Marquis and Pierre-Alexandre Rousseau into the mix (both World Cup winners in '09 and 3rd and 4th in the overall title race respectively) and you have the strongest men's team on the circuit. On the women's side Jennifer Heil showed enough to suggest she could defend her '06 title after a year off the circuit in '08 to re-align her battered body, tapering off slightly toward the end of last season but still finishing 2nd overall. Almost forgotten after a difficult last two seasons, surprise 2007 world champion Kristi Richards has bounced back with a 1st and 2nd in the opening World Cup events of 2009- 10. If on-song, anything could happen.

INTERNATIONAL CONTENDERS: Frenchman Guilbat Colas was the only foreigner to break the Canadian dominance at the pointy end of the podium in 2009, taking two World Cup moguls events. American Patrick Deneen, FIS rookie of the year in '08, showed he could step up to the plate with a stunning World Championship win in Japan. But the smoky in all this is Dale Begg-Smith. The Australian's 2009 season ended when he blew his knee in Deer Valley in January. The defending Games champion has ice in his veins and the silkiest turns of all competitors, and looms as a real dangerman here. Among the fairer sex, Hannah Kearney looks to be the biggest threat to spoil Heil's homecoming party. The American had an ultra-consistent 2009, though only took one individual moguls event. Redemption will be the order of the day after going in as one of the favourites in Torino only to finish 22nd. Veterans Aiko Uemura of Japan and Margarita Marbler of Austria can't be discounted.

LEFT SKI FIELD: If you want Canadian skiing's definition of the one that got away, go no further than Whistler's Dale Begg-Smith. It was a classic case of the irresistible force meeting the immovable object when the promising junior and his brother, Jason, started digging in their heels over not being able to make team training camps because of their burgeoning Internet business around the start of the new millennium. The edict from the Canadian Freestyle Association was simple: turn up or you'll be turfed out. When Australian-based American coach Steve Desovich got wind of the situation, he offered a radical alternative. Come downunder to train and compete for Australia and we'll fit in aroundyou. So 15-year-old Dale and 18-year-old Jason did just that. They trained quietly on Australia's molehills for three seasons while they got citizenships, turning their business into a multi-million- dollar venture at the same time. By 2005 Dale was on World Cup podiums and by 2006 was clearly the outstanding moguls skier in the world, taking Olympic gold in Torino. Harried because of his business' alleged connections to Internet nasties such as spyware, adware and malware, it didn't always make for a pretty story. Assuming his knee holds up, the second chapter promises to be a fascinating one played out in front of a hungry media contingent back where it all began.

TOP 10 PREDICTIONS

MEN
1. Alexandre Bilodeau (Can)
2. Dale Begg-Smith (Aus)
3. Vincent Marquis (Can)
4. Michael Morse (USA)
5. Patrick Deneen (USA)
6. Tapion Luusua (Fin)
7. Alexandr Smyshlyaev (Rus)
8. Pierre-Alexandre Rousseau (Can)
9. Anthony Benna (Fra)
10. Yugo Tsukita (Jpn)

WOMEN
1. Jennifer Heil (Can)
2. Hannah Kearney (USA)
3. Kristi Richards (Can)
4. Aiko Uemura (Jap)
5. Margarita Marbler (Aut)
6. Nikola Sudova (Cze)
7. Miki Ito (Jap)
8. Chloe Dufour-Lapointe (Can)
9. Shannon Bahrke (USA)
10. Emiko Torito (USA)

Tags: 2010 Winter Olympics, aerials, British Columbia, Cypress Mountain, freestyle skiing, moguls, Olympics preview, predictions, Vancouver, Vancouver Olympics