2010 Olympic Preview: Alpine
---

It's anybody's game at the races in Whistler – but hopes have never been higher for Canadians to medal.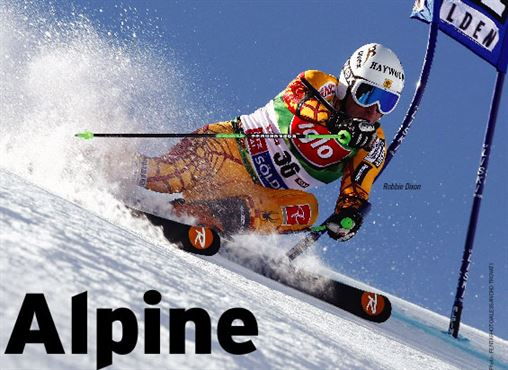 Alpine skiing has always been the Austrian stronghold at the Winter Olympics. This team that also wears red and white collected 14 medals in Torino, and it has 101 pieces of Olympic hardware in its history. But Austria's level of domination at the Olympics seems ready to end. Make way for the Swiss, the Americans, the French, a Norwegian and, yes, the host Canadians on the podiums of Whistler in 2010.
Hermann Maier's knees would go no further. Renate Götschl, at 34, retired into the real world of pregnancy. Former overall winner Nicole Hosp is struggling to return from serious injuries. The burden passes to technical specialist Benjamin Raich—with one overall World Cup globe and four runner-up fi nishes in the past five seasons—and to Michael Walchhofer, Kathrin Zettel and Maria Schild. But it's a load to carry.
The Swiss, with Didier Cuche and Carlo Janka are a force in men's speed events and even benefit from an internal rivalry—the French speakers driving the German speakers. Their depth is one thing that even coaches have to reckon with. Cuche was asked at Beaver Creek what possessed him to enter a kombi, a downhill and a GS on the same weekend. "It's like this at every stop. The body hurts on Monday," he said. But the truth is, the ultimatum for Swiss skiers is they must have at least two top-15 finishes in a discipline to be considered for an Olympic berth.
Somehow the Americans are always a factor at the Olympics, and this time Lindsey Vonn seems destined to break her Olympic goose egg, ready to compete at Whistler in five events with two World Cup titles and two World Championships, while Ted Ligety, kombi winner in Torino and 2008 World Cup GS winner, has supplanted Bode Miller as the top U.S. male skier.
The French have been strong in technical events, with Jean-Baptiste Grange and Julien Lizeroux solid in slalom. And no roll-call of potential medallists would be complete without Norway's Aksel Lund Svindal, a two-time overall World Cup champion, four-time World Cup discipline winner and owner of five World Championship medals.
Canadian men will be a factor, with Manuel Osborne-Paradis an early-season winner of the super-G at Lake Louise, where Erik Guay boosted his confidence and new bright light Robbie Dixon, who grew up on the hills of Blackcomb and Whistler, also finished in the top five.
Dixon benefited from the calamity of a broken leg that befell downhill World Champion John Kucera in November, the latest in a series of injuries that also will play a role in the changing of the guard.
"Injuries are part of the game," said Max Gartner, Alpine Canada's athletic director. François Bourque missed most of last year after tearing up his knee and, sadly, did it again December 18. Jan Hudec will try one more time to summon up his skills and courage to push the limits for the Olympics after rehabbing from a fifth knee reconstruction.
Last January at Kitzbühel, Swiss star Daniel Albrecht suffered brain and lung injuries in a 130-kph crash and was kept in an induced coma for three weeks. Swiss teenage star Lara Gut, a double medallist at last year's Worlds, had a severely dislocated hip that may not let her qualify for the Games.
"The Swiss and the Austrians…everybody's worst nightmare is to lose one of your top guys or girls," Gartner told reporters. "There are only so many contenders."
MEN 'S DOWNHILL
FEBRUARY 13,11:45 A.M.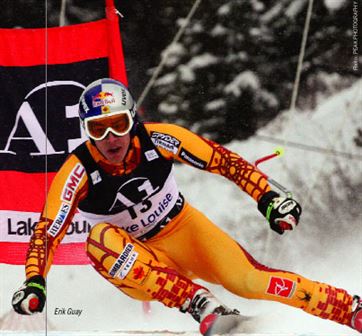 Until the end of November, when John Kucera suffered his broken leg, this race was anticipated as the one where Canada might finally break the Olympic gold medal shutout at home. Canada has home advantage and the most experience on the icy Dave Murray run, but the absence of World Champion Kucera makes it a different contest now.
Depth in speed events is Canada's long suit. In 2009, no country on the World Cup had more top-10 finishes (17) in downhill. But Austria had a world-leading eight podiums.
Watch for Swiss Didier Cuche and Carlo Janka, who were on Kucera's heels at the Worlds, to challenge for the podium. Local knowledge may be an edge for Manuel Osborne-Paradis and fast-rising Robbie Dixon, who both skied Whistler from childhood. It's a run that has a little of everything, so don't count out Italy's Werner Heel and Austria's Michael Walchhofer, twice winner of the downhill World Cup, and Klaus Kroell.
WOMEN 'S DOWNHILL
FEBRUARY 17,11:00 A.M.
It's Lindsey Vonn's to lose, after winning six World Cup downhill medals and the World Championship last season and getting away to a fast start this year. The rest are looking for colours other than gold.
The Austrian team had five individuals in the top-10 totals, Andrea Fischbacher alone five times. Maria Riesch was a six-time top-10 performer for Germany, and Anja Paerson medalled three times for Sweden. Switzerland, unfortunately, expects to be without injured teen star Lara Gut—or at best she'll be skiing Whistler below her
excellent standard.
The Canadian women shook off a mediocre 2009 season of nagging injuries when Emily Brydon scored a silver behind Vonn at Lake Louise in December and Britt Janyk was 4th. High hopes for Kelly VanderBeek were dashed after she blew out her knee in mid-December.
MEN 'S SUPER COMBINATION
FEBRUARY 16,10:00 A.M.(DOWNHILL)
AND 1:30 P.M.(SLALOM)
A betting man might wager heavily on 23-year-old Swiss star Carlo Janko. The winner of the 2009 points race for the combination on the World Cup circuit won twice and placed 3rd in the downhill-slalom combination in calendar 2009. He held the overall World Cup lead this season after he slalomed past countryman Didier Defago at the Birds of Prey stop. It was his third podium in four World Cup races, and all the medals had come in different disciplines. Janko has to be close after the downhill, however, since he's failed to fi nish any of the five World Cup slaloms he's entered since 2007.
Besides Defago, there's another Swiss, Didier Cuche, who could be on the medal stand if he stays on course. French slalom specialist Jean-Baptiste Grange, Austrians Romed Baumann and Benjamin Raich, and Silvan Zurbriggen of Switzerland could also be in the mix. Croatian Natko Zrncic-Dim won a World Championship bronze in 2009 behind gold medallist Aksel Lund Svindal.
WOMEN 'S SUPER COMBINATION
FEBRUARY 14,10:00 A.M.(DOWNHILL)
AND 1:30 P.M.(SLALOM)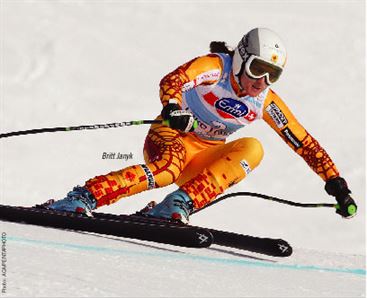 This could be the first of a fistful of hardware for American Lindsey Vonn, but the top of the podium should be a three-way race with Vonn, Maria Riesch of Germany and last season's top combination performer Anja Paerson of Sweden.
Vonn won the past two downhill World Cup titles and likes speed, but has been runner-up the last two seasons in kombi. Paerson, 29, is slipping in slalom but has been one of the top three combined skiers in four of the past five seasons. Riesch, Vonn's close friend on tour, won the kombi standing two seasons ago and slalom last year and is competitive in downhill, though not of Vonn's stature. The American has worked on her slalom the past two seasons, but will need a big lead in downhill to survive any lingering defi ciencies in the technical half of the event.
MEN 'S SUPER-G
FEBRUARY 19,11:30 A.M.
Placing three of the Canadian Cowboys in the top five at Lake Louise—winner Manuel Osborne-Paradis, Erik Guay and Robbie Dixon — brightens Canada's Olympic medal chances, even on the heels of John Kucera's season-ending broken leg. Europeans and Americans may grumble about the scarcity of training access to Whistler, but Osborne-Paradis says Canadians know Whistler so well they could ski it blindfolded if asked.
But the Canadians sure won't be alone. Aksel Lund Svindal of Norway was the 2009 World Cup super-G champion and also the overall World Cup champion. Switzerland's Didier Cuche was World Champion. Add in Austria's Benjamin Raich and Michael Walchhofer, and two more Swiss in Carlo Janka and Didier Defago, and it's an alpine who's-who and a fast crowd.
Eight of the top-10 racers at the World Championships in Val d'Isère were in the top 12 of 2009 World Cup overall rankings, which means these are all skiers who rise to the occasion for a big event. Canada's advantage is familiarity. Many of the others haven't seen Whistler in two years.
WOMEN 'S SUPER-G
FEBRUARY 20,10:00 A.M.
This is another race that should, in theory, be a walk-over for American Lindsey Vonn. She won the World Cup event handily during the 2008- 09 season and collected five golds, including the World Championship super-G. If she hasn't spread herself too thinly for the Olympics at Whistler, Vonn should be dominant.
Several super-G races are scheduled before the Games. Last season on the World Cup, deep Switzerland had 21 total top-10s in super-G, led by Fabienne Suter who finished 3rd in the standings. Five different Italian women had top-10s and Nadia Fanchini was the best of them, placing 2nd in the World Cup. At the World Championships, France's Marie Marchand-Arvier was 2nd to Vonn, with Austria's Andrea Fischbacher close behind in 3rd.
Canadians should contend here and grab one of the three medals Alpine Canada predicts. Emily Brydon ended her personal frustrations with a downhill silver at Lake Louise and is focusing on speed races. Britt Janyk grew up pursuing faster male racers down Whistler, and VanderBeek, who placed 4th in the Torino super-G, is now out with a three-ligament tear in the knee.
MEN 'S GIANT SLALOM
FEBRUARY 21,10:00 A.M.AND 1:45 P.M.
This is to be relished as a battle of the heavyweights—Swiss against Austrians. Switzerland's Didier Cuche, close runner-up in last season's overall World Cup, led the early-season ranking for GS and if he isn't burnt out by qualifying for several events on a deep Swiss team, should go into the Olympics as the favourite.
Right behind him, however, are countryman Carlo Janka, American Ted Ligety—already an Olympic kombi gold medallist—and Austrian Benjamin Raich, heir to the Hermann Maier mantle.
Janka moved up in the Swiss pecking order after the serious head injury suffered by Daniel Albrecht last season and won the GS World Championship at Val d'Isère, but close behind was Austrian Raich—winner of three World Cup GS races—and Ligety.
WOMEN 'S GIANT SLALOM
FEBRUARY 24,10:00 A.M. AND 1:15 P.M.
Finn Tanja Poutiainen eked out a slim GS win over Austria's Kathrin Zettel to start this season, but then Zettel and Germany's Kathrin Hölzl dueled on the World Cup circuit to make it a strong three-horse race. Hölzl is really on the rise in this event after finishing 13th in last season's GS standing.
Italy's Denise Karbon suffered a torn meniscus in her right knee at a race in Aspen and surgery in December sidelined her for the balance of 2009. Making it back for the Olympics is a tall order.
Zettel ruled the event in 2009 with four golds and two other top-10s. Tina Maze had two golds for Slovenia and four other top 10 finishes. Vonn had six of the eight top-10s by the U.S., reason enough to consider her a contender in a North American venue.
Sweden's Maria Pietilae-Holmner could figure, but it would require one of the favourites to mess up or be injured just before the Games.
MEN 'S SLALOM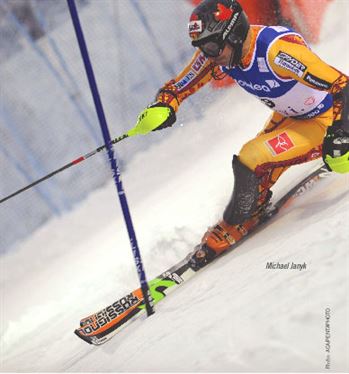 FEBRUARY 27,10:00 A.M. AND 1:45 P.M.
French slalom specialist Jean-Baptiste Grange should resume the smooth rhythm that won him the season title last year by a comfortable 87 points over Ivica Kostelic of Croatia. Grange opened the season in a GS, a little out of his depth against 2008 World Cup GS champion and Olympic combined champ Ted Ligety, Swiss veteran Didier Cuche and Carlo Janka. "But in slalom, it's not the same thing. I know I can ski well," he tells blog readers. Six of Grange's 12 career podiums have been victories, including the Levi slalom last season.
Canadian Michael Janyk was a surprise bronze winner in the last World Championship, so don't count him out. Whistler is a home game on a home hill for him.
WOMEN 'S SLALOM
FEBRUARY 26,10:00 A.M. AND 1:30 P.M.
Germany's Maria Riesch won the World Cup slalom crown and the slalom World Championship last season and is obviously a factor, as she and Czech Sarka Zahrobska dueled for supremacy early in the season. Riesch is a big-game skier with four World Cup wins among her nine top-10 placings last season.

Marlies Schild of Austria has rebounded from injury to get back in the game and pushing her are Susanne Riesch of Germany and America's all-everything Lindsey Vonn, who has been so comfortable and dominant in Canada at Lake Louise speed events. Finn Tanja Poutiainen also had nine top-10s in slalom last season, but prefers GS. She's been in the top-five overall twice, a major accomplishment for a skier who broke her leg twice early in her career.

Canada's Anna Goodman could make the second round, but the podium isn't in view.

Tags: 2010 Winter Olympics, alpine skiing, British Columbia, downhill skiing, Olympics preview, slalom skiing, Vancouver Olympics, Whistler