2010 Best of Skiing Awards
---
Each year Ski Canada collects kudos and accolades from across the country about what makes us the best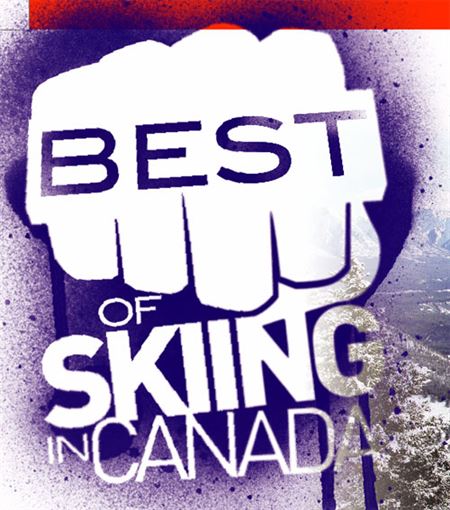 FIRST OFF THE MARK
November 2, 2009. Recently beleaguered and now as strong as Hercules, Mount Norquay was the first ski area to open in Canada in the fall. Three days later, big sister Louise opened, thanks to both Mother Nature and a massive snowmaking system. This season, Jasper skiers were happy early birds with six lifts and 43 runs open by November 11, Marmot Basin's earliest-ever opening day—and welcomed a record number of skiers and boarders for the first day of the season, too. Sunshine benefited from a bumper pre-week snowfall of 71 cm in the four days before opening day, also November 11. Across the border, Big White was the first destination resort in B.C. to offer skiing on November 14—beginning at the bewildering hour of 7:45 a.m. Whistler jumped the gun on opening date by almost two weeks with record early-season snowfall. By mid-November, the resort had more snow than some in the Western U.S. receive over the entire season!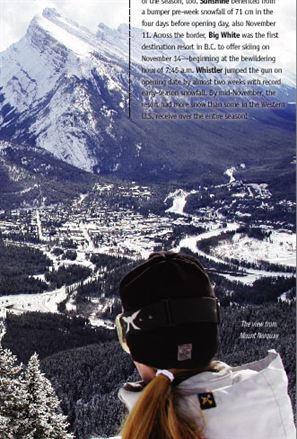 BEST WAY TO SQUEEZE THE LAST CENT FROM $53 MILLION AND CHANGE
First it had its own website—now it's the subject of a major(ish) motion picture. Whistler-Blackcomb's latest film creation, On the Shoulders of Giants, tells the tale of the Peak2Peak Gondola—and slices in such crowd-pleasers as local Mike Douglas and legendary Jim McConkey.
THINNEST LINE
The difference between on-piste and off-piste at Red Mountain can be hard to decipher sometimes with all the powder— more importantly, it all feels good.
BEST NEW MAGIC BUS
Banff's all-hybrid electric bus system is easier on the environment, reduces emissions, and lowers fuel and lifecycle costs. Ditch the SUV and hop on!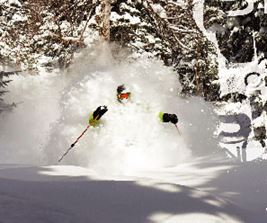 EASTERN STORM
In just 48 hours last February, a whopping 95 cm of snow fell at LeMassif—topping up the more than five metres it had already received and making March Break truly massif.
BEST FIREWORKS DISPLAY
There'll be 125 candles on the cake as Banff National Park celebrates its anniversary this winter. Canada's first national park, established in 1885, is of course home to the national hat trick of ski areas: Lake Louise, Mount Norquay and Sunshine Village.
BEST OFFER WE'VE HAD LATELY
The saucy-'n'-sweet website invitation to "Meet Tiffany on our Snow Phone" from Hudson Bay Mountain, formerly known as Smithers. All we ask is, where's the webcam address?
BEST RUN WITH A LITTLE ONE
Top-to-bottom at Kicking Horse Mountain Resort. Ride to the top of Stairway, take the cruisers down through Crystal Bowl, stop for lunch at Heaven's Door Yurt Café, then hop on the bottom of It's a 10 to the base for a day-ending hot chocolate at the Horse Thief Café to swap burning-thigh stories.
BEST, LONGEST (AND MOST HARD WON) NEW LIFT
It's not easy building stuff in a national park. Kudos to Jasper's Marmot Basin for its new high-speed quad, the Canadian Rockies Express. It took $8 million and about as many years to deliver us a quick ascent, longer runs, more terrain, no lift lines and more time on the slopes. Just one of its 26 towers weighs more than 2,600 kilos!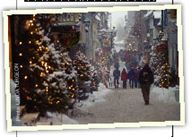 BEST SKI CITY
With Mont-Sainte-Anne, Stoneham and Le Massif so close to historic Quebec City, the area is truly a destination that you should
visit at least once in your lifetime.
BEST MOUNTAIN BEAUTY PAGEANT
The Kokanee Crew search at Mount Washington packs them in at Fat Teddy's Bar and Grill every January during the Kokanee Winter Festival.
BEST DEAL FROM THE MOST SURPRISING SOURCE
Whistler's early-bird adult unlimited season pass was $1,099—the lowest priced early-bird pass in a decade and a whopping $430 less than last year. And yes, it was available only until October—you missed it.
BEST-LOOKING 50-YEAR-OLD
Not a wrinkle in sight at Mont Sutton—only gorgeous glades and Eastern powder coming out of its yinyang. And Sutton's best bistro, Bistro Beaux Lieux, offers some of the most creative and delectable treats around.
BEST TIME TO MATE
You barely have time to put away the kilt and digest the haggis before you start speaking Strine. Get a little Aussie in ye' at Silver Star (and Big White, both Aussie-owned) and bust out the Green and Gold on Australia Day January 26, with snow rugby and cricket in the village—a late evening is an understatement.
NEW NIGHT PARK
The Okanagan Run terrain park is under the lights at Apex, and wows rats with a new park concept of rails down the middle of the halfpipe. Enough tunes, kleiglights and serious jammin' keep the patrons of the Gunbarrel well entertained.
BEST PLACE TO GET DISCOVERED
It's all rock star treatment at Fernie's Ultimate Rockies' Rock Band contest. "Best Rocker Hair" and "Best Rock Star Holla" challenges take place during the day. Later on, bring your Rock Band team and battle it out for the Ultimate Rockies' Rock Band title.
BEST PIPE-DREAM
An $800,000 investment into Stoneham's Olympic halfpipe (including what's sort of a permanent mould) makes it possible
to open it at the beginning of the season rather than the end.
TASTIEST MONTHLY MEETING
Super-dooper food and views to be had at Kicking Horse Eagle's Eye Restaurant Wine Maker's Dinner. Once a month all winter, there's live music, wine pairing and dinner…delicious dinner…
BEST REASON TO TAKE YOUR MONEY OUT OF THE MARKET
If people can buy chairs on credit, it was only a matter of time until your ski season could be financed. Doing its part in the financial meltdown, Big White offers a plan so locals can carry season's pass payments over three, four, five or six months.
ADDED VALUE
Tremblant skiers who stay in the village receive a host of free perks such as first tracks, tubing, inflatable games for kids, entertainers, mini-snow-park visits and skating.
BEST GAME PLAN FOR A FULL MOON
Meet at the Big White cross-country cabin for poker.
ADDED VALUE
Tremblant skiers who stay in the village receive a host of free perks such as first tracks, tubing, inflatable games for kids, entertainers, mini-snow-park visits and skating.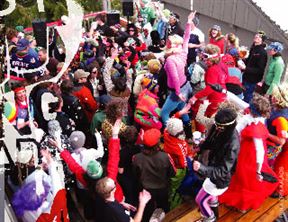 RETRO SKI CULTURE
With Rossland harbouring a big population of closet retro-ski lovers, it's no wonder Red Mountain has more organically sprouted retro events than just about anywhere-though Fernie and Mount Washington are fierce competitors for the title.
BEST GROWTH INDUSTRY
It's hard to believe with record early-season snowfalls, but Whistler-Blackcomb doubled its snowmaking crew for this Olympic season. All hands needed to tend a network of 270 snowguns that could fill a football fi eld with a snow pile 200 metres high.
BEST PLACE TO REMEMBER
Nestled in the trees between Memory Lane and Tranquility runs at Blue Mountain, Memory Lane Legacy Park is a serene and quiet place where one can go to remember and celebrate the lives of those who have passed on.
NEW LIFT-ACCESSED CAT-SKIING
If you like Haig Bowl powder at Castle Mountain but don't want to hike, meet the cat at the top of Huckleberry Chair and take your seat for a ride even farther up.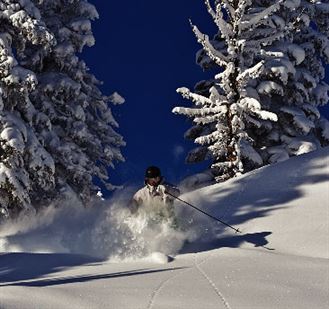 MOST CONSISTENT FALL-LINE STEEPS
Alberta's Castle Mountain and B.C.'s Red Mountain offer hair-straight-back, merry-go-round laps.
BEST AL FRESCO ETHNIC LUNCH
Perogies and kielbasa with pickled peppers from Cecil's lunchwagon at the Black Forest lift at Big White.
BIGGEST ARSENAL
Tremblant's 1,037 snowguns cover the mountain's infamous cruisers lickety-split.
BEST COMMEMORATION OF A LOCAL LEGEND
A new run at Red, Captain Jack's Trees, honours Captain Jack Carey, a long-time friend of the mountain community who died in a cycling accident last summer. Captain Jack was an icon of the ski industry and the event director of Red's annual Canadian Open Freeskiing Championship.
BEST BADGE
Whistler's "ASK ME! I'm a Local" button-wearers deliver a friendly ambassadorial passe-partout to the best directions and advice—in English, French, German, Spanish, Gorbie, Jibber and Japanese (though not necessarily all languages from each button-wearer).
BEST TRACKING SYSTEM
Each Tremblant snow school kid now wears a Flaik GPS so adults can keep track of their sprogs. The device charts their day online and gives fun facts like how many runs, which runs and lifts, and top speeds.
BEST WAY FOR AN MP TO GET IN TOUCH WITH HIS CONSTITUENTS
Located in Gatineau Park, Camp Fortune nightskiing is only 15 minutes from Parliament Hill. Home to one of the oldest ski clubs in Canada, the Ottawa Ski Club (now Camp Fortune Ski Club) turns 100 this year.
BEST JAM NIGHT
Hit the Jasper Royal Canadian Legion every Saturday this ski season and check out the entertaining home-grown talent, live music and old-school saloon vibe.
BEST SKI-IN/SKI-OUT FIRE HALL
No need for a fireman's pole, Big White's Fire Department is conveniently located on Easy Out near the Village, allowing local volunteers to ski in for calls and, faster than you can say
Smokey the Bear, they're back on the slopes.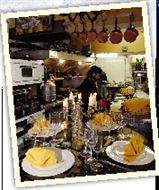 BEST CHEF 'S TABLE
The private table in the kitchen at Isidor's is Silver Star's newest hotspot to sit, sip, eat and watch a real pro at work. Dinner with all the libations and extras isn't the cheapest in town, but in this kitchen there are no dishes to wash either.
LARGEST PLANE TO LAND IN B.C.SKI COUNTRY
A massive Russian carrier landed at Kelowna Airport this summer, testing out the new runway extension that increased length from 7,300 feet to 9,000 feet. Let the Moscow ski tour charter fl ights begin!
BEST OF BOTH WORLDS
Sunshine Village's Lookout Mountain covers two provinces in one run, so skiers can experience the best of both Alberta and British Columbia.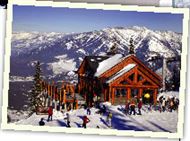 MOST LEGITIMATE OVERUSE OF THE WORD "AWESOME!"
Can't the guests signing the book at Panorama's Elkhorn Cabin think of another way to poetically describe the rustic charm ofthese cozy, displaced, high-mountain digs? Can we offer them a spare thesaurus?
BEST STAFF RECOGNITION
Legacy Trail is a tribute to employees who have dedicated more than 25 years to Blue Mountain Resort. Salute!
BEST PLACE TO SKI NUDE
One weekend, two words: Slush Cup. Okay, so the nudie stuff isn't sanctioned, but that's never stopped Sunshine Village revellers from stripping down and making a splash in the ultimate honour to Queen Victoria on her birthday. We are amused.
LONGEST POLES: FERNIE

BEST VALUE BEER
It's a world away from Tommy Africa's, but the Chateau Whistler's Mallard Lounge on Fridays is a surprisingly good deal: beer and cocktails (and free nibbles) for $5.
BEST LOCAL TIPPLE
Ski Canada Testers agreed, the only brew pub in a national park, Jasper Brewing Company, maintains its founding principle, "to create the absolute highest quality beer possible."
BEST NEW GOURMET RESTAURANT
Ontario ski countryites have been licking their lips and putting their phones on speed-dial to secure a table at über-chef Michael Stadtlander's long-awaited restaurant, Haisai, just 20 minutes from Collingwood in the backwoods of Singhampton. No table? Stopping at their bakery makes the remainder of the Friday-night drive a sweet slice of heaven.
NEW APRÈS IDEA
Downhill at Dusk begins mid-mountain at Lake Louise's Whitehorn Lodge at the ski day's end. Except it's just beginning: drinks, appetizers and live music in a majestic setting, then first tracks down a freshly groomed run. Then more food and drink at back to your Lake Louise or Banff hotel.
BIGGEST AIR-ER CORRECTION
Back by popular—very popular—demand: terrain park air features at Lake Louise. When Resorts of the Canadian Rockies removed all jumps two years ago, jibbers were screaming-mad in several provinces. One of the many changes with the return of chief bottle-washer Charlie Locke this year was to convert the rail park back to its historically lofty position.
BEST VIEW FOR LUNCH
The Lost Boys Café at the top of the Timber Express chair at Fernie has a perfect panorama and, this winter, features live music.
LONGEST SKI SEASON (NON-GLACIER)(SO WE 'RE TOLD)
With a season that starts in early November and goes until Victoria Day, it's hard to deny Sunshine Village has one of the longest ski seasons in North America.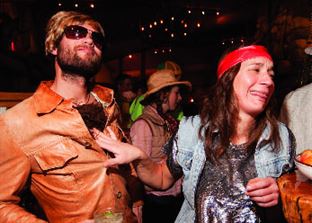 DRESSIEST EVENT
Powder Cowboy's infamous Tickle Trunk Parties: we've always said cat-skiing offers unique memories.
BEST DISTRACTION FROM POLITICS
Mont-Sainte-Marie, the highest peak in the Gatineaus at 380 vertical metres, is less than an hour from Ottawa.
BEST NEW ONE-STOP OUTDOORS SHOP
Revelstoke Outdoors Centre, at the foot of the Gondola at Nelsen Lodge, is the central location to book snow school, cat- and heli-skiing, backcountry/slackcountry touring and avalanche awareness courses.
BEST SPAS
Taman Sari in Summit Lodge Whistler feels as if you went to Thailand for a few hours
Willow Stream Spa, Fairmont Banff Springs
Balnea near Sutton, Quebec
Scandinave Spa, Collingwood and Tremblant
10 BEST NON-SKIING ACTIVITIES
Skating on Red's new rink
Cross-country skiing at Silver Star's national training centre
Doing both in front of the Chateau Lake Louise
Bingo at the Revelstoke Ladies Auxiliary
Dogsledding in Quebec
Wine-tasting in the Okanagan
Surfing in Tofino after skiing Mount Washington
Snowshoe the Mountain Descent at Kimberley
Take an avalanche course in Nelson
Get lucky at the Tremblant Casino then lose your shirt at P'tit Caribou
BEST DETERRENT
A 20-minute hike plus a traverse across the ridgeline is necessary to access Consequence, the farthest chute on Kicking Horse's
Terminator Ridge, bettering your chances of finding deep and soft and a couple of easy-access one- or two-metre drops. Yummy.
: we've always said cat-skiing offers unique memories.
BEST SCENERY
Le Massif
Georgian Peaks
Banff, Lake Louise and Jasper
Peak2Peak, Whistler
Panorama
Virtually all heli- and cat-ski operators
OL ' LIFT INTO THE BACKCOUNTRY
Red Mountain's Motherlode Chair easily accesses Mount Roberts, White Wolf Ridge, Grey Mountain and Kirkup Mountain.

MOST ROMANTIC HUT HOLIDAY
Tucked away from everything else is the perfect place for just the two of you and nature. Ski or snowshoe the 11-km trail to Skoki Lodge, enjoy incredible amazing scenery in the backcountry of Banff National Park—and sit down for afternoon tea on arrival.

BEST NEW COMBO-SPORT
Grab a pair of snowshoes and a golf club and hit the powder at Sun Peaks—but not as we know it. Snowshoe Golf packages include snowshoes, golf clubs, a course map and coloured balls.

BEST NEW GLADES
Panorama's opened a whole new area between View of 1000 Peaks and Stumbock's, promising perfect trees and powder. And over on V Island, Mount Washington celebrates its 30th anniversary by opening the Goodtime Glades, well-spaced, gentle and, curiously, groomed—perfect for novices and intermediates.

BEST VENUE FOR RUBBER AND SPANDEX
Forget The Lodge in Golden, the Subaru Velocity Challenge FIS World Cup Speed Skiing at Sun Peaks is a far safer bet.

BEST PLACE TO IGNORE THE OLYMPICS
Cypress will be busy to say the least, but Mount Seymour is open all winter with no closures or blackout periods. Fabulously normal. And despite the pack of wolves circling Whistler's marketing team all year, the area is 90 per cent open during the three weeks of the Games, and of course 100 per cent the rest of the season

BEST APRÈS-SKI (EAST)
With so many hip bars and restaurants within stumbling distance of one another, a storybook car-free village (so you won't lose
your licence or get run down) and now a casino, getting up to actually ski Tremblant in the morning is your only challenge.

RECESSIONARY TREND: SHORTER HELI PACKAGES
Gone are the days when you had to sell your soul for a heli seat. Economic pressures and exchange rates are resulting in more empty seats in B.C. choppers—and more flexible offerings for the skier of any level, intermediate or above. New for 2010, Last Frontier Heliskiing guests can choose from shorter four- and five-day tours, and a new Heli-Access ski touring program and Lodge-to-Lodge Safari. Purcell, Great Canadian and Mike Wiegele now offer packages that combine resort skiing at Kicking Horse and Sun Peaks. At Revelstoke you can step out the door at Nelsen Lodge to where your helicopter waits. Skiing cruisers one day and powder the next in Panorama or Whistler is a no-brainer. And CMH has heaps of new variations on the old seven-day heli-week: "Just ask" is its motto.

BEST PLACE TO RUB MUSCLY SHOULDERS (AND LEGS)
Nakiska, a national training centre crowned by Alpine Canada and the former host of the 1988 Winter Games, is a major staging site for Canada's medal hopefuls in advance of the 2010 Olympics. Athletes are expected to partake in camps at the resort over the course of February 2010.

MOST LOWERING SALES PITCH

For those who really don't want to learn how to ski, Grouse Mountain's (and Whistler's) personal "Sno-Limo" Chauffeur will let the non-participating "experience the sights, sounds and thrills of gliding on snow trails in comfort, without learning any new skills." Next step: just watch it online.

UPGRADE IN ONTARIO
Blue Mountain's South Base Lodge has been renovated to feature an enhanced 980-seat dining and food court area, and a dedicated loft picnic area for those wanting to bring their own lunch.

MOST AWAITED SLICE-O '-CHEESE SKI FLICK
Fernie is soon to be known as the site of Hot Tub Time Machine. With release scheduled for February 2010, this retro ski-movie both starring and directed by John Cusack features Fernie locals and the all-things-retro town as its main backdrop.

MOST GRACIOUS HELI-SKIING
Eagle Pass's 1,000+-sq-km slice of Monashee powder near Revelstoke is accessed only four skiers at a time, not 12. Small groups mean no pushing, shoving or sharing bum or bowl space with type-A personalities from Stuttgart or New York—just you, a guide and your three BFFs.

BEST INDOOR GARDEN
Stuffed with tropical plants and exotic trees soaring more than 18 metres, the centre atrium at the Sawridge Inn in Jasper is a great place to think about warm Caribbean islands, particularly while soaking in the indoor pool and hot tub.

MOST GOURMET CAT-HOUSE
Island Lake Lodge's dining-room rep matches the view, and for that matter, its spa, its fancy digs and its powder.

BEST NOTE OF REMEMBRANCE
Sunshine joined the ranks of Lake Louise and Marmot Basin in observation of Remembrance Day by shutting down for two minutes of silence on November 11.

MOST DRAMATIC LIFESTYLE CHANGE
The ski-instructor owned, but not CSIA-sanctioned, infamous Roadhouse Tavern (aka The Lodge) in Golden, B.C., is looking for a new owner. The MLS listing reads: "included, Eastern European phrase book and shiny set of poles."

WAY TO AVOID AWKWARD HOT-TUB TALK
Keeping in mind that you don't always want to rub calves with a stranger you just met, Sunshine's giant hot pool is four times the size of your average hotel bubbly tub.

FRIENDLIEST LIFTEE
Castle Mountain's Marie Cameron, aka the hug lady, warmly embraces every single visitor as she does the ticket checking. The
occasional chair may go up empty as she makes her way through the corral on a busy day, but management tells us the hug lady
has made friends the world over.

BEST SKI-TO-YOUR-OWN DOOR IN ALBERTA
Castle Mountain is the province's only ski area with privately owned ski-in/ski-out real estate.

BEST NON-OLYMPIC OLYMPIC WATCHING
More than 10 countries and 26 teams will be training at Mount Washington this winter— and you don't have to pay to see them!

BEST SKI-IN/SKI-OUT REFURB
The new wing at the Sunshine Mountain Lodge is a 30-room addition with ski-to-your-door convenience. The energy-efficient two-storey lofts offer the height of luxury.

BEST DOUGHNUT OPPORTUNITY IN ONTARIO SKI COUNTRY
Grey County's first roundabout—located at the intersection of Grey Road 19, Grey Road 119 and Mountain Drive, at the south end of Blue Mountain—is sending locals spinning. Some 17,000 vehicles can pass through the intersection in 24-hour peak periods. Better tighten up the roof box.

CHANCE TO HAVE DONE SOMETHING YOU RARELY GET TO DO
When does once in a blue moon really happen? How about New Year's Eve that just past! December had two full moons, the second on December 31st. The next blue moon isn't slated until 2048.

BEST-LAID PLANS
A big spend of $230 million is planned between now and 2013 at Le Massif, with a rail shuttle to Quebec City and close to 400 lodging units, including a 150-room bioclimatic hotel. All lovely until the marketing bumpf suggests rather threateningly: "The site is destined to become a genuine experimental laboratory for tourists." Bring your protective gear.

BEST CELEBRITY MOMENT
When Senator Nancy Greene Raine told Rick Mercer at Sun Peaks to "Shut up and ski."

BEST SNOW (EAST)
Family-favourite Mont Grand-Fonds in Quebec welcomes an annual snowfall of 650 cm of light and fluffy.

BIGGEST LITTLE FILM FEST
The Rossland Mountain Film Festival in November is a four-day focus on local talent. Filmmakers, artists and new media workers showcase their creations to a Kootenay regional audience.

BEST CHANCE TO MEET A BALDWIN
Robert F. Kennedy's Annual Celebrity Sports Invitational sounds like a mouthful, but so is the cuisine served at this posh event.
Proceeds from the on-mountain shenanigans and the après $500-a-plate gala dinner in Banff go to raising money for environmental protection and awareness. Helping Mummy Nature tastes so good.

HISTORY IN THE WEST
Within its résumé, Red Mountain had the first chairlift in Western Canada, the first ski descents in the 1800s, the most amount of gold extracted from one of its mountains and the first World Cup alpine ski race in North America (1968).

Tags: Apex, Banff, Banff National Park, best of skiing awards, best skiing locations, best skiing resorts, Big White, Blue Mountain, Canadian Rockies Express, Fernie, Hudson Bay Mountain, Jasper, Kicking Horse Mountain Resort, Le Massif, Louise, magic bus, Marmot Basin, Nakiska, Norquay, Peaks2Peaks Gondola, Quebec City, Red Mountain, Silver Star, skiing in Canada, Stoneham, Sunshine, Tremblant, Whistler, Whistler-Blackcomb