Travel // February 24, 2010 // By Marie-Piere Belisle Kennedy
---

The Quebec Connection
In a province that consistently produces great skiers, celebrity sightings are common at major Quebec resorts. Sit on a bench by the fitness centre at Mont Tremblant and you'll see past and future Olympians, including Érik and Stephan Guay, Mélanie Turgeon, Anna Goodman, Brigitte Acton and even icon Peter Duncan. With many Quebec skiers on the national teams having a good chance of qualifying for the 2010 Winter Games, their biggest competition might be each other.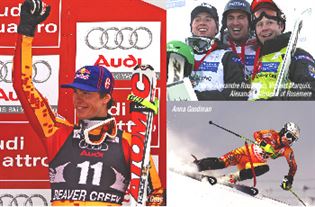 ALPINE
A contender for the downhill and super-G events is 28-year-old Erik Guay. The heir to Tremblant's royal family of skiing is ready to make history. "We are looking for great things from Erik this coming season," said Kyle Marr of Alpine Canada in the fall. "We also have a strong men's technical team, including Julien Cousineau from Quebec."
There's no lack of talent on the women's side either, with veteran Geneviève Simard training with the "fab five" of tightly knit young technical phenoms: Anna Goodman, Brigitte Acton, Marie-Michèle Gagnon, Eve Routhier and Marie-Piere Préfontaine.
Anna Goodman is a name to remember. When asked if it was a coincidence that the strongest technical women were all from Quebec this season, she said, "Not really, growing up in the East with smaller hills we are prone to doing gates." Before heading to Levi, Finland, in the fall for the World Cup, Goodman stated, "My short-term goals are to break into the top-10, even top-five finishes, then I will more easily secure my spot." That goal became reality in December, when she placed 9th in the slalom at Åre, Sweden.
Montreal-born visually-impaired skier Viviane Forest has everyone talking about winning big at the Paralympic Games. Viviane won gold in La Molina, Spain, last season in her first giant slalom on the World Cup. The next day, she won silver in slalom and giant slalom. She is already a decorated athlete in both summer and winter sports, and has the courage and determination to make it to the podium in her own country.
FREESTYLE
All five team members are very strong, but there are only four spots for the Games in men's aerials. According to Kelly Korbin of Freestyle Canada, Olivier Rochon of Gatineau, Quebec, is a dark horse not to be underestimated—for him anything is possible. For many on the team, it will all come down to the degree of difficulty they can achieve.
In moguls, no doubt all eyes will be on top contender Jennifer Heil, who has already secured her coveted spot on the Olympic team. The 26-year-old Olympic gold medallist was not born in la belle province, but her new hometown of Montreal adopted her with open arms. Heil says that moving to Quebec has provided her with many opportunities, including full-time business studies at McGill, extensive training on the water ramp, and more time with coach and partner Dominik Gauthier, who is confident the whole team is stronger than ever. "I believe we are back to Canadian domination in the moguls for both men and women." Up-and-comers to watch include the Dufour-Lapointe sisters.
On the men's mogul team, four of the top members are from Quebec. "Last year for the first time in history, it was an all-Canadian podium where three Quebecers claimed the hardware at Mont Gabriel and again in Sweden…so we are going into this season undeniably dominating our sport," said Korbin. Watch for Vincent Marquis, Alexandre Bilodeau and Pierre-Alexandre Rousseau to medal at the Olympics.
So what makes this province so fertile? For sure there is a strong coaching program in Quebec and sponsors contribute to the ongoing success. Many athletes face the financial pressure of covering their own expenses and large corporations have been generous. Let's hope others follow well beyond the shadow of the 2010 Olympic torch.